The Korean makeup looks are all over the internet nowadays. Getting a perfect natural look with pretty tinted lips is truly an art in itself. A good makeup look is never complete without a perfect lipstick shade. Koreans are famous for their flawless skin tones and perfectly shaped natural lips. So, any lip tint they apply, it looks seamless and magnificent. While others, struggle with finding the best shade to achieve the same make-up look choosing which one to apply can be tricky. The addition of perfect lip color to your makeup look may break or make you look. There so many lipsticks, lip tints, and lip balms brands in the market that will drive you crazy. Yet, lucky for you, in this article, we have enlisted the best and long-lasting Korean lip tint, lipstick, and lip balm products out there.
Check them out and find the one that suits you the best. The pleasure is all ours.
Best & Long-Lasting Korean Lip Products
Why Korean lip products are trending?
You are probably wondering, why Korean products are so much in trend? What's with all the fuss? Well, most people, including us are big enthusiasts of Korean lip patterns and their items! Starting from the well-known Popsicle or ombré look to the common tint finish, we have been wearing them for a long while now. So, we are here to introduce some of the trendiest K-excellence endorsed lip looks.
Peripera Ink Airy Velvet Lipstick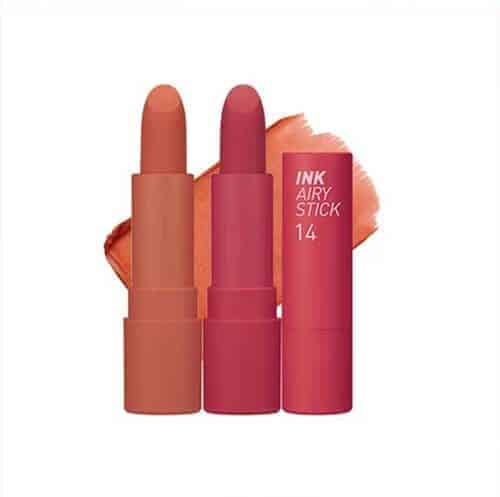 Peripera Ink Airy Velvet Lipstick
3.6g | 8 colors
The Peripera lipstick and lip tint are the true reflections of blooming flowers and soft pillows. It comes with high pigmentation formula that adheres to your lips and gives them soft velvety touch. The Peripera Ink Airy Velvet Lipstick lets you be bold or go soft on your looks. Its moisturizing formula blended with cottonseed oil, vitamin E, mango oil and green tea oil keeps the lips hydrated throughout the day. For the smooth silky finish, the silicone oils and silk powders give the perfect glide while the elastomer in the lip tint covers the fine curves of your lips and give them a glossy texture. The tint applicator is designed for easy application. Just a single swipe on lips and you get a flawless look.
Etude House Dear Darling Water Tint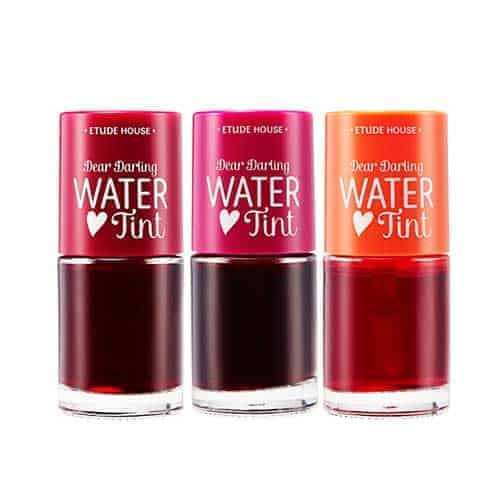 Etude House Dear Darling Water Tint
10g | 3 colors
These bold water gel tints are a must-have in your makeup collection. Etude House lip tint comes with super-expressive rich colors ranging from sweet 16 to bold beauty. Either you are looking for lip color for every day or date night; the dear darling tint got you covered. Its long-lasting moisturizing formula keeps your lips soft, smooth and glossy. Moreover, each color highlights your skin tone and gives you a beautiful look. Its soapberry extracts, vitamins, and minerals keep the lip lively and moist unlike any other.
3CE Velvet Lip Tint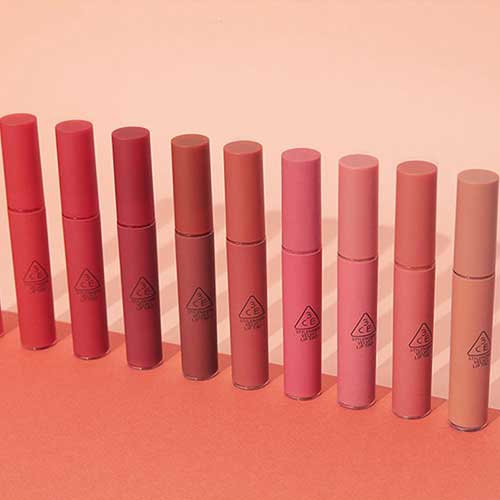 3CE Velvet Lip Tint
1.12 oz | 10 colors
This Matte lip gloss with warm peach beige with a hint of pink, the 3CE velvet lip tint is one of the many 3CE lip tints collection. This lip tint is enriched with natural oil ingredients with its moisture lock formula, gently stains the lips and gives a vivid, velvet matte texture. While applying, the pigment softly melts on the oil layer, delivering a matte finish with some moist sensation. Pretty cool isn't it? Wait till you try it on.
HAN Skincare Cosmetics All Natural Cheek and Lip Tint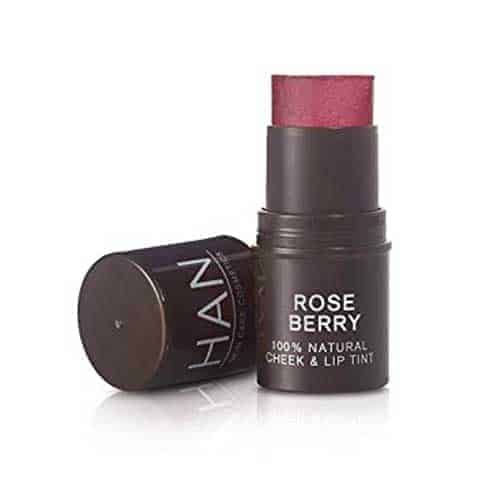 HAN Skincare Cosmetics All Natural Cheek and Lip Tint
5.7g | 7 colors
All natural cheek and lip tint by HAN Skin is a two in one product with easy application and fabulous look. It's completely organic and free of any toxic chemical. Only natural oil ingredients are used and no animal testing is involved. The shea butter, coconut and argan oil makes the lips soft, locks the moisture and give them a natural glossy look. Its versatility makes it perfect for traveling. It can be used as both lip tint and cheek tint due to its natural pigmentation and vibrant color. This product comes in multiple natural shades, leaving your skin with a natural glossy look.
SKIN FOOD Tomato Jelly Tint Lip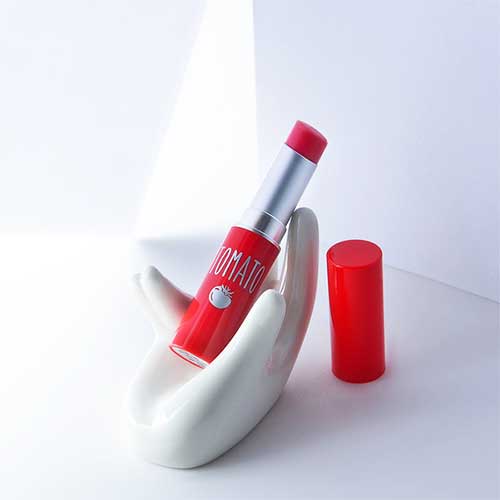 SKIN FOOD Tomato Jelly Tint Lip
4.5g | 4 colors
Spring is here and we've got the best lip balm like a lip tint that will go perfectly with your dress. This jelly like lip tint comes with tomato extracts that moisturize your lips and keeps them healthy. Its long lasting formula makes sure you get the super rosy lips. In addition, the Skin Food tomato jelly tint lip is a lipstick with certain lip tint components giving the lips a more natural and fresh look. The tomato extracts combined with Vitamin E and plant extract oils like Macadamia Nut oil and Jojoba oil ensures the healthiness and liveliness of the lips. The tint is super easy to wear throughout the day.
BBIA Last Lipstick Red Series, Velvet Matte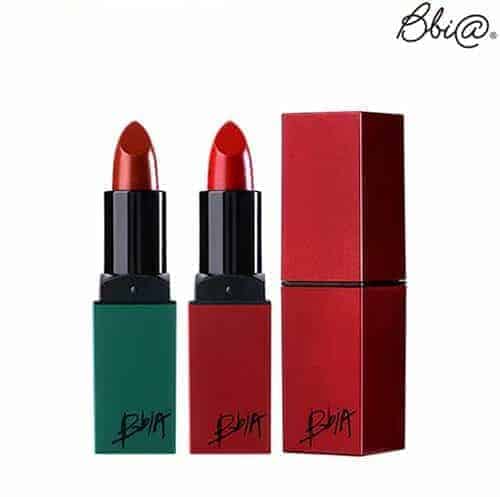 BBIA Last Lipstick Red Series, Velvet Matte
3.5g | 10 colors
There aren't many lip products that offer beauty and skin protection at the same time. However, the Korean beauty brand BBIA came up with this innovative textured lipstick that perfectly highlights your lips. BBIA Last Lipstick is super light, airy texture is amazingly comfortable to wear throughout the day and the vivid colors are long-lasting. The non-drying, smooth and even texture, keep the lips hydrated and moisturized while keeping the softness intact and gives a velvety matte touch. Amazing right?
NOONI Appleberry Lip Oil And Applebutter Lip Mask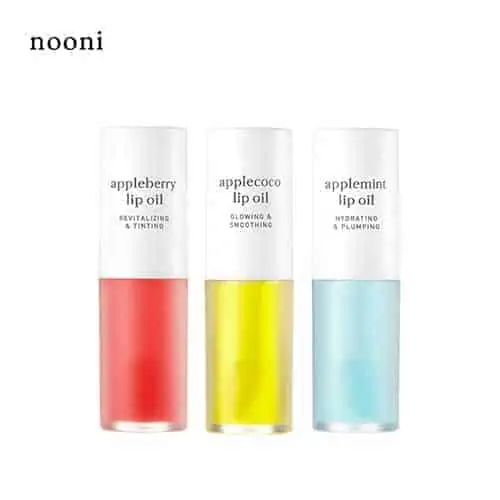 NOONI Appleberry Lip Oil And Applebutter Lip Mask
3.5ml | 3 colors
NOONI is a Korean beauty brand that offers the most refreshing tinted lip oil, lip balm and lip masks filled with gentle apple water which hydrates, moisturizes and removes dead lip skin cells. The Appleberry oil softens the lips a leaves a more natural, gorgeous Korean lip looks. Furthermore, The lip oil is enriched with mint extracts, Vitamins A, C & E blended with gluten-free, paraben-free minerals and Botanical oil. The Applebutter mask, on the other hand, is an overnight lip moisturizer that transforms the dead, dry lips into soft pouty lips overnight.
CLIO Rouge Heel Velvet x Fei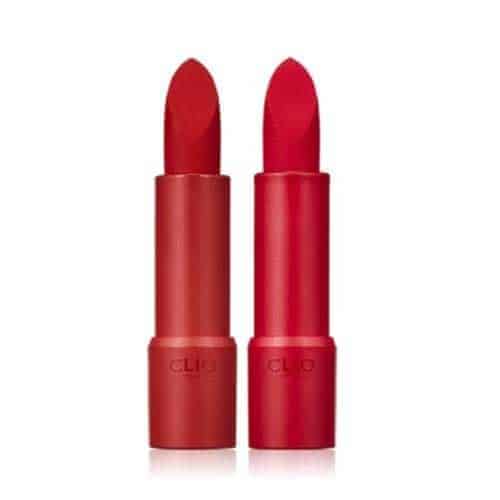 CLIO Rouge Heel Velvet x Fei
3.4g | 10 colors
Are you looking for a velvety touch lipstick? CLIO Rouge Heel Velvet X Fei is the ideal choice. It's a limited edition lipstick, comes with a high pigmented tint which can last for hours. One stroke over your lips and you'll get a plumpy velvet look naturally, its vibrant melon shade is super attractive and is a must-have. It can be worn as matte lipstick or you can achieve a glossy look by applying a stroke of transparent lip gloss. Something that gives a flirtiest yet cute appearance and you can enjoy your summer date.
TONYMOLY Delight Tony Tint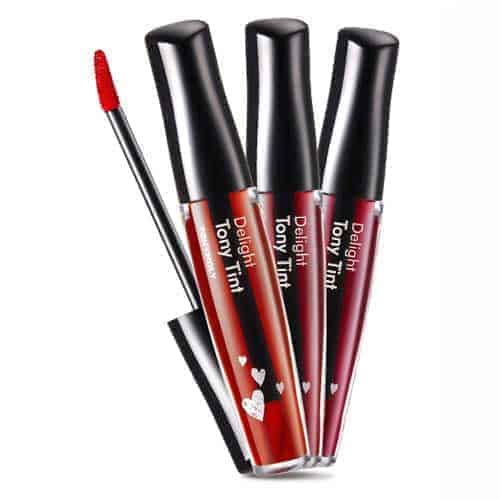 TONYMOLY Delight Tony Tint
8.3ml | 3 colors
Got a job interview and need something bold and confident, the glossy deep red delight tony tint is the perfect option to go with. It's not something that just stains your lips, rather a tint that stays on your lips for hours. This fabulous lip tint with extra pigmentation is super light-weighted, quickly dries and gives a perfect matte finish. You can achieve from natural to super deep shade by applying multiple strokes on your lips. Its non-drip, the moisturizing formula keeps the lips soft, smooth and young.
PONY EFFECT Outfit Velvet Lipstick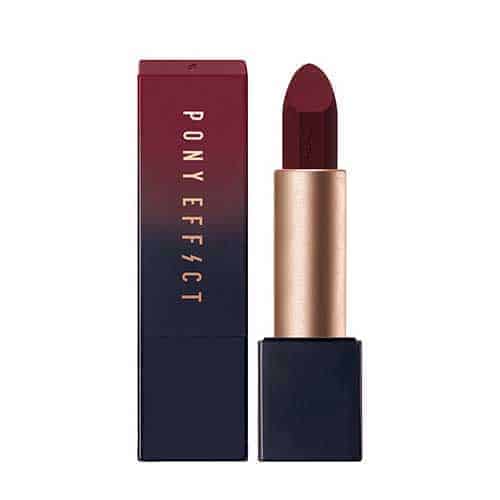 PONY EFFECT Outfit Velvet Lipstick
3.5g | 12 colors
Bored with traditional lip colors and want to try something new? Try the PONY EFFECT outfit velvet lipstick, filled with camellia Sinensis extract which moisturizes and repairs your lips. Its air-light, velvety soft formula easily glides onto the lips, smoothly blends and gives a delicate matte finish but without any weird rough patchy stickiness. You can apply a transparent lip gloss to achieve a glossy look. The lipstick comes in vibrant shades, keeps your lip moist and wet throughout the day. It is also waterproof, so you don't need to worry about the lipstick fading away while you take a sip of coffee or juice. You don't need to apply it over and over again. Only one perfect stroke on the lips and you are ready to roll.
TONYMOLY Perfect Lips Glow Care Stick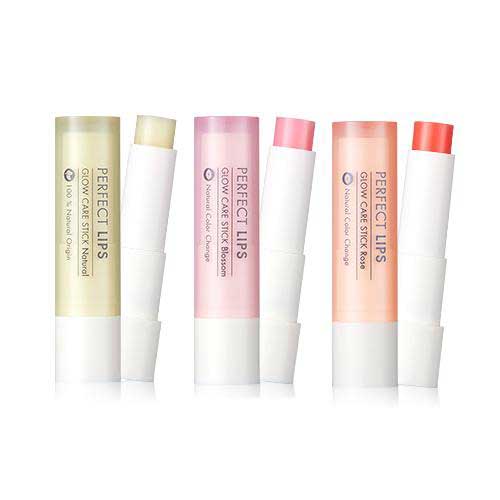 TONYMOLY Perfect Lips Glow Care Stick
3.5g | 3 colors
A soothing combination of lip balm with lipstick, the TONYMOLY lip care stick is a top Korean beauty brand and also marked as the bestselling product on Amazon. The product comes in three different refreshing colors with significant moisturizing properties. Its Rose blossom stick contains a sheer, rose-tinted moisturizing formula that repairs and protects the lips while giving it a natural rosy look. The Honey moisture has Manuka honey and shea butter for soothing, conditioning and nourishing the lips. For a refreshing effect, the mint lip balm stick is filled with Avocado, Coconut and peppermint oil leaving the lips hydrated and super scented. When you apply it, the feeling is amazingly irresistible. Not many tinted lip balms can do that, can they?
And with that, it's the end of our top picks for your lips. Trying new products can be weird and confusing, but some things are worth taking the risk. You can't find the perfect lip tint, lip balm or lipstick without giving it a try. Getting the perfect Korean look may require some effort but you got to stay with the trend. So, take a break, relax, sit back and browse through the lip products listed above. Feel free to check other online makeup websites to find more options. Smile big, Smile boldly and happy shopping!
You may also like
Disclosure: This post contains affiliate links. Clicking those links before you shop means that best k-beauty receives a small commission. Please see my full disclaimer for more information.