Choosing the best mascara which is easy to apply, lasts longer, and is reasonable can be quite difficult, especially when applying it on a daily basis. Korean cosmetic brands have revolutionized the makeup industry by creating various unique yet amazing mascaras that one can't find anywhere else. The Korean mascaras are specifically designed for Asians with small eyelashes. The mascara wand has tinny bristles that catch the baby eyelashes and darkens them with an upward curling effect. This makes the lashes look thicker and longer.
I hope this short guide is instructive, and that it will have the option to assist you with finding the best Korean mascaras according to your requirements. They are wonderful in terms of both quality and price.
best-selling Korean Mascaras for Short, Thin Lashes
Get Latest News & Coupons for K-beauty Products
Innisfree Skinny Waterproof Microcara Mascara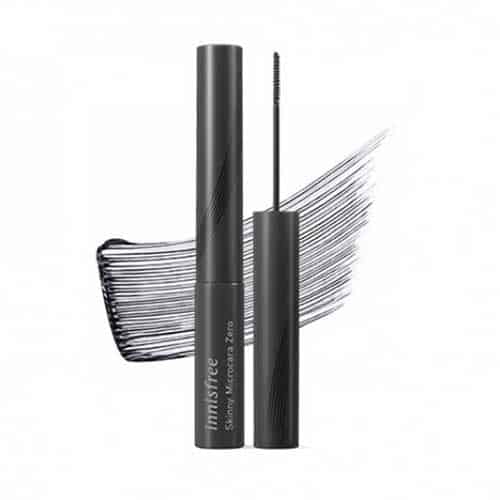 Innisfree skinny mascara is a waterproof mascara that comes in only black color. Its 2.5 mm brush covers the tiniest lashes with a single stroke. Usually, regular mascaras have long length brushes and while applying can be messy. Yet, Korean mascara is the ideal choice for you.
Pros
Covers baby lashes
Volume
Smudge-proof
Waterproof
No clumping
Cons
Curly brush
Available in one color
Brittle brush, harsh application
Can clump sometimes
​Etude House Lash Perm Curl Fix Mascara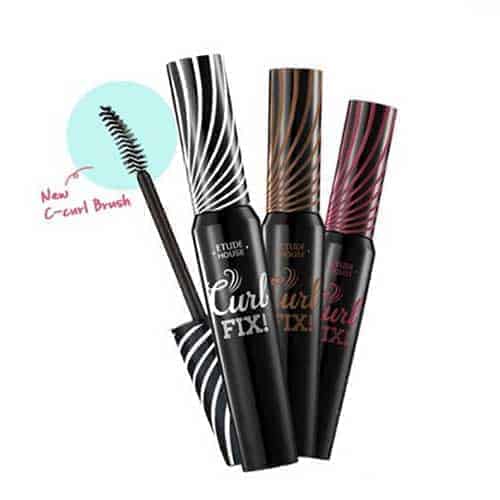 This Etude House smudge-proof and waterproof mascara keeps your eye look fresh for 24 hours straight. It is light weighted and easy to apply. The 24HR curl technology keeps the lashes upward and curled throughout the day.
Pros
Sweatproof
Waterproof
Smudge-proof
C Curled brush with bristles for more coverage
Cons
Multiple coat application
Unpleasant smell
Hard to remove
Clio Kill Lash Superproof Mascara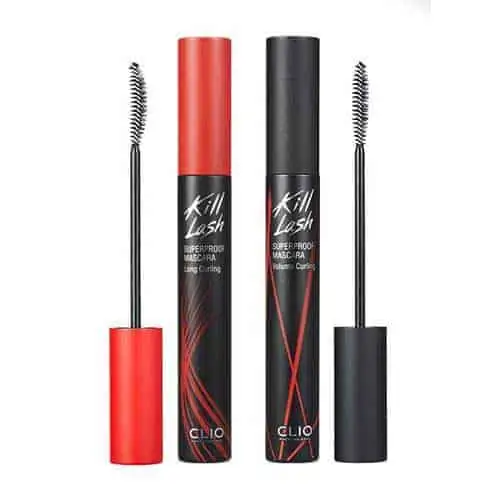 If you are looking for a long curling solution, then Clio kill lash is the best mascara for you. This Korean mascara is not only free of smudging or smearing but also prevents clumping and caking. The C shaped thin mascara brush gives your lashes volume, length, and glossy look. Besides, the brush works like a magic wand by gently adhering to every single lash and gives an extended, clump-free and clean longer lashes. By thoroughly sweeping across the lashes, adds something extra to your lashes yet looks nearly natural.
Pros
Ultra-waterproof
Long lasting curled lashes
Shinny look
Smudge-free
Cons
Etude House Dr. Mascara Fixer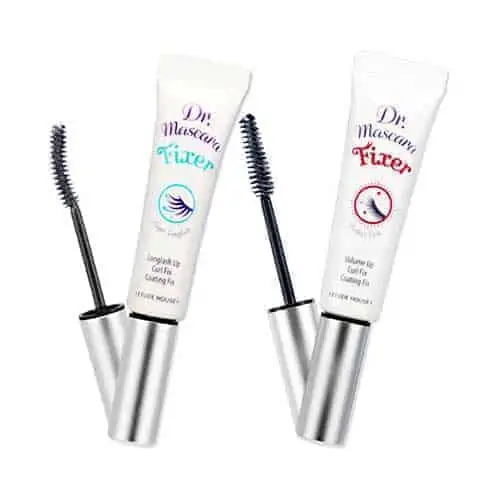 The Etude House Dr. Mascara the top-selling product titled amazon's choice. Its transparent fixer gel gives flawless curled lashes effect. The waterproof feature allows you to use it in dry and humid environments. In addition to this, the Black food extracts conditions the lashes giving it a more natural look with super volume and length.
Pros
Quick dry
Transparent gel
Streak and smudge-proof
Long-lasting
Conditioning
Cons
Little product in the container
Storing conditions
Peripera Ink Black LongLAsh Mascara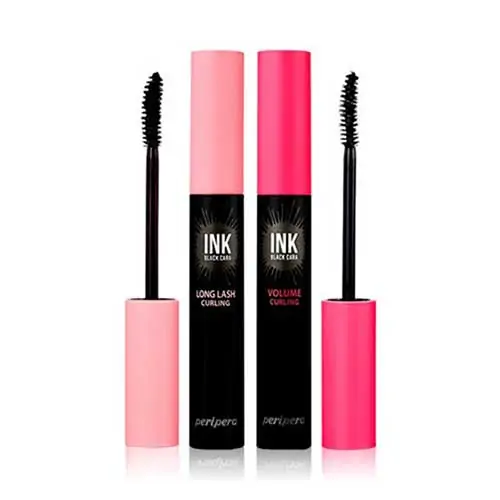 This Peripera ink black Korean mascara is an upgraded version of Peripera old mascara. The improved version is smear-free; lasts for hours and light yet firmly curled lashes. To achieve a heavy eyelash look, multiple coat application is recommended.
Pros
Waterproof
No smudging
Longer lashes
More volume
Brush with small fibers for extra length
Cons
MISSHA the style 4D Mascara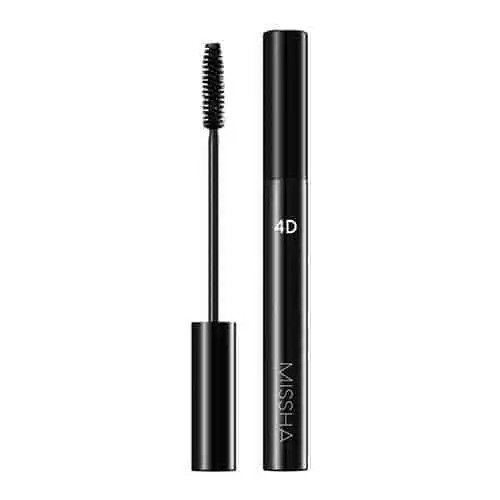 One of the top features of the Missha mascara is that it has plant extracts or green ingredients which prevent any irritation to sensitive eyes. The product comes in a 4g bottle claimed to be waterproof. The mascara has both 3D and 4D versions yet the 4D version is slightly upgraded product than the 3D. Furthermore, the brushes had tinny fibers which make it thicker and so it picks more products from the square-shaped container and can easily be applied. The mascara is not too heavy or sticky to wear and can be used on a daily basis.
Pros
Easy application
Extra thick brush with soft fibers
No smudging
Provides conditioning
Prevents skin/eye irritations
Quick dry
Cons
Dries up in the container
A'PIEU Pro-curling Black Fixer Mascara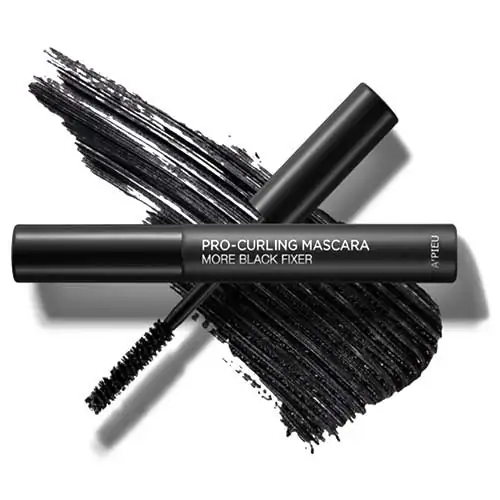 If you are looking for something to moisturize your lashes and gives you a perfect look at the same time, try out the A'PIEU Pro-curling Black Fixer Mascara. Its special formula contains wheat, cellulose powder, panthenol (Vitamin B-5 extracts) with Humectant which works as moisturizer sealer, silk protein, black bean, and rice extracts. This is one of the best Korean mascara in 2020, as it is made of organic stuff rather than artificial materials and chemicals which cause irritations to sensitive eyes.
Moreover, the black gel-like polymer provides volume and curled lashes with a strong fixing effect which lasts longer. There is no flaking and smearing. Also, It is super water-resistant and mostly available in black color only. Not only that, but the mascara is also very reasonable in terms of pricing.
Pros
Organic mascara
Water resistant
Smudge-proof
Moisturizes the lashes
Cons
Clumps easily
The wet formula gets messy most of the time
How to choose the right Korean mascaras
Multiple online websites sell different cosmetic products. But how can you choose which Korean mascara is the best? The key to remember that regardless of where the item originates from, it must meet your requirements however much as could reasonably be expected. Various Western shoppers go to Asian markets to discover exactly the last sort of item. So if you need eyelashes in all shades of the rainbow, with sparkle or shimmers, or anything of that sort, Korean cosmetic makers offer these in large numbers.
Be that as it may, it would be an error to expel Korean mascaras as straightforward curiosity items. The more significant viewpoint and the one we will concentrate on is how all of these Korean mascaras are made. Korean makers have carried numerous upgrades to the mascara showcase. For example, eyelash stretching tubing mascara is a Korean creation.
So, choosing the best Korean mascara that is of top-notch quality and looks good on you can be confusing. This is why we gathered a list of top best Korean mascara of 2020 based on their common features like length, curling, and volume. All these mascara have their separate yet exclusive features.
Conclusion
If you are a makeup junkie or a person with a simple makeup routine, you would probably know that eyes are the center of attention. Even if you are a makeup pro, but you can't handle the eye makeup that well, then probably all those other skills are nearly useless. To make sure you buy the best mascara, make sure it satisfies the criteria I covered at the start of our article. Choose the best Korean mascara that provides super length and volume, keeps the lashes upward curled throughout the day, should be water-resistant and smudge-proof.
Asians are known not only for their flawless skin but also for their miniature yet beautiful round features. But one thing which makes them more prominent is the curved, slanted, and smooth eyes with deep eyelid folds. Now, as we know, there's always a downside to everything. The same is the case with Asians' eyes.
Despite the beautiful dark eye color, Asian eyelashes incline to be thinner and shorter than any other. Also, they lack natural curls and appear to be super straight. This is why Korean cosmetic brands is getting popular for their unique and effective products.
Feel free to check all the items listed above by simply clicking on the link and choose which one is the best for you. Happy shopping!
You may also like
Disclosure: This post contains affiliate links. Clicking those links before you shop means that best k-beauty receives a small commission. Please see my full disclaimer for more information.