Best-selling Innisfree Products
Innisfree is a beauty brand from South Korea, catering to various skin needs of an individual and also providing products to enhance one's natural beauty. The main purpose of Innisfree is to deliver skincare and beauty products through a natural path. This brand is owned by Amore Pacific and was created in 2000. They focus on formulating products that have a high average of natural ingredients rather than all artificial ones which harm the skin. Moreover, Innisfree does eco-friendly campaigns to promote the word about a natural approach to life. The goal of their products is to provide healthy skin and protect its vitality. They also promote the message of a healthy and natural lifestyle, which goes hand in hand with their products. So now, one must wonder what the best-selling Innisfree products from skincare items to makeup products are.
Top-rated 5 Innisfree Product Review in 2021
The following list contains the top 5 best-selling Innisfree products from a cleanser to makeup. Hopefully, this list can help you build a starter kit from the brand, and then build your routine by adding more products as you experience how great they are. Thus, take out your notes and jot down your favorite items now.
Get Latest News & Coupons for K-beauty Products
Cleanser: Innisfree Blueberry Rebalancing 5.5 Cleanser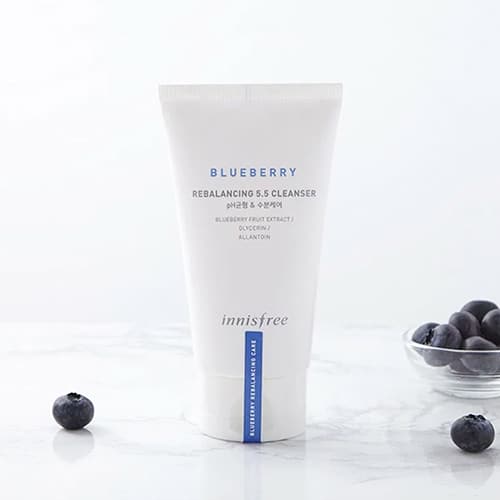 This Innisfree cleanser offers just the right amount of cleansing that leaves the skin moisturized afterward. It is a sub-acidic-based facial cleanser, best for achieving great skin conditions. It reduces the stress on the skin by creating a balance in the acidic pH levels of the skin and the oil and water content of the skin. Also, Blueberry rebalancing cleanser gives the skin a refreshed and relaxed look and feel. Not only it protects the lipid layer of the skin and moisturizes to make the skin appear dewier after cleansing.
KEY INGREDIENTS
Blueberry is an effective antioxidant and as an ingredient in this cleanser, it fights toxins and makes the skin clean and supple.
Allantoin (100mg) helps to calm irritated skin.
THE FEEL
Users have reviewed that oftentimes cleansers can leave a squeaky-clean feeling on their skin, making it feel rather stretched and dry. This low pH level rebalancing cleanser does not do that. It cleans and provides moisture at the same time as Glycerin. Also, it foams very well too, giving a satisfying feel and a deep clean effect as well. In addition, I feel that its smell is great because of the fruity-like which is a great plus point. The scent is nice and mild but is not too strong and overwhelming at all.
HOW TO APPLY
To use Innisfree cleanser, simply lather it up in your hands and gently apply it to the skin and rub in circular motions. I would recommend you to finish the cleansing in 2 minutes for non-irritating skin. The foamy cleanser will pick off dirt and impurities, leaving behind moisturized and hydrated skin.
CAUTIONS FOR USE
Most ingredients in this Innisfree cleanser are green level by EWG safety but it contains Lavender oil and Orange Peel oil that might cause troubles onto some sensitive skin type.
For more information about the best Korean cleansing water, cleansing oil, and makeup remover, head here.
CHECK PRICES
Clay Maks: Innisfree Super Volcanic Pore Clay Masks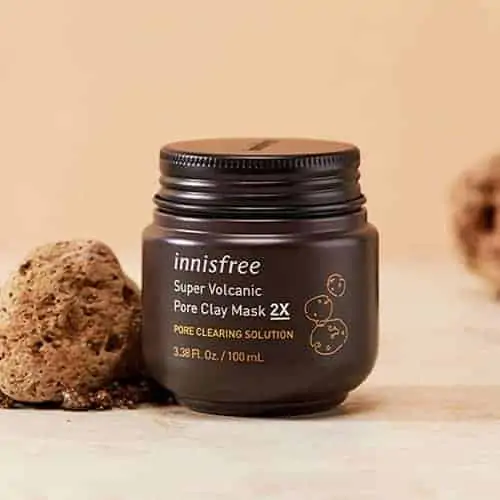 Innisfree Super Volcanic Pore Clay Masks is unlike any other pore care product on the market. This exfoliator has been formulated from the Jeju volcanic clusters formed after an eruption of a volcano occurs on Jeju Island in Korea. These clusters are the best for absorbing sebum and impurities. Moreover, formulated to perform six essential actions to give a clean and healthy result to the skin, this is a great choice. If you like using clay masks, then this one is definitely a must. The clusters, absorbing the sebum, leave behind minimized pores and supple skin.
KEY INGREDIENTS
Volcanic Ash, Bentonite, and Silica control sebum and prevent breakouts and greasy skin by taking out all impurities.
Walnut Shell Powder is a natural exfoliating agent to remove dead skin cells for smooth texture and better absorption of nutrients.
Green Teal Extract calms irritated skin while it's exfoliating.
THE FEEL
I choose this one because Its first task is to minimize pores, which are visibly seen after use. The best part of this clay mask is that its results are seen right after use! It cleans deeply the pores and minimizes them by removing dirt and impurities. This is such an effective yet non-irritating clay mask that helps revive the texture of my skin and improve the appearance. Also, Innisfree Super Volcanic Pore Clay Mask gave me a cooling feeling to the skin so I think it's useful especially in the summer season. It brightens the overall skin tone and awakening effect. I use it every two weeks and feel that it is in fact deep cleansing, exfoliating, and pore-minimizing especially my nose and chin area. Besides, It helps with breakouts.
HOW TO APPLY
After cleansing, apply this clay mask all over the face avoiding contact with eyes and lips, and layer it evenly. After 10-15 minutes, rinse it off with lukewarm water and gently pat your face dry. You will be able to see a difference in your skin after use. Your skin will be brighter, cleaner, and supple. Though it is a simple process, the results are totally worth it, and you will be able to see these results for yourself by using this one.
CAUTIONS FOR USE
I recommend use once or maximum twice a week and don't let them on the face over 20 minutes that might cause the skin drier.
Here, you can check more non-irritating exfoliators for tightening pores, removing sebum and dead skin cells.
CHECK PRICES
Moisturizer: Innisfree Green Tea Seed Cream/Serum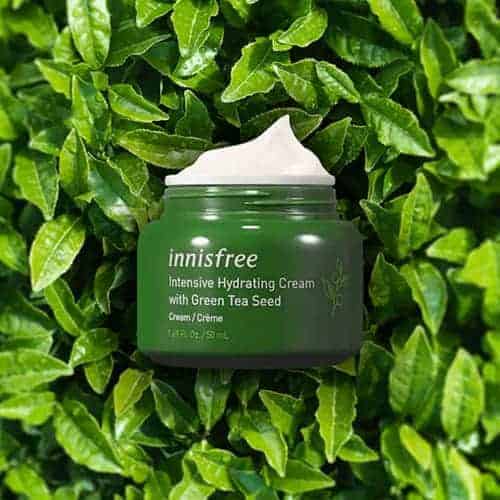 Innisfree Green Tea Seed Cream
Ideal for dry, normal, combination, oily skin
Price: $17 ~ $25
Size: 50ml
Ingredient Safety by EWG:
4 ingredients on moderate hazard | 2 High hazard
Innisfree The Green Tea Seed Cream and Serum product has been created from Korean Green Tea in Jeju Island, selected after testing thousands of other tea kinds. This is a special one aimed at moisturizing the skin very well. Innisfree Green Tea Seed Cream and Serum prolongs the hydration and keeps the skin from getting dehydrated for much longer. The effect is visible and can be felt soon after use. Plus, this product provides benefits to the skin faster than drinking green tea alone would.
KEY INGREDIENTS
High amount of Green Tea Leaf Water (58.15%) and Green Tea Seed Oil calm and soothe the skin.
Panthenol helps to strengthen the skin barrier for healthy skin.
It has a good amino acid content excellent for giving the skin moisture and adequate hydration.
THE FEEL
The level of hydration is so immense that it provides hydration not just to the surface layer of the skin, but to all the layers beneath it. When I use both serum and cream on a nighttime skincare routine, I feel my dry skin is hydrated, soft, supple, and moisturized adequately. With prolonged use, the hydration is felt much more. The skin is hydrated more and more with use as the effect is long-lasting and highly effective. Other reviewers say that long-term use resulted in them with soft and supple skin texture, brightened skin tone, and a great level of overall skin hydration. 
HOW TO APPLY
The Innisfree Green Tea cream or serum is to be applied to a cleansed and toned face. Take about 2-4 drops of the serum and gently massage into the skin by tapping motions. After the eye cream step, apply the cream in a nice even layer all over the face and tap as well. The skin becomes soft, supple, and bright after the use of the green tea serum or cream.
CAUTIONS FOR USE
Unfortunately, I have to let you know that it has a fragrance which is one of the harmful components as is well known. So, please note it before you purchase if you have sensitive skin. Except for it, the useability of this product is good!
Here, you can check the detail review of Innisfree Green Tea Probiotics Cream newly released in 2019 and here to see more Korean moisturizers for oily, dry, and sensitive skin.
CHECK PRICES
Powder: Innisfree No Sebum Mineral Pact
Innisfree No-Sebum Mineral Pact
Ideal for oily skin
Price: $8 ~ $18
Size: 8.5g
Ingredient Safety by EWG:
Most the ingredients are low hazard scores except 2 Moderate hazard
Moving on to Innisfree makeup products, No sebum Mineral Pact is a dream for keeping a matte finish all day long. If you struggle with oily and greasy skin, or your skin tends to get oily in certain areas throughout the day, you should get this. It is formulated from Jeju natural minerals, mint extracts, and sebum control powder. Innisfree No sebum Mineral Pact & Powder is great for keeping a balance between healthy and moist skin while taking away all excess shine and oil. It is a simple replacement for blotting paper.
KEY INGREDIENTS
Kaolin and Silica control the excess sebum and oil.
Green Tea Leaf Extract soothes irritated skin cause by environment.
There are no paraben, artificial pigments or fragrances, talc, mineral oils, or any kind of animal ingredients.
THE FEEL
It takes away oil and sebum to give a soft skin finish. I could say this product keeps shine and oil off my face without drying out the skin. I use it on top of makeup or on moisturized skin throughout the day. Pat in with a sponge or with a fluffy brush, the result is amazing. I think no powder has kept my face so smooth, soft, and oil-free as much as this Innisfree no sebum mineral pact for use during the day as a makeup fixer. As you know, If that oil builds up, breakouts can be caused, therefore, the use of this pact diminishes that risk and makes it possible to have healthy skin that also looks beautiful.
HOW TO APPLY
Tap lightly on the face as the last step of makeup. Feel free to use whenever the skin becomes greasy.
CHECK PRICES
Face Makeup: Innisfree No Sebum Blur Primer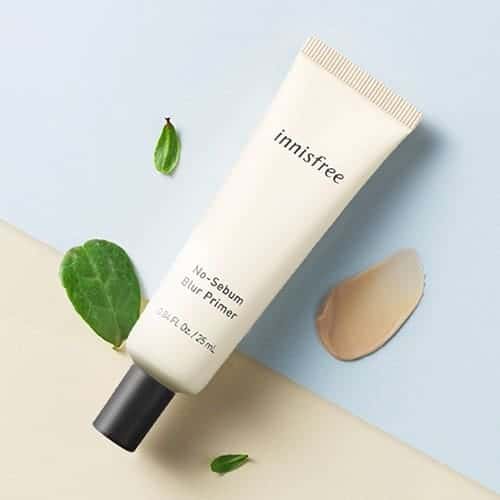 Formulated from Jeju natural minerals and mint of natural origins, Innisfree no sebum blur primer gives the skin a soft, blurred effect. It brightens the skin tone and goes seamlessly over pores to cover them up. Basically, it filters the skin and gives a smooth canvas for further makeup products to lay over it flawlessly. The primer evens out the skin texture as well and makes it so that the skin stays soft for a prolonged period of time and that the effect is skin deep. It helps the skin moisturized and hydrated.
KEY INGREDIENTS
Natural ingredients like mint and minerals keep the balance between moisture and oil in the layers of the skin.
Together with the Jeju persimmon extracts in the primer, it makes the skin supple and minimizes the pores for flawless skin.
While this is a makeup product, the Jeju green complex makes that the skin is healthy from the inside.
THE FEEL
To be honest, I am reluctant to use the makeup primer cause it makes my sensitive skin more irritating while I do double-cleansing with multiple base makeup products. However, this Innisfree item can be an option for a special day. It helps in oil control and that in effect prolongs the wear of makeup and gives a shine-free, healthy, and radiant look. What's more, the pores are visibly minimized, and this makes the texture of the skin smooth and clean. The makeup application is a better experience for me because of this. I use this primer on a moisture face in an even layer. Wait for it to absorb for 5-10 minutes and continue with base makeup application for the best results in better skin texture, a better skin tone, and a healthier glow after make-up.
HOW TO APPLY
Before foundation, apply a thin layer all over face and pat gently until absorbed. Avoid applying too much to prevent flaking or clumping.
CAUTIONS FOR USE
PEG and Fragrance might cause troubles onto the sensitive skin.
CHECK PRICES
These items are the best-selling Innisfree products and the thousands of reviews of users are proof of how beneficial the effective products really are.
Before purchasing, don't forget to check skincare ingredients on labels and where to look for information, EWG Skin Deep ratings could help you as a reference point. For details, head EWG (Environment Working Group) official website.

YOU MAY ALSO LIKE
Disclosure: This post contains affiliate links. Clicking those links before you shop means that best k-beauty receives a small commission. Please see my full disclaimer for more information.