Toner is the perfect product to use after cleansing as it leaves your skin feeling fresh, moistened, and clean. Putting toner on a cotton pad also removes any residues left after cleansing. The trend in Korea these days is to use a "Toner Mask". You can put toner soaked cotton on a specific area like your cheeks or chin, for about 10-15 minutes, adding moisture and balance to your skin. With so many Korean skincare toners to choose from, I made it easy for you! Here are two types of the best Korean toners on the list: liquid and pad type.
best Korean toner for your skin type
All of which are the most popular products in Korea and have No alcohol, No Silicon oil, and are non-harmful.
Before purchasing, don't forget to check skincare ingredients on labels and where to look for information, EWG Skin Deep ratings could help you as a reference point. For details, head EWG (Environment Working Group) official website.

Liquid Toner
Etude House Soon Jung pH 5.5 Relief Toner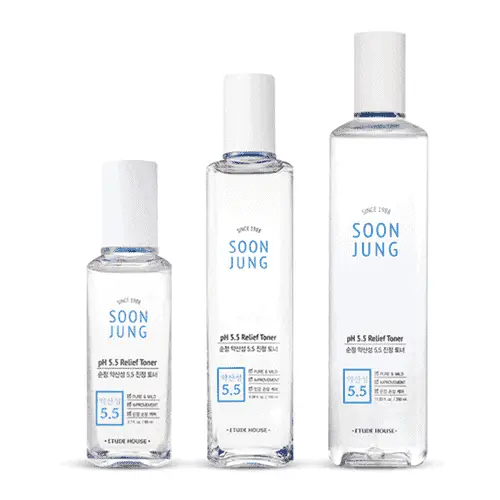 When it comes to skincare products, keeping it simple might be the best solution. This Korean skin care toner uses 97% naturally derived ingredients with a low pH of 5.5 to keep your skin hydrated all day long. If you cleansed your face with a weak acid cleanser, you do not have to use a weak acid toner. But if you used a neutral cleanser, it might be best to use a weak acid toner to balance the pH level of your skin. Moreover, I recommend Etude House Soonjung toner for those with sensitive and dry skin. Because it contains Betaine, Panthenol, and Madecassoside to retain, maintain, regenerate and soothe your skin. It will be your best friend as its ingredients are incredible and price friendly. Note that it also comes in 80ml, 180 ml, and 350 ml.
Round LAB 1025 Dokdo Toner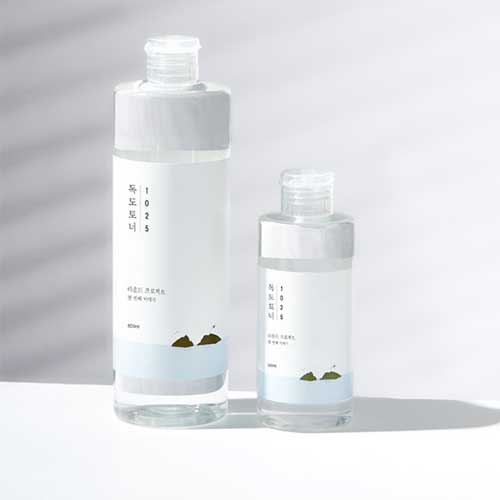 You might wonder why there is so much controversy in this small island, Dokdo in the southernmost part of South Korea. There are many reasons but for those beauty lovers, it has to be the pure, strong, and untouched minerals found in the deep sea along Dokdo and Ulleungdo Islands in Korea. You can imagine the impact these natural resources can do for your skin. This Korean toner is on the minimal use of ingredients, just 16 to be exact. The less ingredients used can lead to less irritation for your skin.
Moreover, Round Lab 1025 Dockdo Toner is light as water and perfects to use on a pad as a toner mask on your face. Not only does it contain Allantoin and Panthenol to help retain moisture and regenerate the skin, but it also contains Sugar cane extract to naturally exfoliate your skin, leaving it smooth and free of dead skin cells. The 1025 Dokdo Toner has won many beauty awards in Korea. And it's still one of Korea's most loved liquid toners.
The Lab by Blanc Doux Oligo Hyaluronic Acid 5000 Toner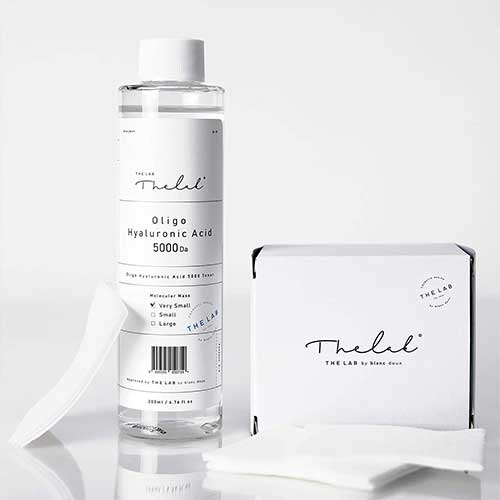 This ultra-hydrating face toner moisturizes your skin with the low molecular hyaluronic acid! In K-beauty these days, you can't buy a product without having hyaluronic acid in it AKA moisture magnet. It is capable of providing moisture to your skin, 1000 times its weight in water. Here is a little beauty science for you. There are two components of hyaluronic acid: macro and micro. The micro molecules are small so they absorb quickly into your skin. Also, the micro molecules are used mostly in toners, and the macro molecules in the hyaluronic acid are used mainly in moisturizers.
In addition, you might have wondered why the number 5000 is used in the toner's name. Well, the hyaluronic acid's micro molecules are 5000 Da in size, 200 times smaller than the macro molecules. So your skin easily soaks up the hyaluronic acid, moistening and softening your skin. Lastly, this goodie is also packed with Allantoin, Panthenol, Beta-glucan, all soothing, calming, and repairing your skin.
SCINIC The Simple Calming Toner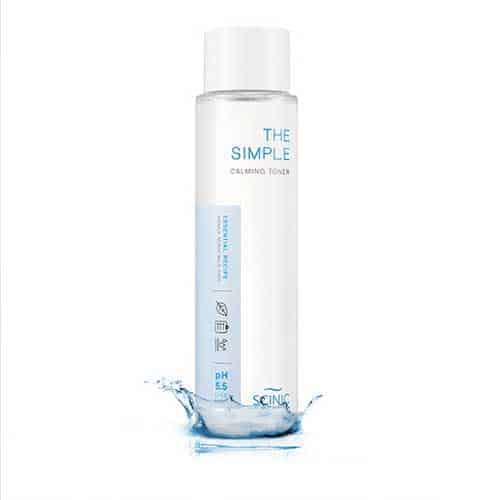 Sometimes simplicity is the best solution. With only 13 ingredients, Scinic the simple calming toner (as the name suggests) is low irritant, low in pH level, and a great moisturizer. It has a pH level of 5.5 to balance the skin and Aloe Leaf Juice to soothe the skin. Moreover, there's Sodium hyaluronate in it to provide moisture for all sensitive, dry, and oily skin. It's like water but not sticky. It is quite moisturizing and also enriched with Madecassoside to build a protective barrier for your skin.
Korean Toner Pad
COSRX One Step Green Hero Calming Pad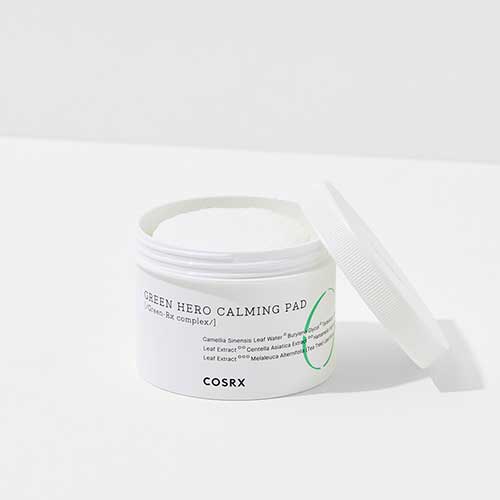 This is one of the most best-selling Toner Pads that are formulated with natural plants to help refresh, calm, and hydrate your skin! COSRX Green Hero Calming is less irritating than the COSRX Original Pad, One Step Moisture Up, so I recommend it for sensitive skin types. The pad is also in a slightly green tint color highlighting the soothing effects of the Green Tea Leaf Water used. Definitely, you will see results when you cool the pad in the refrigerator for 10 minutes and put it on the irritated part of your skin. I follow this method especially on active days when I spent too much time outside.
Furthermore, this toner pad contains Sodium Hyaluronate, Panthenol to maintain moisture. The main ingredients like Centella Asiatica Extract, Asiatic Acid and Madecassic Acid come from Cica Cream, which is all used to regenerate your skin. Moreover, not only is Tea Tree Leaf Extract which is an antibacterial and anti-inflammatory ingredient used but also the PHA component is used so that daily non-irritating exfoliation is possible. PHA molecules are bigger in size than AHA and BHA molecules so it will be less irritating when exfoliating your face. If you are interested in more Korean exfoliation products, check out this post.
NEOGEN DERMALOGY Bio Peel Gauze Peeling Green Tea
This unique 3 layer (mesh gauze, cushion, and embossed) pad is definitely one of a kind! Neogen Dermalogy Bio Gause Peeling is much thicker and bigger in size compared to the regular toner pads sold. Each pad is single-use but the quality is so nice you will want to use it for a body at once! Not only is every ingredient used well thought out to aid in the health and regeneration of your skin, but each pad also comes with a small slit to easily put your fingers in.
Now the ingredients used are the best parts. For instance, Green Tea Leaf water and the extract is the main ingredient to soothe and prevent premature aging to your skin. While Houttuynia Cordata Extract, Lactobionic Acid, and Gluconolactone, both part of PHA, are natural exfoliator ingredients helping in peeling off the dead skin cells. Moreover, Centella Asiatica and Hyaluronic Acid add moisture even after the peeling. However, the mesh gauze was a little bit rougher than I thought, so I use the embossed pad first to clean my face, then the decollate part of the gauze pad. If your skin is sensitive to outside irritants, note this before purchasing.
Goodal Green Tangerine Vita C Toner Pad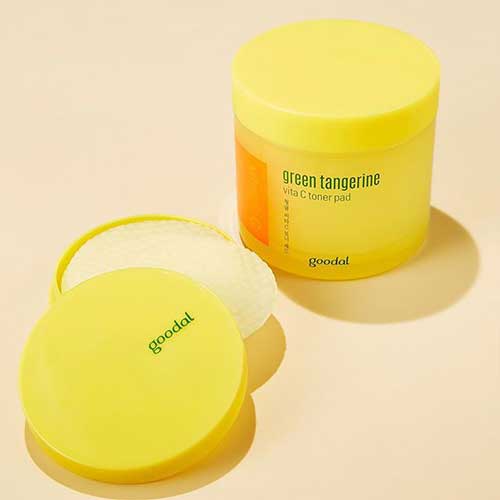 Goodal Green Tangerine Toner Pad has concentrated natural Vitamin C and Tangerine Extract for your skin to experience powerful skin brightening and nourishment. It is also the perfect way to safely exfoliate your skin with Sugar Cane extract which is a natural exfoliating ingredient. Even after exfoliation, Hyaluronic acid and Allantoin help maintain your skin's moisture. Besides, a hint of Niacinamide is used to help brighten and clear your skin. The best part is it comes with a Tweezer! How thoughtful of the creators to add a tweezer in for sanitary purposes. Also, note that though this product is highly favored by many Korean consumers, there are reviews where sensitive skin types had slight irritations, maybe due to many citric ingredients like Lemon Peel and Orange Peel Oils. We recommend testing the product before using it.
Belamonster Blemish Care Solution Pad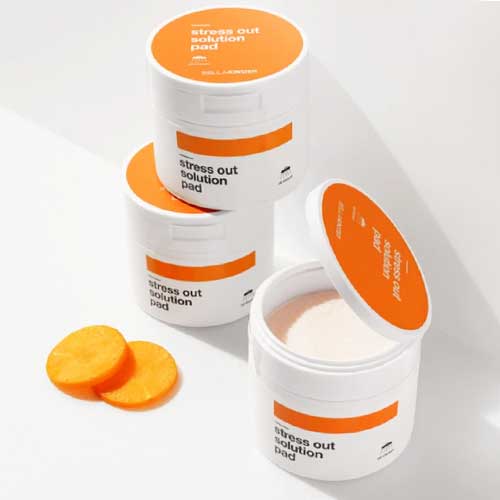 Calamansi Extract, the queen of vitamin C, is the key ingredient in this slightly acidic toner pad. Natural Vitamin C is known to help your skin tone stay pure and clean, and to add brightening. Niacinamide, an active ingredient, is added in high content. So It's perfect for dull and dark spots. But it also soothes and moistens irritated skin with ingredients like Tea tree extract, Panthenol, and Allantoin. Moreover, there's the PHA component Gluconolactone for a non-irritant exfoliation to remove sebum and residues. I recommend Belamonster Blemish Care Solution Pad for skin types who want brightening without the burden of Citric extracts. It works great for dry and oily skin types.
You may also like
Disclosure: This post contains affiliate links. Clicking those links before you shop means that best k-beauty receives a small commission. Please see my full disclaimer for more information.