Honestly, face serum, essence, and ampoule all have different names but their roles are not much different. They are slightly heavier in texture than the toner but lighter than a moisturizer. The best Korean face essence, serums, and ampoule have active ingredients to effectively help add brightening, prevent wrinkles, and others. For more details of actives ingredients for your skin concern, check THIS POST.
Where to put face essence in your skincare routine;
First, use a toner or toner pad to organize your skin texture, and then put on face serum, essence, or ampoule that matches your skin type. Afterward, move on to adding moisturizers. During the summer, when it is less dry, I like to put on an all-in-one serum, with moisture and the active ingredient that is enough for my skin. Before you buy, check what kind of active ingredients are in the products to see where you would like your skin to improve.
best Korean face serum, ampoules, and essences
I made the list of the best Korean serum and essence based on hydrating, calming, whitening, and anti-aging. Before purchasing, don't forget to check skincare ingredients on labels and where to look for information, EWG Skin Deep ratings could help you as a reference point. For details, head EWG (Environment Working Group) official website.

Get Latest News & Coupons for K-beauty Products
MISSHA Time Revolution Night Repair Probio Ampoule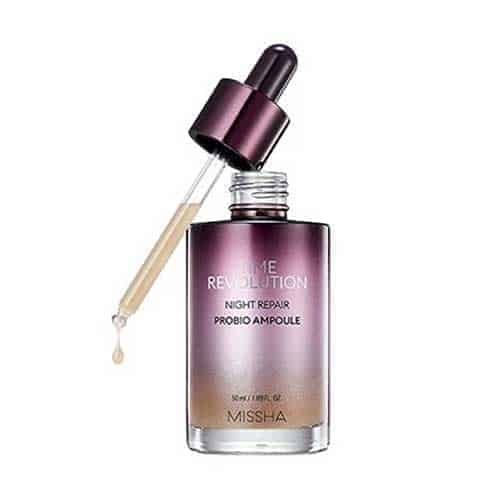 GOOD FOR WHITENING & ELASTICITY
This is one of Missha's best selling products and it is also compared to Estee Lauder's Night Repair product. Missha Time Revolution Night Repair Probio Ampoule is a double functioning product using Niacinamide as the main ingredient to add whitening, and Adenosine to prevent wrinkles. Moreover, this ampoule's name Probio is used to show that Bifida Ferment Lysate and Lactobacillus, fermented extracts, were added for skin elasticity, strengthening of the skin barrier, and long-lasting moisture. The fermenting ingredients are also used in many Estee Lauder's skincare products.
However, some skin types might not match the fermented extracts, so it will be best to test on your skin first. Also, the ampoule is a thin liquid type, so using a pipette and dropping 2-3 drops will help your skin absorb better. Lastly, there's natural Sugar cane as a brightening and natural exfoliator in this ampoule. Thus you can feel your skin tone even out and glow in the morning.
BE PLAIN Cicaful Ampoule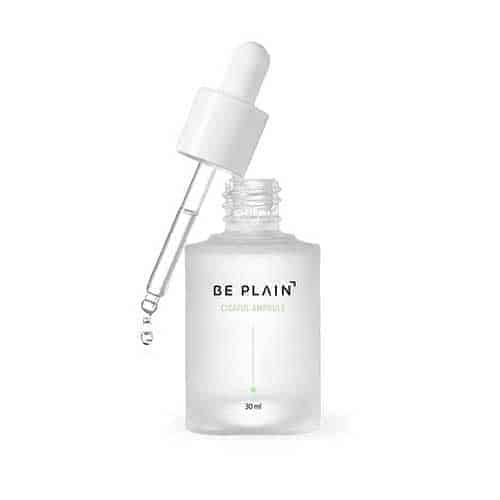 GOOD FOR CALMING
Just like the name of the cosmetic brand, the ingredients in this ampoule are quite minimal but effective. The main ingredient part of the cica cream used to repair your skin is highly contained in Be Plain Cicaful Ampoule. Nearly 84% of Centella Asiatica Extract is concentrated to repair skin sensitivity, calm dullness, and blemishes. It also has Sodium Hyaluronate (Hyaluronic Acid) and Glycerin to keep your skin soft and moisturized during the day. Moreover, I applied this ampoule in the morning and evening when the weather turned my skin red and pimply. After a couple of days, I saw my skin even out and calm. In addition, I felt at ease putting the ampoule on as there's Lactobacillus in small amounts and it is aroma oil and fragrance free. I highly recommend it for sensitive skin types.
The Lab by Blanc Doux Oligo Hyaluronic Acid Boosting Ampoule
Ideal for all skin types
Ingredient Safety by EWG:
All ingredients are low hazard scores
GOOD FOR HYDRATING
Oligo Hyaluronic Acid Ampoule fills your skin with the added benefits of Glycerin and Allantoin. Hyaluronic Acid is composed of the big, middle, and small molecules, and this product is made from the finest molecules to penetrate deep within your skin for full moisture. Furthermore, if you feel that a moisturizer is not sufficient in giving moisture for those with heavy dryness, I would recommend putting this hydrating ampoule on first, then the moisturizer afterward. It will solve the dryness from within giving you moisturized skin throughout the day. Also, the texture is light and thin so it is good for oily skin types. But because the absorption is slightly slow, tap slowly for faster results. Best yet, it is an aroma oil and fragrance free as well!
COSRX Galactomyces 95 Tone Balancing Essence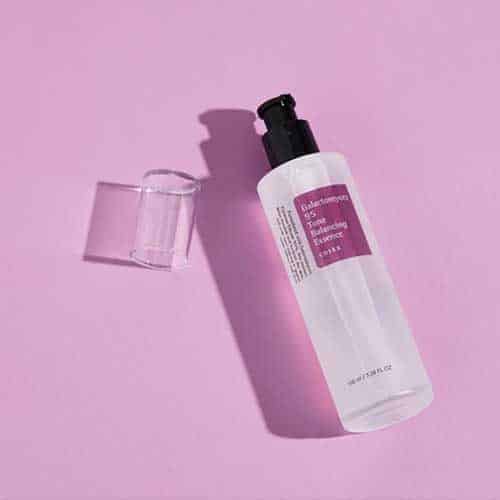 GOOD FOR WHITENING & ANTI-AGING
The main ingredient of Cos RX Galactomyces 95 Tone Balancing Essence is the same as SK2's signature product, Facial treatment essence. Galactomyces Ferment works on hydrating, brightening and soothing all at once. Besides, It has Niacinamide, Panthenol, Sodium Hyaluronate all for moisture benefits and brightening, while Adenosine helps prevent wrinkles and adds elasticity. Moreover, the concentrated essence glides onto your skin and absorbs easily, making it perfect for day and night. As it is not sticky oily skin types might like it as well. Also, if you had a good experience using SK2's essence but the price was a burden, Cos RX can be the perfect substitute to achieve flawless and even complexion.
Torriden Dive-In Low Molecule Hyaluronic Acid face Serum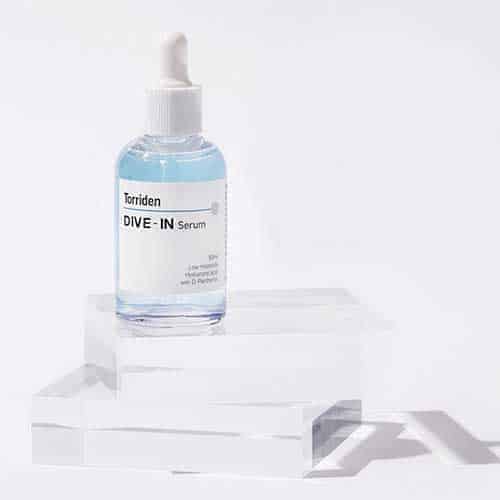 GOOD FOR CALMING & HYDRATING
With over 4.6 million reviews, this serum has won the hearts of Korean consumers in the Face serum/essence/ampoule category from the Hwahye Beauty Awards. The biggest feature of Torriden Dive-in Hyaluronic Acid Face Serum is its use of the big, medium, and small molecules of the Hyaluronic Acid for a moisture extravagance. The medium and small molecules penetrate deep into the skin to moisturize the inner dryness, while the big molecules prevent moisture from escaping. In addition, Panthenol and Allantoin help soothe the skin, while Madecassoside and Madecassic Acid help to restore the collapsed skin barrier. Also, this face serum is pH 5.5 in acidity, so it adjusts to your skin pH well. Because it's fragrance-free I recommend it for sensitive skin. Lastly, it is a sky blue gel-type serum, made of pure natural extracts. So don't let the color worry you.
Manyo Factory Bifida Complex Ampoule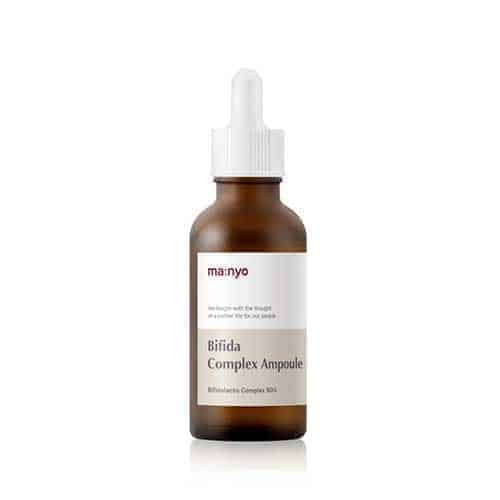 GOOD FOR WHITENING & ANTI-AGING
This Manyo Factory Ampoule has all the same main ingredients as the famous Estee Lauder's Night Repair complex. But even better with no harmful ingredients and only one-third of the cost. Fermented ingredients such as Bifida Ferment Lysate and Lactobacillus in the product contain lots of natural minerals and vitamins, which soften skin texture. And It is a Total Anti-aging ampoule with both Niacinamide and Adenosine, which allows for both whitening and prevents wrinkles. Moreover, It has Sodium Hyaluronate for a watery but moist texture for fast absorption. But keep in mind that this product has fermented ingredients that might react to some skin types. So please test it before using it.
K-beauty TIP:
If you want your skin to look beautiful like the commercials you see, try dropping one drop of the ampoule to your foundation. You'll be able to express Korean makeup's flawless skin! Also, you can use the essence or ampoule for face toner pack with toner pads or soaked cotton pads.
You may also like
Disclosure: This post contains affiliate links. Clicking those links before you shop means that best k-beauty receives a small commission. Please see my full disclaimer for more information.