As a person with sensitive skin, It has been a journey trying to find products that do the job of removing my dead skin cells and cleaning my pores without being overly stripping and sensitizing. If you've been into skincare for a while I'm sure you've come across many harsh scrubs that have left your skin feeling tight and red, or chemical exfoliants that have either stung or burnt. I am definitely guilty of thinking that if a product tingled or if my face felt squeaky clean afterward, the product had 'done the job'. When in reality stripping my skin and exfoliating abrasively only damaged my skin barrier and made my skin more dry and sensitive. So, I tried to find a gentle Korean exfoliator for oily skin and would like to share these top Korean skincare products.
WHAT IS EXFOLIATION?
Throughout the day our skin is constantly producing more skin cells and discarding our dead ones, this turnover process Is what keeps us looking snatched and youthful. However, unlike a snake who sheds its skin in one go (although that would be fun), humans have a harder time doing so. Exfoliation helps us remove the dead skin cells stuck to the top layer of our skin which in turn creates more evenly textured, smooth, and 'Pore-less' looking skin. Also, It can prevent our pores from becoming clogged which is the cause of acne and, can help the other actives in our products penetrate deeper into our skin.
Get Latest News & Coupons for K-beauty Products
Best-selling Korean Gentle Exfoliator in 2021
TYPES OF EXFOLIATION
There are a few types of exfoliation:
The first is Physical exfoliation which in the western world is the more well-known method of exfoliation. It includes physical scrubs, brushes, peeling pads, or anything you rub against your skin to get rid of the dead skin cells. This is beneficial for my extremely oily skinned friends who's skin turns over at a high rate. Physical exfoliation is a great way to get quick but temporary results.
The next is Chemical exfoliation, to most peoples surprise It's a much gentler form of exfoliation that penetrates deeper into the skin providing more long term results. Not only does it get rid of the dead skin cells it's known to boost collagen production that helps firm up the skin and reduce wrinkles. The most common chemical exfoliants are AHA's (this includes glycolic acid, lactic acid, citric acid, etc.) which are great for all skin types and BHA's (Salicylic acid) which are more suitable for oily skin.
Prevents Acne
Reduce appearance of pores
Creates more evenly textured skin by decreasing signs of sun spots, fine lines, wrinkles, hyperpigmentation
Oil-soluble which means it can dissolve sebum deep within the pore that prevents acne/blackheads
Anti-inflammatory
Anti-bacterial
THE BEST KOREAN EXFOLIATOR for All skin Types
Before purchasing, don't forget to check skincare ingredients on labels and EWG Skin Deep ratings could help you as a reference point. For details, head EWG (Environment Working Group) official website.

PHYSICAL Korean Exfoliator
BY WISHTREND GREEN TEA ENZYME POWDER WASH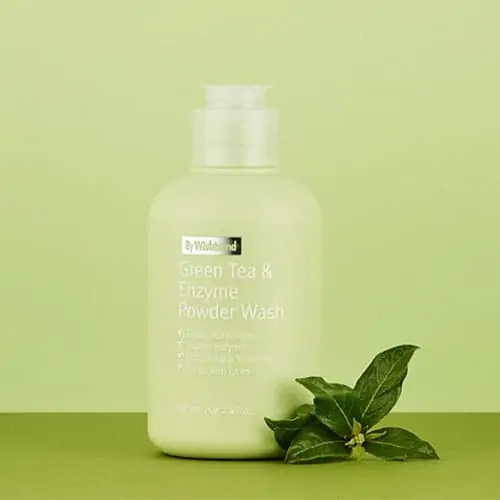 This is a powder cleanser that also doubles as a scrub. It's extremely gentle and provides a light scrub for a few seconds before completely dissolving into a cleanser. It contains a high content of Green tea which is a popular ingredient in Korea for anti-aging, soothing skin sensitivity, and antioxidant protection. It also contains Papain Enzyme, Coconut-derived Surfactant, and Baking Soda that dissolve blackheads and dead skin cells for more even and brighter skin.
Application:
After wetting your hands, drop a coin-sized amount of powder into your palm and rub until Half of the powder has dissolved. Then, rub your face gently until everything has dissolved and rinse off.
CHECK PRICES
I'm FROM MUGWORT MASK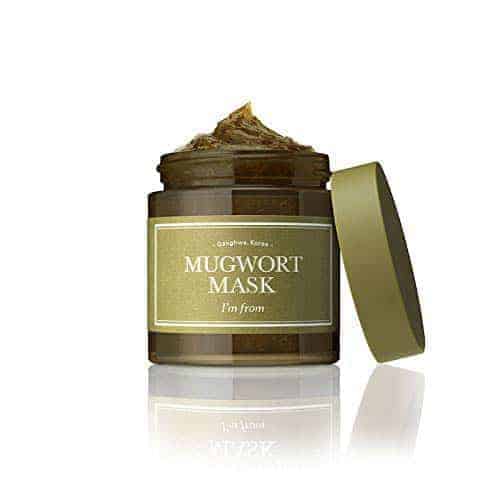 Ideal for dry, oily skin
Ingredient Safety by EWG:
3 Moderate hazard
$30 ~ $35
Although this Korean mask isn't specifically designed for exfoliation, It does a great job of purifying and calming the skin. It's a wash-off mask and alongside mugwort essence It also contains pieces of mugwort that help exfoliate the skin gently. This mask works with all skin-types and Is great on days when your skin feels extra sensitive and inflamed, and leaves your skin feeling very soothed and hydrated.
Application:
After washing your face apply an even layer onto skin and leave on for 5-10 minutes. Rinse face with warm water, rub gently to exfoliate then wash off.
CHECK PRICES
COSRX ORIGINIAL CLEAR PAD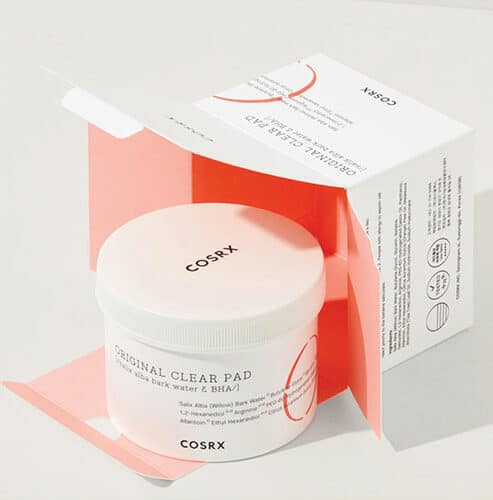 Ideal for oily skin
Ingredient Safety by EWG:
4 Moderate hazard
$15 ~ $23
This is one of the top Korean skincare products. It's a great and compact product for traveling. With the textured cotton pad soaked in willow bark water (BHA) It works as both a physical and chemical exfoliator. If you are interested in the best-selling products from COSRX, head THIS ARTICLE.
Application:
After cleansing, take a pad and swipe gently over the face.
CHECK PRICES
CHEMICAL Korean Exfoliator
BY WISHTREND MANDALIC ACID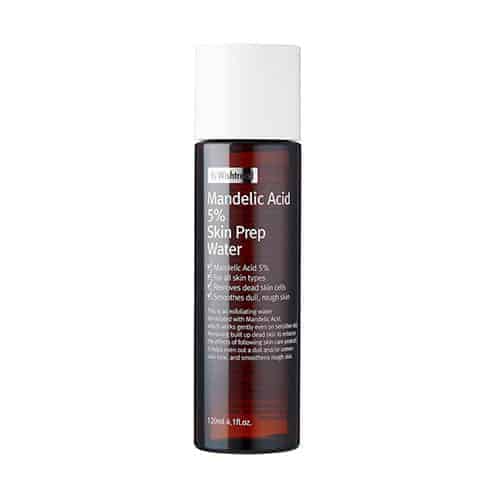 Ideal for oily skin
Ingredient Safety by EWG:
4 Moderate hazard
$9 ~ $22
This is a great exfoliator for sensitive oily skin. It contains 5% Mandelic acid which is more gentle compared to other AHAs, It also contains Centella Asiatica which is a great calming and moisturizing ingredient. This product doesn't burn when applied and It does a good job at removing the top layer of dead skin without being overly drying.
Application:
After cleansing apply an adequate amount directly to skin or for more exfoliation use a cotton pad.
CHECK PRICES
COSRX BHA BLACKHEAD POWER LIQUID
This contains 4% of BHA and Is a good introductory BHA for oily skin. Like most BHA products It's recommended to start using it once a week and then slowly build up your tolerance. It contains Niacinamide which is an amazing ingredient for controlling oil, brightening, and hydrating the skin from within. This Korean exfoliator for oily skin is light, easily absorbs into the skin and after using it consistently helps soften the skin's texture and get rid of any black or whiteheads.
Application:
After cleansing apply a pump directly to the skin or use a cotton pad or more exfoliation.
CHECK PRICES
INNISFREE PORE CLEARING MOUSSE CLAY MASK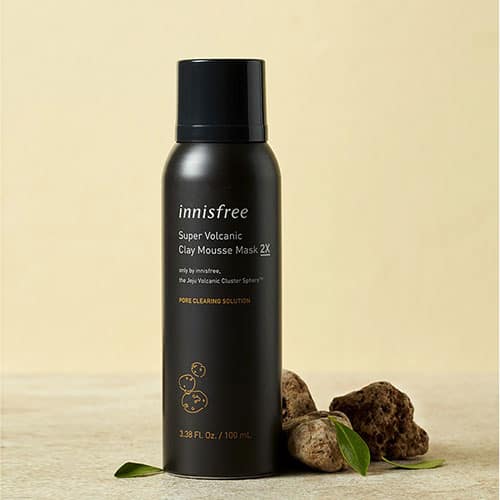 This mask not only contains clay which helps draw out sebum and dirt within our pores, It also contains AHAs and BHAs to help remove the dead skin cells. Although I wouldn't recommend using a clay mask often, This is a great Korean exfoliator for oily skin to help detoxify certain areas quickly without leaving the skin overly stripped. It is also easy to wash off and doesn't leave the skin feeling sensitive.
Application:
After cleansing the skin pump a ping pong ball size into your hand and apply all over the skin or in your congested areas. Leave on for 15 minutes until its dry then wash off.
CHECK PRICES
HOW OFTEN SHOULD I EXFOLIATE?
It depends on your skin type, how sensitive it is, and also how strong the product is (most products will have recommendations on the back). For skin that's very oily, It's recommended to exfoliate every other day, For people with dry skin once a week and for normal or combination skin 2-3 times a week.
WHAT PRODUCTS TO USE ATER EXFOLIATING?
On days you exfoliate, depending on your skin type and experiences its best to avoid products that contain other strong active ingredients and focus on more soothing and moisturizing ingredients. However, everyone's skin is different and some people can layer more actives than others so listen to your skin.
! Like most active ingredients, AHAs and BHAs can increase your skins sensitivity to the sun so It's recommended to wear sunscreen during the day.
YOU MAY ALSO LIKE
Disclosure: This post contains affiliate links. Clicking those links before you shop means that best k-beauty receives a small commission. Please see my full disclaimer for more information.