You must be tired to search on how to get rid of acne and confused that what is the best acne treatment. It also is very true to say that acne or pimple causes depression. Yeah, I know it's very tough cause acne breakouts are controlled by hormones and we don't have much to do for that. However, we can start to look up what we can do in the skincare routine at least as it is vital to take care of your skin. Probably you already use some anti-acne products or medications. Are the products effective on your skin? Do you know which product is suitable for you? Knowing your skin type and what works best for you is very important before you opt for any skincare product. On the market, you will find several options and products. But you must know which product contains the best ingredients for acne treatment. So, let me guide you with the best and worst skincare ingredients for acne.
The Best and Worst Ingredients for Acne
Best Ingredient for acne
If you want to choose the products for the best treatment for acne, check the label of the cosmetic and buy one that contains some effective ingredients.
Before purchasing, don't forget to check skincare ingredients on labels and where to look for information, EWG Skin Deep ratings could help you as a reference point. For details, head EWG (Environment Working Group) official website.

Salicylic Acid (BHA)
Most of the Anti-acne products have Salicylic acid to give a quick result. This ingredient works by drying the oil from the skin. Moreover, it assists to remove grime, bacteria, and dirt that appear on the skin. In this way, the skin pores remain clear and there will be no irritants on the skin. The prime function of this ingredient is to remove the bacteria and dead skin. So, you can easily find Salicylic acid in the product of exfoliators. I would recommend using an exfoliator with Salicylic acid once or twice a week to remove the dead skin. It will make your skin healthier by clearing sebum and absorbing nourishment well.
Dr. G Peeling Gel has a Willow bark extract that is a natural BHA ingredient and Tea Tree Leaf Oil for anti-bacteria and anti-inflammation.
Ideal for oily skin
Ingredient Safety by EWG:
Most ingredients are low hazard except Oleth, moderate hazard (limited data)
Glycolic Acid (AHA)
It can be one of the best ingredients for acne. The Anti-acne product that contains Glycolic acid is good for your skincare. Yes, due to the several benefits like skin exfoliation, anti-aging, nourishment, and others, Glycolic acid is the ultimate option for your skin health. By removing the outermost layer of the dead cells on the skin, it offers fresh and bright skin. As it's less irritate than BHA, people who have sensitive skin use the product with AHA instead. Here, you can check the best chemical & physical exfoliators with proven ingredients.
Furthermore, most people use it for removing the scars as well. Glycolic Acid is ideal to improve skin complexion, aging signs, and discoloration. Thus, some of the anti-aging products also contain this ingredient to clear wrinkles and fine lines. Moreover, it is great to lessen acne scars. So, no doubt using a product that has Glycolic acid for your skin health.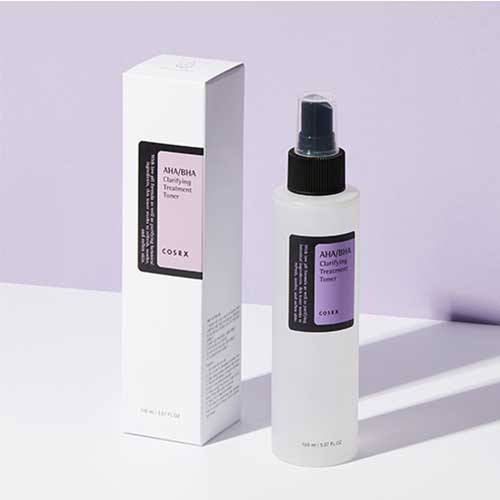 Ideal for oily skin
Ingredient Safety by EWG:
3 ingredients are moderate hazard
COSRX AHA/BHA Clarifying Treatment Toner is a perfect daily skincare product for acne-prone type as it not only has both of Glycolic acid(AHA) and Willow Bark Water(BHA) but also contains Allantoin and Panthenol for calming and soothing.
Tee Tree
Tea tree oil is very famous to treat acne because of its antimicrobial and anti-inflammatory characteristics. If you have swelling, redness, and inflammation on the skin then applying tea tree oil on the area will calm the skin. It clears the skin, leaves it smooth, and reduces the dark spots. This is the reason the majority of acne products contain Tee tree oil. In addition, the people who have dry skin or itchy can use the products of the tee tree to get relief quickly. Not only this, if you have rashes or eczema then it will be a good choice. It gives you relief from the skin inflammation. But, if you react to essential oils, please test it on your arm before using it.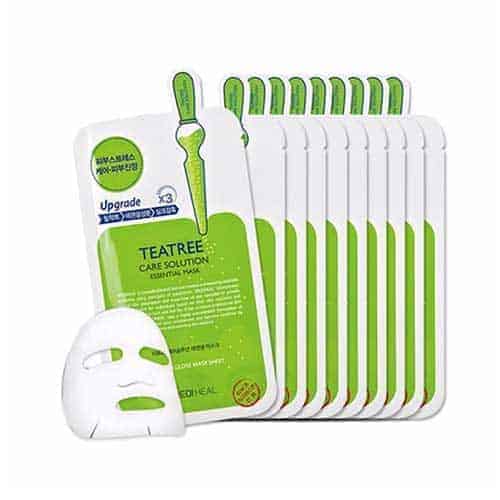 Ideal for oily skin
Ingredient Safety by EWG:
2 ingredients are moderate hazard scores
Click here to see more information about one of the best Korean face masks, Mediheal Teatree Care Solution Essential Mask Ex. Like the name of the mask, Tea Tree Extract is added for anti-bacterial soothing care.
Benzoyl Peroxide
Having antimicrobial effects, Benzoyl peroxide is ideal for your skin which has inflammation. Do you know what antimicrobial effect is? It removes the acne that forms due to the bacteria. I think the care of acne at the beginning is more important than after leaving a spot. So I use the topical medicine(cream, gel, ointment) with Benzoyl peroxide on the acne spot. It's essential for your pleasant skin and cares.
Sometimes, people have a breakout of acne on their skin. At the time, the uses of the Benzoyl peroxide clear the pores from the blockage. And exfoliating your skin to remove the dead cells on the skin is very important to give life. It prevents your skin from acne.
Witch Hazel
The health effects of Witch hazel helps to shrink the pores on the skin. By reducing inflammation and soother your skin, it works nicely for skin nourishment. I highly recommend you to use a toner or cleanser that contains Witch hazel because it is good for cleansing as well. Besides, it offers healthy skin by removing slightly the dead cells from the facial skin.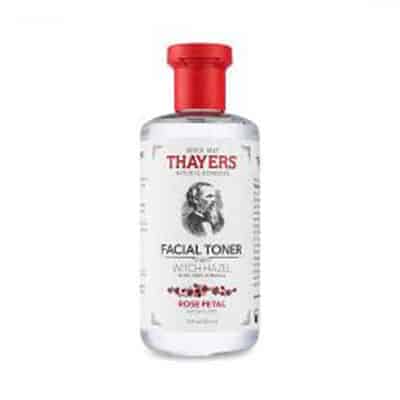 Ideal for oily skin
Ingredient Safety by EWG:
All ingredients are low hazard scores
If you are looking for a toner with Witch hazel, I would like to recommend Thayers Witch Hazel Toner. Not only it has a high amount of Witch hazel, but the list of entire ingredients is also very simple. That means it is less irritate and good for sensitive skin. Keep your face clean from the acne by using this ingredient.
Sulfur
Do you know that sulfur contains antibacterial and anti-inflammatory properties? Hence, it is an excellent ingredient that improves the skin nourishment by clearing from bacterial effects. Sebum leads to oily skin and the extra oil on the skin can cause acne. To control it, Sulfur will clean facial skin first of all, helps you get rid of infection acne or pimples. You know that it is an anti-bacterial agent, so it produces acne-free, smooth, healthy, glowing facial skin. Furthermore, you can find the mask with Sulfur that is used to produce tightening facial pores.
Allantoin
Allantoin is the extraction of the comfrey plant root that is famous as a non-irritating component. So, its function is to protect or soothes the skin barrier. With the healing property, it is the ultimate option for the majority of the adults who are suffering from acne issues and dryness. Moreover, it stimulates the growth of the new tissue. Not to mention, it is the best source to calm and soothes the weaken skin. Many of moisturizer contains this ingredient, Allantoin.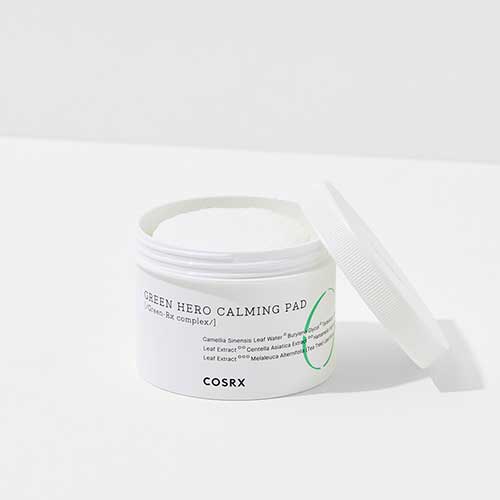 Ideal for oily skin
Ingredient Safety by EWG:
2 ingredients are moderate hazard scores
COSRX One Step Green Hero Calming Pad is a toner-soaked pad for sensitive oily skin. There's Tea tree leaf extract, Centella Asiatica for soothing irritated skin and Allantoin for calming and restoring skin balance.
Hyaluronic Acid
The use of Hyaluronic acid serum in beauty products is highly common in K-beauty. Hyaluronic Acid can attract up to 1,000 times its weight in water. So that's the key to smooth, flawless and hydrated skin. Also, the skincare products of Hyaluronic acid help to reduce the visibility of wrinkles and fine lines as well. It creates a plumping effect and retains moisture in the skin. When the skin is hydrated and protected, the production of skin cells increases. And it leads to smoother skin cells from the damaged skin due to acne breakout. Plus, there are several benefits of using the products of Hyaluronic acid cause moisturizing is essential for healthy skin and it repairs skin damage.
Ideal for all skin types
Ingredient Safety by EWG:
All ingredients are low hazard scores
The Lab by Blanc Doux Oligo Hyaluronic Acid Deep Boosting Ampoule reinforces your skin's natural moisture barrier with 10,000ppm Hyaluronic Acid. You can feel it moisturize deeply from the bottom layer of the skin cells.
Calendula Extract
In the skincare products for acne treatment, you can easily find Calendula extract as it is antibacterial, anti-inflammatory, and antifungal. It helps to heal wounds quickly because it regulates inflammation levels. You can apply toner with Calendula extract to the wounds to reduce the size. Also, it helps to reduce infection risk.
Green Tea
Green tea is a highly famous ingredient that is anti-inflammatory, antifungal, and anti-bacterial. It contains polyphenol that decreases the production of sebum on the skin. The secretion of sebum is the prime cause of acne production. Here is my skincare tip using green tea. When I feel the skin get redness, I make toner pads soaking in green tea water and put them on the fridge for 10 minutes. Then I put green tea pads on my chicks, chin, and forehead to calm and brighten the damaged skin. It is an anti-oxidant and is used to nourish the skin.
Ideal for all skin types
Ingredient Safety by EWG:
All ingredients are low hazard scores
Innisfree Derma Formula Green Tea Probiotics Cream is new released moisturized in September 2019. The fermented green tea lactic acid components in this cream nourish the weakened skin barrier. Head here for the detailed review of Innisfree Green Tea Probiotics Cream.
Bad Ingredient for acne
One of the reasons behind acne is using the products that have bad ingredients for acne. Have a look at what are the worst ingredients for acne treatment and do not use these products on your skin which have these elements. In this way, you will be able to control the formation of acne.
Shea Butter
Shea butter is not much harmful to people to use on the face and body. Also, many moisturizers contain it. But people who are allergic to the tree nuts may have some problems due to Shea butter is fat that's been extracted from shea tree nuts. Its use can produce rashes on the skin. In addition, the rich tree-nut oils may clog the pores causing pimples. So, please avoid using the products that have Shea butter in its formation.
Coconut Oil
Acne appears on your skin when pores clog due to the oil, dead cells and dirt. This bump is called a 'Comedone'. Applying coconut oil on the face can produce hives and eczema. It clogs the pores on the skin and produces blackheads on the nose.
Stearic Acid
Easily you can find Stearic Acid in many skincare and hair products like shaving cream, shampoos, soaps, and cosmetics. It's used as a natural cleansing agent helps remove excess sebum, dirt, and bacteria. It's not harmful to people who don't have problematic skin. However, for people with acne-prone skin, it can make the situation worse. The stearic acid might cause irritation and acne breakouts by blocking pores. For the people, who have sensitive skin, it is not suitable.
Myristic Acid
The majority of the people are highly annoyed due to the pimple on the face, neck, and back. If you are in this case, check the label of products for bathing if they have Myristic acid. Usually, it is used as a surfactant and It produces irritation in the eyes especially. Similarly, it can damage the freshness of your skin.
Bentonite
In the many powder face masks for the special skin care, Bentonite is found and also known as a sebum controller. But it's easy to leave particles on your face after washing it. And it may cause a skin reaction or allergy to those who have sensitive skin. So, I recommend you to have face sheet masks soaking in the essence instead powder face mask.
CONCLUSION
Always check the ingredients that are used in the composition of the acne products and use the products that have the best ingredients for acne. I hope you have acne-free skin, smooth, healthy, glowing skin! If you have any questions about the post please leave a comment below. 🙂
YOU MAY ALSO LIKE
Disclosure: This post contains affiliate links. Clicking those links before you shop means that best k-beauty receives a small commission. Please see my full disclaimer for more information.