Did you know that within 28 days your skin naturally rids itself of dead skin cells? It might not feel that way, but you are having brand new skin cells every month. Sometimes due to the clogged up pores, sebum, and blackheads, your skin might need some help physically and chemically to get back in shape. Here are two ways to do just that with Korean exfoliator :
Physically

: Use a Gommage type mask pack or gel that exfoliates and washes off the dead skin.

Chemically

: Put products with AHA, BHA, and PHA on the skin to remove dead skin cells. 
Best Korean Exfoliators: How to Get Rid of Blackheads and Sebum
Before buying any exfoliator, it is essential that you know what it can do to your skin. Some exfoliators are very harsh and strip your skin off of essential oils, leaving it dry and dull. These exfoliators also contain harmful substances that can irritate your skin or induce an allergy, resulting in long-lasting damage to your skin. So, before buying just any exfoliator, do the proper research as to which exfoliator suits you and works best for your skin type. Below, there is a list of best Korean exfoliators that help you get rid of blackheads, whiteheads, dirt, dead skin cells, and other impurities to achieve beautiful, supple, and clear skin.
Get Latest News & Coupons for K-beauty Products
Physical Korean Exfoliator: Mask, Gel Type
Innisfree Super Volcanic Pore Clay Mask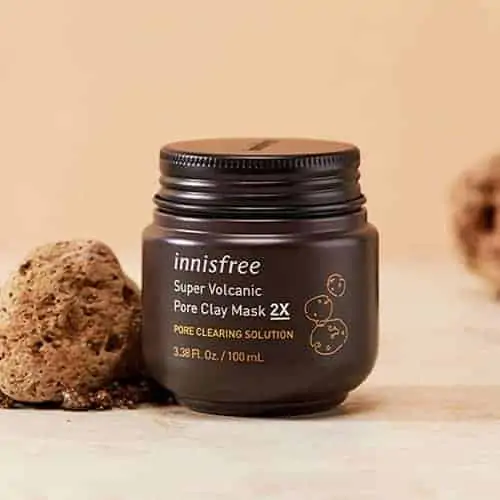 Ideal for dry, normal, oily skin
Size: 100ml | Price: $13
Innisfree is a well-liked skincare brand of Korea that makes use of its organic materials that come from Jeju Island. Winner of the 22nd Global Beauty Awards, this Korean exfoliator shrinks your pores, controls the sebum, exfoliates, thoroughly cleanses, and temporally brightens skin tone making it a 5 in 1 skincare product. Minerals discharged during volcanic eruptions are used in the making of Jeju volcanic clay. Innisfree Super Volcanic Pore Clay Mask is effective in clearing impurities and sebum as the mask exfoliates and removes your dead skin cells. Also, the alpha-hydroxy acid (AHA) like Stearic Acid and Lactic Acid helps in exfoliating and smoothing out the skin. Innisfree Clay Mask removes blackheads and refreshes your skin. So, I use it to get rid of blackheads on nose and whiteheads on chin every 2 weeks. (Once a week for oily skin is recommended.)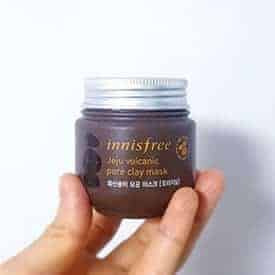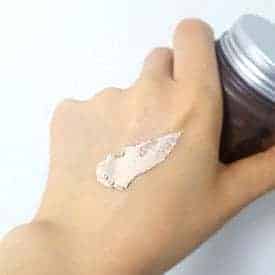 How to use:
First, you need to wash your face.
Second, apply toner to your face for a more evened out skin texture.
Third, apply the pore clay mask over your face, excluding the lip and eye areas. (Or you can use it just for nose and chin)
Fourth, wait for 15 minutes and let the mask dry.
Lastly, wash the mask with lukewarm water. 
Dr. G Brightening Peeling Gel
Ideal for normal, oily skin
Size: 120g | Price: $15
This face peeling gel is one of the best non-toxic exfoliators! Compared to the peeling gels sold, Dr. G Brightening Peeling Gel does not use 20 harmful ingredients. The low-irritant exfoliator uses the naturally originated cellulose to make your skin feel fresh and cool. The best part is this gel uses Trehalose, Honey Extract, and Allantoin to smooth, calm, refresh and repair your skin even after the exfoliation. Lastly, note that this gel contains tea tree leaf oil that is a good ingredient for acne and oily skin.
How to use:
First, wash your face.
With your face still wet, put a proper amount of the gel on your face.
Softly rub the gel on your face. (Rubbing for over a minute can cause irritation)
Wash gently with lukewarm water.
Primera Facial Mild Peeling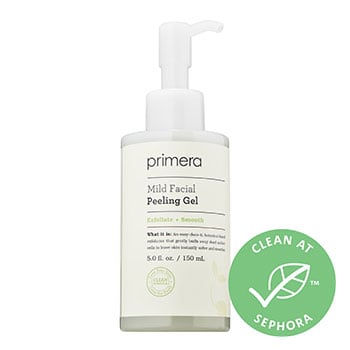 Ideal for dry, sensitive, normal skin
Size: 150ml | Price: $28
This peeling-off Korean exfoliator gently removes dead skin cells and improves the texture of your skin. It removes impurities and dirt from the outer layer of the skin to give your skin a beautiful and bright glow. As you massage your face you can see the dead skin cells being removed. Once the dead skin cells have been removed, Primera facial mild peeling gel creates a biopolymer film that shields your skin from external damaging factors. Plus, the broccoli extract present in this mask purifies and moisturizes your skin while the bead tree extracts protect your skin from bacterial infections.
How to use:
First of all, wash your face.
Next, pump the content one or two times on your palm.
Apply the peeling gel to your face, leaving the lips and eyes area.
Gently massage your face with your fingers within 1 minute.
Lastly, wash your face with lukewarm water.
CNP Anti Pore Blackhead Clear Kit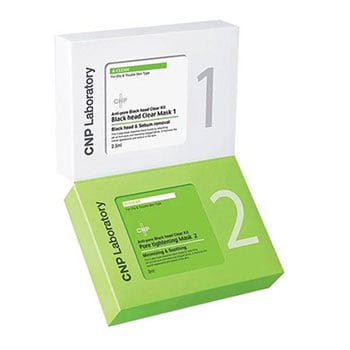 Ideal for dry, sensitive, normal skin
Size: 20set | Price: $28
Try this 2-step anti pore blackhead remover specially designed for the nose. The natural ingredients of this amazing blackhead remover gently disintegrate the sebum and blackheads on the nose. The first mask on the nose will remove the sebum and blackheads. And then the second mask has witch hazel extract to tighten the pores to stop any dirt from getting into your skin. Moreover, the second mask has Sodium Hyaluronate used to soothe and moisturize your skin for a soft texture. Also, it contains anti-irritant complex, Melissa Officials Leaf Extract, so that even people with sensitive skin can use it without having to worry about anything.
How to use:
Wash your face with lukewarm water.
Apply blackhead clear mask 1 to the area of your nose for about ten minutes.
Once the mask has dried, remove it.
Use a Q-tip to remove any sebum and blackheads on the nose.
Now, apply pore tightening mask 2 to compress the pores for about ten minutes.
Remove the mask 2 and let the soothing gel be absorbed into your skin for a supple feel to your face.
Chemical Korean Exfoliator: Toner, Pad
CosRX One Step Moisture Up Pad
Ideal for dry, sensitive, normal skin
Size: 70pads | Price: $21
CosRX Moisture Up Pad is the quickest and easiest way to exfoliate and moisten your skin! It is made from Betaine and Betaine salicylate, which are found in natural sugarcane, making it a non-irritant exfoliator. Also, Propolis extract and Sodium Hyaluronate are added to moisten your skin. Moreover, Panthenol and Allantoin are used to stabilize your skin. Since it contains Lemon Peel Oil, sensitive skin should be careful. These pads are gentle enough for daily use yet effective in softening and smoothing your skin. Try it after cleaning instead of using a toner.
CNP Invisible Peeling Booster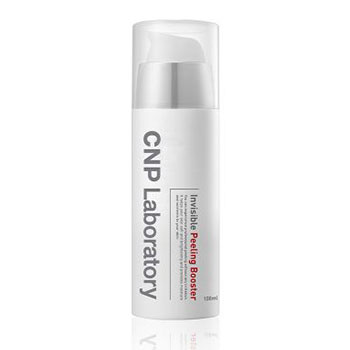 Ideal for dry, sensitive, normal skin
Size: 100ml | Price: $28
This no-wash peeling booster is the best exfoliator for those with sensitive skin. This new concept requires no wiping or rinsing. Gluconolactone, part of PHA, is bigger than AHA and BHA, making it less irritant and perfect for sensitive skin types. CNP Invisible Peeling Booster is used at the first stage of skin care after cleansing to reinforce the removal of dead skin cells. Also, Panthenol, Allantoin, and Sodium Hyaluronate are added to soothe, improve, hydrate, reduce oiliness, brighten skin tone, and refine pores. Moreover, it is hypoallergenic, low irritant, and the perfect gentle way to exfoliate and boost your skin. It is a winner of many beauty awards in Korea as well!
Round around Daffodil Peeling Toner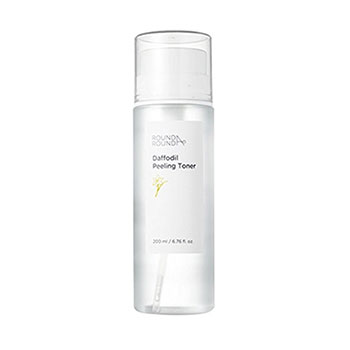 Ideal for dry, sensitive, normal skin
Size: 200ml | Price: $28
Round around Daffodel Peeling Toner is made from 78% daffodil extract which brightens and cleans the skin. Sugar Cane Extract, a natural-original exfoliating ingredient, and Lactobiotic Acid (PHA), a low-stimulation exfoliating component, smooths the skin and helps remove blackheads and whiteheads. I recommend it to be used as a daily toner for oily skin. In addition, although the Panthenol and sodium hyaluronate components help moisturize the skin, those who are sensitive to Citric ingredients should be careful as lemon extract is used in this toner.
You may also like
Disclosure: This post contains affiliate links. Clicking those links before you shop means that best k-beauty receives a small commission. Please see my full disclaimer for more information.