If you have acne-prone skin, you already know how crucial it is to choose cleansers and moisturizers that don't contain pore-clogging ingredients like mineral oil and petroleum. But, if you've been neglecting masks, pull up a chair, and let's dive right into the best Korean face mask for acne. Masking is a major part of the Korean beauty way of treating acne. Remember when Korean sheet masks shot onto the beauty scene years ago and were so easy to use, mess-free, and affordable that they continue to be a major trend today. All of those Korean face masks that fizz up on your skin like a crazy science experiment and leave you looking more radiant.
There's a solid reason why we keep turning to Korean beauty to address our skincare needs — most products are designed specifically for our skin conditions and, in most cases if a mask claims it's going to help treat acne — it's going to help treat acne.
These 7 top-rated Korean masks for acne contain ingredients like salicylic acid, tea tree oil, and niacinamide that help heal acne, prevent new breakouts, and strengthen your skin's barrier to protect it. And they wouldn't be Korean masks if they weren't just plain fun and pleasurable to use. If you want to see more effective ingredients for acne-prone skin, check THIS POST.
Best Korean Face Mask for Acne
Get Latest News & Coupons for K-beauty Products
MEDIHEAL TEA TREE CARE SOLUTION ESSENTIAL MASK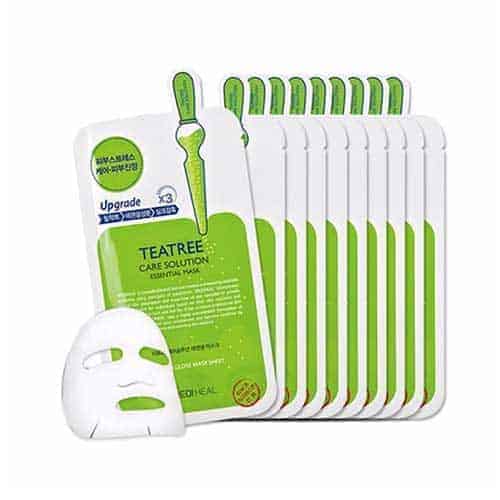 MEDIHEAL TEA TREE CARE SOLUTION ESSENTIAL MASK
Size: 10 pack
Price: $16.3
A soothing non-sticky facial sheet mask features a silky Cellulose sheet made of 100% pure cotton. Mediheal Tea Tree Care face mask is concentrated with essence by containing tea tree leaf oil pine needle extract and Portulaca oleracea extract. They help control oil secretion and soothe dry irritated.
Besides, this is a phenomenal sheet mask. Whenever you suffer from breakouts, this is the mask you should head to. There will be a noticeable reduction in your breakouts after using this sheet mask. It is worth the price and hassle of single-use masks.
TOSOWOONG CICA CLINIC MASK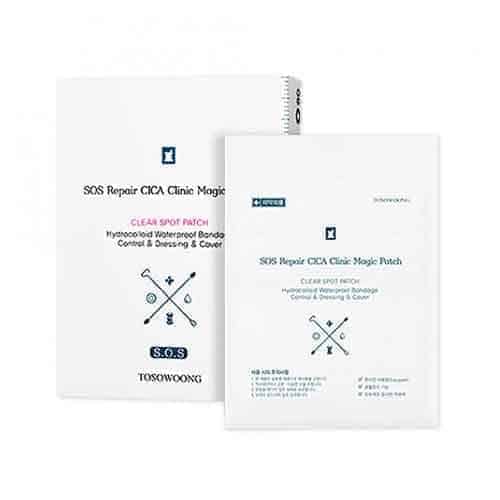 TOSOWOONG CICA CLINIC MASK
Size: 10 pack
Price: $33.9
I find Centella Asiatica (or to say tiger grass) a great friend. Rosacea is a very nasty, angry beast that is fortunately enough afraid of tiger grass. At least mine is. On those days when my face lives a life on its own, I tend to make amends with it giving it Centella products. Tosowoong Cica Clinic maks can be used for Irritated skin, Damaged skin, Damaged skin barrier. The mask will do the following;
Intense skin soothing, calming down irritated and sensitive skin with Centella Asiatica extract, Tea Tree extract,
Strengthening skin barrier with Panthenol and Betaine
Protecting skin from the harmful environment,
Moisturizing with Sodium Hyaluronate and Aloe Vera leaf extract.
COSRX LOW BHA OVERNIGHT MASK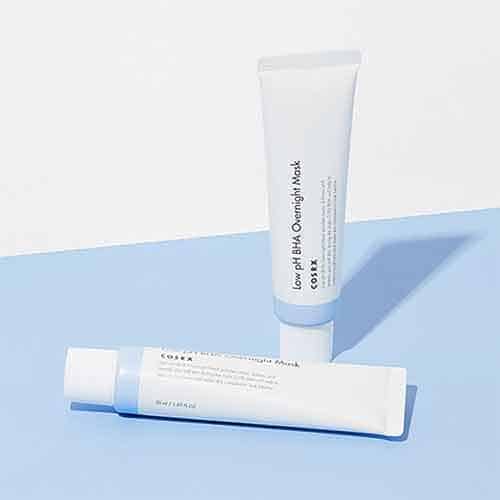 COSRX LOW BHA OVERNIGHT MASK
Size: 50ml
Price: $29
Are you looking for a moisturizer that works triple duty overnight? This overnight mask uses 0.9% BHA to improve skin texture, help tackle blemishes, and brighten dark spots while you sleep. The addition of Centella Asiatica leaf water helps soothe skin while glycerin keeps skin hydrated. The best part of the COSRX Low BHA Overnight mask is that the texture is lightweight and won't weigh your skin down. One of the best Korean face masks for acne scars, you will wake up to smooth and illuminated skin.
Furthermore, this is such a great and GENTLE overnight mask. You will find glowing bright moisturized skin in the morning. The consistency is pretty thick almost like Vaseline but it absorbs eventually. It has a medicinal smell that requires getting a little used to it. If you're new to BHA this would be a great and gentle start. Additionally, you can check the best COSRX skincare products HERE.
I'm FROM MUGWORT MASK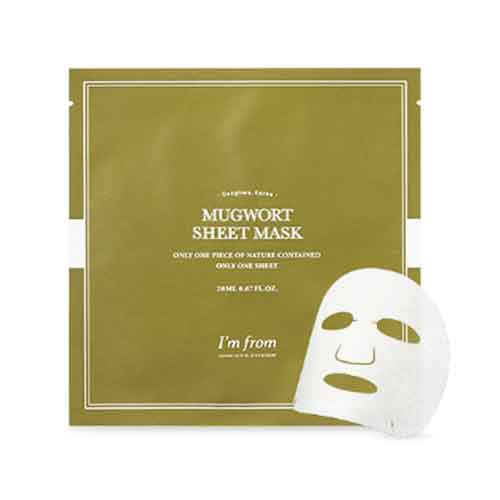 I'm FROM MUGWORT MASK
Size: 1 pack
Price: $4.9
This is a wash-off mask containing ground mugwort from Ganghwa Island in South Korea. The highly concentrated gel formula preserves the active ingredients of plant extracts and delivers their benefits directly to the skin. Enjoy the cooling and fast soothing with I'M FROM Mugwort Mask. One of the best Korean face masks for acne, Mugwort is a seriously underrated ingredient that might just be the be-all and end-all solution to your sensitive skin concerns. Sensitivities such as redness, hives, itching, rashes, and acne can be a serious sign that your skin needs a little assistance in terms of calming and healing. A few of the Mugwort benefits on the skin are:
Antibacterial
Antifungal
Advanced skin calming
Stops/prevents rashes, itching, and irritation
Anti Inflammatory
PAPA RECIPE EGGPLANT CLEARING MUD CREAM MASK
I'm FROM MUGWORT MASK
Size: 100ml
Price: $15.9
It's creamy with a slightly grainy texture (thanks to finely-milled walnut skins), so skin is soothed and dead skin cells to slough away. Hydrating eggplant extract clears and exfoliates, making this the perfect go-to mask for troubled skin. Kaolin clay gently purifies your pores by removing excess oil, dirt, and debris without stripping your skin of moisture. Plus, it helps control future sebum production. Breakouts are gone! With zero added fragrances, Papa Recipe Eggplant Clearing Mud Cream mask is ideal for treating and preventing acne. This is all in all Korean face masks for acne.
TOSOWOONG BLACKHEAD & SEBUM OUT NOSE PACK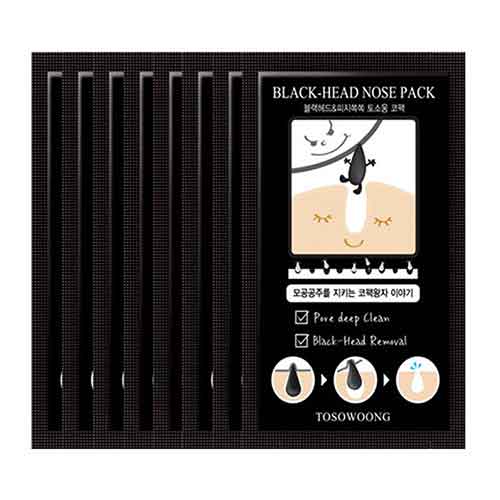 TOSOWOONG BLACKHEAD & SEBUM OUT NOSE PACK
Size: 8pack
Price: $3
TOSOWOONG Blackhead & Sebum Out Nose Pack is made from natural ingredients including Morocco lava clay, silica, charcoal powder, and volcanic ash. It's great how there are slits on top and bottom of the strips so it'll fit the contours of your nose better. It will remove all the gunk out and your nose will look clearer than ever.
CONCLUSION
Face mask products gain huge popularity in Korea as they help people get rid of unwanted looks. You're not the only one who wants to look good. Your not the only one who feels they are aging too fast and not being noticed by the opposite sex. Inject yourself with a new type of beauty product and give yourself instant skin boosts. Just apply some face mask material to your skin each day for 15 minutes and gain a fresher look. If you need a face mask product to get started, look below to view balanced face mask products. One should have what you need for your special and delicate face.
Now that you've read my reviews, I hope you found truly the best Korean face mask for acne. All of them are slightly different. That's the reason why you should be able to find something that specifically suits you. If you have any questions regarding the products, comment below and I'll do my best to answer.
You may also like
Disclosure: This post contains affiliate links. Clicking those links before you shop means that best k-beauty receives a small commission. Please see my full disclaimer for more information.