We've come a long way when it comes to grooming. The old soap-and-flannel routine that served men for generations has, in the past 10 years, been swept away in a torrent of scrubs, masks, moisturizers, serums, and balms. Now it might be time to level up again. A meticulous 10-step skincare routine is slowly taking over the world, claiming to keep you looking young well into middle age with Korean skin care for men.
Korean skincare, or 'K-beauty' as it's referred to, has been wooing women's bathroom cabinets for some time, and western men are beginning to cotton on to its efficacious formulas and luxurious routines. At a colossal 10 steps, it requires some effort; it's a regimen not well suited to guys who wash their face with shower gel and spray deodorant down their trousers. This is dedicated self-care (one of the most Googled terms of 2019, by the way) but one that converts people with unbelievable results.
K-Beauty Skincare Routine for Men & Best Products
Korean Skin Care Routine for Men
1. Use oil cleansing agents for night time
A lot of men are already accustomed to using oil as cleansing agents. Instead of using water-based cleaning agents, the first step is to make use of oils to clean the skin thoroughly. Using oil on the skin initially would remove all the dust accumulated by dust and pollution. It also nourishes your skin and provides total relaxation. When the skin is cleansed with oil agents, the skin retains the softness and gets deep nourishment by hydrating the skin. Hence, this is one of the best male model skincare routines. The oil cleansing is recommended to be done twice a day using proper massaging techniques for effective results.
2. Use water cleansing agents in the day especially
The next step is to use the water cleansers on your skin to complete the cleansing process thoroughly. While the oil massage efficiently helps in removing all the dirt accumulated by dust and pollution, water cleansers are quite powerful in removing the water-based impurities.
There are a lot of water cleansers, and the one with milk as the primary ingredient in it is the best one to use. When you use the water cleansers that contain milk, it keeps the skin intact. It avoids the unnecessary breakage of the skin. The water cleansing has to be performed twice a day for better results. It is also recommended to use circular motions while massaging your skin with the water cleansers.
3. Prep your skin using toner pad
Preparation is one of the most critical phases of anything that you do. For having healthy skin, it is mandatory to prep your skin by massaging it with toners to balance the Ph. This step is regarded as one of the essential steps that every skincare routine for men followed without fail.
All you have to do is take a little portion of the toner pad and pat it softly all over your face and neck twice a day. For the top-rated Korean toner and toner pad, check this post.
4. Sheet masks at night
When you walk into a spa for a facial, you might have noticed the specialist using a thin layer of the cover to nourish your skin. Well, that is nothing but a sheet mask. It's the easiest way to make your skin fresh and hydrated. Right from ancient times, Korean skincare has involved the usage of these facial masks to maintain the health of the skin.
With the advancement in technology, these sheets now come in the most specialized form. The practice of using mask sheets on the skin is followed to let the skin absorb the humectants. Humectants are those that allow the water to seep inside the skin.
The mask sheet acts as a protection layer and pushes the active ingredients into the deepest layers of the skin, leaving it hydrated. The mask sheets these days come in the forms of bio-cellulose bodies and hydrogels. Both these masks are extremely powerful and allow you to get a glowing skin. Most of the people use masks instantly to get shiny skin within minutes. For the best-selling Korean face masks and their review, check THIS POST.
5. All-in-one moisturizing is important for day time
If you want all the above steps to work correctly, the measure of moisturizing your skin has to be completed. One must understand the type of skin before investing in a moisturizer. There are different kinds of moisturizers made for different skin types. They are available in the form of creams, gels, and oils for providing hydration to the skin. Moisturizers soften the skin and give radiance. Hence, this is one of the most essential Korean skin care routines for men for glowing skin.
Well, how about doing all the above said and walking out in the sun and expose your skin to the harmful UV rays? Sounds ridiculous, isn't it? Almost all the skin-related issues are due to exposure to the unwanted rays from the sun. So make sure to use a moisturizer with SPF as a daytime routine. HERE, you can see the list of the best Korean sunscreens with a light texture.
Best Korean Skin Care Products for Men
COSRX low ph good morning gel cleanser
Amazon
COSRX Low pH Good Morning Gel Cleanser, 5.07 fl.oz / 150ml | Mild Face Cleanser | Korean Skin Care for Acne Prone Skin, PH Balancing, Anti Acne, Breakouts Treatment
2 new from $14.00
Free shipping
as of January 3, 2023 6:11 pm
The COSRX Low pH Good Morning Gel Cleanser is a single-step gel cleanser designed to clean sunscreen, makeup, dirt, and oil from the face without requiring a second cleanser to remove residue. It can also be used as a conventional foaming facial wash. It is best suited for all skin types, but sensitive, dry, dehydrated, and/or acne-prone skin types may see the most benefit.
NEOGEN bio peel gauze with lactic acid
Amazon
DERMALOGY by NEOGENLAB Bio-Peel Gauze Peeling Pads (Lemon, 30 pcs)
2 new from $27.00
Free shipping
as of January 3, 2023 6:11 pm
Reap the benefits of physical and chemical exfoliation in one gentle yet hard-working product. These NEOGEN 30 single-use exfoliating pads use a powerful combination of chemical exfoliants—including lactic acid, glycolic acid, and lemon, orange, and papaya extracts—to clear clogged pores while simultaneously harnessing the power of vitamin C to help fade acne scars. Dead skin cells are also physically sloughed off through the unique 3 layer pad technology that reveals a bright, fresh layer of skin
Dr.G red blemish clear soothing cream
Amazon
Dr.G NEW RED Blemish Clear Soothing Cream (70ml 2.36 oz) Gowoonsesang Cosmetic, Moisturizing Recovery Cream
12 new from $20.90
Free shipping
as of January 3, 2023 6:11 pm
A soothing cream that restores moisture to all skin types experiencing redness and irritation. It reduces redness and calms inflammation. Not only it soothes irritation but it also prevents future flare-ups by restoring hydration needed for dry, sensitive skin types. Green tea in Dr. G red blemish cleanr soothing cream provides antioxidant protection from environmental stress. Moreover, it dries without leaving any sticky residue and is ideal for all skin types, even sensitive as it's a paraben-free and oil-free product.
IOPE men all day perfect all in one
Amazon
Korean Cosmetics, Iope Men Bio Essence Intensive Conditioning EX 145ml (For Men with all types of skin)
3 new from $31.98
Free shipping
as of January 3, 2023 6:11 pm
The IOPE bio all-in-one fluid effectively brightens and revitalizes men's skin by controlling a dull tone and excessive sebum. The antioxidant function of Bio-dual effector TRM improves the condition of tired skin and makes oily skin fresh caused by excessive sebum. Its ingredient of peppermint extract provides a refreshing, cool feel and soothes irritated skin due to shaving. The 3-in-1 type (Toner + Lotion + Essence) conveniently takes care of 5 kinds of men's skin problems. (Dull tone+ Sebum + Skin dryness + Wrinkles + After-shaving). Easy!
Dr. Jart bubbling charcoal mask
Amazon
5 sheets of Dr. Jart Dermask Ultra Jet Porecting Solution Bubbling Charcoal Masks (Minimizes and purifies pores)
4 new from $15.22
Free shipping
as of January 3, 2023 6:11 pm
Pores… Can we all just agree that visually, pores can never be small enough? Mine isn't horrible, but I still want them smaller. Sadly, with age and environmental factors, skin loses elasticity and pores grow only larger. And of course, the world of Korean beauty and skincare comes to the rescue.
The Dr. Jart + Dermask Ultra Jet Porecting Solution Bubbling Charcoal Sheet Mask is designed for people with all skin types who want to cleanse and unclog pores, shrink their size, and balance out the natural oils in the skin. It's ideal for combination and oily skin types to minimize and purify pores. If you want to solve other skin concerns with hydrated sheet masks, check this page.
Missha All-around safe block soft finish sun milk SPF50+
Amazon
All Around Safe Block Soft Finish Sun Milk SPF50+/PA+++ 70ml - more mild and powerful sun milk that is good for daily use without leaving any oily residue
as of January 3, 2023 6:11 pm
With its SPF50, it provides great coverage.  Unfortunately, it's not waterproof, so you will have to use a different one for when you exercise. Missha Soft Finish Sun Milk does leave my skin looking softer with diminished pores, and if you like that you can leave the house with just this sunscreen if you want to and not feel completely self-conscious. But, it does leave the skin slightly lighter and pinker in color, which may be a problem for some. And you will have a hard time figuring out how to blend this well with my makeup. But in the end. It works as it should, effective at diminishing pores and lines to leave a soft finish, leaves my skin looking bright and flawless once you learn how to mix it well with my BB cream.
Botanic Heal boH Ideal for Men
ebay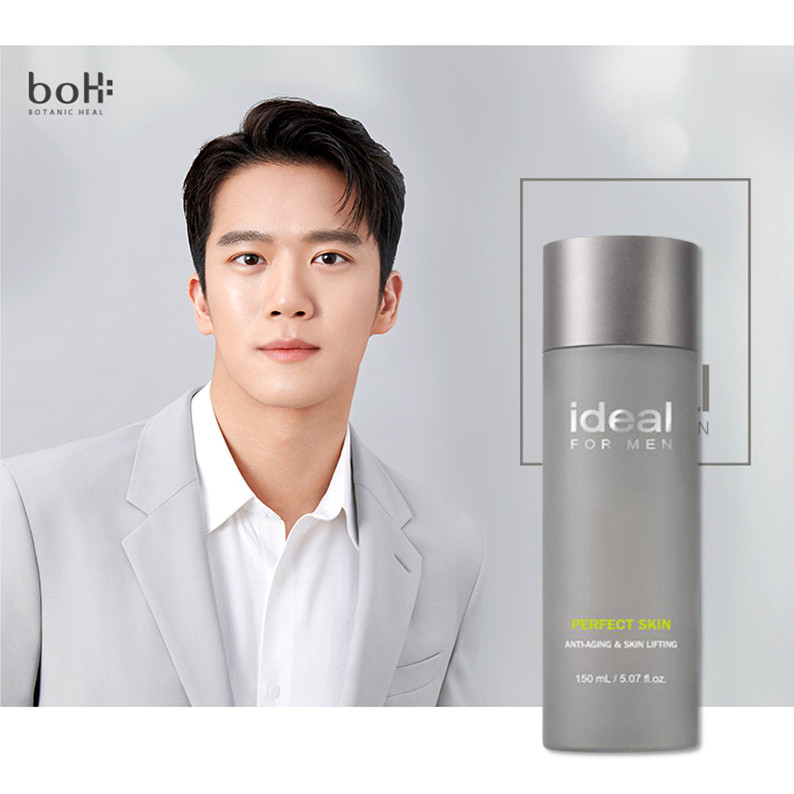 All-natural ingredients your skin needs for a quick overnight remedial to an hourly prep up in the morning before going outdoors. Botanic HealBoh Ideal for men is a huge collection of creams, skin toner, sunblocks, absorbent lotion, instant skin glow all-in-one gift packs, cleaning foam, balms, gel-cream, and whatnot. It provides that extra care to cushion on your healthy glowing skin. 
These exclusive Korean skincare essentials contain bio water; key ingredient Madecassoside that creates a skin barrier to store powerful elements that restore skin's well-being. Other powerful skin revival constituents include panthenol; vitamin B5 that soothes and moisturizes the skin, Osmopur; stirs a powerful barrier for skin against incoming radiations, and other skin-deterring stimulants. All in all, the Botanic Heal boH Korean skin all-naturals proves beneficial for men skin rejuvenation with a 7-in-1 formula incorporating deodorizing, sebum control, fragrant scent care, moisturizing, cooling, soothing, and exfoliation. The botanic heal products use plant-based ingredients and enriched science-proven formulas derived from nature's skincare secrets.
Black Monster all in one day/night moisture cream
Black Monster All-in-One Day & Night is what you need for Men's Skincare! SPF50+/PA+++ UV Protection to stay protected under the sun. Non-sticky formula and comes with a revitalizing and refreshing scent. DAY gives you UV protection, Brightening, and Moisturizing, while NIGHT consists of Essence, Whitening, and Anti-Wrinkles effects with active ingredients of niacinamide and adenosine. This is one of the best Korean men skincare products for dry and damaged skin.
Taking care of your skin is a high-maintenance task. But, if you do not care for it as mentioned above, you may have to pay regular visits to the dermatologists getting treated for unnecessary skin related problems. Having healthy skin is going to make you look competent and confident. So, guys, if you are keen on getting healthy skin, following these simple Korean skincare techniques during your skincare routine for men, is essential.
You may also like
Disclosure: This post contains affiliate links. Clicking those links before you shop means that best k-beauty receives a small commission. Please see my full disclaimer for more information.