Korea is famous for its advancements but another thing which makes Korea well-known is its marvelous beauty products. Korean cosmetic and personal care market is flourishing day by day. Costumers in South Korea as well as the customers worldwide, everyone is getting conscious about the ingredients. Everyone's preference is now organic and high-quality ingredients in anything whether its food or beauty products. So, the increasing trend of organic things is going to drive the market of natural beauty products in South Korea. Meanwhile, we can't miss the cutely designed cosmetics too that makes us pleased whenever we use them. Here are some of the cute Korean beauty products embedded with high-quality ingredients that do not harm your skin or your environment.
Cute Korean Beauty Products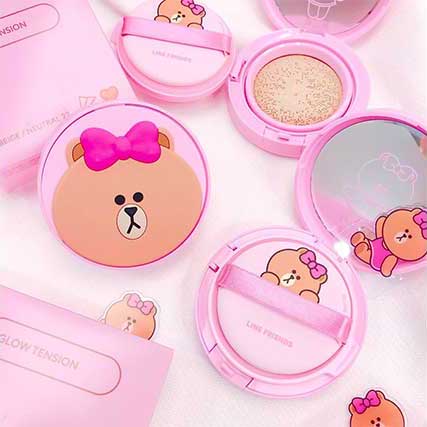 MISSHA
Glow Tension line Friends edition
This is a skin-protecting makeup and lasts for about 30 hours. Missha Glow Tension is a foundation cushion and helps you brighten your skin with SPF 50 that protects the skin from harmful UV lights. Moreover, It has a complex and special formula for glowing skin and anti-aging with adenosine, hyaluthion, and collagen. It glows moist tension complex that moisturizes your skin ensuring a perfect and flawless skin for you. Furthermore, the double-layer cover gives perfect coverage and cleans your wrinkles. It is one of the popular and cute Korean beauty products that come in Line edition packaging. Not only It gives moisture glow for youthful and clear skin but it also vanishes the imperfections with the help of complete coverage. If you are a big fan of Missha BB cream, check this post for more good reviewed Missha's products from skincare to makeup.
Size: 15g | Price: $9.95
ETUDE HOUSE
Play color eyes mini Hershey's long-lasting eye shadow palette
Etude House Hersheys eye shadow palette is one of the cute Korean cosmetics as it comes in packaging just like the packaging of Hershey's. You will fall in love once you see it before you see the rich pigmented chocolate colors that will make you drool over it.  Many of us haven't seen this much shades of chocolates but this 6 colored eye shadow palette that is inspired by the formula of chocolate provides you with rich brown shades. These abundantly pigmented colors will help you satiate your sweet cravings as well after applying these colors on your eyes.
Also, the Etude House eye shadow palette includes some glitter shades which will give you texture like melting chocolate and perfectly blends onto your eyelid. It could be perfect as a witty gift for your friends, which will make them even happier. For more best Korean eye shadow palette and eyebrow kit, check THIS POST.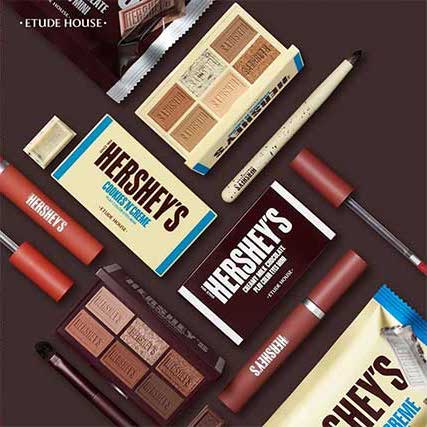 Size: 6 colors | Price: $16
My beauty tool lovely EttI hairband
If your hair is bothering you by coming on your face when you wash your face? Then this lovely hairband is right for you. It's one of the popular cutty Korean beauty products that have a unique and fun design of plush cat headband and will help you keep your hair away. Etude House Lovely Etti Hairband is a practical beauty tool and ensures the protection of your hair while doing cleansing, applying makeup, having a sheet mask on, or doing your office work. And the best part about this cute Korean beauty product is that it is completely safe for your skin. This cute tool that looks good on your face will eventually brighten up your mood and make you smile once you get rid of your hair coming up on your face. This adorable hairband is made of 100% polyester and well stretched.
Size: 1pack | Price: $4.9
Etude house Jellyfish Silicone Brush
It's a soft silicone cleansing brush that gently and deeply cleanses the pores with a fine and thick textured leather. This cute Etude House Jellyfish silicone brush has a 3-in-1 effect. The thin side of this brush cleanses out the remaining makeup and excess sebum without itching or irritation of the skin while the thick silicone helps in the side massaging of your face skin. In addition, it has a combination of silicone and sponge which cleanses the pores deep down and provides a refreshing sensation as well. It is one of the cute beauty products that has a unique, soft, and funny texture that makes you enjoy your cleansing time. Plus, the maintenance of the brush is simple and easy. HERE you can find more best-selling Etude House products.
size: 1 Pack | Price: $5
TONYMOLY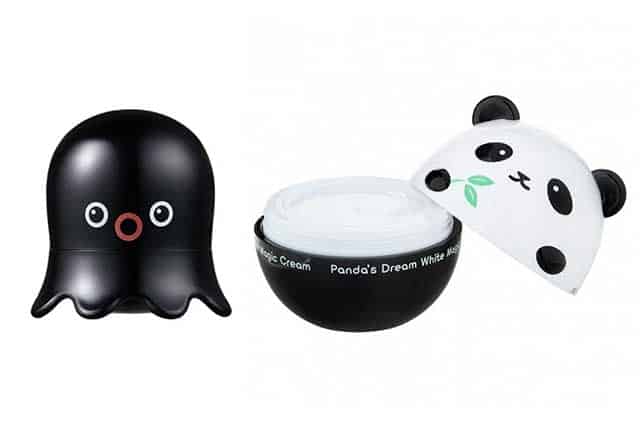 Tako Blackhead Scrubber
TONYMOLY Tako Scrubber helps in extracting blackheads and whiteheads and is formulated with cellulose beads that make the skin clean, smooth, and refined. This scrubber has a marine root-up-complex. Rotura mud and charcoal powder are blended perfectly to make your skin complexion more clarified and extract the pore cloggings. Moreover, taurine in this product helps in hydrating and pore tightening of your skin while dead sea salt and black peat water purify the skin by absorbing the wastes and toxins in our skin and providing a soothing effect. Rotura mud reduces the sebum which is excess in our skin and charcoal powder helps in extracting the impurities of the skin. If you want to check more best-selling exfoliators to remove blackheads on the nose, head HERE.
Size: 1 pack | Price: $7.9
Panda's Dream White Sleeping Pack
You should have it as your night care skin routine because it is one of the cute Korean cosmetics. While you are in a dream or deep sleep at night, this lightweight hydrating formula works hard that brightens your skin tone. So that you will see a fresh, glowing, and luminous skin in the morning. TONYMOLY Panda's white sleeping pack has an active ingredient, niacinamide, which helps in the brightening of your skin. Besides, bamboo sap and lavender extract help in soothing the irritated skin and reduce the skin blotchiness ensuring an even skin while the rosemary extract has the anti-inflammatory properties and provides elasticity to your skin. 
Size: 50g | Price: $14.5
Petite Bunny Gloss Bar
These beautiful and unique bunny gloss bars are cute and look nice in your purses. These lip balms are extremely hydrating for lips and provide you a fruity fragrance and give a glossy and smooth texture. The product is a winner in the market of lipsticks with beautiful colors and long-lasting and is a must-have Korean beauty product. It has many shades that are easy to go with your everyday look. For more best Korean lipsticks, lip tints and lip balm, see THIS POST.
Size: 1 pack | Price: $8
Haeyo Mayo Hair Nutrition Pack
It is one of the best beauty products that help you nourish your hair. The product has nutrition enriched oils and the mayo mask, which provides shine and moisture to damaged hair. With its comprised of Shea butter and vitamin-packed ingredients, the creamy hair mask supplies nutrition and hydrates your hair by defeating the stubborn frizz and the lazy split-ends. What's more, TONYMOLY Haeyo Mayo Hair Pack has egg yolk extract which makes your hair smooth and healthy. You must be wondering that it's surely one of the cute Korean beauty products but how it smells? It's a blend of vanilla and macadamia nuts aroma and not like egg yolks. No worries! 😉
Size: 250ml | Price: $16
HOLIKA HOLIKA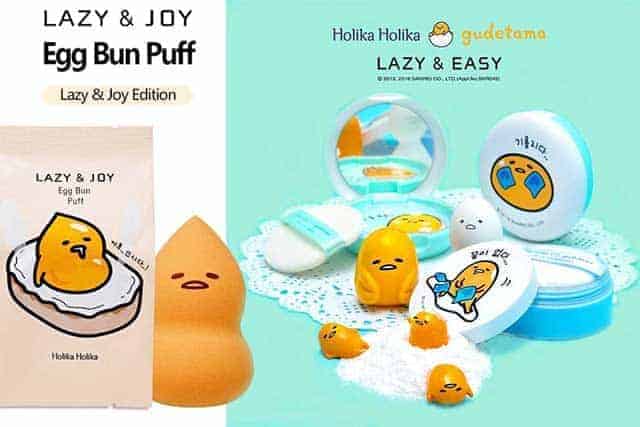 Lazy and Joy Egg Bun Puff
This egg bun puff is a cute and effective beauty item. Not only It has a pointy tip for a nose but a bigger round bottom also makes it easy to go for every part of a face. It's a bit hard at first use but softens up by the time you use it more frequently. You can use it for applying and blending your base makeup. This Puff knows how to craft well and blends your cosmetics just the way you want them. Lastly, Holika Holika Lazy and Joy Egg Bun Puff is easy to manage. Absorbing water very well and soft enough for cleaning. So just clean it before the next use.
Size: 1 pack | Price: $7.85
Gudetama Lazy & Easy Sebum Clear Pact
This Gudetma Clear pact's packaging and the plastic film are very appealing to eyes yet it's an effective beauty product at the same time. This Sebum clear pact absorbs excess sebum with the help of sugar and cotton extracts help in refreshing your complexion with apple mint extract and ensures smooth and soft skin. People with sensitive skin can also use them as the product is for all skin types. Gudetama Sebum clear pact has all the natural and organic ingredients making it safe to use for the consumers worldwide. It will make your skin milky and fuzzy by providing a smooth texture to your skin. 
Size: 9g | Price: $13.5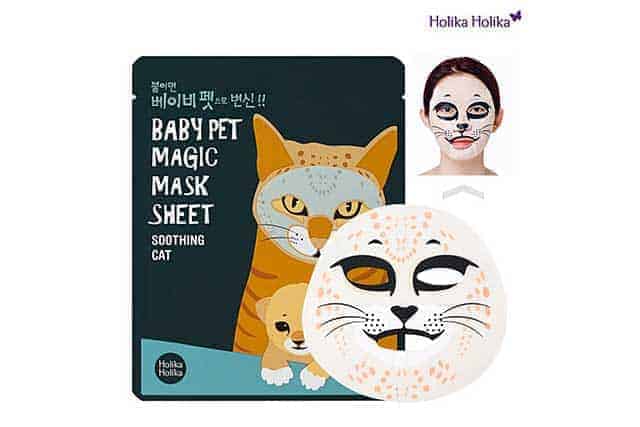 Baby Pet Magic Mask sheet
This baby pet mask sheet is an anti-aging mask sheet that has collagen extract. It helps in making your skin vital and brings an even and smooth texture to your skin. Holika Holika Baby pet magic mask helps to remove your stubborn wrinkles with high-quality ingredients like niacinamide and hyaluronate. It makes your skin bright and soothes your weaken skin. It's one of the most effective beauty products. To find more top-selling products of Holika Holika from skincare to makeup, click THIS.
Size: 4 pack | Price: $9
Conclusion
Beauty products and K-pop are talked side by side and the Korean cosmetics are worthy of all the praises as well as your money. The effective ingredients and formulas that are used in Korean beauty products are highly admirable. Korean cosmetic brands provide their consumers healthy, effective, and affordable products worldwide, which are safe to use and don't harm your skin. Their beauty products don't require you to rely on makeup and give a natural glow and make your skin luminous. 
You may also like
Disclosure: This post contains affiliate links. Clicking those links before you shop means that best k-beauty receives a small commission. Please see my full disclaimer for more information.