One thing about Korea is that summer takes you by surprise with a sudden change from sweater weather to sweaty weather. This June suddenly became super hot and I am sure I'm not the only one who found myself frantically trying to get my body, skincare routine, and wardrobe ready for summertime ahead. Luckily, Korean skincare brands always have my back. Not only they offer you a wide range of SPF products but goes way beyond that to make sure that your new summer beauty routine will help your skin survive the heat and look gorgeous. Let's see the Korean Skin Care Tips for Summer and the best products.
essentials Tips for Korean summer Skincare
Lose all unnecessary layers
And I don't mean only our cozy sweaters. As the weather is getting hotter and pants shorter we all want our skin to be glowy and smooth like baby bottom. 
K-beauty brands, like the rest of the beauty world, are on a chemical exfoliation train for some time now with plenty of AHAs, BHAs, and PHAs to reveal our youthful faces. But about the rest of our body that also needs some work? Of course, there are foolproof methods such as our beloved Italian towels and heavenly smelling physical scrubs that will get the job done perfectly.
BUT! People with extremely sensitive skin like myself can find these to be too harsh on the skin leaving it red and irritated. The second issue is the time! Long winter evenings are perfect for scheduling our home spa time. Whereas, summer is such an exciting time with a schedule filled with picnics, ride bikes, pool days, and rooftop parties! Korean summer skincare is the time when I look for effortless, quick, and easy recipes to make my skin look good in no time. That's why I love SOKSAL pads from MEDITHERAPY. All I need to do is to grab one pad from the container and wipe my skin!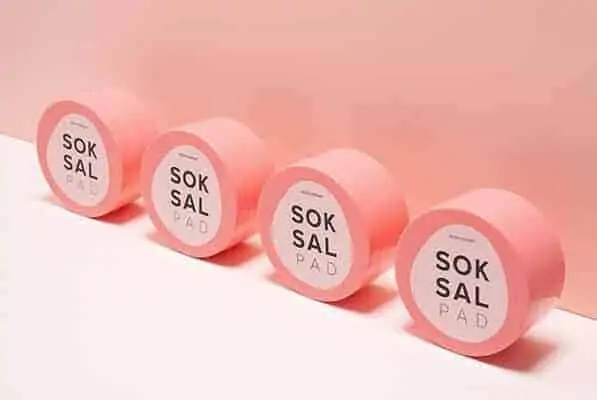 Mild toner pad with PHA
SOKSAL pads are designed to gently exfoliate and boost the moisture of rough, flaky, and dry body skin. Its exfoliating effect comes from PHA, a gentle type of acid that can be used daily, without the danger of over-exfoliating or irritating the skin. The essence is filled with moisturizing and soothing extracts such as green tea, Centella Asiatica, shea butter, and olive oil to avoid the feeling of tight skin and boost its hydration. Round, big, and easy to grab pads with two sides immediately smooths out flaky and dry skin. It is especially great for those who struggle with keratosis pilaris or dry, ashy elbows and knees. 
I love to use it on my arms and legs before shaving and before applying a self-tanning lotion. It surely makes it much much easier to avoid uneven tan! It is also my go-to whenever I feel like my skin needs more glow and lightweight moisture. I just swipe it all over my body and I am ready to wear a summer dress.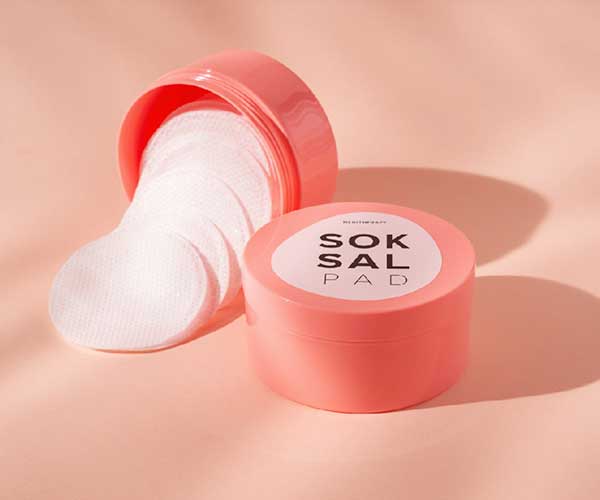 SOKSAL PAD
Good for dry skin
Ingredient Safety by EWG:
Most the ingredients are low hazard scores except Licorice Extract is a moderate score
Simple and effective
In winter I don't mind a lot of layers so it is easy for me to incorporate all my favorite actives. My skin is very happy with all toners, essences, serums, and sleeping masks. But humid summertime makes it difficult to absorb all my favorite ingredients and keep my skincare light and fresh. Many products advertised as lightweight can be lacking some great antioxidant or skin-restoring ingredients. That's why I was delighted to see that Korean beauty in 2020 goes more into the customized skincare! Everyone's favorite brand COSRX has already launched a few products that can be easily mixed with toner or essence such as B5 D-Panthenol Ampoule or Pure Fit Cica powder.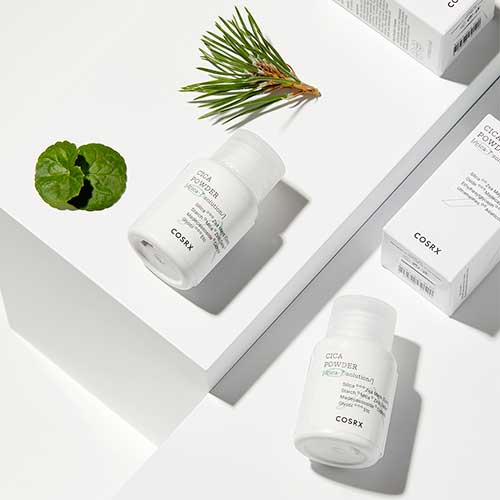 Good for oily skin
Ingredient Safety by EWG:
Most of the ingredients are low hazard scores except 3 of moderate hazard scores depend on usage.
However, 2020 is the year when single-ingredient brands really shine in Korea. The main concept of brands such as One Thing or The Potions is to offer a highly concentrated single ingredient that will act as a booster in any routine without unnecessary fillers and emulsifiers. I find it perfect for summer as it makes it easy to blend beneficial ingredients without overwhelming your skin with too many products. All I need to do is to add a few drops to otherwise boring and basic lotion and I have my own lightweight cocktail of goodies.
DIY Toner pad
Another great way to enjoy Korean summer skincare with DIY brands like One Thing is DIY toner pads. They are such a hot trend in Korea right now! With hot and humid weather outside, soothing face masks can be a life-saver. But very often in the summer I just need to quickly cool down my cheeks and nose. That's when I reach for my DIY toner pad with 100% Galactomyces extract that I store in my fridge. After I get out of the shower I slap on two pads on my cheeks and I let my skin cool down for a few minutes. It immediately helps to calm redness, soothe the skin, and make it glow but does not leave the slippery film on the skin that pre-made masks do.
Moreover, it's very easy to make it yourself. Just two or three pads soaking into the toner that you use and a few drops an essence or ampoule with active ingredients. If I could give you a small tip, put them into the fridge before you go to shower. Then, you can feel your skin get calm in a minute and refresh from irritation by sun and humid weather.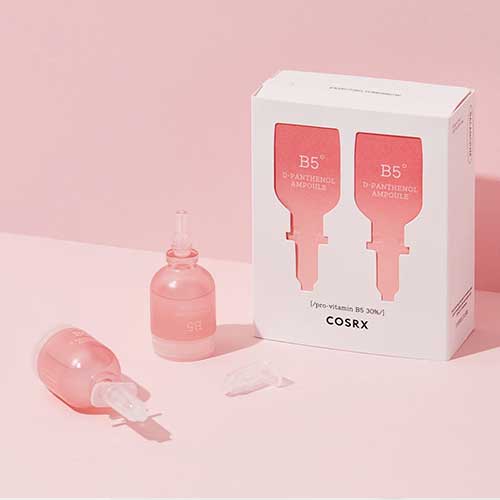 CICA BOOM continues
Centella Asiatica has been around for some time now and to be honest, I was expecting the trend to pass quickly and make a room for another trendy extract. But I couldn't be more wrong! It took the Covid-19 worldwide pandemic to make me realize I was missing out big time by ignoring all those pretty green tubes and jars with "Cica" written on it. Face masks are now mandatory when using public transportation. Wearing a face mask always makes my skin uncomfortable, but with hot and humid weather my skin became extremely irritated and inflamed. I was desperately trying everything to calm it down and get rid of those stubborn small bumps. That's when I finally admitted that maybe I need Centella in my stash.
Best-selling products with Centella Asiatica
Cica trend not only is going strong but it is getting bigger and bigger and it became the must-have this summer, also for me. Single-ingredient brands are releasing their 100% Centella extracts, and brands like COSRX are releasing the whole line of CICA products. So you can incorporate it in any form comfortable for you. This June, COSRX Cica Serum with 7 forms of Centella Asiatica ingredient became my favorite. It is extremely lightweight and is absorbed quickly, but it delivers appropriate hydration to the skin. Since Centella is not only a great soothing ingredient but also helps to make the skin more elastic and like other plant extracts help to fight skin-damaging free radicals I feel like it is taking proper care of my skin on many different levels.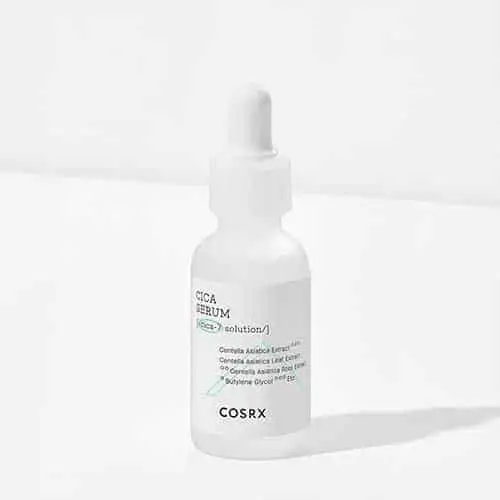 Good for sensitive dry skin
Ingredient Safety by EWG:
All low hazard scores
K-beauty offers such a variety of solutions for various beauty concerns that nothing should stand in the way to my perfect Korean summer skin care with glowing and healthy skin!
You may also like
Disclosure: This post contains affiliate links. Clicking those links before you shop means that best k-beauty receives a small commission. Please see my full disclaimer for more information.