Exfoliating is an essential step in my skincare routine, especially for summer! It helps a lot to remove white and blackheads caused by sweating and humid weather. More, it's one of the tips on how to make pores smaller! Let me guide you on how to exfoliate your skin and the best Korean exfoliator for your skin types.
Top-rated Korean Exfoliator
Even though I suggest reading all recommendations to find the best fit for your skin type, if you prefer to check the top-rated Korean exfoliator reviews first, click the image below to see the reviews directly.
Why do dead skin cells build up?
Dead skin cells are created to protect the skin. For healthy skin, within 28 days the dead skin cells will exfoliate and then regenerate. However, when skin aging begins, this cycle becomes longer, and dead skin cells start to add up. So, occasionally, we need to reduce them using products which I'll review the best Korean exfoliator in detail. When the skin drier than normal, more dead skin cells are produced. Thus, please avoid making it worse below.
Too much cleansing:
Cleansing several times to remove heavy makeup might cause a lot of dead skin cells by tightening the skin.
Heater:
If cold winds or heaters are left on for a long time especially in winter, the temperature difference changes the keratin production cycle and causes more dead skin cells too.
Often exfoliating:
Don't do hard to remove 100% exfoliation without leaving any dead skin cells because it might create more dead skin cells.
Long shower:
Taking a shower with hot water for a long time can also cause more dead skin cells.
When should I exfoliate my skin?
Sunblock should not be used together because it can be irritating if used after exfoliating. So, I recommend using an exfoliator at night rather than in the morning as an evening routine after a shower to minimize irritation where dead skin cells can fall off well.
How can I exfoliate my face?
There are two ways to exfoliate: Chemical and Physical. Each has its own advantages and disadvantages, so use it according to your skin.
Chemical exfoliator (Toner,  Toner Pad, Essence, Sheet Mask)
It has exfoliating ingredients that are relatively low in content and is suitable for daily use. However, it takes time for the effects to appear, so if you want an immediate effect that smooths your skin, we recommend using a physical exfoliator.
Physical exfoliator (Wash-off Mask, Peeling scrub)
However, physical exfoliators are relatively high in exfoliating ingredients, which can irritate the skin, so you should adjust the time and frequency well.
SKINFOOD Egg White Pore Mask 4.41 oz. (125g) - Pore Refining Wash off Mask, Tightens Pores, Removes Blackheads and Dead Skin Cells, Skin Smooth and Soft - Exfoliating Skin Mask - Wash Off Face Masks
4 new from $11.00
Free shipping
as of November 10, 2023 4:00 pm
Exfoliating ingredients you should check
Natural exfoliating ingredients:
Houttuynia Cordata Powder, Houttuynia Cordata Extract, Walnut Shell Powder, Coconut Flower Sugar, Black Willow Bark Extract, Sugarcane Extract.
AHA:
Lactic Acid, Glycolic Acid.
BHA:
Salicylic Acid, Betaine Salicylate.
Sebum controlling ingredients (Not exfoliants but effective in boosting removal of dead skin cells, easily found in wash-off masks)
kaolin, Titanium Dioxide, Bentonite, Silica.
Best Korean Exfoliator Review in 2023
Here are the Best 3 Korean exfoliators considering the exfoliating ingredients, price, effectiveness, and irritability. 
By Wishtrend Green Tea Enzyme Powder Wash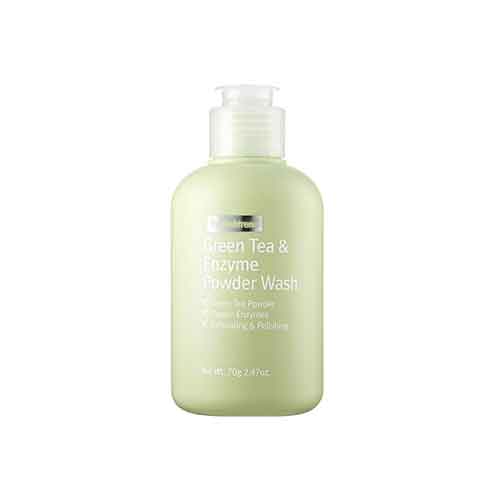 70g
$20 ~ $24
Skin Type: All Skin Types
Ingredients
It is a hypoallergenic cleanser that can be used daily. Corn flour powder and Coconut-derived ingredients are the main ingredients that allow for mild exfoliation. Not only It helps to fight acne but it also fades down brown spots caused by trobles with Sodium Ascorbyl Phosphate. With only 15 simple and clean ingredients, all skin types, including sensitive skin, can use it.
KEY INGREDIENTS
Hydrating: Sodium Hyaluronate, Betaine
Brightening: Sodium Ascorbyl Phosphate (Vitamin C)
Uses
I don't usually prefer irritating exfoliators because I have dry and super sensitive skin. So, I liked this gentle cleansing product because it cleaned my skin well with no irritation at all. However, it was not easy to use due to a powdery type controlling the amount of water was difficult. The green tea powder gets weak and soggy when water goes in, so make sure to close the cap well after use. For oily acne-prone skin, this may not be enough to exfoliate I guess. You may want to use this product as a daily cleanser and then use an additional exfoliator. That would be fine for oily skin.
HOW TO USE
Dispense an appropriate amount on wet hands and work into a lather using warm water.
Place the foam over the face, cleanse in a gentle massaging motion and rinse off with water.
Results
The best thing about this for my sensitive skin was that it cleansed nicely without any irritation. When I put water on the fine powder, it bubbles well, so there was no pull after washing my face, and no other skin trouble occurred. Honestly, It is not a dramatic change, but it feels like the skin tone is slightly brighter due to natural exfoliation with enzyme.
Price
Currently, it is sold for $22 for 70g on Amazon. It is a powder type so it can be used for a long time. Just a small amount is enough to mix with water.
Clean Beauty
By Wishtrend is a high-quality cosmetic brand launched by Wishcompany that produces sensitive skincare products like Klairs cosmetic. Moreover, harmful ingredients are not used making it a clean beauty product. It is Ethanol-free, Paraben-free, Silicon-free, Steroid-free, Artificial coloring-free, Artificial fragrance-free, Cruelty-free, and Vegan friendly! That's why many people including me love this brand. 😉
#hydrating #vitaminC #vegan #non-irritating
CHECK PRICE
Isntree Real Mugwort Clay Mask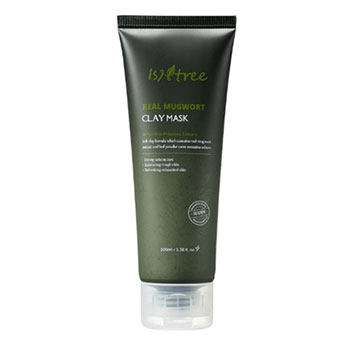 100ml
$24 ~ $27
Skin Type: All Skin Types
Ingredients
It exfoliates using Willow Bark Extract (BHA), a natural exfoliating ingredient, and the exfoliation is maximized by adding Kaolin and Bentonite, the sebum controlling components. Such physical exfoliating can be stimulating, and at the same time, it calms irritated skin containing a variety of soothing ingredients, such as Panthenol, Allantoin, Beta-glucan, and Oat Kernel Extract.
KEY INGREDIENTS
Exfoliating: Willow Bark Extract (BHA), Kaolin, Bentonite
Soothing: Panthenol, Allantoin, Beta-glucan, Oat Kernel Extract
Uses
This is the softest exfoliating clay mask I've ever used. Because I have sensitive and dry skin, clay masks usually cause a severe pull, but the Isntree Mugwort clay mask did not pull even after 10 minutes of using it. The grain particles are fine and the exfoliator creamy, so it applied well to the skin and felt moist. It was good to exfoliate without irritation at all, and it has mugwort and red bean powder in it. So it strongly smells like mugwort. The smell was not bad to me but there might be some people who might not like it I guess.
HOW TO USE
After cleansing, cover the face with the mask for about 10-15 minutes.
Rinse with lukewarm water. 
Apply a proper moisturizer.
Results
I definitely felt that my skin tone brightened and my pores tightened. This exfoliator was effective in managing blackheads when the temperature rose and my pores became smaller after use. It's a mild exfoliating and pore care product without irritation. Thus, recommended for all skin including sensitivity. For me (dry skin), only the butterfly zone (nose and cheek) used for blackhead and pore care, but for oily acne-prone skin, it can be used an entire mask without any irritation.
Price
The price is relatively high compared to other mud packs, but it is worth it if you want a moist clay mask with safe ingredients and no irritation.
Clean Beauty
Isntree is a Korean brand that makes cosmetics that all families, including children, can use with confidence. Therefore, 100 ingredients suspected harmful ingredients are notified on their official website. These ingredients are excluded and only safe ingredients are manufactured. Plus, this product has EWG-safe ingredients made without Alcohol, PEG, Sulfate, Fragrance, etc. In addition, it is Cruelty-free and Isntree strives to make eco-friendly products without unnecessary packaging.
CHECK PRICE
Innisfree Super Volcanic Pore Clay Mask 2X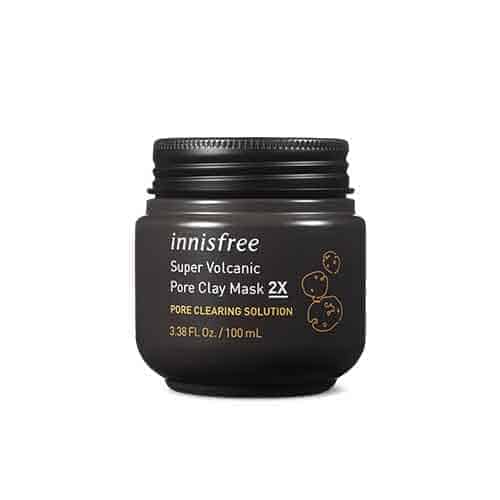 100ml
$10 ~ $15
Skin Type: Normal, Combination, Oily
Ingredients
Innisfree's bestseller wash-off mask is loved not only in Korea but also all around the world. It uses Lactic Acid and Walnut Shell Powder as exfoliating ingredients and contains Kaolin, Silica, and Bentonite for sebum adsorption. Innisfree clay mask works wonders on removing impurities and minimizes pores while Green Tea Extract helps to moisturize and calm the skin down. This product uses twice the volcanic ash as the original version to deeply clean and tightens pores.
KEY INGREDIENTS
Exfoliating: Lactic Acid, Kaolin, Bentonite
Soothing: Green Tea Extract
Uses
It's a bit more of a balm texture yet it applied smoothly to the face. After about 10 minutes, I had less skin pull than other clay masks, but for me, who has dry skin, there was a little bit more pull than the Isntree Real Mugwort Clay Mask. The scent is not strong and had a slight smell like soil. And It had a cool feeling when I applied it. For dry skin, it is recommended to put it on the face for less than 10minutes. I could see the result of blackhead removal after use at least 2-3 times. So, don't expect instant change. It takes some time to get silky skin.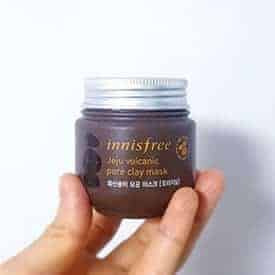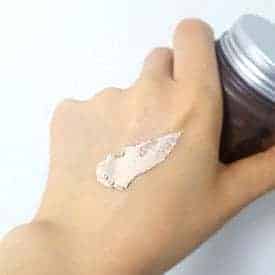 HOW TO USE
Apply mask to face avoiding contact with eyes.
Let dry for 10 minutes and rinse with warm water. Use one or two times a week or as often as needed.
Results
When I washed the mask clean, unnecessary dead skin cells were removed, making the skin texture smooth and brighter. Also, this mask will be helpful to use when you have sun damage because of its cooling effect. I felt the pores got smaller with the sebum absorption but there was no dramatic change with just one use. Personally, I prefer products that are less irritating and effective rather than having immediate and dramatic changes though. 
Price
$13/100ml is a good price to try. If you're looking for a product that cleans pores with less irritation, I recommend this product.
Clean Beauty
Innisfree is a leading natural cosmetic brand that presents good raw materials and eco-friendly products with the benefits of nature given by Jeju Island in Korea. In line with this, Jeju Volcanic Pore Clay Masks is a clean beauty product with all green level ingredients. That means it can be used by all skin types because it is Alcohol-free, Fragrance-free, Essential Oil-free, Paraben-free, and Sulfate-free. It is also safe for sensitive skin and I recommend adjusting the number of uses according to your skin condition.
#sebum-control #exfoliating #soothing #clean
CHECK PRICE
How often should I exfoliate?
Depending on the skin type and skin condition, it is recommended to look at the ingredients, product type, and how many use a week. If scrubs or peeling products with high exfoliating content are used, about once or twice a week is recommended. Otherwise, small amounts of mild exfoliating ingredients can be used daily. To those who have super sensitive skin, I recommend not using a separate exfoliator. This is because other skincare products, such as toner and essence, also contain a little bit of exfoliating ingredients about 10-20%. If the skin barrier is suddenly damaged and turned a vulnerable skin, it is better to wait without using exfoliating agents. And do it after the condition recovers.
Cautions for Use of Exfoliator
Exfoliating agents, Vitamin C and Retinol should not be used together because it can be irritating. Thus, after exfoliating don't use skincare products with Vitamin C, Ascorbyl Acid, and Retinol. In the case of inflammatory facial acne, stop using physical exfoliating agents. I recommend focusing more on moisturizing the skin. It will be a more effective way to remove dead skin cells. 
You may also like
Disclosure: This post contains affiliate links. Clicking those links before you shop means that best k-beauty receives a small commission. Please see my full disclaimer for more information.