Best Korean Toner Review
Even though I suggest reading all recommendations to find the best fit for your skin type, if you prefer to check the top-rated toner reviews first, click the image below to see the reviews directly.
What is toner used for?
Have you ever wondered why we use toner? Toner is also known as skin in Korea. Why? Maybe because it's the first beauty product used after cleansing the face. It is made from water, ethanol, and moisture and part of the cleansing procedure. After we have finished cleansing the face, it's important to remove all residues so a toner is used. The toner will calm and prepare the skin to absorb the next skincare product. Use a cotton pad to soak the toner and slowly move it across the face, making sure to remove impurities left after cleansing. Also, It is important how gentle we use the cotton pad as we do not want to irritate the skin. Here, not only how to use the facial toner, but you can also check the best Korean toner detailed review that I choose considering ingredients, skin types, clean beauty, and price.
What does Korean toner do?
Hydrating:
Korean toner has many benefits. After face-wash, the toner helps the skin be hydrated quickly.
Physical Exfoliating:
With soaked cotton pads, It also cleanses the face a second time by physically exfoliating any residues left like makeup, oils, etc after cleansing.
pH Balance:
The toner helps the skin stay healthy by keeping the slightly acidic pH level stable and calming the skin.
Should I use toner everyday?
Using toner every day is beneficial in many ways. After cleansing, the toner will bring good blood circulation and refresh the skin. Toner will also remove dead skin cells in a gentle way, and excess sebum and impurities remain missed from cleansing so it is recommended to use toner every day. Moreover, toner will quickly absorb moisture for dry skin leaving the skin smooth and calm. Though there are many benefits of using toner every day, these types of people do not necessarily have to. 
Cleanser is weak in acid, it is not necessary to use a toner to stabilize the pH level of your skin.
If you do not wear a lot of makeup, cleansing your face once, and then going straight to using a serum, ampoule, or another skin care product is just as fine.
For sensitive skin, using a cotton pad every day may irritate the skin more. So, I recommend using your hands instead of a cotton pad to soak up the great ingredients.
Get Latest News & Coupons for K-beauty Products
Best Korean Toner Review in 2021
Toners are recommended depending on skin concerns and skin type. Here are the best 3 Korean toner recommendations with less irritant ingredients for a calming and moisturizing effect. 
 Best Overall: Klairs Supple Preparation Toner Unscented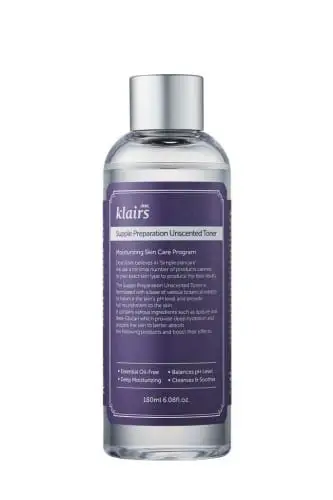 180ml
$19 ~ $22
Skin Type: All Skin Types
#Alcohol-free #Essential oil-free #Fragrance-free #Paraben-free #Sulfate-free #Cruelty-free #Vegan
Ingredients
This toner has great ingredients like Butylene glycol and sodium hyaluronate to help moisturize dry skin. And It has Panthenol to build a strong skin barrier and Vitamin C to brighten skin tone. Lastly, it has Aloe vera Leaf Extracts and Centella Asiatic Extract to help calm irritaed skin.
KEY INGREDIENTS
Brightening: Sodium Ascorbyl Phosphate (Vitamin C), Licorice Root Extract
Soothing: Centella Asiatica Extract, Panthenol, Beta-Glucan, Aloe Leaf Extract
Hydrating: Sodium Hyaluronate, Arginine
Uses
This Klairs toner was very pure with almost no scent and didn't make any trouble on my super sensitive skin. Not only the toner absorbed into my skin very quickly but also there was no stickiness, rather a refreshing feeling. 
Results
I am sensitive to artificial ingredients so I liked how this essential oil-free toner had no irritation but full moisture to make my skin soft. As this toner has no hazardous ingredients like fragrance, paraben, and sulfate, I didn't have any troubles and sensitivity reaction. Thus, it is safe to use for all skin type especially, sensitive skin type as well. This toner absorbs quickly and boosts to nutrient of the next skincare product well. I definitely recommend buying it.
Price
Currently, it is sold for $19 ~ $21 for 180ml. It's not cheap but for those with sensitive skin it is worth it.
Clean Beauty
In 2010 Klairs skincare brand started in Seoul to help people with sensitive skin, It is a cruelty-free and vegan & ecofriendly brand. That means this unscented toner is absolutely irritant-free and perfect for sensitive skin types.
CHECK PRICE
Best for Oily skin: Isntree Green Tea Fresh Toner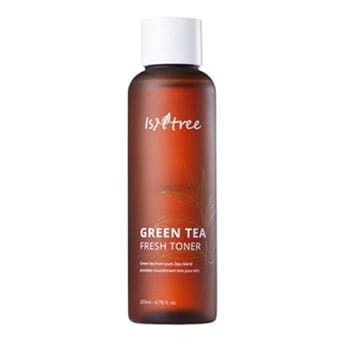 180ml
$18 ~ $20
Skin Type: All Skin Types
#Alcohol-free #Fragrance-free #Essential Oil-free #Paraben-free #Sulfate-free #Cruelty-free
Ingredients
I love how the Isntree Green tea fresh toner is made from a bunch of calming ingredients, mainly Green Tea Leaf Extract, Allantoin, Centella Asiatica Extract, all natural ingredients for no stress, smooth, and moisturized skin all day. Besides, it has White Willow Bark Extract which is a natural BHA. So, I can expect daily chemical exfoliating effect in a gentle way that is perfect fit for oily acne-prone skin.
KEY INGREDIENTS
Soothing: Green Tea Leaf Extract, Centella Asiatica Extract, Allantoin, Beta-Glucan
Exfoliating: White Willow Bark Extract
Uses
This toner is great for oily and sensitive skin. The water type toner helps even out my skin without leaving any stickiness.  All the ingredients are Green level so there was no irritation at all. It is a subtle yet effective toner.
Results
My favorite part of this toner is the slight green tea smell which refreshes and calms my skin. It helps keep my skins moisture for a long time and water-oil balance with the natural ingredients. This is by far the best toner to sooth the skin texture because of the various soothing ingredients used.
Price
The price is not cheap about $20 for 200ml but there are frequent time sales. Sign up on their registry so you don't miss out!
Clean Beauty
Isntree has no artificial colors, no artificial smells, and sold across 7 continents and 40 countries around the world. It was acknowledged globally first. Not only, Isntree aims for cruelty-free and eco-friendly package, but they also only uses clean ingredients without 100 portencially harmful ingredients that is listed on their official website. Following their philosophy, this skincare toner made by green level ingredients that need to sooth the skin and to help sebum care.
CHECK PRICE
Best for Dry skin: The Lab by Blanc Doux Oligo Hyaluronic Acid 5000 Toner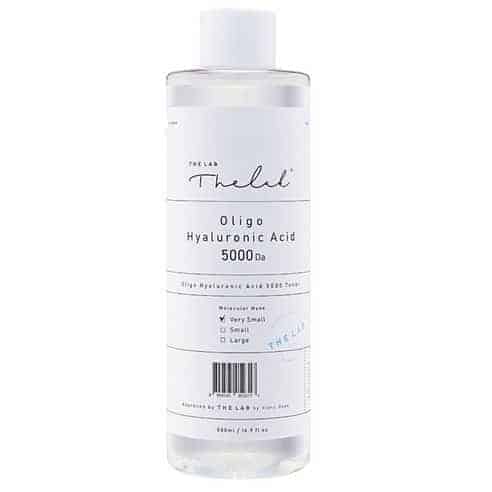 $15 ~ $20
Skin Type: All Skin Types
#Alcohol-free #Essential oil-free #Fragrance-free #Paraben-free #Sulfate-free #Cruelty-free #Vegan
Ingredients
The best part of this toner is that it has only 5 ingredients, Allantoin, Butylene Glycol, Panthenol, Sodium Hyaluronate, and Tocopherol. The more ingredients the more irritant the skin can get, but this toner has a very simple list so there is no irritant at all. Plus, the toner's pH level is same with the skin to help keep the skin balanced. With natural ingredients & alcohol-free, it is compatible for regular, sensitive, and oily acne-prone skin and perfect for both men and women.
KEY INGREDIENTS
Hydrating: Sodium Hyaluronate, Hydrolyzed Hyaluronic Acid, Sodium Acetylated Hyaluronate
Soothing: Beta-Glucan, Allantoin, Panthenol
Uses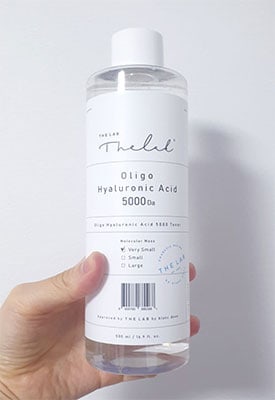 Even thought I have extremely sensitive and dry skin and I felt the water type toner hydrates deep into my skin. The toner is very light and nonirritant helping my skin to absorb and moist throughout the day. However because it is watery it is a little difficult to control the quantity but perfect when using it for a toner mask. 
Results
The Lab by Blanc Doux Oligo Hyaluronice acid 5000 toner is non irritant and non alcoholic with only natural ingredients to keep the skin moist all day. As this toner is made of small particles 5,000 Da, absorption was quick and my skin keep moist for a healthy and radiant glow. It doesn't matter what type of skin you have it works best for all skin types including sensitive skin.
Price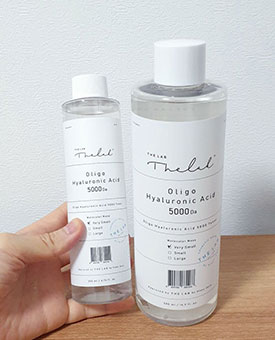 The price of regular size is around $15 ~ $20 for 200ml. However, It is best to buy the toner in the jumbo size, 500ml for $34. Global Olive Young has Brand sales where you can buy the product at a discount. 
Clean Beauty
Best yet this toner is loved by the meticulous Korean customers and have been loved for being a clean beauty product brand. This toner only uses the best ingredients for the skin for all skin troubles. The Lab By Blanc Doux is vegan-friendly & cruelty-free and use only essential ingredients which help for healthy skin. This toners ingredients used are also natural making it perfect for all skin types.
CHECK PRICE
How to use facial toner? 
Facial toner is quite simple to use. First, soak the cotton pad with the toner and cleanse the part of your face with the most oil. It is best to snap the wrist and start by gently wiping the center of the face outwards. Then use the toner on the forehead, chin, and then lastly wipe the nose, the oiliest part of the face. Wipe straightly down the nose and wipe the other nose parts a little strongly. What's more, fold the cotton pad to give it a cushion when wiping the eyes with the toner to reduce irritation during removing the makeup.
If using a cotton pad can be a hassle, I recommend using a toner pad. The cotton pad is already soaked with essence and toner. It is super convenient and loved by many Koreans. Depending on the skin type and purpose, it is important to know which toner and toner pad to use. Check out the Best-selling Korean toner reviews to find the best match for you.
Toner ingredients for dry, oily skin
Best toner for dry skin
It is important to choose a toner that is less irritant, moisturizing, and most like PHA for a mild exfoliating effect.
Avoid ingredients with alcohol, silicon, BHA, and AHA.
Look for a toner with these good ingredients: Yeast ferment extract, sugarcane extract to remove dry skin gently.
Also, find toner with panthenol, and ceramide to strengthen skin walls.
Lastly, for dry and normal skin using a toner that has hyaluronic acid, glycerin, butylene glycol will add moisture to the skin.
Best toner for oily acne-prone skin
It is best to use a toner that can help balance ph and sebum levels for oily skin.
Avoid ingredients with silicon and alcohol.
Look for a toner with these good ingredients: Tea Tree Leaf Extract and Tea Tree Leaf Oil, Witch Hazel, AHA, BHA, and Zeolite for anti-bacterial and anti-inflammatory ingredients.
Also, find a toner with glycerin, butylene glycol to add moisture.
Best cotton pads for toner mask
Toner masks are used to conveniently bring nutrients to dry or troubled skin to specific parts of the face, unlike the sheet mask. This simple way to calm the skin is very popular in Korea. With these reasons, Korean makeup brands have made cotton pads specifically for toner masks.
For Toner Mask
For Toner Mask + Cleansing
For Cleansing
You may also like
Disclosure: This post contains affiliate links. Clicking those links before you shop means that best k-beauty receives a small commission. Please see my full disclaimer for more information.