K-beauty brand, Klairs is making waves for its high-quality skin-care range. Klairs beauty line has become a widely loved brand in the Korean industry and beyond. The vegan and cruelty-free brand is now famous all over the world and is taking the beauty world by storm. Another reason for Klairs' success is that the skincare line is inclusive for all skin types. They have whipped up a solution for each and every skin issue, and it succeeds in the actual outcomes. Today, we take a deep dive into the best Klair products, formulated and recommended especially for oily, and acne-prone skin types. These are all tried and tested products with positive reviews from customers all over the world.
Their simple yet effective approach towards skincare using a combination of wonder ingredients actually works like magic. The entire philosophy revolves around being basic, yet reliable; no complexities. Plus, Klairs doesn't use harsh ingredients so there are close to zero chances of flare-ups or breakouts. Take a look through our recommendations, and you might just find out your new skin favorites: Klairs Freshly Juiced Vitamin C Serum, Klairs Supple Preparation Facial Toner, Klairs Supple Preparation Unscented Toner, Klairs Rich Moist Soothing Serum, Klairs Midnight Blue Calming Cream, and Klairs Soft Airy UV Essence SPF 50 PA++++.
Beset Klairs Products for Acne-prone and Oily Skin
Get Latest News & Coupons for K-beauty Products
Klairs Freshly Juiced Vitamin C Serum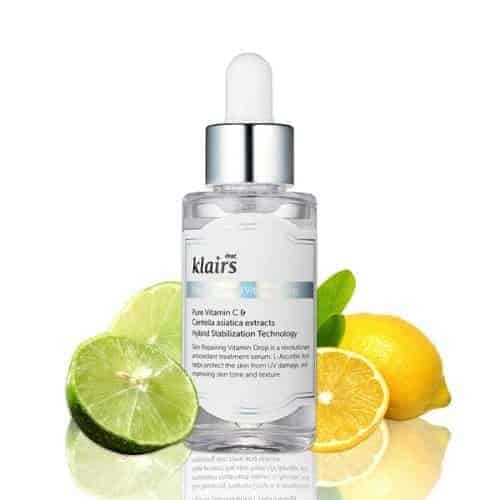 We all know how vitamin C is all the rage these days and is now considered a must-have in the skin-care world. This juicy serum containing vitamin C as its key-ingredient is a miraculous product. What makes it so good for sensitive or acne-prone skin is that it is extremely gentle, with a vitamin C (Ascorbic Acid) concentration of only 5%. This is adequately effective, yet very kind to the skin.
This serum is special because it is formulated using a hybrid stabilization technology, which lets your skin absorb the L-Ascorbic acid even better. This means that even oily skin won't get greasy or produce excess sebum while using it. You can expect a more even skin-tone, tightened pores, plus an overall brighter complexion once you incorporate this serum in your skincare regimen. Moreover, It even helps in fading pigmentation and has anti-aging properties. The serum also effectively reduces stubborn acne marks with continuous use.
This hypo-allergenic solution has so many benefits that it will suit everyone. All you need is two drops of Klairs Freshly Juiced Vitamin every day, mixed in with any other skin product like toner or moisturizer. As it is not extremely strong or concentrated, it is perfect for beginners too. However, if you are sensitive to aroma oil, note that this ampoule contains lavender oil and orange oil.
Highlighted Ingredients of Freshly Juiced Vitamin C Drop
: Ascorbic Acid 5%, Centella Asiatica Extract, Sodium Hyaluronate
Klairs Supple Preparation Facial Toner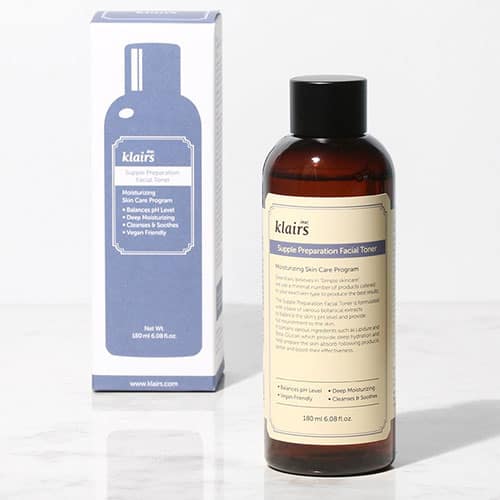 No skin-care kit can be complete without a refreshing toner. Toner helps you to remove the excess sebum, pollutants, and toxins from the skin and also maintains its pH balance. Plus, it is always recommended to use a toner as it helps other skin products penetrate better, improving their effectiveness. A treat for sensitive or acne-prone skin, this toner contains amino-acids for a non-irritating effect. Also, it deeply hydrates the skin without giving you an oily finish. 
The key ingredients used are Phyto-oligo that helps treat dryness, and amino acids to reduce any skin inflammation. This gentle toner is suitable for all skin types. For the best results, Klair recommends that you use the Klair Supple Preparation Facial Toner with the Klairs Mate 2-in-1-Cotton Pads which specifically works to complement the toner and enhance its effects.
Dear Klairs Supple Preparation Unscented Toner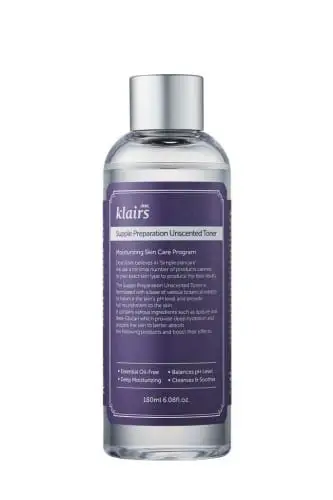 Another updated version of the classic Klairs Supple Preparation Toner, this unscented variation is even better for the extra-sensitive skin type. It does not contain any essential oils or fragrances so this means practically zero possible irritation. You get hydrated skin with well-balanced pH, and a super-clean, natural feeling. The toner also contains hyaluronic acid, plus soothing plant-based extracts, and Centella Asiatica for a calming effect. Definitely, it is one of the best-selling Klairs products for acne.
It is lightweight, gentle, and effective- all the qualities of a toner perfect for sensitive skin.
Key Ingredients
: Centella Asiatica Extract, Tocopheryl Acetate, Licorice Root Extract, Panthenol, Arginine (amino acid)
Klairs Rich Moist Soothing Serum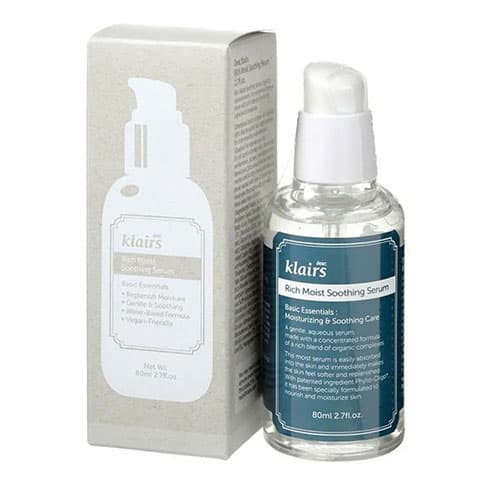 Moisturizing is important, even for oily skin. A good moisturizer can help to keep oiliness at bay and actually controls sebum production. The Rich Moist Soothing Serum is extremely gentle and nourishing. It contains a number of healthy and natural ingredients such as carrot root, broccoli, celery, that boost your skin's glow and hydrate it. According to Klairs, this serum is exceptionally suitable for sensitive skin that is easily inflamed- because it has a number of calming properties and results in soothed skin.
With regular use, you will have smooth, supple skin with radiance to it. It is also very good for dry skin. Hydrating yet absorbent, most people would benefit from this soothing, moisturizing serum and it is a must-try.
/ ! \ Note that there're 6 kinds of aroma oils in this soothing serum like Lavender, Eycalyptus and cirtus oils.
Best Features of Rich Moist Soothing Serum for Acne
: Centella Asiatica Extract, Licorice Root Extract, Panthenol, Arginine (amino acid), Aloe Leaf Extract
Dear Klairs Midnight Blue Calming Cream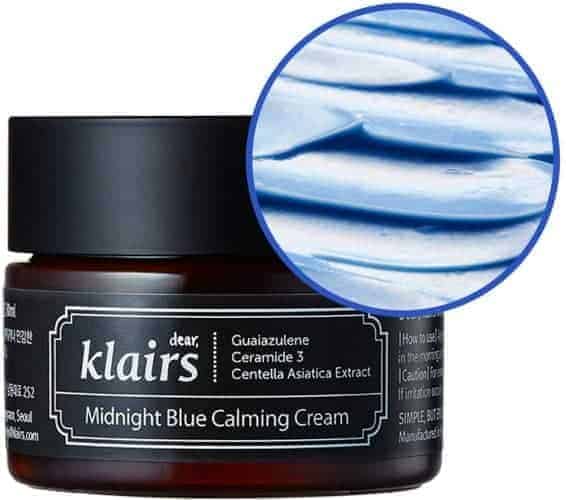 A worthy mention in this list of best Klairs products is Midnight Blue Calming Cream. This one is truly gold for extremely irritated, inflamed, or stressed skin as it is incredibly calming. This works due to the skin-calming star ingredient Guaiazulene, which gives it a beautiful midnight-blue shade too. It is a plant-based ingredient derived from chamomile oil which is known for its soothing properties.
Furthermore, it also contains Centella Asiatica Extract aka tiger grass, another amazing ingredient that heals damage, and promotes skin regeneration, and even helps prevent scarring. If you have a sunburn, irritated skin, or inflamed post-laser skin, this cream will be a life-saver for you.
Highlighted Ingredients in Klairs Cream for acne
: Many ingredients for hydration like Glycerin, Sodium Hyaluronate and Ceramide NP for healthy skin barrier. Plus, 6 type of peptides for anti-aging.
Klairs Soft Airy UV Essence SPF 50 PA++++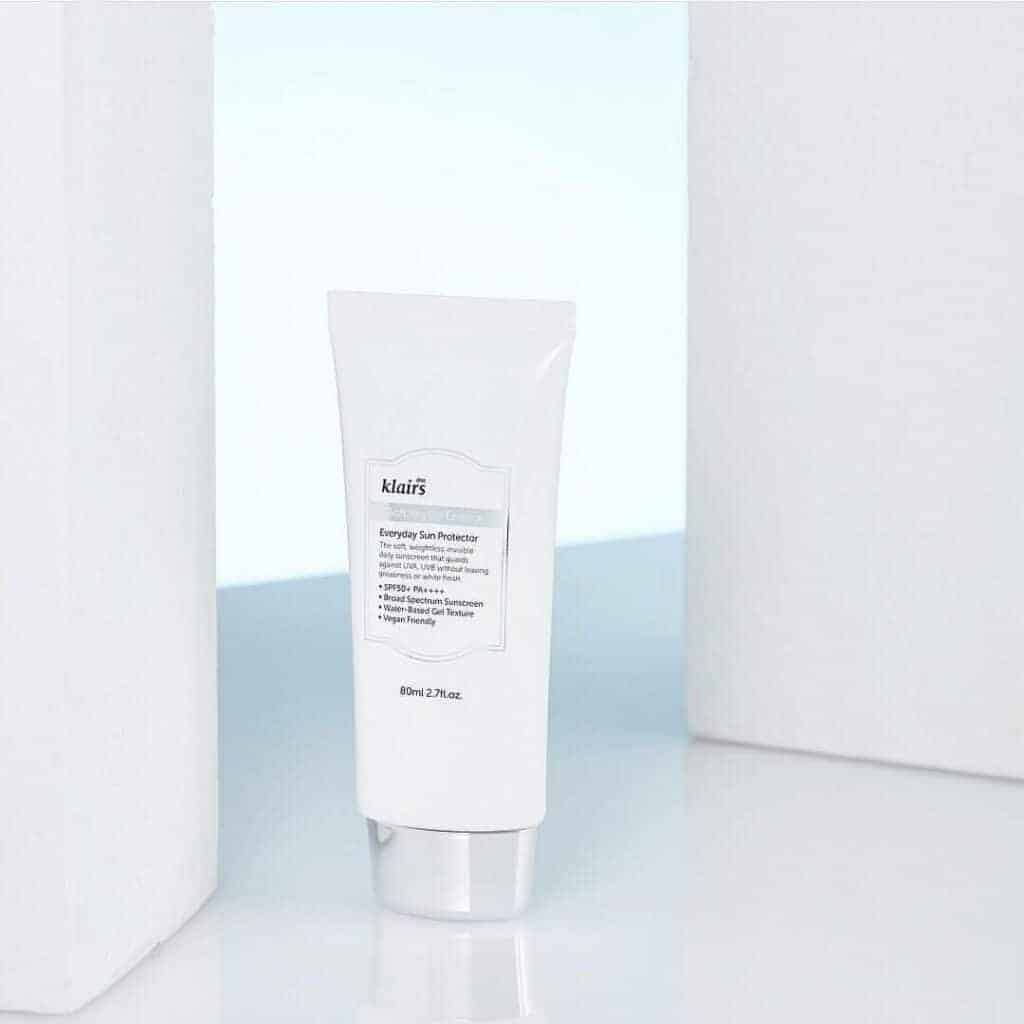 Finally, we have to mention the best-selling Klairs Soft Airy UV Essence, a water-based sunscreen for everyday use. Created for sensitive skin with SPF 50 PA++++, this sunscreen is extremely lightweight. One high point of the sunscreen is that it does not leave a white, ghostly cast, and is not oily at all. Most people with oily skin tend to avoid sun-screens because of the resulting greasiness but this formula has the opposite effect.
Most customers are in love with the gel-like consistency, which is just very unique and natural for a sun-screen. And it does not have a chemical-like odor either. You will not feel like you're wearing anything on your skin, and at the same time, enjoy adequate protection from the harmful sun.
Effective Ingredients in Klairs Airy Sunscreen for Acne
: Ethylhexyl Triazone (a new generation chemical sunscreen ingredient), Panthenol, Allantoin, Tocopherol (Vitamin E)
Final Thoughts
Best Klairs skin products for acne are worth trying because of their simple yet wondrous ingredients. The brand provides reliable solutions for all skin types and issues and is an authentic name in the skin and beauty industry. The products are in the mid-range price-wise, leaning a little towards the expensive side, in comparison to other K-beauty products. However, they are worth a splurge because of the premium experience, packaging, and most importantly, as they are result-driven products. If you're looking for new skin treats with no compromise on quality, check out our recommendations, explore more of their range, and try the Klairs for acne.
You may also like
Disclosure: This post contains affiliate links. Clicking those links before you shop means that best k-beauty receives a small commission. Please see my full disclaimer for more information.