If you are a person with a job, or a stay-home folk, either way, sunscreen is the most important part of everyone's daily routine. Wearing sunscreen regularly keeps your skin young and healthy. Not only that, but it also protects your life. It doesn't matter if you are spending hundreds of dollars on beauty products and skincare products, if you are not wearing sunscreen when you go out then, there's nothing that can help you with your skin. Sunscreen is an essential way to keep the skin healthy and protected from the damaging sun rays. To make sure you stay safe and fresh, we are here to suggest the best Korean sunscreen that will help you and your skin.
Best Korean Sunscreen Products
How to Choose the Best Korean Sunscreen
Now, before we jump into the list, there are few important things one must keep in mind before buying any sunblock or sunscreen.
Checking the SPF:
The abbreviation of SPF is "Sun Protection Factor". Every sunscreen has specific SPF for various skin types and regional areas. People living in hot climate conditions, their sunscreen SPF is higher than the ones living in cold areas. So, before buying checking the SPF is important
Wearing sunscreen means reducing skin cancer risk by 50%.
Exposure to UV sun rays may result in early aging
If you don't use it now, start using it now because it's never too late or too early to use it.
Difference between Physical and Chemical Sunscreen
The main difference between a physical and chemical sunscreen is that the physical sunscreen has mineral-based ingredients that create a barrier over the skin and filter out the UV rays. The representative ingredients in physical sunscreen are Titanium Dioxide and Zinc Oxide. On the other hand, the chemical sunscreens absorb sun rays and scatter the harsh UV rays with Ethylhexyl Methoxycinnamate, Ethylhexyl Salicylate, and Avobenzone.
The List of Top 11 Korean Sunscreen
A'PIEU PURE BLOCK Natural Daily Sun Cream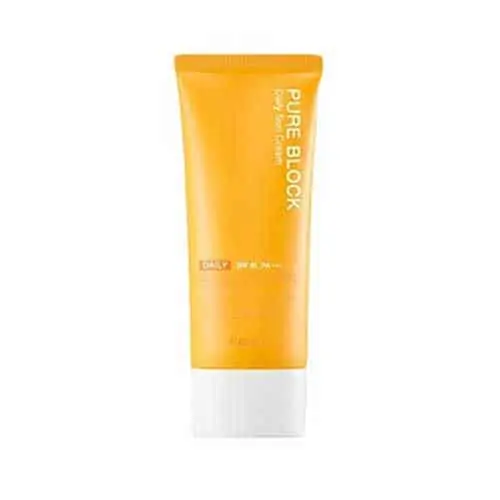 A'PIEU PURE BLOCK Natural Daily Sun Cream 50ml
Ideal for normal, oily skin
Chemical sunscreen
The Pure block natural daily sun cream by top Korean beauty brand A'PIEU is one of the best Korean sunscreens out there. Its moisturizing formula keeps the skin hydrated and protected from harsh UV rays. Its cream texture is non-sticky, light-weighted, and comfortable to wear and spreads evenly only your skin leaving behind soft smooth skin without any residues. Also, It contains Red fruits, aloe extracts, and flower extracts that keep your skin fresh and scented throughout the day.
Pros
Fine texture
Moisturizing
Natural ingredients
Provides extensive protection from harsh UV rays
Light-weighted
No tackiness
Cons
Too scented
Shiny texture makes blemishes prominent
COSRX Aloe Soothing Sun Cream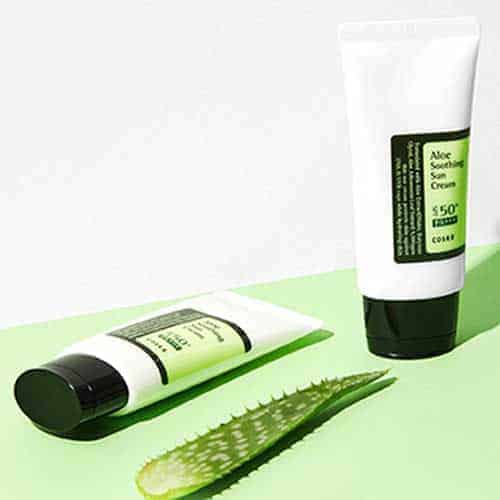 COSRX Aloe Soothing Sun Cream 50ml
Ideal for normal, dry skin
Chemical+Physical sunscreen
COSRX Sun Cream for the face is the best Korean sunscreen for dry skin. Its soothing aloe formula combined with botanical mixture ingredients keeps the skin moisturized, smooth and provides nutrients to the skin along with proper sun rays protection. This sunscreen has used several ingredients that block ultraviolet radiation to the skin and those ingredients are scientifically proven to provide such defense. It is all-natural and perfect for daily use.
Pros
High SPF formula
Safe natural and botanical ingredients
Aloe formula
Moisturizes and nourishes the skin
Scientifically proven ingredients
Soothing effect
Extra UV protection
Cons
Thick
Tacky texture
Not suitable for every skin type
PURITO Centella Green Level Safe Sun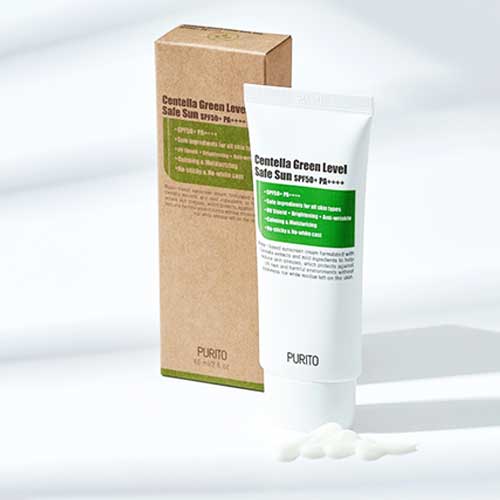 PURITO Centella Green Level Safe Sun 60ml
Ideal for dry, sensitive, normal, oily skin
Chemical sunscreen
A lot of sunscreens cause headaches due to its strong scent. But, the Centella green level safe sun by PURITO is a refreshing sunscreen as it comes with a natural lavender essential oil. Not only it's one of the best selling Korean sunscreens, but It also is light-weighted so you can easily apply makeup over it. Besides, It is a safe sunscreen that provides UV protection and is suitable for all skin types without any harmful components. What's more, there're several active ingredients like niacinamide and adenosine for anti-aging.
Pros
No-sticky & No-white cast
SPF50+ PA++++ UVA1,2 UVB Broad Spectrum
Reef safe sunscreen & Clean ingredients
Oil-free/ Non-Nano /Cruelty Free/ Vegan sun cream
Calming & Moisturizing & Anti-wrinkle
Cons
May cause hypersensitivity
Light texture fails to protect for the whole day
The Face Shop Natural Sun Eco No Shine Hydrating Sun Cream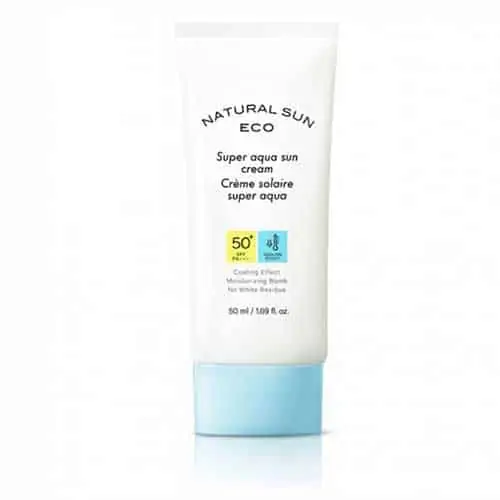 The Face Shop Natural Sun Eco No Shine Hydrating Sun Cream 50ml
Ideal for normal, dry skin
Chemical+Physical sunscreen
The face shop natural sun eco hydrating sun cream is marked as a top seller on Amazon shopping website. This multipurpose Korean sunscreen keeps the skin protected by harmful UVA and UVB radiations and is suitable for oily skin. Moreover, Its mattifying textures gently soothes the skin and also works as a pore smoothing primer. All-natural ingredients as chia seed and cottonseed and sebum extracts are used best known for carrying moisture up to 10 times than usual sunscreens. It also keeps skin hydrated and adds shine to your face once you apply it.
Pros
SPF 40
Hydrating
Moisturizing
Natural ingredients with 10x moisture carrying property
Matte
Smooth pores
High protection from UVA and UVB
Cons
Packaging issues
Not suitable for dark tone skin
MAKEP:REM UV Defense Me Blue Ray Sun Fluid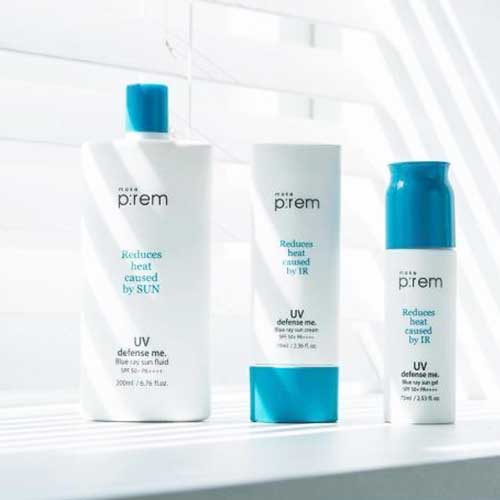 MAKEP:REM UV Defense Me Blue Ray Sun Fluid 200ml
Ideal for dry, sensitive, normal, oily skin
Physical sunscreen
This is a 100% reflective sunscreen which you can use on your face and body both. It comprises of mineral filter that blocks UVA and UVB rays and protects your skin without any nastiness. The UV defense me Blue ray sun fluid by MAKEP:REM is suitable for people with any skin type and its Rubus Arcticus stem cells to improve your skin condition by providing antioxidants. Furthermore, Centella Asiatica Extract, Madecassoside, and Panthenol in the sun fluid would strengthen your skin barrier!
Pros
PA++++ factor that provides high UVA protection
No Tackiness
Suitable for every skin type
Safe ingredients
Verified by EWG (Environmental Working Groups)
Botanical ingredients help lower skin temperature
Cons
Contains bergamot fruit oil that may cause skin sensitivity
May cause hyperpigmentation
LabNo Cicaloe Relief Sun Milk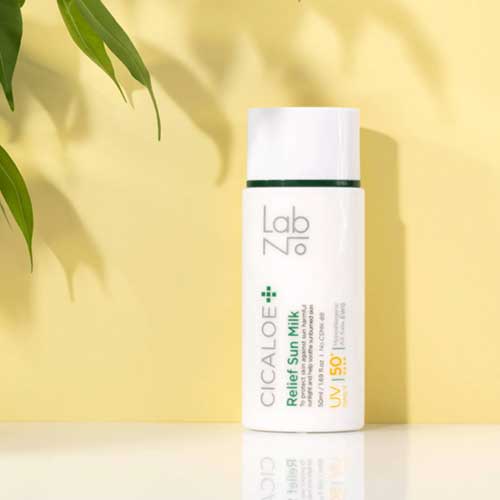 LabNo Cicaloe Relief Sun Milk 50ml
Ideal for all skin types
Physical sunscreen
LabNo is one of the best Korean cosmetic brands leading the trend with proven ingredients at a reasonable price. This mineral-based sunscreen works wonders once you apply it on your skin. Its milk-like smooth formula keeps the skin hydrated, smooth, and absorbs quickly. The smooth texture blends with your skin and leaves no scrambled bits behind. LabNo Sun Milk is formulated with a Cicaloe complex that moisturizes your skin and heals it.
Pros
Milk-like sunblock
Cicaloe based complex improves skin
Hydrates and moisturizes
SPF50+ and PA++++ provided extra protection for long time
Cons
Dr.G Green Mild Up Sun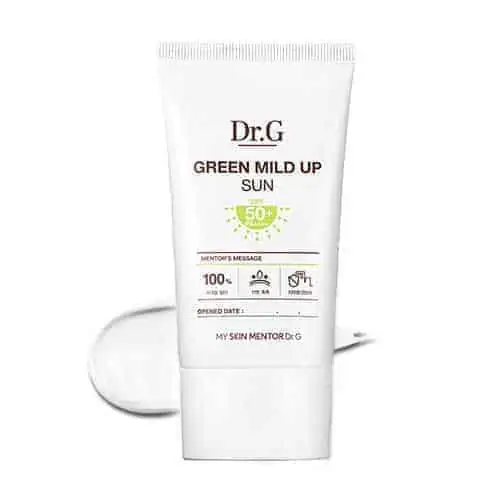 Dr.G Green Mild Up Sun 50ml
Ideal for all skin types
Physical sunscreen
This genuine organic sunscreen for face provides UV protection to sensitive skin types. Dr.G Green Mild Up Sun uses a mild mineral filter that creates a protected layer over the skin and keeps it safe from harmful sun rays. Moreover, Its antipollution and electronic protection complex saves the skin from blue light and helps repairs it.
Pros
100% organic
Mild and safe
Suitable for sensitive skin type
Suitable for children as well
Healthy and convenient to use
Cons
Not suitable for dry skin
Extreme white cast
Missha All Around Safe Block Essence Sun Milk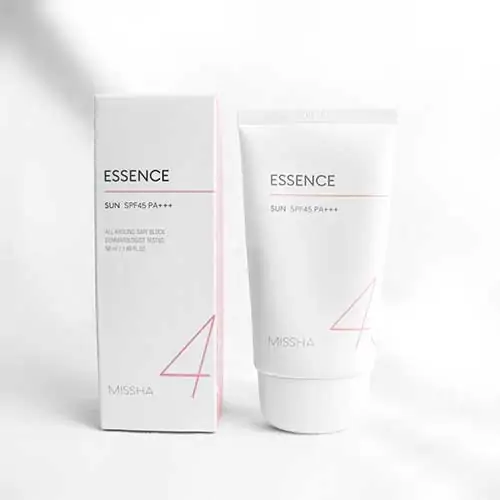 Missha All Around Safe Block Essence Sun Milk 50ml
Ideal for normal, oily skin
Chemical sunscreen
This essence sun milk with its SPF50 and PA+++ complex protects the skin from harmful UV radiations while its non-sticking texture fluid brightens up the skin tone and makes the skin look more naturally refreshing. As it has ingredients such as Witch Hazel water, Licorice root extract, and Green tea leaf extract, It could be recommended for acne-prone skin type. Plus, you can check more popular Missha products from skincare to makeup HERE.
Pros
Light weight
Brighten skin tone
Refreshing property
SPF50 and PA+++ for more sun rays protection
Cons
Fragrance at the end of the ingredients list
ROUND AROUND Greentea Cica Sun Lotion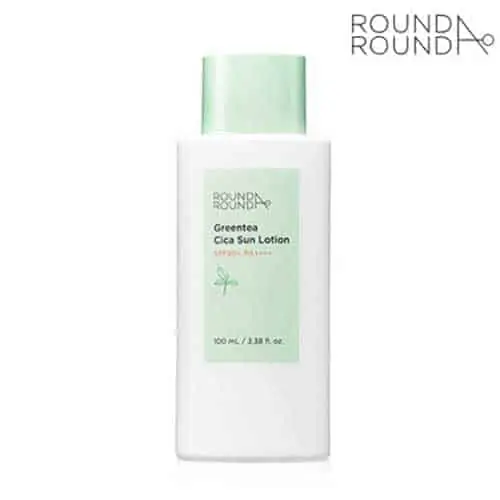 ROUND AROUND Green tea Cica Sun Lotion 100ml
Ideal for dry, normal, oily skin
Physical sunscreen
It is a very mild physical sunscreen with green tea cica ingredients that block strong UV radiations reaching the skin. Round Around is the Korean cosmetic brand made by OLIVE YOUNG that is like Sephora in Korea. This Green Tea Sun Lotion is formulated with Madecassoside and Centella Asiatica extracts which makes it ideal for the face and body. The watery essence and no sticky textures make it easy to use. But, I'd like to recommend you to test it before purchasing if you have sensitive skin cause it contains Orange oil and lavender oil that could make reactions on some skin types.
Pros
Botanical ingredients
Blocks extreme UV rays
Watery essence
Non-sticky texture
Cons
Papa Recipe Real Centella Sun Essence Sunscreen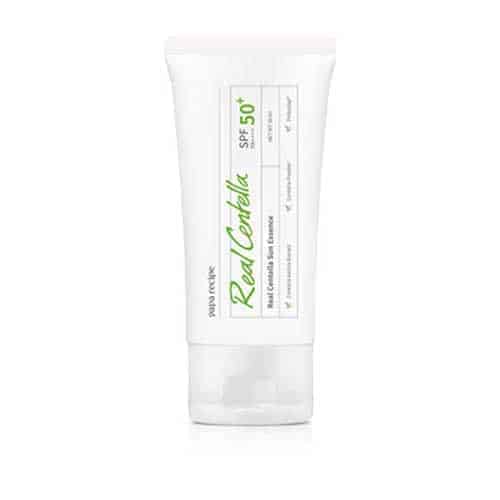 Papa Recipe Real Centella Sun Essence Sunscreen 50ml
Ideal for all skin types
Physical sunscreen
Another best physical sunscreen with Centella Asiatica extracts that helps your skin to recover and heal. Papa Recipe Sun Essence provides protection from UV with its SPF50 and PA++++ complex. It is of the best sunscreen for oily skin and as well as sensitive skin with proven ingredients like Centella Asiatica extract, Betaine, and Panthenol.
Pros
Suitable for oily and sensitive skin
SPF50 and PA++++
Physical sunscreen with natural extracts
Made in South Korea
Cons
Pricy
Not suitable for acne-prone skin
Innisfree Blueberry Rebalancing Watery Sun Cream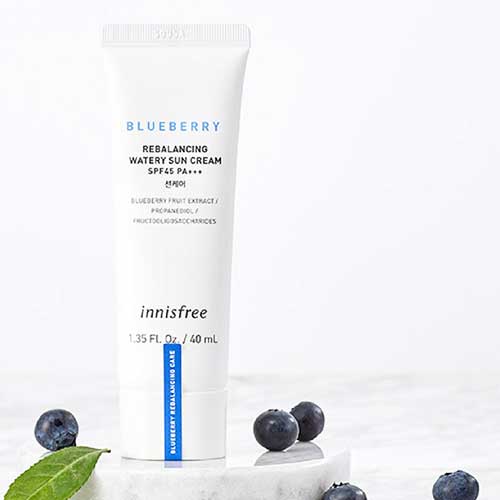 Innisfree Blueberry Rebalancing Watery Sun Cream 50ml
Ideal for dry, sensitive, normal, oily skin
Physical sunscreen
The Blueberry rebalancing watery sun cream has the best moist and light-weighted texture. Its UV protection formula keeps your skin protected while the pleasant scent gives you a refreshing feeling throughout the day. If you love the products by Innisfree, check this post about the best-selling Innisfree products.
Pros
Moisturizing formula
Pleasant smell
Free of white cast
SPF37 and PA+++
Suitable for delicate skin
Water splash formula
Unisex
Anti-oxidant
Oil-balancing
Budget-friendly
Cons
Less SPF may not provide full protection
All these items mentioned above are from top Korean beauty brands. Each product is unique in its way and provides special UV protection with their specific ingredients. Check out all the list above and find the one the suits you the best. The ideal way to choose a good sunscreen is dependent on your skin type. There are several types of the best Korean sunscreen for various skin types in the market.
Sunscreen for sensitive skin
People with sensitive skin often get allergic reactions easily. If you have sensitive skin, then try using physical sunscreen sunblocks instead of chemical ones with no added fragrances and free of any harsh chemicals. These sunscreens are specifically made for sensitive skin types. Check THIS POST for 20 ingredients to avoid for sensitive skin.
Oil-Free/ Mattifying
If you have oily skin and want something that mattifies your skin then you can buy oil-free sunscreen.
Acne-prone
A lot of people suffers from acne problem and want to buy sunscreens that don't clog their pores. Try using Korean sunscreen that has soothing ingredients that protect your skin and doesn't clog your skin pores. HERE, you can check the 10 effective ingredients and 5 worst ingredients to avoid if you have acne-prone skin. Through the post, I hope you can find a fit for your skin type.
Hydrating Sunscreen
If you have dry skin and it feels tight, then go for a Korean sunscreen that adds hydrating texture to your skin and nourishes it. So, check the top 12 ingredients for dry skin before you choose a sunscreen. Shop smart and stay protected!
You may also like
Disclosure: This post contains affiliate links. Clicking those links before you shop means that best k-beauty receives a small commission. Please see my full disclaimer for more information.