Sun Care Guide & Best Korean Sunscreen
Sunscreen is a must in summer, winter, and all throughout the entire year. Learn more about the benefits of sunscreen and find out the best Korean sunscreen to use for oily, dry, sensitive skin. You may be busy, so here are my selections. However, I do recommend that you take the time to read this article so that you can safely protect your skin from the sun. Click on the product image to go directly to the product review.
Why do we use sunscreen?
Pollution and ultraviolet rays are the main culprits of aging the skin. Everyone knows that UV rays are fatal and Ultraviolet light is UVA (Ultraviolet A), UVB (Ultraviolet B), and UVC (Ultraviolet C). The wavelengths come in 400 to 320 nm (UVA), 320-280 nm (UVB), and 280 to 200 nm (UVC). Only the UVC with the shortest wavelength is blocked in the stratosphere, and the other UVA and UVB enter the troposphere where we live. The UV rays burn the skin or affect aging. UVB, which burns the skin red, penetrates the epidermis of the skin, but only about 5% of the total amount of ultraviolet rays touch the skin. Therefore, it is UVA that has the longest wavelength that affects our skin the most. UVA penetrates deep into the dermis of our skin from early morning until sunset, destroying collagen and aging the skin unseen.
Sun-aging and how to prevent it
As the main culprit of aging, melanin pigments in the dermis are stimulated to make a lot of melanin pigments. This results in dark spots, freckles, and wrinkles on the skin. Also, UVB does not enter the same room as the house, but UVA easily enters the room through the window. So, the best way to reduce UV light aging is to apply sunscreen.
What is difference between chemical and physical sunscreen?
Depending on the ingredients you can see if it is a chemical or physical sunscreen.
Chemical sunscreen
It is an ultraviolet absorber that protects the skin by synthesizing chemicals by transforming and dissipating ultraviolet rays into fine heat energy without harming them before they penetrate the skin. Organic chemicals such as Oxybenzone and Avobenzone are the main ingredients and both are UV-blocking agents that absorb UV rays and prevents them from penetrating the skin.
Advantages :
It is easy to put on makeup because it is light and smooth to apply. It does mix well with other cosmetics like foundations. And no white cast that is one of the biggest reasons why many people prefer it.
Disadvantages :
But there is a possibility of skin trouble or allergic reaction. Chemical components dissipate absorbed UV rays, which can irritate sensitive skin. Also, after application, it takes a minimum of 15 to 30 minutes to protect against UV protection.
Get Latest News & Coupons for K-beauty Products
Physical sunscreen
Inorganic chemicals such as Zinc Oxide and Titanium dioxide are the main ingredients for a physical sunscreen. They help scatter ultraviolet light on the skin and reflect UV rays from penetrating the skin.
Advantages :
It has a sun protection effect as soon as it is applied. Due to sweat/waterproof, it has good UV blocking power. Also suitable for sensitive skin or young children's skin as it has high skin safety.
Disadvantages :
It makes the skin on the face thick and unnatural with the white case. Thus, It is difficult to use in large amounts. However, these days, many Korean cosmetic brands work hard to improve it and have launched high-quality non-white cast physical sunscreens.
How to choose the right sunscreen for skin types
What is the best sunscreen for sensitive skin?
Generally, sensitive skin easily reacts to irritants and the environment. So, I recommend :
Select an inorganic sunscreen to minimize skin irritation. Because non-nanoized and non-nano particles, chemical ingredients are not absorbed into the skin and adhere only to the surface of the skin.
Select hypoallergenic ingredients that are not chemically processed leads to an easy cleaning process.
The ingredients of Zinc Oxide and Titanium Dioxide, which have a wide range of UV protection and are gentle on the skin, reflect light on the skin surface to keep sensitive skin soft.
It is also helpful to choose a sun care product that contains ingredients such as Aloe Barbadensis Extract, Anthemis Nobilis Flower Extract, and Allantoin. These ingredients help to soothe sensitive skin and improve skin texture.
Also, look for Panthenol, Hyaluronic, and Ceramide, which help to strengthen the skin barrier.
Best Korean sunscreen for sensitive skin
What is the best sunscreen for oily acne-prone skin?
In the case of oily skin, it is better to choose an Oil-Free Type, which has a function to control sebum secretion, because it is shiny.
A lotion-type product rather than a cream is perfect for oily skin.
Zinc Oxide ingredient has the characteristic of being quite matte by reducing oiliness and prevents the sun cream from dissipating.
Oily skin often accompanies acne due to more excess sebum than other skin types. So, I'd like to ask you to try sunscreens with Silica that has the sebum adsorption function is helpful.
Green Tea Leaf Extract and Allantoin, soothing ingredients, can calm this acne, and Tea Tree Leaf Extract and Phytosphingosine, which are antibacterial and anti-inflammatory ingredients, are good for acne-prone skin.
Best Korean sunscreen for oily skin
Read more here Acne Skin Care Routine & How To Choose Right Products For Oily Skin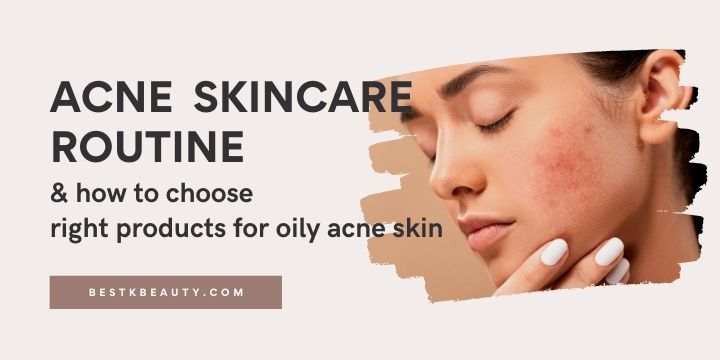 What is the best sunscreen for dry skin?
In the case of dry skin, keratin often occurs because the skin condition is dry, and fine wrinkles are easy to form due to the lack of oil and moisture in the skin. Therefore, it is better to choose a cream or balm type product that contains moisturizing ingredients (Hyaluronic, Ceramide).
And anti-aging ingredients (Peptide, Allantoin, Hyaluronic, Tocopherol) as well as inhibit moisture evaporation.
If you have dry skin check out this moist on the Best 3 Korean Moisturizer Review in 2021.
Best Korean Sunscreen Review
There are countless studies showing how damaging the skin is and how easy it is to cause cancer when exposed to UV rays unprotected. This means that the biggest enemy of skin aging is UV rays. Among the numerous Korean sunscreens that are essential for skin health, we have selected the 3 most popular ones.
ROUND LAB 365 Derma Relief Sun Cream
Physical sunscreen
50ml
$16 ~ $26
Skin Type: All Skin Types
Ingredients
As the product name suggests, this is a physical sunscreen that is safe even for sensitive skin. The main sunscreen ingredients are Zinc Oxide and Titanium Dioxide, and various plant-based ingredients that are good for soothing. It is fragrance-free, paraben-free, sulfate-free, and is hypoallergenic. Nature-derived oil has an excellent effect in moisturizing the skin, but it is better to avoid if your skin reacts to this kind of essential oil. Overall, the ingredients were good as a clean beauty item.
KEY INGREDIENTS
UV protection: Zinc Oxide, Titanium Dioxide
Soothing: Panthenol, Centella Asiatica Extract, Allantoin, Houttuynia Cordata Extract, Ceramide NP
Uses
The good thing is that it is soft to apply and the formula is lightweight like lotion this is very unusual among physical sunscreen. Plus, It works well with makeup foundations. Not only it was moist after application, but it was also nice to have a matt finish after a while. I notice there is almost no white cast enough to suspect that it is a chemical sunscreen. Just slightly tones up the skin, so I am using it satisfactorily.
Results
This Korean sunscreen is a non-nano physical sunscreen that reflects UV rays from the skin surface and gently blocks UV rays without irritating the skin. I felt very hydrated because Ceramide forms a moisturizing film to suppress the evaporation of moisture from the skin to help lock in moisture. The plant-based ingredients soothe the skin irritated by the external environment. This soft cream formula adheres to the skin comfortably and creates a moist protective film to protect the skin by blocking not only the blue light generated by electronic devices such as smartphones, computer monitors, and TVs in daily life but also ultraviolet rays from the hot sun during outdoor activities.
Price
50ml/ $25 it is not cheap but the ingredients are safe and the high SPF amount will protect your skin.
Clean Beauty
Round Lab has launched a hypoallergenic product that is not only cruelty-free, but also excludes harmful ingredients that make the marine ecosystem and coral reefs sick, and considers only the ingredients necessary for the skin. This is the main reason why I choose it as the 1st one as best Korean sunscreen. In addition, it is safe to use even for the whole family, including children.
#alcohol-free #fragrance-free #essential Oil-free #paraben-free #sulfate-free #cruelty-free #vegan-friendly
CHECK PRICE
MAKEP:REM UV Defense. Daily Sun Fluid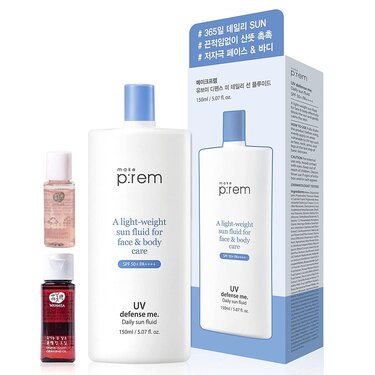 Physical + Chemical sunscreen

150ml
$24 ~ $30
Skin Type: combination, oily, acne-prone skin
Ingredients
This Korean sunscreen is blended containing all chemical + physical sunscreen ingredients. It has high UV protection by using new generation sunscreen ingredients, and it contains plant-based moisture ingredients to deliver moisture and vitality to the skin. Bergamot oil was removed in the renewal stage, and Rosemary Leaf Extract added for antibacterial support. In addition, there are several ingredients that help with anti-inflammatory action, so it is best for acne-prone skin. However, for sensitive skin with trouble, a physical sunscreen without any chemical ingredient is best.
KEY INGREDIENTS
UV Protection: Titanium Dioxide, Diethylamino Hydroxybenzoyl Hexyl Benzoate, Ethylhexyl Triazone, Diethylhexyl Butamido Triazone
Soothing: Sunflower Seed Oil, Centella Asiatica Extract, Beta-glucan
Uses
The formula is a super lightweight lotion type, it spreads well, and absorbs well even if you apply double times. There is a slight whitening effect, but it is a natural tone-up, so it does not interfere with base makeup or single-use. It has a delicate floral scent and is good for daily use without feeling stuffy after application. Vegetable moisturizing ingredients are in high concentration and it's suitable for layering. Moreover, the application is very soft and smooth.
Results
I love this mixed sun care product that combines the strengths of organic and inorganic ingredients. Makeprem Sun Fluid effectively blocks UV rays from various angles for basic UV protection in daily life and also for strong UV exposure in outdoor activities and leisure sports. The most favorite thing to me is a silky finish without stickiness.
Price
MakePrem sunscreen comes in a large quantity at a low price point for effective suncare. Without hesitation, I use it on my entire face and body for outdoor activities.
Clean Beauty
MakePrem is a pragmatic beauty brand that thinks about users. They make hypoallergenic skincare products based on carefully selected good ingredients that will make the skin healthier. In addition to using eco-friendly packages, they are sponsoring overseas children through a world vision.
#alcohol-free #fragrance-free #essential Oil-free #paraben-free #sulfate-free #cruelty-free #vegan-friendly
CHECK PRICE
Dr.G Green Mild Up Sun Plus (2020 Upgraded Version)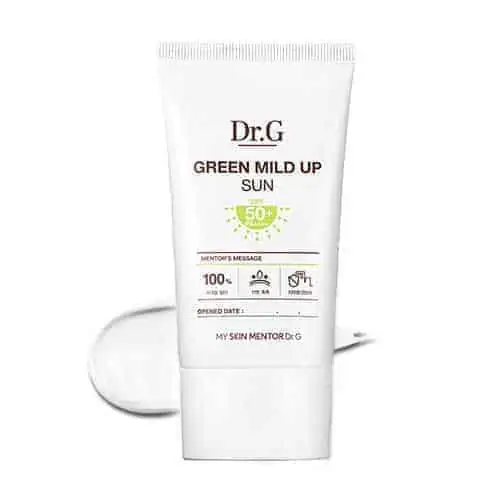 Physical sunscreen

50ml
$16 ~ $31
Skin Type: normal, dry, combination, oily skin
Ingredients
Dr.G sunscreen has a high UV protection with a lot of moisture, unlike conventional sunscreens. I feel this upgraded version is more hydrating than the previous one for my dry skin. What's more, It contains Centella Asiatica Extract, which provides quick soothing to sun damage, as well as various soothing and moisturizing ingredients. It has almost no scent with slightly herb-like at first that is what I prefer than artificial fragrance. Without potentially harmful ingredients, it is all green level.
KEY INGREDIENTS
UV protection: Zinc Oxide
Soothing: Houttuynia Cordata Extract, Centella Asiatica Extract
Uses
I was reluctant to apply this Korean sunscreen because I didn't want my makeup to be thick and ruin. But surprisingly, it spreads very well and absorbs quickly without any problems applying makeup. The biggest advantage is that it feels light almost like wearing lotion-like cream. Also, I didn't have any itching in my eye area. (Sometimes I can not help crying while sunscreen applied.😭)
Results
Dr.G physical sunscreen is a natural-derived ingredient that has skin-soothing and hydrating properties. Not only It's good to carry around and reapply multiple times during the day but it also has not white cast. It makes my skin look healthy and glowy by covering blemishes slightly. I am very pleased with this upgraded Dr.G sunscreen.
Price
It is affordable, the lightweight sun-protective cream is worth it.
Clean Beauty
Dr.G is well-known for its effective skincare products, especially for sensitive, acne-prone skin. They have been constantly researching and worrying for 20 years to answer skin concerns correctly.
#alcohol-free #essential oil-free #paraben-free #sulfate-free #fragrance-free #clean-beauty
CHECK PRICE
What is SPF?
SPF (Sun Protection Factor) refers to the UV protection factor, which is an index for UVB (UVB). If the skin is exposed to light for a long time with nothing applied, the skin turns red in about 15 minutes. When it starts to burn, the skin is exposed to UVB and is called the 'MED (Minimal Erythema Dose). When exposed to UV rays for about 15 minutes without sunscreen applied, the skin turns red for the first time, and the amount of light received during that 15 minutes becomes MED.
How to measure SPF
SPF is the amount of light reddened when sunscreen is not applied in contrast to the amount of light reddened when sunscreen is applied. When no sunscreen is applied, the first redness (MED) time of the skin is 15 minutes, so you can think of it as SPF1 = 15 minutes. Therefore, it means the amount of light that can withstand SPF30 = 450 minutes (7 hours 30 minutes), and SPF 50 = 750 minutes (12 hours 30 minutes) can block a whopping 12 hours. When comparing SPF15 and SPF30, it is easy to think that SPF30 has twice the blocking power. But the blocking power is not doubled. There is no big difference in the blocking power, but only the difference in time.
Is higher SPF better?
However, more important than this SPF number, there is a standard for measuring the SPF value. The SPF is the value after applying 2mg/cm2 of sunscreen. This amount is enough to fill two fingers for the entire face, but we don't actually use that much because the skin becomes thick and sticky when applied like this. Therefore, compared to the recommended usage, the actual usage we use is only 1/4. So the blocking time is only 1/4 hour. In other words, if you apply SPF30, you can block about 7.5 hours, but because the actual usage is 1/4, the blocking time is only about 1 hour. Thus, if you use SPF50, considering that the actual amount used is 1/4 of the recommended amount, it has a blocking effect of 3-4 hours, so using a slightly higher index is effective for UV protection. But if you have sensitive skin note that when the SPF is 50 or higher, a lot of chemical blocking ingredients are added and it can be harmful to the skin.
Do not think that the SPF number can block UV rays all day. You have to reapply every 2 to 3 hours. Also, check what ingredients are used. Since various ingredients have to be added to increase the index of sunscreen, it is necessary to check whether it contains ingredients that can easily irritate and cause skin problems. Make the right choice by understanding your skin condition.
You may also like
Disclosure: This post contains affiliate links. Clicking those links before you shop means that best k-beauty receives a small commission. Please see my full disclaimer for more information.