[toc heading_levels="2,3,"]
Complete Niacinamide Guide: from Benefits to Cautions
Niacinamide is a multi-functional skincare superstar nowadays, especially in Korean beauty. But what's the reason for this popularity? Why everyone is dreaming of getting this ingredient for skin? Let's check what are actually Niacinamide benefits and why K-beauty loves it. Even though I recommend reading the complete Niacinamide guide, if you prefer to check the best products first, click the image below to see the reviews directly.
Niacinamide for Skin
Niacinamide is a type of Vitamin B3, found naturally in food. Vitamin B3 is also used as a dietary supplement and now it's a trendy ingredient in skincare products too. I can easily find Niacinamide in Korean cosmetics due to its magical results for the skin. That smooth and glowing texture is noticeable after using it for a few weeks!
Benefits of Niacinamide Serum
Get your skin ready for the amazing benefits of Niacinamide. 
Brightening
Niacinamide works wonders on hyperpigmentation caused by UV rays. That's the main reason why I've looked for something special skincare. Many people bear redness and burning sensation due to Sun damage that destroys the internal structure of the skin and leaves dark spots. If you are facing the same problem, then go try a good Niacinamide serum right now.
Sebum Control
Niacinamide is great especially for acne-prone skin because it helps in regulating the balance of sebum production in the skin. As you know, excess sebum promotes breakouts, but it can be handled with Niacinamide by reducing the overproduction in oily skin. It fights with extra sebum and results in acne-free skin. What's more, Niacinamide enhances the skin complexion by minimizing the appearance of open pores. Get skin silky and smooth with a soft, glowing texture!
Anti-inflammatory
Niacinamide also shows some magical results in inflammatory skin conditions like psoriasis, pustules, etc. It boosts the keratin and collagen production that results in faster healing of skin inflammation. Moreover, Keratin helps in making skin immunity stronger. So, that it stays healthy and firm.
Anti-aging
Don't be sad at premature aging skin. Our hero, Niacinamide is here to solve the skin concerns about fine lines and wrinkles. Niacinamide enhances the production of collagen and elastin protein that causes skin firmness and elasticity. It provides a smooth and tight texture to the skin by minimizing the open pores.
Niacinamide is good for which skin type?
Many people ask dermatologists about Niacinamide and its effect on their skin type. The most common rumor about it is that it only suits acne skin and has downsides for dry skin. But that's not true. Niacinamide is perfect for all skin types by hydrating and brightening. I listed up how this high-quality skincare ingredient performs for oily and dehydrated skin.
Oily Skin
For oily, acne-prone skin, the oil-producing glands produce an excess amount of oil and it clogs pores. When they get clogged with oil, excess sebum, and dirt, they result in acne, pustules, papules, blackheads, etc. Niacinamide minimizes the activity of oil-producing glands and keeps the skin water-oil balanced. Plus, it works wonders on fade-out dark spots and acne scars.
Dry Skin
When the skin is dehydrated it becomes flaky and rough so, skin cells are unable to absorb moisture and keep it. Niacinamide enhances the hydrating power of moisturizers and prepares the skin to hold and penetrate more moisture by improving the hydration level of skin cells.
Don't do with Niacinamide
Don't apply heavy moisturizer or cream before niacinamide because these thick consistency products minimize the effect of niacinamide. Moisturizers make a layer on your skin that does not allow further ingredients to absorb into your skin.
Niacinamide should never be used with Vitamin C because this combination cancels or minimizes the effects of each other.
Best Niacinamide Skincare Products from Korean Cosmetic Brands
Manyo Factory Galactomy Niacin 2.0 Essence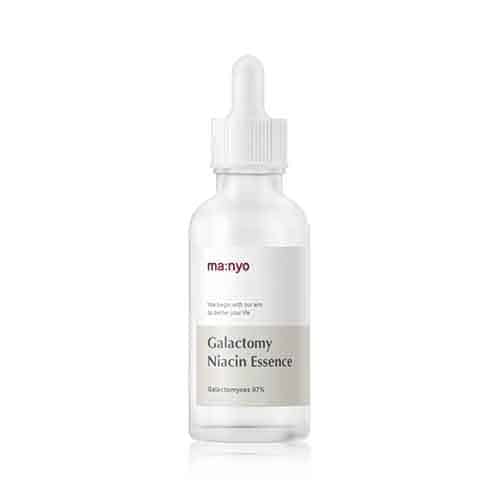 50ml
Skin Type: All Skin Types
Key Ingredients :
Brightening: Niacinamide (4%), Galactomyces Ferment Filtrate (93.69%)
Soothing: Panthenol, Witch Hazel Water
Hydrating: Sodium Hyaluronate
Manyo Factory is well known for its simple yet very effective results on the skin. People who want to strengthen the radiance of their skin often are keen on this essence due to its niacinamide content. This Galactomy Niacin essence is made up of 4% Niacinamide and 97 % Galactomyces ferment filtrate that can manage the equilibrium of the complexion's oil and water levels. Galactomyces contribute to moisture and tone up that can help to take in skincare formulas much more effectively. Another Galactomyces factor performs greatly to the radiance boost that it offers. This product can accomplish a lot for those who have considerable texture concerns too! I could see the results it improved my skin look fresh and gives a silky, smooth, and clear texture. With all green level ingredients, it's suitable for all skin types, especially sensitive skin.
How to Use :
After toner, place 1 – 2 pumps onto hands and pat into the face until absorbed.
CHECK PRICE
SKIN&LAB Vitamin C Brightening Serum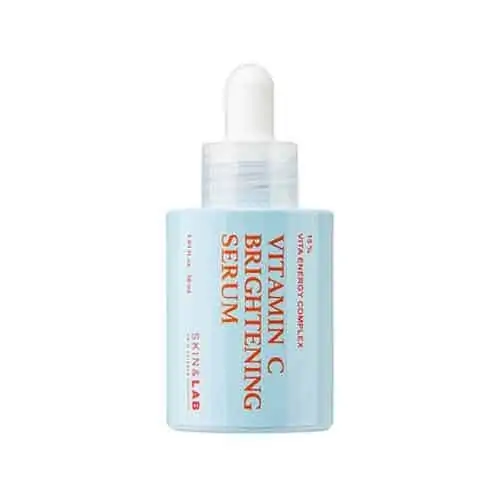 30m
Skin Type: normal, dry, combination, oily
Key Ingredients :
Brightening: Niacinamide, Ascorbic Acid
Anti-aging: Adenosine, Peptide, Retinol
Hydrating: Hydrolyzed Hyaluronic Acid, Betaine
Soothing: Panthenol, Turmeric Root Extract
This Skin&Lab lightweight serum formulated with a blend of pure Vitamin C and a synthetic form of Vitamin C in order to reduce the irritation caused by unstabilized pure Vitamin C. What's more, it contains many active ingredients such as Niacinamide for brightening, Adenosine for wrinkle care, Peptide and Retinol for skin elasticity. Plus, it helps to keep your skin moisturized and healthy with Hyaluronic Acid and Panthenol. Despite the fact, Pure Vitamin C can be irritating for some sensitive skin types so I recommend testing before using it for a face.
CHECK PRICE
iUNIK Tea Tree Relief Serum
Ideal for combination, oily, acne-prone skin
50ml
Key Ingredients :
Brightening: Niacinamide
Soothing: Allantoin, Beta-glucan, Centella Asiatica Extract
Ant-acne: Tea Tree Leaf Extract
Anti-aging: Adenosine
Fans of natural hydrating products regularly gravitate to the iUNIK Tea Tree Relief Serum. This is among the K beauty products that handle wrinkles, brightness, and moisture at the same time. iUNIK Tea Tree Relief serum contains 67% tea tree extract water and 19% Centella extract which are both wonderful ingredients for soothing troubled skin. What's more, entire ingredients are clean and alcohol-free, fragrance-free, and essential oil-free so I can recommend it to oily, acne-prone + sensitive skin. Using it is a piece of cake as well. Once you massage the serum into your complexions, all you have to do is wait for the skin to soak everything up.
CHECK PRICES
Is The Ordinary Niacinamide 10% + Zinc 1 serum good?
The overall experience of the audience of the ordinary niacinamide 10% + Zinc 1% is great. People who have used it have mostly the same remarks about it. Check the benefits of The Ordinary Niacinamide and cautions for usage.
It Brightens up the skin amazingly and enhances the skin complexion wonderfully.
Also, it treats hyperpigmentation but some people (including me) are not satisfied with this quality.
But this serum works great for acne, acne scars, inflammation, etc. 
Cautions for Use
The Ordinary Niacinamide serum is super popular for its intensive yet affordable price. But, considering that other products do not exceed 5% Niacinamide, it's too strong with 10% Niacinamide to cover the entire face for sensitive skin. Thus, I suggest applying on spots that you want to reduce hyperpigmentation or redness. Otherwise, you can mix it with other toner or serum and apply.
How to use niacinamide serum in daily routine?
Style of application is not the only thing to focus on. 'When & How' plays an important role in the skincare routine. Like at which time should it applied, which ingredient should be used before and after. All these steps make the skincare routine a perfectionist. 
Toner
Salicylic acid and Niacinimide have the best combination. Both these ingredients are anti-aging and anti-acne. Thus, they work wonderfully when used together. I can easily find them together in toner or watery essence type of skincare products. However, notice that Salicylic Acid (BHA) is great for oily, acne-prone skin but it could be irritating for dry skin. So, if you have sensitive dehydrated skin, pass this step.
Serum
Niacinimide serum usually comes in a water-based form that absorbs quickly into the skin. A lightweight consistency can be applied daily without any greasy and sticky texture. Normally, I use a serum, essence, ampoule type of skincare products with a bunch of active ingredients such as Niacinamide, Adenosine, Peptides, or so, after toning, before moisturizing for better nourishment.
Moisturizer
Niacinamide can also be used with Hyaluronic Acid which is one of the most popular and loved hydrating ingredients in the Korean beauty trend. Niacinamide boosts the absorption of Hyaluronic Acid into the skin by enhancing and retaining the property of skin cells.
Sheet Mask
Once a week at least, I love to have a sheet mask to calm and brighten the skin tone-up. There are many sheet masks in the market that are concentrated on the whitening effect with Vitamin C(Ascorbic Acid), Niacinamide, or Fermented ingredients like Bifida, Galactomyces. For this special care, I order online or I drop by Olive Young where is the largest beauty shop in Korea like Sephora.
Disclosure: This post contains affiliate links. Clicking those links before you shop means that best k-beauty receives a small commission. Please see my full disclaimer for more information.