Laneige is a Korean skincare and makeup brand that has won hearts all over the globe for its spectacular products. They have products that cater to people with many different skin types, and their results are evidently amazing. Laneige focuses mainly on the aspect of moisturizing as it is their prime belief that it is the true solution to every skin issue out there. Laneige worked for over 25 years studying intensely the subject of moisture of the skin and how it can be improved. You will notice that their study is detailed, and their products provide the best results on the market for many skin problems. People from different countries have found Laneige to be a saving grace, and their highly hydrating and moisturizing skincare is the best for many different skincare issues like dryness, redness, or fine wrinkles. To find a skincare item that brings you flawless skin, I listed up the best Laneige products that deeply work on the skin, not just the surface, to provide better and healthier skin for a lifetime.
If you are new to skincare, or if you feel that your current skincare is just not working anymore, start with Laneige products. Here in this article, we will be discussing in detail the ingredients, pros, and cons of the best Laneige products so you can have your perfect skincare routine by the end of your reading. 
Best Laneige Products Review & Ingredients
Get Latest News & Coupons for K-beauty Products
Laneige Lip Sleeping Mask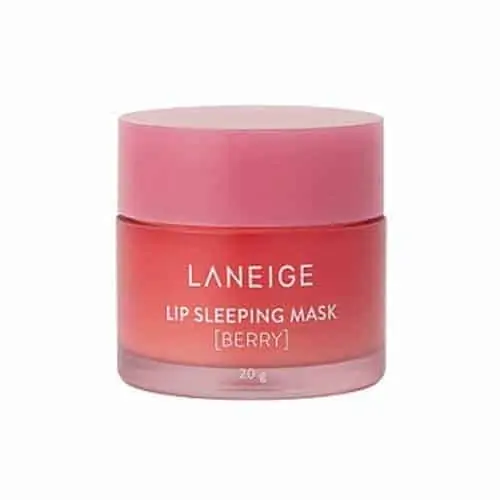 Ideal for all skin type
20g
$11 ~ $17
A product ideal to repair, protect, and soothe the most parched and dry lips. Laneige lip sleeping mask is a soft balm that comes in two different flavors of Berry and Vanilla. It heals cracked lips and is great for winter months. You simply apply it evenly on lips at the end of your skincare routine, wipe off any extra product, and leave it on until the morning. Results are soft, moisturized, and no longer dry or cracked lips.
HIGHLIGHTED INGREDIENTS
Vitamin C, Shea Butter, and fruit extracts of strawberry, goji berries, and raspberry soothe and soften the lips whilst also repairing them. 
The Beta Glucan in the mask through Moisture Wrap technology covers the lips and makes a barrier of moisture between the lips and environment. This moisture lasts up to eight hours.
Please be aware the lip sleeping mask has wax in it and a bit of fragrance of flavor.
PROS AND CONS
It is the perfect lip mask providing repair and soothing to the lips overnight. With extended use, it completely heals cracks and rough patches of lips. It is safe for all skin types including oily acne-prone skin. Not only It comes with an applicator for easy use but the product also is available in different sizes and lasts for very long. The only seemingly downside for this product is the price tag. It can be pricy if you miss a great deal using a promo code. Laneige lip sleeping mask gives excellent results, but still some might think it is too expensive for a tiny bottle. But all in all, it is long-lasting and is definitely worth every penny.
CHECK PRICES
Laneige Water Sleeping Mask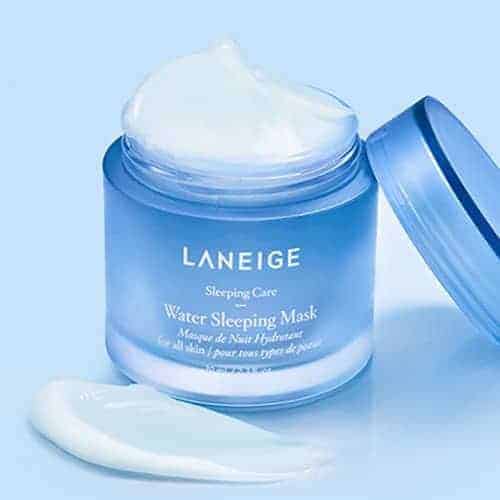 Ideal for dry, combination, oily skin type
70ml
$18 ~ $25
Laneige water sleeping mask is completely different from any other mask you normally use during skincare routines. This one has a gel-like consistency that needs to be spread all over the face at the end of your skincare, for the rest of the night. The skin during the night will absorb the nourishing and hydrating properties from the mask, and it will be revitalized as well. When you wake up in the morning, your skin will be hydrated, supple, and moisturized from the get go!
KEY INGREDIENTS
The mask although highly loved and popular, is a bit criticized for having fragrance and alcohol in it. Apart from that, all ingredients are safe for every skin type and the most named ones have the following qualities:
Sodium Hyaluronate is an avidly used ingredient in wound healing. It provides ideal moisture to the skin through the water sleeping mask and also gives healing properties.
Cyclopentasiloxane is evidently the key ingredient to this mask giving it the greasy texture, later evaporating to an airy and lightweight feel.
Beta Glucan is a sugar that works great for reducing the redness of the skin. It is a mind antioxidant and even shows promising anti-aging benefits.
Evening Primrose Extract works to reduce inflammation and relaxes the acne on the skin.
Ascorbyl Glucoside is a stable skincare superstar, vitamin C. It has all the three anti-aging benefits, antioxidant protection + collagen boosting + fading hyperpigmentation!
Fragrance has led to the reduced popularity of this mask as it can irritate sensitive skin.
PROS AND CONS
The Laneige brand states that this mask is perfect to be used by every skin type. However, people with sensitive dry skin must be extra cautious as two ingredients, fragrance and alcohol may cause redness, itching, and other sensitivity issues. On the other hand, it adds ample hydration through the night and deeply nourishes the skin. Improves skin texture over time and smells great with orange and sandalwood notes if you have non-sensitive skin. Plus, It is available in many sizes to cater to your needs. Overall a great product for night skincare routines, as it does not need to be used daily.
CHECK PRICES
Laneige Water Bank Hydro Essence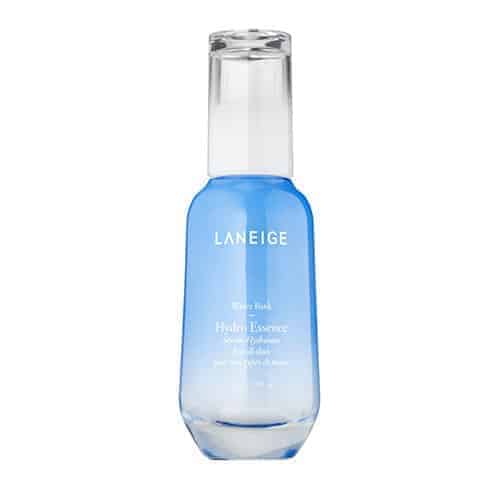 Ideal for dry, combination, oily skin type
70ml
$29 ~ $36
This is a highly hydrating product that is designed for use between serum and moisturizer, ideally twice a day. Laneige hydro essence freshens, brightens, and hydrates the skin deeply. A simple pat on the face from inner parts to the outer parts and let it sink in. It comes in a liquid essence and a cream type product as well.
KEY INGREDIENTS
Good Aqua/ Water for proper and natural hydration boost.
Saccharide Isomerate is a natural moisturizer that can bind to the skin stronger and longer than other similar ingredients. So it can keep the skin hydrated longer than usual.
Hydrogenated Lecithin provides skin conditioning and nourishment.
Like the water sleeping mask above, it also contains Ascorbyl Glucoside, a stable skincare superstar, vitamin C.
Tocopherol is a pure Vitamin E. Great antioxidant that gives significant photoprotection against UVB rays and it works in synergy with Vitamin C.
PROS AND CONS
This is a lightweight product that provides nourishment and lasting moisture. Gently it plumps and hydrates the skin with proven ingredients. However, the perfume in it can be irritating to people with sensitive skin.
CHECK PRICES
Laneige Multi Deep Clean Cleanser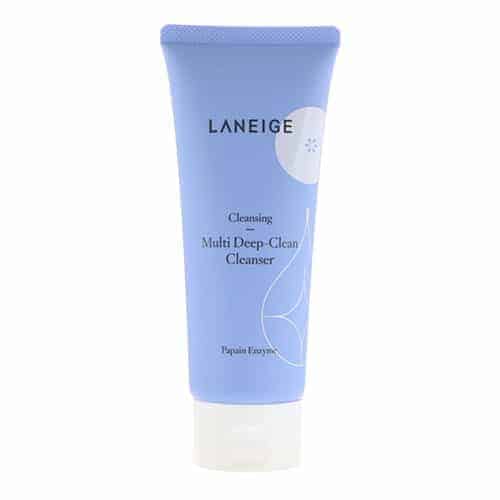 Ideal for combination, oily skin type
150ml
$16 ~ $19
This is a multitasking cleanser from Laneige that removes makeup, sunscreen perfectly. It is gently exfoliating with lactobacillus ingredients and cleansing all at the same time. Plus, this purifying cleanser helps remove built up sebum and pore-clogging irritants.
KEY INGREDIENTS
This is a mild, plant-based product.
It contains Papain enzymes that are extracted from the Papaya fruit for gentle and safe exfoliation while also removing makeup.
Green Tea leaf extract is one of the most researched natural ingredients. It has proven antioxidant, anti-inflammatory, antimicrobial, and anticarcinogenic properties. Also, it's well-known for its effectiveness on ance-prone skin.
It is non comedogenic
PROS AND CONS
I'm so sorry to mention fragrance again, it listed at the end of the product label that you should check before purchasing for your healthy skin. And it can be a bit too drying for those with extremely dry skin like me, so note that! But all in all, it provides four great benefits at once and smells fruity which is a good thing for a product such as this. It also comes in travel sizes which is very convenient.
CHECK PRICES
Laneige Whitening BB Cushion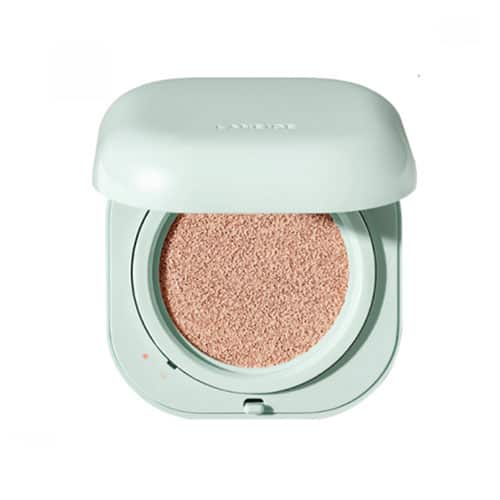 Ideal for combination, oily skin type
6 Shades
$19 ~ $33
Laneige makes excellent makeup products as well such as this one. This cushion is a brightening and long-lasting foundation that will also hydrate the skin. The best thing about it is its brightness and makeup effect lasts up to 12 hours. Skin moisture won't go away and with their Sparkling Coat Pigment Technology, it's coated with pearl and water provide ultimate brightness and moisture to the skin.
KEY INGREDIENTS
Niacinamide is a multi-functional skincare superstar that has clinically proven anti-aging, skin brightening, anti-inflammatory, and barrier repair properties.
The popular ingredient Melacrusher works to brighten the skin from the inside once applied.
The Super-Flex Lasting Technology makes the product adhere to the skin surface smoothly for an extended period of time, increasing the longevity of the foundation.
Green tea extract and Ascorbyl glucoside used in other products from Laneige are contained here too.
It has also physical sunscreens, Zinc Oxide (Nano), and Titanium Dioxide (Nano).
PROS AND CONS
Its whitening technology will benefit you throughout wear giving hydration and a smooth appearance all day long. However, some have experienced that the product does not immediately melt into the skin and set very well. It can be hard for some to get out of the cushion and apply it easily with the puff. But still, the bb cushion is super easy to use in a hygienic way instead of using fingers and highly long-lasting, justifying the price as well.
CHECK PRICES
Laneige Watery Sunscreen SPF 50+ PA++++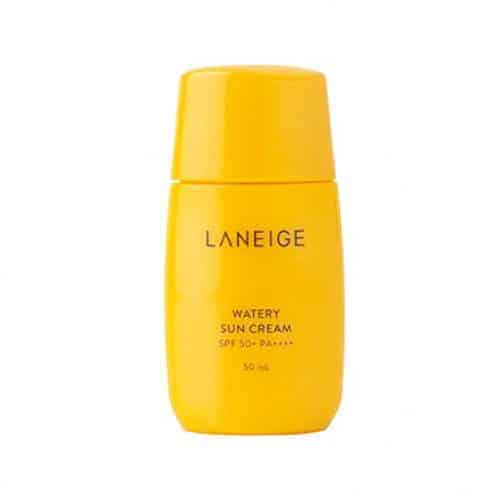 Ideal for combination, oily skin type
50ml
$18
This is moisturizing sunscreen with a watery texture, not greasy at all. So if you have oily or acne-prone skin looking for a daily suncare product, it would be a good choice. Laneige sunscreen refreshingly hydrates skin and blocks UV rays effectively with an SPF 50+.
KEY INGREDIENTS
It has antioxidant properties and brightening properties for the skin due to Ascorbyl Glucoside.
Beta Glucan and Sucrose sugars soothe and soften the skin.
This is physical + chemical combe sunscreen with Ethylhexyl Methoxycinnamate and Titanium Dioxide.
PROS AND CONS
Apart from being a bit pricey to some due to its daily usage, the product is essentially perfect. It is non-comedogenic as it will not clog pores. Moreover, It wears well under other skincare items and makeup. It protects the skin with excellence and brightens the complexion naturally with consistent use. If you are struggling to find the right sunscreen for your skin type, check this post for the best Korean suncare products or sun cushion for makeup.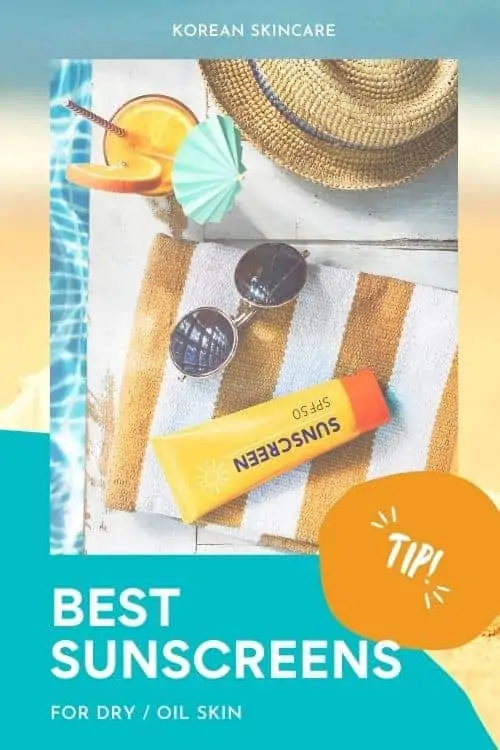 You may also like
Get Latest News & Coupons for K-beauty Products
Disclosure: This post contains affiliate links. Clicking those links before you shop means that best k-beauty receives a small commission. Please see my full disclaimer for more information.