Korean skin care is famous worldwide because of its effectiveness and quick yet long-lasting results. I'm sure that you must have heard of Korean face mask while looking for skincare products for glowy healthy skin. Even though I suggest reading all recommendations to find the best fit for your skin type, if you prefer to check the best products first, click the image below to see the reviews directly.
For more Korean face masks from other brands are equally good, you don't want to miss out, here you go.
Is it really effective to use sheet mask?
Although it is difficult to expect mask packs to vanish wrinkles and clear acne scars completely, it is excellent for moisturizing and soothing by sealing in essence. However, that means that the side effects may be greater if you use a mask pack that does not fit your skin. So, let me guide you on the best Korean face mask by checking the essence and sheet type before purchasing.
How to choose a mask for your skin? 
When buying a mask, choose a product that fits your skin type and current skin condition. There are several types of masks that specialize in moisturizing, soothing, cooling, whitening, and wrinkle improvement. The essence is the key to effective results but also compatibility with a sheet is very important. Let's check the advantages and disadvantages of the three most commonly used sheets.
Cotton sheet
Pros: Less skin irritation and better absorbency.
Cons: The essence can fall down.
Tencel sheet
Pros: Less skin irritation and cheaper.
Cons: A significant quality difference due to the thickness of the sheet.
Cellulose sheet
Pros: Made with natural materials, trendy, moisturizing, and cooling effect.
Top-rated Korean Sheet Mask
Here are the most loved sheet masks from Koreans. I considered the essence, ingredients, sheet, price, effectiveness and others when making the list.
BePlain Bamboo Healing Mask Sheet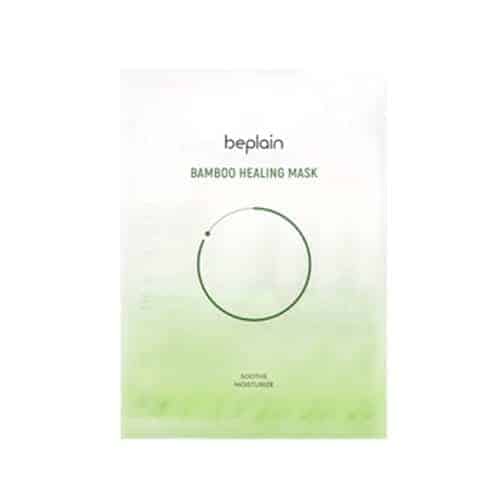 27g * 10EA
$25 ~ $44
Skin Type: All Skin Types
Essence Ingredients
82% bamboo water, allantoin, and panthenol soothe irritated skin and is very effective in moisturizing. All ingredients are green level, so all skin including sensitive skin can be used. Personally, because I have dry and super sensitive skin, I always check for potentially harmful ingredients on my skin when choosing skincare products and prefer clean beauty items. In this respect, BePlain Mask has 5 points!
Sheet
It is important to keep the sheet mask in contact with the skin so that the essence can permeate the skin well. The Be plain mask uses a 100% natural Cellulose Sheet and is moderately thin, so it adhered well to my skin. I feel the sheet is very soft and the essence stays on long enough. However, when the pack is opened and taken out, the sheet is folded several times, causing a lot of the essence to be lost.
Price
Compared to other Korean sheet masks, the price is not cheap but uses good quality essence and sheet. So it is worth the price. It's good to buy it on sale at Olive Young.
Results
A very effective moisturizing mask. My rough skin was well moisturized and smooth until the next day. Overall, my skin tone became brighter and the blemishes calmed down.
Clean Beauty
As its brand name, Be Plain is suitable for sensitive skin because it aims for clean beauty and does not use fragrance or artificial colors. It is also a popular Korean Cosmetic brand in Korea that conducts various non-polluting campaigns such as using the Eco-Friendly Package and does not conduct animal testing.
#alcohol-free #fragrance-free #essential-oil-free #paraben-free #sulfate-free #cruelty-free #clean-beauty
CHECK PRICE
Klairs Rich Moist Soothing Tencel Sheet Mask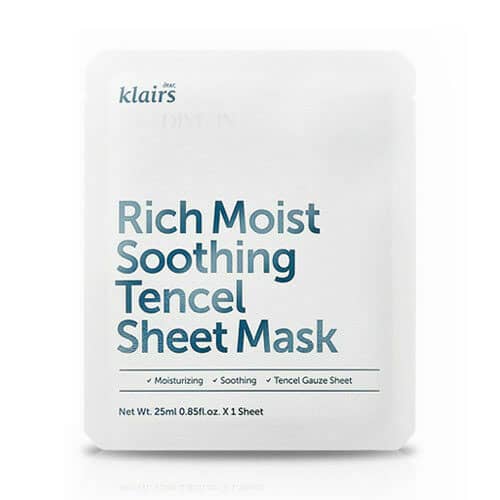 25ml * 5EA
$14 ~ $15
Skin Type: All Skin Types
Essence Ingredients
If your skin has become sensitive from the outside environment and you start having skin problems, chances are your skin barrier has collapsed.  In this case, I use the Klairs mask, which contains Ceramide and Cholesterol, both of which strengthen the skin barrier, can help my skin be healthy again. In addition, Panthenol and Allantoin calm down and moisturizes. All ingredients are green level and do not have any harmful ingredients. So they are suitable for all skin, dry, oily, acne-prone skin, including sensitivity.
Sheet
It is a double gauze type sheet with 100% cotton and Tencel combined. If the Tencel sheet is too thick, it can't be hard to adhere and if it is too thin, the essence flies away quickly and tears easily, so it is mixed with cotton. Not only It attaches well to my skin but the thickness of the mask is also reasonable. Moreover, unlike a regular sheet, the top and bottom sections are cut so that I can match them to my face perfectly. This is an advantage, but it can be a little annoying to use at times.
Price
The only downside is that it is not cheap. However, considering the eco-friendly sheets and effective essence quality, it is worth using as special care.
Results
It worked best for sensitive skin like me. The sheet was like magic. It calmed my red skin and whiteheads the very next day. It is a bit heavier and moist than other essences, but it absorbs quickly, so it is not sticky. When I applied the remaining essence one more time after removing the sheet, the moisturizing power was excellent enough to not need additional moisturizers.
Clean Beauty
The mask is not only a Green level clean beauty product but also a vegan certification from The Vegan Society in the UK. Although not all products are Vegan, Klairs is a Cruelty-free, Eco-Friendly brand that does not conduct animal testing.
#alcohol-free #fragrance-free #essential-oil-free #paraben-free #sulfate-free #cruelty-free #clean-beauty #vegan-friendly
CHECK PRICE
Torriden Dive-in Low Molecule Hyaluronic Acid Mask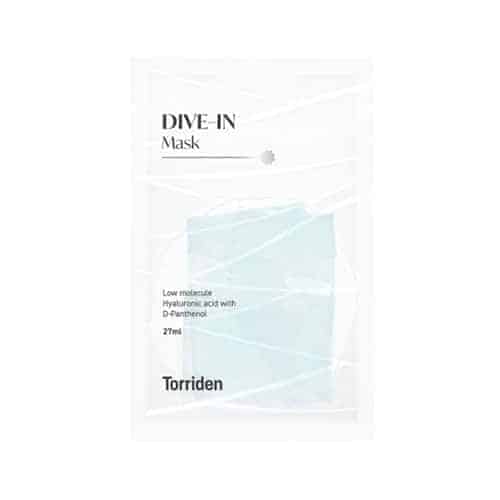 27ml * 10EA

$26 ~ $40
Skin Type: All Skin Types
Essence Ingredients
It has 5 kinds of hyaluronic acid, so it's the best mask for moisturizing. It deeply penetrates dry and sensitive skin with a mixture of polymer, and low molecular hyaluronic acid to supplement moisture. Moisturization is always important for Acne-front skin as well as dry skin. Even though my skin is super sensitive, there was no irritation at all and the moisture lasted for a long time. It shows that Torriden products are the best for hydrating. Moreover, the Torriden Dive-in Serum is one of the best sellers in the serum category. It has a lot more essence than other mask packs, so it is enough to apply 2 or 3 times more.
Sheet
The 100% cellulose sheet was super soft and I had no irritation. My face felt smooth and moist long until removing the sheet after 20 minutes. The sheet was tick enough and the essence adequate to help keep moisture in. It also stuck well to my face with the cuts on the jaw and cheek area were helpful in keeping my face fit. 
Price
In Korea, you can buy it at a low price for about $1 through various sales, but regrettably, the price is rather high at overseas shopping malls like Amazon, Yesstyle, and others.
Results
There is enough moisture to see my face smooth and glowy the next day. Since 2020, it has proudly topped the ranking in the Hwahae app in the mask packs category with about 6 million cosmetic reviews. (Currently, 2021.04.16) The effect of this mask is shown by being loved by many Korean women.
Clean Beauty
It is a clean beauty product that has no ingredients like alcohol, fragrance, sulfate, and silicone, that can irritate the skin. It also passed the hypoallergenic test. What's more, an eco-friendly product that uses a cellulose sheet that breaks down naturally.
#alcohol-free #fragrance-free #essential oil-free #paraben-free #sulfate-free #cruelty-free #clean-beauty
CHECK PRICE
How to Use Sheet Mask & Tips
I recommend not using the mask pack for over 20 minutes. The essence will disappear and it makes your skin drier if it is used over the recommended time. When I have sun damage on my face, it is good to put it in the refrigerator for about 10 minutes before using it for a cooling effect. And put the remaining essence in an empty bottle for double layering the extra essence after removing the sheet. It's also good to use on my body such as the neck, hands, and elbows. To calm and moisturize I use it at night skincare routine before going to bed because skin recovery occurs between 10 pm and 2 am.
You may also like
Disclosure: This post contains affiliate links. Clicking those links before you shop means that best k-beauty receives a small commission. Please see my full disclaimer for more information.