Centella Asiatica Skincare
Chemical peelings, beauty operations, and incorrectly selected skincare for health and youth eventually give "results" that are quite unpleasant. When we combine all of the foregoing with the poor ecological situation of modern megacities, frequent stress, lack of sleep, a fast-paced lifestyle, and an unhealthy diet, the skin has an obviously disrupted epidermal barrier. Moreover, it's a good thing that ultra-abrasive exfoliation and skin whitening are no longer fashionable. The current (Korean) skincare trend is for resources to be restored, strengthened, and delicately cared for. And popular Centella Asiatica or Cica products will aid in this endeavor.
What is Cica ingredient?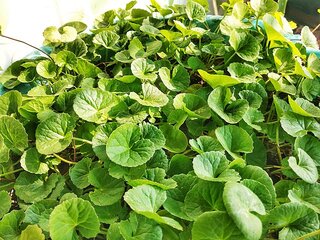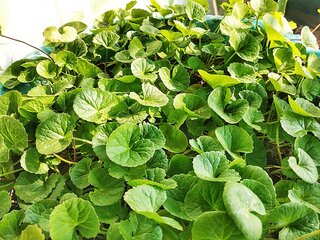 Cica is also known as Centella Asiatica, a medicinal plant commonly utilized in Korean cosmetics. With an action that aims to restore the dermis intensively while also reinforcing the protective barrier, it became the most popular skincare ingredient. The extract from Centella Asiatica has mainly 4 ingredients, Madecasosside, Madecassic Acid, Asiaticoside, Asiatic Acid. Creams, toners, lotions, serums, essences, and masks all have a natural, delicate, and safe component added to them.
What is Centella Asiatica good for?
Centella Asiatica has aided in the maintenance of health and longevity, as well as the healing of skin illnesses and damage. It is also known as Gotu Kola is one of the most efficient anti-aging substances in current cosmetics, capable of smoothing even deep wrinkles.
Moreover, Centella's popularity stems from the presence of active compounds in the plant, such as Madecassoside and Asiaticoside, which aid in skin regeneration. Madecassoside extract helps to minimize acne-causing bacteria-induced inflammation.
Get Latest News & Coupons for K-beauty Products
Where is Centella Asiatica from?
Centella Asiatica is most commonly found in high-humidity forests, beside lakes, marshes, and rivers in the natural environment. In Southern Africa, India, and Madagascar, this kind of plant is widely being used for cosmetic and therapeutic uses. Due to its remarkable therapeutic powers, Centella Asiatica has been employed in Asian medicine for hundreds of years. It is a component in modern cosmetics that benefits all skin types, especially sensitive skin. And it's all thanks to a variety of reasons. Cica, which is another name for this plant, has gained most of its popularity in K-beauty. Due to an active lifestyle, overwork, and air pollution, it is most loved from all around the world these days.
Benefits of Centella Asiatica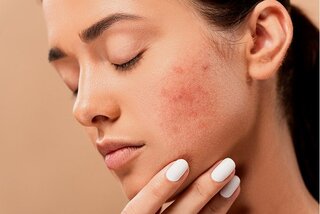 Centella Asiatica is prized by cosmetologists for its rejuvenating, hydrating, and anti-aging effects. The plant fights age-related changes by reducing puffiness, evening out skin tone and color, and stimulating the natural processes of filling cells with the necessary quantity of moisture.
Furthermore, one of the main extracts, Madecassoside is beneficial in the treatment of wounds, burns, and even helps scars recover faster. This impact is achieved by increasing collagen formation in the skin. What's more, it has a rejuvenating action and helps to hydrate and enhance skin elasticity when combined with vitamin C. Another Cica ingredient, Asiaticoside effectively reduce deep wrinkles around the eyes. Therefore, Centella Asiatica used not only for calming but also for wrinkle care and skin aging.
Restore damaged skin areas.
Accelerate wound and scratch healing.
Eliminate irritation and redness.
Act as a natural antioxidant that protects cells from premature aging.
Reduce the number and depth of wrinkles, tightening effect.
Stimulate dermal collagen production.
Intensively fight pigmentation, rashes.
Is Cica good for acne?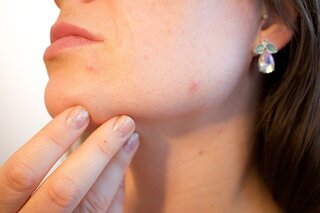 Yes, to everyone, without exception, and especially to those who have skin problems, the ingredient actively combats a variety of dermis flaws, including normalizing the skin's water-fat balance, removing flaking and dryness, reducing inflammation and irritation, healing acne, and lightening post-acne scars.
Centella is also helpful for rosacea as well. The chemical strengthens veins and capillaries, improves blood circulation, and reduces redness. Regular application of cosmetics containing Gotu Kola extract strengthens blood vessels and makes them less permeable.
Cica benefits & Cautions for use
CIca (Centella Asiatica) is a powerful component in the fight against aging skin. The chemical helps to smooth wrinkles and minimize puffiness by speeding up the skin's collagen production by up to 30%. So, Cica cream is suitable for practically everyone, especially if you need to reduce redness and inflammation while also restoring the skin barrier. Green tea, hyaluronic acid, and vitamin C are all good partners for Cica. But, it is still a herbal ingredient, despite its extensive use in medicine and cosmetics, therefore it's worth first testing the product on a small patch of skin first to rule out allergies.
Cosmetics with Centella Asiatica extracts are beneficial for mature, dry, irritation, and removing inflammations.
Top 3 Korean beauty products containing Centella Asiatica
iUNIK Centella Calming Gel Cream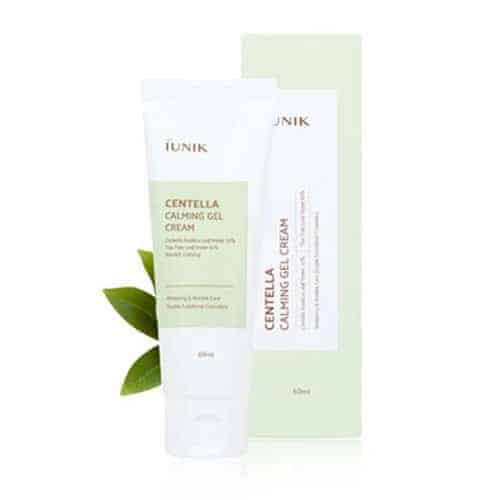 60ml
$11 ~ $15
Skin Concern: Anti-aging/ Wrinkles, Dryness/ Hydration, Dullness / Radiance, Irritation/ Calming, Whitening
Skin Type: Dry, Normal, Combination, Oily
Paraben-free, Fragrance-free, Sulfate-free, Alcohol-free, Essential oil-free
This gel-type cream does a great job at calming and hydrating with a light texture. iUNIK moisturizer, which contains Centella Asiatica, is great for sensitive skin, troublesome rashes, redness, rosacea, and irritation. It improves skin irritation and helps the skin tone up naturally. Plus, iUNIK cream has a cooling effect that absorbs quickly into the skin without feeling heavy. Overall, It's such a good light moisturizer for all skin types with only clean ingredients. The Cica hydrates, regenerates, and calms the skin of the face. The product is differentiated by its rapid application results, which include the elimination of irritation, rashes, redness, and itching.
KEY INGREDIENTS :
Brightening: Niacinamide, Licorice Root Extract
Hydrating: Arginine, Sodium Hyaluronate
Anti-aging: Adenosine
Soothing:  Allantoin, Centella Asiatica Extract
Be Plain Cicaful Ampoule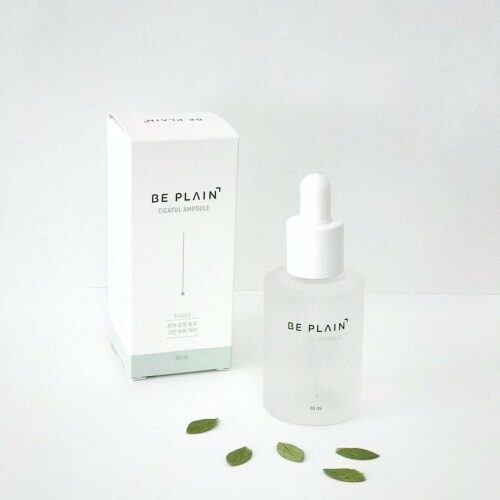 30ml
$15 ~ $27
Skin Type: All Skin Types
#alcohol-free #fragrance-free #paraben-free #sulfate-free #essential oil-free #clean-beauty
Just like the name of the cosmetic brand, Be Plain, the ingredients in this ampoule are quite minimal but effective. The main ingredient part of the Cica used to repair the skin is highly contained in Be Plain Cicaful Ampoule. Nearly 82% of Centella Asiatica Extract is intended to treat severe inflammatory processes, as well as the removal of troublesome rashes and acne, as well as irritation. It also has Sodium Hyaluronate (Hyaluronic Acid) and Glycerin to keep your skin soft and moisturized during the day.
I applied this ampoule in the morning and evening when the weather turned my skin red and pimply. After a couple of days, I saw my skin even out and soothe. In addition, It is at ease putting the ampoule on. I highly recommend it, especially for sensitive skin types as a clean beauty item without potentially harmful ingredients like fragrance.
KEY INGREDIENTS :
Soothing: Centella Asiatica Extract, Chamomile Flower Extract, Saccharomyces Ferment Filtrate
Hydrating: Sodium Hyaluronate
CHECK PRICE
COSRX Pure Fit Cica Serum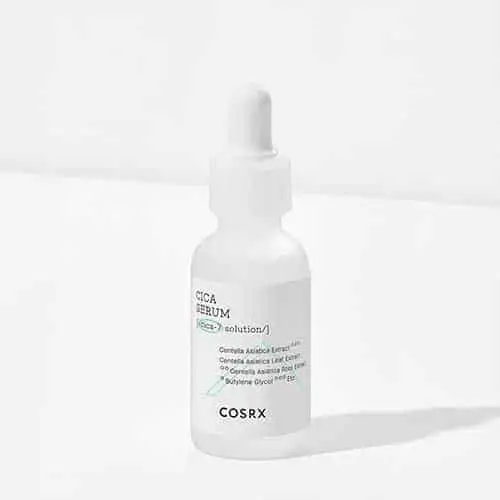 30ml

$19 ~ $28
Skin Type: All Skin Types
#alcohol-free #fragrance-free #paraben-free #sulfate-free #essential oil-free #clean-beauty #vegan-friendly
COSRX Pure Fit Cica Serum is made specifically for those with sensitive, damaged, or troubled skin. It includes extremely concentrated seven different types of Centella. The peculiarity of the serum is that it adapts to your type and skin condition. It offers a lightweight texture and does an amazing job at calming down angry skin. Besides using it as an all-over treatment, I can also use it on spots to help reduce redness. 
KEY INGREDIENTS:
Soothing: Centella Asiatica Extract, Centella Asiatica Leaf Extract, Centella AsiaticaRoot Extract, Asiaticoside, Asiatic Acid, MadecassicAcid, Madecassoside, Betaine, Panthenol
Hydrating: Sodium Hyaluronate, Allantoin
CHECK PRICES
You may also like
Disclosure: This post contains affiliate links. Clicking those links before you shop means that best k-beauty receives a small commission. Please see my full disclaimer for more information.