[toc heading_levels="2,3″]
Anti Acne Skin Care
If you have acne, you should first figure out what's causing it and then select a suitable acne product for your skin type. That's the start point to Acne Skin Care Routine.
Acne is a skin condition that develops when the hair follicles underneath the skin become clogged. Oil and dead skin cells clog pores, causing outbreaks (also known as pimples or acne). The outbreak most commonly affects the face, although it can also affect the back, chest, shoulders, and arms. The majority of individuals' pimples disappear by their thirties. However, some people in their forties and fifties still suffer from this skin condition.
It will be much easier to deal with after you figure out what you're doing. From there, you can figure out which products are the most efficient at getting rid of acne and avoiding fresh breakouts (and enticing you to burst them). This is the ultimate approach to recognizing and removing all types of acne, according to board-certified dermatologists. Because not all stated anti-acne solutions are effective against all types of acne, learn how to detect and treat the many types of acne, such as blackheads, whiteheads, hormonal acne, cystic acne, and others.
Variety of Acne
Acne isn't all the same. This makes sense because acne can be caused and exacerbated by a variety of factors, including skin type, hygiene, hormones, and inheritance. However, knowledge is a powerful tool. The simple fact that there are various forms of fair skin, each of which necessitates its own attack strategy, puts you ahead of the curve when it comes to fair skin. 
Let's clear up a few misconceptions regarding the various types of acne so you can get started on clearing up your skin.
What ingredients should be in my acne skincare routine?
The majority of these skincare products contain ingredients that can aid in the killing of bacteria or the reduction of oil on the skin.
Benzoyl peroxide is a common ingredient in acne treatments and gels. It's used to

dry out existing pimples and prevent new ones from forming

. Acne-causing bacteria are also killed by benzoyl peroxide.
Sulfur is a natural element with a distinct odor that can be found in a variety of lotions, cleansers, and masks.
Resorcinol is a less frequent component used to exfoliate dead skin cells.
Salicylic acid is commonly used in soaps and acne washes. It aids in

the prevention of clogged pores

.
Acne skin care routine & Product recommendations
1. Find a good anti-acne cleanser
Whether you have sporadic breakouts or a continual barrage of acne, one of the first steps to choosing the correct products for your skin is to recognize that your current cleansing routine is probably too harsh. Many people believe that acne is caused by inadequate cleanliness, which has been demonstrated to be false time and time again. Many people believe that using harsh or astringent solutions will "dry up" their acne. Using strong cleansers, soaps, foamy washes, or drying spot treatments, on the other hand, can only irritate your skin further while doing nothing to address the underlying reason.
Tip:
To help prevent breakouts, wash your face with an antibacterial cleanser that contains 10% benzoyl peroxide, an acne-fighting ingredient.
The best Korean cleansers to treat acne
Cosrx Low pH Good Morning Gel Cleanser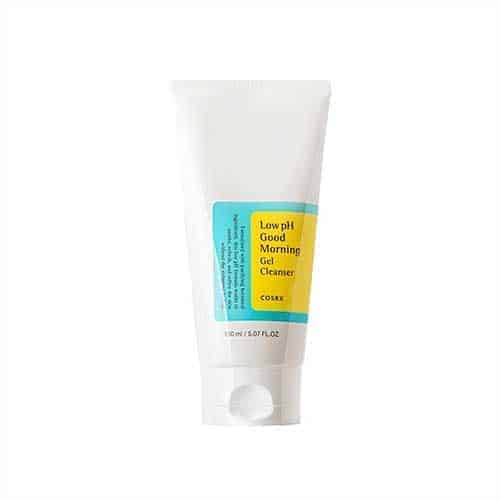 150ml
$11 ~ $13
Skin Type: All Skin Types
#alcohol-free #fragrance-free #essential Oil-free #paraben-free #sulfate-free #cruelty-free #clean-beauty
Key Ingredients :
Anti-acne: Tea Tree Leaf Oil, Betaine Salicylate
Soothing: Allantoin
This pH-balancing cleanser is effective in removing impurities while calming the irritated skin. COSRX Low pH Good Morning Gel Cleanser is mild and dermatologist tested for all skin types especially, sensitive skin to feel safe. With 0.5% Betaine Salicylate, it prevents clogged pores and protects the skin from trouble-causing factors. I recommend it as a daily cleanser expecting a gentle exfoliating effect as well with naturally derived BHA.
CHECK PRICES
Etude House Soon Jung pH 6.5 Whip Cleanser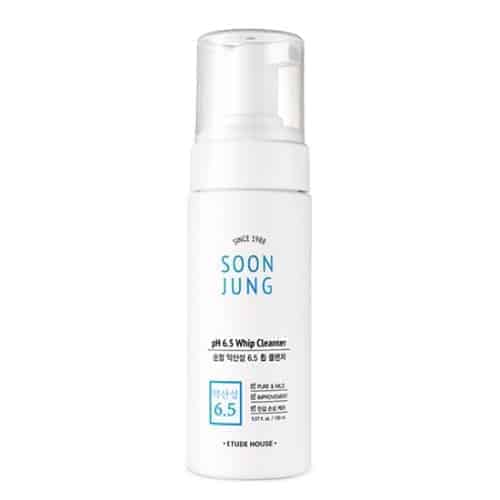 150ml
$9 ~ $13
Skin Type: All Skin Types
#alcohol-free #fragrance-free #essential Oil-free #paraben-free #sulfate-free #clean-beauty
Key Ingredients :
Soothing: Panthenol, Allantoin, Green Tea Leaf Extract, Madecassoside
Etude House Soon Jung cleanser is super soft with a whipped creamy texture. Not only it's non-comedogenic but it also uses 98.9% naturally derived ingredients that is suitable for all skin type especially sensitive skin. With a bunch of calming ingredients like Cica, it helps to soothe irrirated skin and regenerate the skin barrier. Moreover, slightly acidic formula (pH 6.5) is essential for troubled skin to keep the skin healthy and balanced. Cleaning power, ingredients, and price are all part of this amazing cleanser.
CHECK PRICES
2. Use the right anti-acne toner
Toners were traditionally used to cleanse the skin and remove excess oil, grime, and debris. Toners were created to be astringent with greater concentrations of alcohol to assist remove oil and dirt from the skin because their main purpose was to cleanse.
Unlike typical toners, the best Korean toners provide not only exceptional value but also a wide range of qualities and long-term skin benefits. They've long been known for employing natural ingredients and incorporating historic traditions into products that customers adore.
The best Korean anti-acne toners
BENTON Snail Bee High Content Skin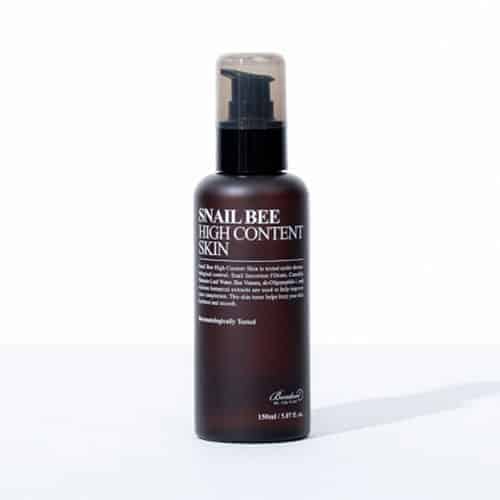 150ml
$12 ~ $18
Skin type: combination, oily, acne-prone
#alcohol-free #fragrance-free #essential oil-free #sulfate-free #paraben-free #cruelty-free
KEY INGREDIENTS :
Brightening: Snail Secretion Filtrate, Niacinamide
Anti-aging: Adenosine
Soothing: Green Tea Leaf Extract, Aloe Barbadensis Leaf Extract, Betaine, Panthenol, Beta-Glucan, Allantoin
Exfoliating: Willow Bark Extract
This Benton toner cleans the impurities left and does instant deep hydration, which is necessary for the dermis after cleansing. It has a gel-like texture being thicker than normal watery toner. With Bee venom, Snail Filtrate, and Niacinamide, it's super helpful to nutrients and fades out acne scars. Moreover, Benton Snail Bee High Content Skin works wonders on block inflammatory processes and daily chemical exfoliator by natural BHA ingredients. Highly I recommend it for oily, acne-prone skin.
CHECK PRICE
COSRx AHA BHA Clarifying Treatment Toner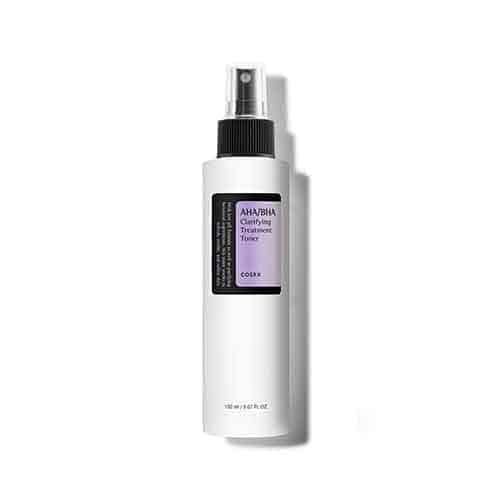 150ml
$15 ~ $16
Skin Type: combination, oily, acne-prone skin
#alcohol-free #fragrance-free #essential Oil-free #paraben-free #sulfate-free #clean-beauty
KEY INGREDIENTS :
Exfoliating: Glycolic Acid (AHA), Betaine Salicylate, Willow Bark Water (BHA)
Soothing: Allantoin, Panthenol
 This Cosrx toner improves skin texture with AHA, BHA and tightens pores by controlling excess sebum. It can be used as a daily exfoliation routine. Not only it diminishes the appearance of blackheads, whiteheads, and zits, it also soothes irritated skin caused by breakouts with Allantoin and Panthenol. By using this toner regularly, your skin will regenerate with fresher skin along with a bright complexion and smooth texture!
CHECK PRICES
3. Hydrate your skin using the right moisturizer
Many people go oil-free for every step of their skincare and cosmetics regimens in order to combat oil and prevent acne. However, this isn't always a good idea. Moisture and oil are essential for healthy skin, and failing to provide enough moisture to your skin will usually result in redness and inflammation. When you have acne, there's no reason to completely avoid oils, especially beneficial plant oils. Even if you have oily skin, there's no excuse to skip moisturizing.
Tip:
A moisturizer, like all acne-fighting creams, should be non-comedogenic, meaning it won't clog your pores, is oil-free and includes Salicylic Acid (another great ingredient for clearing blackheads and whiteheads and preventing future breakouts).
The best Korean moisturizers to help get rid of acne
Klairs Freshly Juiced Vitamin E Mask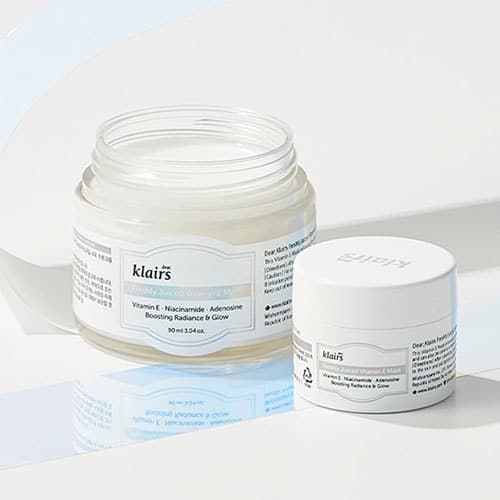 90ml
$22 ~ $43
Skin Type: dry, normal, combination, oily, acne-prone skin
#alcohol-free #fragrance-free #paraben-free #sulfate-free #cruelty-free #vegan-friendly #clean-beauty
KEY INGREDIENTS :
Brightening: Niacinamide
Hydrating: Arginine, Sodium Hyaluronate
Soothing: Centella Asiatica Extract
Anti-aging: Adenosine
Klairs is one of the most popular Korean skincare brands for its clean beauty and amazing result. This Vitamin E mask has a very lightweight texture that makes it suitable for oily acne-prone skin and contains a high amount of Vitamin E (Tocopherol). Not only does it slow down skin cell aging but it also strengthens the skin barrier for healthier skin. With Niacinamide, this pudding-like cream helps to reduce acne scars. Lastly, I have to say it's a perfect All-in-one moisturizer formulating with Adenosine for fine lines and wrinkles.
CHECK PRICES
SOME BY ME AHA BHA PHA 30 Days Miracle Cream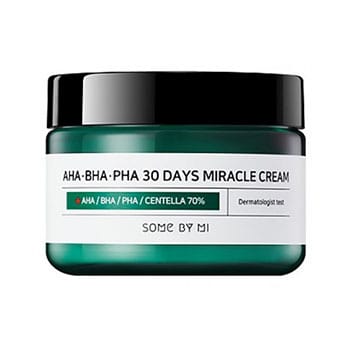 60ml
$15
Skin Type: combination, oily, acne-prone skin
#paraben-free, #fragrance-free, #sulfate-free, #alcohol-free, #clean-beauty
KEY INGREDIENTS :
Brightening: Turmeric Root Extract, Niacinamide
Anti-aging: Adenosine
Anti-acne: Witch Hazel Extract, Willo Bark Extract
Soothing: Centella Asiatica Extract (70.78%), Green Tea Leaf Extract, Houttuynia Cordata Extract, Allantoin, Madecassoside
Exfoliating: Capryloyl Salicylic Acid(100Ppm), Lactobionic Acid(100Ppm)
Some By Mi 30 Days Miracle Line is well known for its amazing results on troubled skin. The cream concentrates on soothing with 70% of Centella Asiatica Extract and Tea Tree Leaf Extract while it treats acne and inflamed skin. This multi-function cream also contains Niacinamide for brightening and Adenosine for wrinkles. What's more, it does blackhead care and oil control with nature-derived exfoliating ingredients.
CHECK PRICES
4. Protect your skin from sun
We've all heard that wearing sunscreen is an essential part of any good skincare routine, regardless of skin type. However, those with oily or acne-prone skin should choose a solution that is lightweight, oil-free, and non-comedogenic.
Tip:
Some acne treatments can make your skin more sensitive to the sun. Use a broad-spectrum, SPF 30 sunscreen to keep it safe.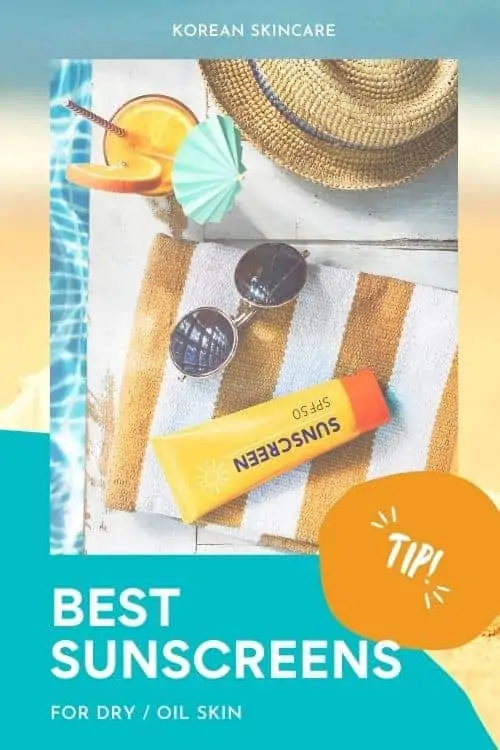 The best Korean sunscreens against acne
MAKEP:REM UV Defense. Daily Sun Fluid
150ml
$30
Skin Type: dry, normal, combination, oily, acne-prone skin
#alcohol-free #fragrance-free #essential oil-free #paraben-free #sulfate-free
KEY INGREDIENTS :
Sunscreen: Titanium Dioxide, Diethylamino Hydroxybenzoyl Hexyl Benzoate, Ethylhexyl Triazone
Hydrating: Beta-glucan, Sodium Hyaluronate, Sunflower Seed Oil, Centella Asiatica Extract
This lightweight sun fluid is one of the best-selling Korean sunscreens. MakePrem Sun Fluid is mixed with chemical and physical sunscreen ingredients so I can easily apply makeup over it. Not only it's suitable for all skin types including sensitive skin, but it also strengthens the skin barrier with Ceramide NP and Tocopherol.
CHECK PRICE
How to know your skin type?
Acne is frequently associated with oily skin. Excess oil is, after all, a known cause of breakouts. But, acne can develop on dry skin for a variety of reasons, including environmental conditions or incorrect skincare that promotes skin irritation and clogged pores. Knowing your skin type can help you manage your acne more effectively.
There is an easy way to determine your skin type. 
Wash your face with a gentle baby soap first. Allow to air dry. Apply no cosmetics to your skin.
Check your skin after a few hours. You have oily skin if it's shiny.
It signifies the skin is dry if it seems scaly, rough, or red.
Dry cheeks, a glossy forehead, nose, and chin characterize combination skin (T zone).
Simultaneously, "normal" skin will have a healthy glow and no visible flaws.
* Remember that acne can affect both dry and oily skin types.
Types of Acne
Acne can be divided into two types: noninflammatory and inflammatory.
Noninflammatory Acne
Clogged pores that show as blackheads or whiteheads are known as noninflammatory acne. It's the mildest of the three types, and it's easy to recognize. Blackheads are dark in color and can appear to be flat against the skin. Whiteheads are tiny pimples on the skin's surface.
Inflammatory Acne
Inflammatory acne is defined as acne that is red or has a more robust appearance. This might range from papules and pustules to nodules and cysts, which are more serious. Pustules are small red lumps that contain pus, whereas papules are little red lumps that contain pus. Papules frequently develop into pustules. Then there's the acne that's deeper and more uncomfortable. These inflammatory pimples are usually bigger than a pimple and feel like they're beneath the skin.
Medical Treatment for Acne
It's possible that you'll continue to have symptoms. If this happens, you should seek medical help. Your doctor may be able to give drugs to help you manage your symptoms and avoid scarring.
These are some of them:
Antibiotics, whether taken orally or used topically,

reduce inflammation and kill the germs that cause pimples

. Antibiotics are usually only administered for a limited period of time so that your body does not develop resistance and becomes susceptible to infections.
Topical prescription creams, such as retinoic acid or prescription-strength benzoyl peroxide, are often more effective than over-the-counter therapies. They are working to

reduce the amount of oil produced

. Benzoyl peroxide is a bactericidal agent that prevents acne-causing bacteria from developing antibiotic resistance. It also contains anti-inflammatory and comedone-destroying effects.
Birth control tablets or spironolactone can be used to

treat hormonal acne in women

. The decrease in oil production caused by these drugs regulates hormones that can cause acne.
Isotretinoin (Accutane) is a vitamin-A-based medicine that is used to

treat severe nodular acne

in some circumstances. It has substantial negative effects and is only used if other therapies have failed.
You may also like
Disclosure: This post contains affiliate links. Clicking those links before you shop means that best k-beauty receives a small commission. Please see my full disclaimer for more information.