In one point in time, everyone has experienced a case of sensitive Irritated Skin. Moreover, the severity of sensitive skin can go from slight burning and redness to a full-blown allergic reaction including hives or a rash. Especially for those with extremely sensitive skin, more often than not, the cause of irritation can be hard to pinpoint. Maybe you spent too much time in the sun or used an ingredient that didn't pair well? Maybe you over-exfoliated or are reacting to a change in the weather? Either way, no one enjoys the feeling of red, tight, compromised skin. If your regular goods seem to be making your skin worse, then this is a  clear sign you've damaged your skin's natural barrier. Now, Before continuing to pile on a bunch of products that could further aggravate your skin, let me introduce you to a Korean skincare routine for Irritated sensitive skin.
Korean skincare for sensitive skin
Korean Skincare For Sensitive Skin + Product Recommendations
Before starting, for those who's skin is extremely angry and irritated It's best to just pause and STOP EVERYTHING. Leave your skin alone for a day to give it time to heal on Its own. Secondly, try avoiding the sun. Unfortunately, Ingredients found in sunscreen can potentially further aggravate the skin. Therefore, I would highly recommend avoiding the sun or opting for physical UV blockers such as a hat, sunglasses, or face mask. 
Having said that, for those who's Skin can tolerate skincare: Here's my Korean Skincare routine for Irritated Sensitive Skin.
1. Cleansing
Under normal circumstances, you will often hear me talk about how 'Cleansing is one of the most important steps in Korean skincare routine'. However, for those with Irritated sensitive skin, it is in fact omittable. Instead of a cleanser opt for washing your face with 'Good old' filtered water. You could also, use an oat wash or Green tea wash. 
Oat wash
Add a handful of oats into a bowl and add filtered water. Next, Leave for a minute or until the water becomes milky. Lastly, use this water directly on the face or soak a few cotton pads and use it as a quick mask. 
Benefits: Soothing, Moisturising
Green tea wash
Add a tea bag or green tea powder into some filtered water for a minute. Then, use the water to wash your face or soak a few cotton pads and use it as a quick mask. (I also like to keep some soaked cotton pads In the fridge for an extra cooling effect)
Benefits: High in anti-oxidants, Cooling
Get Latest News & Coupons for K-beauty Products
PRODUCT RECOMMENDATIONS
Etude house soon jung foam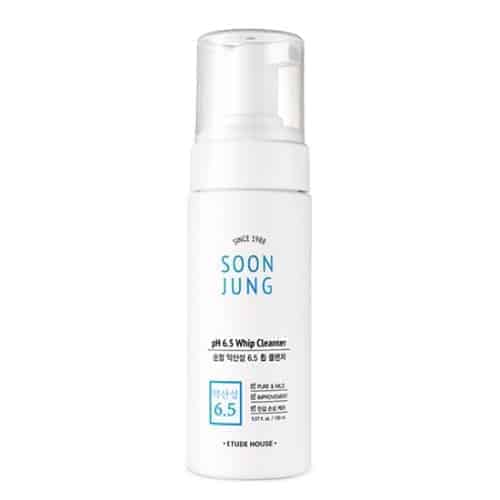 Etude House Soon Jung pH 6.5 Whip Cleanser
Size: 150ml
Price: $15
If you must cleanse your face, then I recommend this face wash by Etude house. It's extremely gentle and a great daily product for all skin types. I would, however, like to add, that for days when your skin is very angry I would use either the methods above or the cleanser only on specific areas.
2. Toner/Essence (Optional)
The next two steps are optional depending on your skin's condition. That being said, If your skin can tolerate a few extra steps then, adding a few extra hydrations can be beneficial. Using a hydrating toner or essence is a great way to help hydrate deep within the skin. The smaller particles and light-weight consistency help it absorb quickly and are also, easy to layer. 
PRODUCT RECOMMENDATIONS
The lab oligo hyaluronic acid 500 toner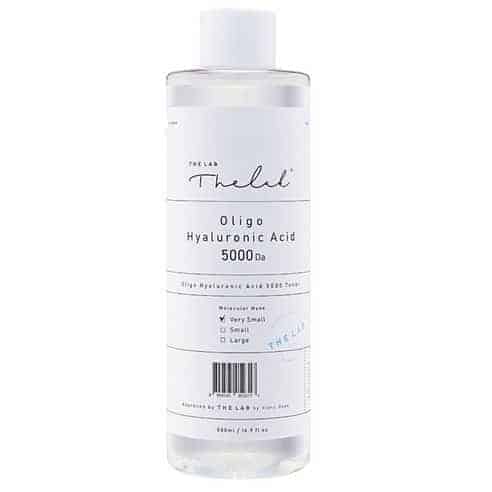 The Lab by Blanc Doux Oligo Hyaluronic Acid 500 Toner
Size: 200ml
Price: $16
This toner from the Lab by Blanc Doux is a clean toner that will work well for sensitive skin types. It has a light watery texture and what's more, It's great for hydrating the skin after too much sun exposure. This product also contains skin barrier healing/conditioning ingredients such as Panthenol, Beta-glucan, Sodium hyaluronate, hyaluronic acid, and allantoin.
3. Essence / Serum (Optional)
Be plain cicaful ampoule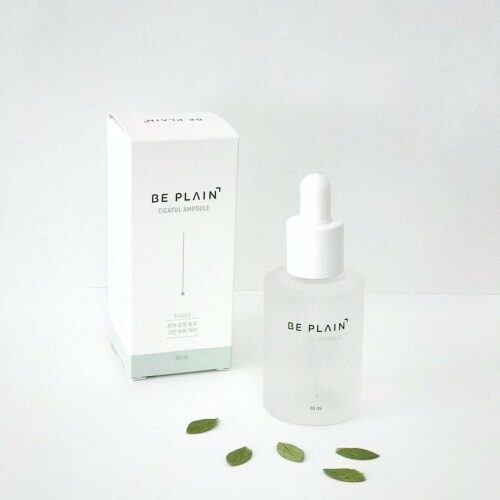 Be Plain Cicaful Ampoule
Size: 50ml
Price: $27
Like a toner, using a serum or essence is another great way to get some extra hydration and calming ingredients into your skin. This Be Plain Cicaful Ampoule is a great Korean skincare product for sensitive skin. It not only contains Cica which is an amazing ingredient for calming the skin but also, contains sodium hyaluronate and glycerin for hydration.  
4. Moisturiser
Out of all 5 steps, moisturizer is essential for irritated sensitive skin. It not only helps hydrate the skin but it can also act as a barrier keeping hydration in and potential irritants out.
Krave Beauty Oat moisturizer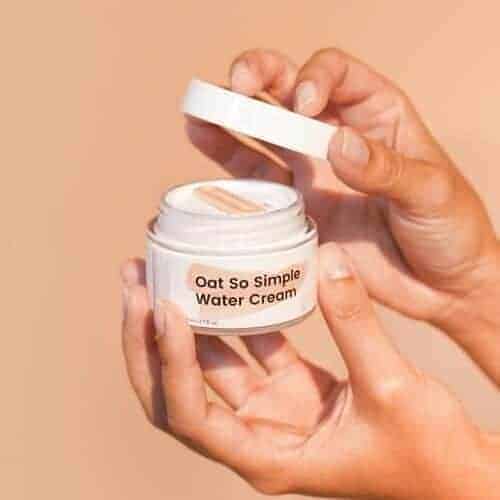 Krave Beauty Oat Moisturizer
Size: 80ml
Price: $28
When choosing your moisturizer, It's important to choose products with fewer ingredients to reduce the chance of further irritation. And, With less than 10 Ingredients this Krave beauty moisturizer is truly a great product for irritated sensitive skin. 
5. SPF
For those who's skin can tolerate skincare, SPF is a must. Especially, for days when your skin is compromised, It's important to protect it from the suns damaging UV rays. Like I mentioned previously, depending on your skin type both physical and chemical sunscreens have both pros/cons.  
PHYSICAL: Creates a film over the skin that filters out both UV-a and UV-b rays. 

Pro: Often better for sensitive skin, more moisturizing for dryer skin.
Cons: Can leave a white-cast, Can be thicker and more difficult to blend
Dr.G Green Mild Up Sun Lotion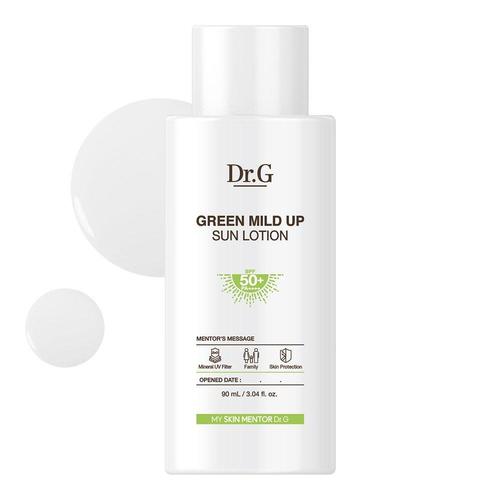 Dr.G Green Mild Up Sun Lotion
Size: 50ml
Price: $20.81
This is a physical sunscreen from Dr.G. It contains zinc oxide to protect the skin and also has Centella Asiatica for calming. This sunscreen has a lotion type consistency and lasts well. However, It does leave a white-cast and contains stearic acid which could potentially block pores. 
CHEMICAL: Absorbs UV-a and UV-b rays and Scatters them. 

Pro: More modern UV filters, No white-cast (Better for Darker Skin), Often lighter texture, more sweat resistant 
Con: Not always suitable for sensitive skin
Round Lab Birch Juice Moisturizing Sun Cream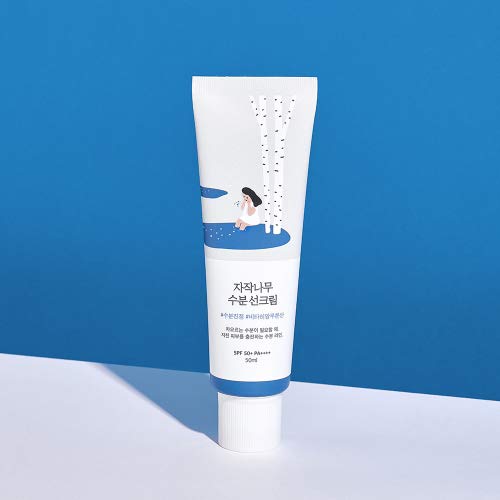 Round Lab Birch Juice Moisturizing Sun Cream
Size: 50ml
Price: $28
This chemical sunscreen contains a number of cooling and moisturizing ingredients. It has a lightweight essence texture that absorbs quickly and works on darker skin-tones. Like the Dr.G sunscreen, it does also contain ingredients that could potentially clog pores. 
Make TOP 5 Causes Less With Korean Skincare for Sensitive Skin
The term 'Sensitive Skin' is an extremely broad statement. In fact, 50% of women claim to have or have experienced sensitive skin. What's more, Whilst some people can be sensitive to one ingredient, others can be sensitive to 100 Ingredients. In any case, whether your sensitive to one or 100 ingredients here are some of the most common causes for Irritated Sensitive Skin:
1. Sun exposure
It comes to no surprise that Staying out in the sun for too long can cause irritation. In mild cases, you could end up with de-hydrated, tight, or dry skin. And, In more extreme cases you could break out into either a rash, hives or also, suffer from sunburn. It is, therefore, vital we protect our skin using a sunscreen that fits for your skin type.
What to look for In Sunscreen?
Ideally, you should be looking for an SPF over 50 with PA +++. It should have a light texture, be long-lasting, absorb into the skin nicely, and not leave a white cast. For more of the best sunscreens for each skin types, CLICK HERE
2. Outdoor irritants 
Out of everything, I would say my skin is particularly reactive to outdoor irritants such as dust and pollution. There have been many days where my skin was left red and itchy from the outside world. (Or even whilst being indoors cleaning). Whilst it's impossible to avoid all outdoor irritants, with the help of antioxidants and occlusives in our skincare we can help protect our skin. 
Want to know how they protect our Skin?
Antioxidants: Anti-oxidants help our skin by protecting it from free-radicals. Although free-radicals occur naturally in our body (helping fight harmful bacteria), an over-production due to pollution, etc. can lead to irritation and also accelerated aging.  
Occlusives: Occlusives are ingredients that create a film over our skin protecting it from outdoor irritants and water loss within our skin (Trans-epidermal water loss). Occlusives can include Allantoin, Oils high in Oleic acid (Olive oil, Avocado oil, etc), Beeswax, etc. 
3. Ingredients
With an endless list of ingredients in our skincare, there is bound to be a few your skin doesn't agree with. Especially for those with sensitive or compromised skin, understanding which ingredients to avoid is a must. 
Ingredients to avoid for Sensitive skin CLICK HERE
In general, for Irritated Sensitive Skin, I would recommend avoiding any unnecessary ingredients such as Fragrance and Essential oils. In addition,  Stick to the bare minimum avoiding Harsh actives such as Vitamin C, Retinol, and Niacin-amide. And, comedogenic ingredients which could further aggravate your skin. 
Instead, opt for soothing ingredients such as Centella asiatica, honey and Ingredients high in anti-oxidants. 
4. Change in weather
Another cause of Irritated Sensitive Skin is a change in weather. Have you ever gone into a warm room after being out in the cold and, ended up with red itchy hives? This is quite a common side-effect especially found In women and young adults. 
Of course, the change in weather is inevitable. However, we can protect ourselves by wearing the appropriate clothing and, by using the right Skincare for each season. 
5. Over-exfoliation 
Exfoliation is definitely one of the Korean skincare routines that changed my skin for the better. Since exfoliating, I've had fewer breakouts, my pores look smaller, my skin textures more even and, I've removed a large portion of my pesky white and blackheads. 
That being said, there is such a thing as Exfoliating too much. I am undoubtedly guilty of exfoliating too often or using harsh exfoliants that resulted in damaging my skin's barrier. If your skin is left red and painful after exfoliating? Or your normal products aren't absorbing as usual? Then there is a high chance you've over exfoliated.
How to prevent over-exfoliating?
Opt for chemical exfoliators over physical as they are more gentle.
Make sure to read the directions of the product on how often it should be used. In addition, slowly build up your skin's tolerance.
You may also like
Disclosure: This post contains affiliate links. Clicking those links before you shop means that best k-beauty receives a small commission. Please see my full disclaimer for more information.