I do not consider my skincare routine particularly complicated or extensive. Once I learned how to listen to my skin, I usually do 3-4 layers and I am good and glowing. However, looking at my vanity table, it might look like I spend my days doing nothing but applying magic potions to my skin. I have a whole army of small bottles with 100% natural extracts organized in rows and ready to boost my basics. As you might have seen in my previous post about customized skincare, I am a HUGE fan of using 100% natural extracts to upgrade my skincare routine.
It is a super affordable, effective, and safe way to add something extra to your skin. And we can do it without another layer of fillers and emulsifiers. Natural extracts are packed with free radicals-fighting antioxidants, soothing and nourishing components beneficial for the skin. They are used in many cosmetic formulations, but often the concentration is not enough to make a difference.
Luckily, we can now easily buy 100% natural extracts and add these natural goodies by ourselves. Using 100% natural extracts gives me also the flexibility to adjust my routine to my current skin condition. Want to soothe the inflammation? Add calming Centella Asiatica to your moisturizer. Under-eye area seem dull and dry? Add a few drops of Noni Fruit extract for an extra skin-restoring effect.
Here are a few ways you can upgrade your skincare routine with 100% natural extracts.
DAILY ROUTINE UPGRADE WITH 100% NATURAL EXTRACTS
In high school "natural skincare" for me meant DIY mixes, scrubs, and messy kitchen… No wonder my rosacea was so much worse at that time. Luckily, I am much smarter now about my skincare. Incorporating natural extracts into my daily routine is much easier, effortless, and beneficial, once I know how to do it.
USE IT INSTEAD OF TONER
First of all, upgrading your routine is as simple as replacing a toner with 100% natural plant extract! In general, if we are using a well-formulated low pH cleanser, a toner is not a necessary step. However, a good toner can quickly deliver a generous amount of antioxidants and soothing ingredients. It will help to visibly improve the skin. Using 100% natural extracts right after cleansing can help to restore the skin if you choose the right extract. If you have dry and weak skin, replenishing moisture and restoring skin barrier with 100% Bifida Ferment Lysate by MIXSOON might be a solution. If you want to fight dull skin tone, Galactomyces extract will help to brighten and enhance skin texture.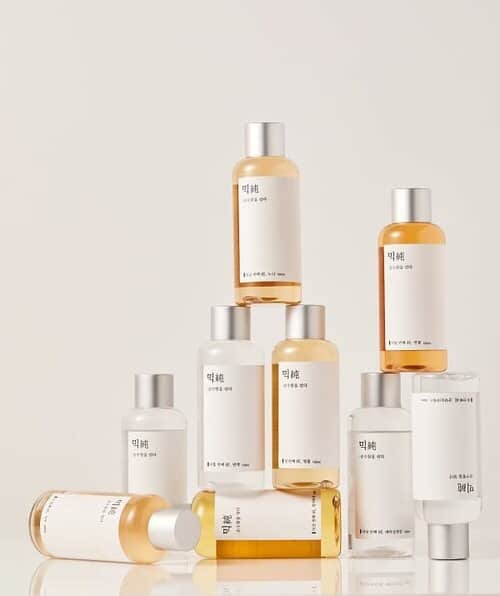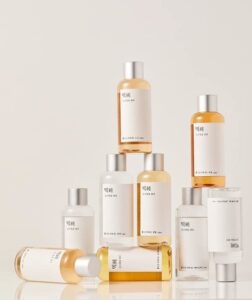 BOOST YOUR SERUM WITH MORE ANTIOXIDANTS
Since natural plant extracts are free of emulsifiers and viscosity-increasing agents, some people might find the texture too watery to use as a toner. If you are hesitating to replace your toner, but want to upgrade your skincare routine, try boosting your serum or cream. Adding natural plant extracts to your serum will boost its antioxidant and soothing effect with just a few drops. And upgrading your skincare routine with more antioxidants is never a bad idea, they work even better when combined! Our skin is affected daily by various environmental stressors and pollution that speeds up the skin aging process. Upgrading your serum with antioxidant-rich green tea or beta-glucan will ensure that it provides enough antioxidants to defend your skin.
SKIN S.O.S WITH 100% NATURAL EXTRACTS
From time to time I like to do something similar with diet, but for my skin. Although I am careful about choosing my skincare products and I check ingredient lists, I realize that sometimes my skin needs a break. This is the time when I reduce the number of products and reach for my natural emergency methods to pamper, calm, and soothe my skin.
DIY COTTON PAD MASK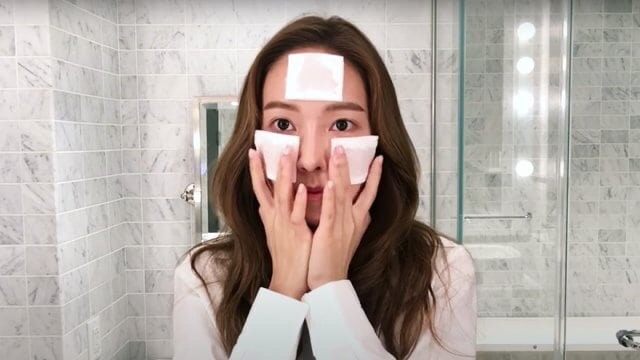 I cannot stress enough how crucial cotton pads soaked in Centella Asiatica extract were for me this summer. 100% natural extracts are a great way to upgrade your skincare with emergency masks. All you need is a big round cotton pad and the extract of your choice. I know we have millions of pre-made face sheet masks to choose from but hear me out on this one.
First of all, for days when we want to reduce the number of ingredients we put on our skin, but still get some extra hydrating and soothing, natural extracts will help us get there. Secondly, I love the way I can use different extracts for different parts of my face. You cannot do it with pre-made masks. I like to soothe my red and sensitive cheeks with Centella Asiatica or Green Tea, but thin and weak skin under my eyes that needs more nourishment loves anti-aging Noni Fruit extract. Lastly, I put hydrating Beta-Glucan on my forehead, and here it is. I can address multiple issues at the same time with minimum ingredients.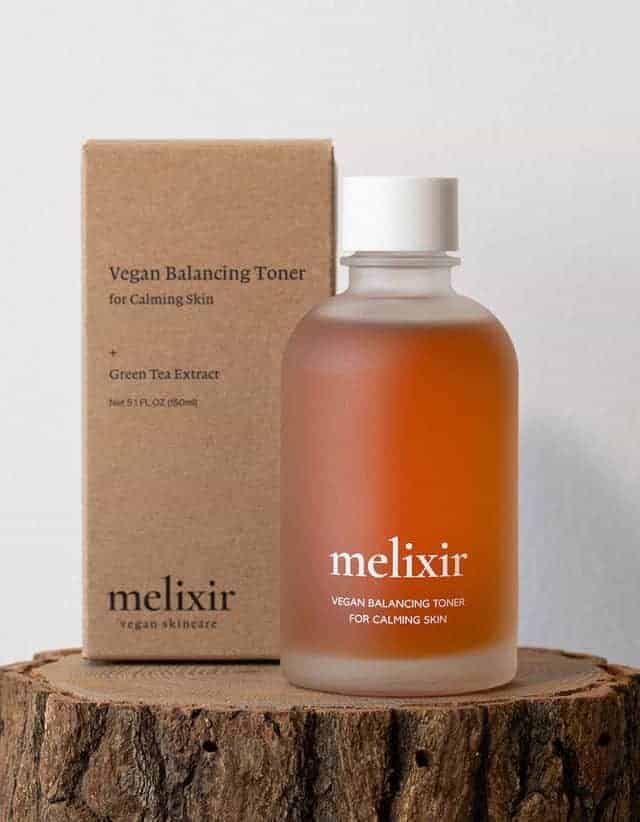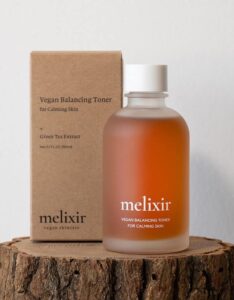 "TONER WASH" METHOD
After the "7 skin method," another Korean skincare technique that surprised beauty lovers around the world was the "toner wash method". It is the additional, third cleansing step that comes after your double-cleanse. All you need to do is to mix a highly concentrated toner with clean cold water in an 8:2 ratio. Rinse your face a few times with the toner water mix to achieve perfectly smooth and clean skin. The solution was originally recommended for those struggling with acne and sensitive skin, as it helps to thoroughly cleanse the skin. However, it really can help with other skin concerns like dryness or excessive sebum as well.
I highly recommend using 100% natural extracts with the "toner wash" method as they are highly concentrated and affordable. Whenever I struggle with stubborn congestion, blemishes, or particularly sensitive skin I like to add the "toner wash" method with natural extracts. My favorite one is Calendula Extract from One Thing as it has excellent anti-inflammatory and soothing properties. It adds hydration, skin-healing, and antioxidant effects to my usual rinse-off and I feel like it helps me to remove any residue from previous cleansing steps.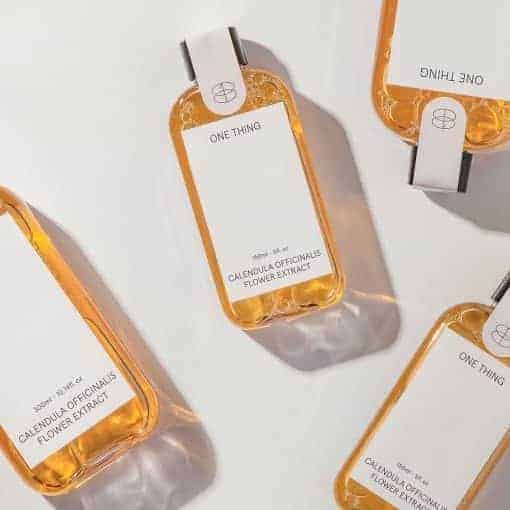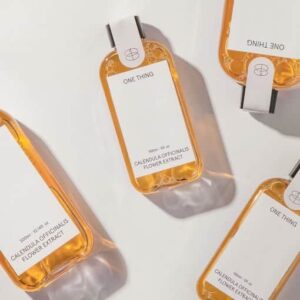 BONUS: BODY CARE WITH 100% NATURAL EXTRACTS!
Although when we talk about Korean beauty we usually talk about face care and make-up, taking good care of your body is also important. If you are planning a self-care day to pamper yourself, you can use natural extracts to take care of your whole body as well!
1. Add soothing and antioxidant plant extracts to your bath! Your skin will benefit from soaking in soothing and hydrating plant extracts! My choice? Soothing Green Tea extract or nourishing Reishi Mushroom extract. No more dry and tight skin after a long, relaxing bath.
2. During pool or beach day body skin can get very dry, but applying lotion during hot and sweaty weather can be messy. I like to carry a mix of soothing Centella Asiatica from The Potions and hydrating Beta-Glucan in a mist bottle and spray my whole body from time to time! It makes a huge difference and makes my skin comfortable and glowing!
Have you tried adding 100% natural extracts to your skincare routine?
You may also like