Customized Korean skin care is one of the biggest beauty trends I look forward to in upcoming years. Technology makes it easier for brands to collect and analyze information about the skin and customize the formula accordingly. For now, the approach is mostly simple and involves a survey or simple device to check current skin conditions. As a result, customized skincare is still more of a luxury. However, I am sure that soon we will widely use DNA analysis and AI technology to provide an accurate diagnosis and skincare solution. Until skin diagnosis using innovative technology is more reliable and common, there are certain ways to tailor your skincare to your needs. Korean skincare brands realize that customers are looking for more flexibility and offer a more personalized experience and products.
Korean Beauty Trend: Customized Skin care
Customized Cosmetics Preparation Officer License
Rapidly growing demand for customized skincare forced also changes in the cosmetics industry in Korea. Ministry of Food and Drug Safety recognized the need for more specific regulations in terms of customized cosmetics. In February 2020 the very first exam for Customized Cosmetics Preparation Officer License was held. The license is now required for those who want to engage in customizing cosmetics for commercial purposes. The exam, which known to be very difficult to pass, widely covers cosmetic regulations, raw materials and their functions, manufacturing process, skin&hair types, and even personal information protection. Those who pass the exam are legally licensed to perform skin consultation, alternate formulas by mixing in additional ingredients into the base and sell customized skin care products. Brands that are offering customized skin care services should have at least one employee with the license.
Why do we need to customize our skincare?
How many times did you love the product, except for that one ingredient that you do not tolerate? Or how many times you needed to apply tons of layers to get all the ingredients your skin needs? The era of products divided into dry/oily, young/aging skin categories is over! We all want to address multiple concerns with fewer steps. For example, I have a rosacea skin, but I also want to fight signs of aging and occasional hormonal breakouts! A more individual approach will help to address multiple concerns at once without overwhelming the skin.
While waiting for widely available advanced skin diagnosis technology, Korean skincare brands have already taken the steps towards customized skincare. "Smart beauty" is the theme of this year and I am excited to see how this trend unfolds! Here are 3 ways you can customize your skincare game with Korean beauty. 
Customized skin care with HIGHLY CONCENTRATED BOOSTERS
With the need for minimal and more customized skincare, Korean brands have started to incorporate boosters into their offers. Boosters are simple formulas, with a high concentration of one or two ingredients. These highly concentrated serums can be mixed with your basic skincare to customize it to your current skin's needs. One of the brands that caught my eye recently with the line of boosters is THE POTIONS. They offer a wide range of highly concentrated formulas such as peptides, Vitamin B12, Q10, probiotics, or Hyaluronic Acid. Packed in a handy small dropper bottle it is very convenient to use and travel with. It makes customizing your skincare so much easier, as you can address multiple concerns in just one step.
How does it work?
All you have to do is to simply mix a few drops of 2-3 boosters into your basic lotion. For example, a mix of Hyaluronic Acid and Q10 will both hydrate your skin and boosts its elasticity with one layer. Also, The Potions offers a basic cream or gel-cream to mix your boosters. More and more people are increasingly aware of their skin's particular needs and what ingredients are the best fit. Although the market offers an endless choice of skincare products, it is not always easy to find the perfect match. Tailoring your skincare without adding more layers, spending a lot of money, and overwhelming your skin is much easier with brands like The Potions.
With 100% NATURAL EXTRACTS
"Smart beauty" and "natural" – these are the keywords I saw the most recently in Korean beauty in 2020. Consumers are realizing that cosmetics often contain unnecessary chemical fillers and are seeking more simple and natural solutions. Korean skin care is famous for including various natural extracts, such as Artemisia or Centella Asiatica. Natural plant extracts are soothing and a great source of antioxidants and I love them in my routine. However, a lot of times their concentration in the product is too low to fully benefit from it. This is where new indie brands like MIXSOON or ONE THING step in. Both brands offer a wide range of 100% extracts, perfect to customize your skin care every day with natural ingredients.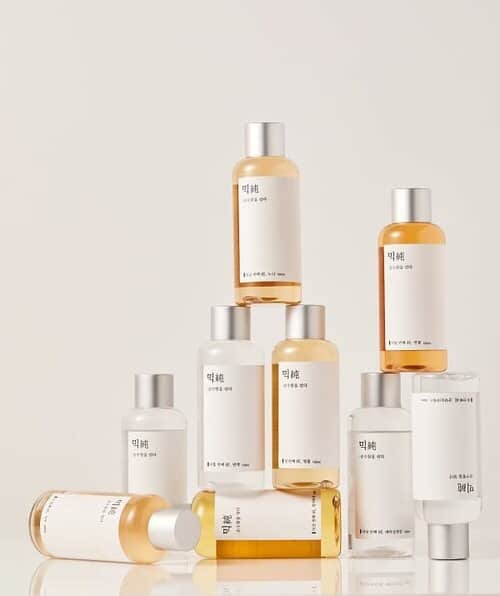 How does it work?
There are so many ways to upgrade your skincare routine with these products! I can use it as a toner, mix with my serum for an extra antioxidant boost or use it as a mist. My favorite way to customize skin care routine with 100% extracts is to soak cotton pads for a DIY face mask. I love the possibility to use a different extract according to my skin's needs at the moment.
In the summer, you can also keep soaked cotton pads in the fridge for a quick and easy soothing mask. Check our summer essentials HERE. There are two main reasons I recommend customizing your skincare with 100% extracts. Firstly, with no extra additives, it is easy to discover which extract works for your skin and what does it exactly do. The second one, it is a very affordable way to upgrade your basics and tailor your routine every day.
With MONTHLY SKINCARE SUBSCRIPTION SERVICE
Various internal and external factors constantly affect our skin and cause it to change. Sometimes it is not easy to find out what our skin needs and we can feel completely lost. Even with various boosters and 100% natural extracts, there might be a moment when we are willing to reach for professional help. Companies offering skincare subscription services are on the rise worldwide, including Korea. TOUN28 is a new Korean brand, a new star of customized skin care. I have mentioned that their ready-to-buy sunblock is one of my favorites this summer, check it HERE. However, their main mission is to provide customized formulas every 28 days to reflect the skin recovery cycle and environmental factors.
How does it work?
TOUN28 went beyond simple online surveys. They actually arrange free skin diagnosis in a person with Skin Genius that lasts about 15 minutes. They measure your skin condition in four crucial facial areas to recommend active ingredients based on your skin's needs. After the consultation, you will receive skin care products specially designed to address your skin concerns. In addition, products are freshly made every and shipped to you every 28 days. This enables TOUN28 to adjust the formula according to environmental changes. For example, in the summer season they will include more UV protectors and soothing ingredients to prepare the skin for intense sun exposure.
I love that TOUN28 took the customized skin care subscription to the next level with personal visits and monthly changes in the formula. Our skin goes through a lot of changes. We constantly expose our skin to different factors and sometimes is difficult to figure out what does our skin need. When our skin is overwhelming us and we are frantically trying to bring balance to our skin, customized skin care subscription services can point us in the right direction.
Have you tried customizing your skin care routine yet :)?
You may also like