Korean Beauty products have been all the rage over the past couple of years. There are tons of great companies out there churning out fantastic products that it's easy to get overwhelmed AND go over budget. So, let me introduce you to a little place called Daiso in Korea.
If you have lived/traveled in South Korea, you've most likely shopped at a Daiso at some point. Daiso is a one-stop-shop for home goods, snacks, stationery, cleaning supplies, and beauty products. If you want budget-friendly prices, on-trend products, or just want to try a couple of different beauty tools without breaking the bank, then Daiso is the perfect place. Here are the top beauty products you should own from Daiso in Korea.
Must-Have Daiso Korea's Beauty Products
Hair
Surprisingly, Daiso has a great hair accessories section. You can pick up a set of stylish, jumbo hair pins at a fraction of the cost. I recently bought several hair pins and barrettes to create a side swept hair-do ala Seo Dan from Crash Landing on You. The hair clips lend a polished and sophisticated look to wavy hair.
 Another great hair product from Daiso is the knotted headband. This trendy hair accessory is perfect for a summer look! The hair pins and the headband are about 1,000-4,000 KRW- such a bargain.
Nails
One great self-care ritual I enjoy is getting a mani and Pedi. However, sometimes there's simply not enough time (or money) to always get them done. Daiso has a big nail section stocked with nail stickers, gems, gorgeous nail colors, and my favorite- nail tools. Tools can get costly and they need to be replaced often. The best nail tools at Daiso are the steel cuticle pusher, the cuticle clipper, and the nail design tool. These tools are between 2,000-5,000 KRW. 
If you are looking to jazz up your nails, pick up a couple of sheets of nails stickers- they will set you back only 1,000 KRW per pack.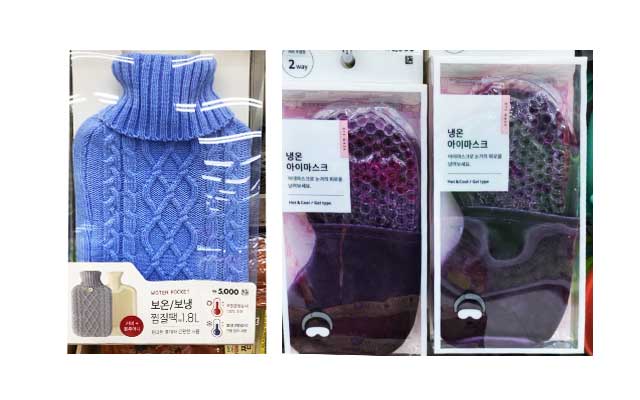 Spa
South Korea has a HUGE spa culture. Many flocks to JJimjilbangs on the weekends for treatments to unwind from a hectic week. They offer facials using tools such as jade rollers, cold masks, aromatherapy, and hot packs for your body. Did you know you can create your own spa night at home with Daiso products?  
No one likes waking up puffy-faced after late-night ramen, so Daiso's gel mask, at 5,000 KRW,  is a perfect solution. Just pop the mask in the fridge or freezer then strap it to your face for a soothing, cooling effect. 
Another spa product from Daiso is the "jade" roller. These tiny, but effective, rollers help drain the face from fluids that cause puffiness. Use the roller right after a serum or ampoule for a mini at-home face massage. 
The hot pack sold at Daiso also has numerous remedies.  It can help with muscle cramps, soreness, and lower back pain. The hot pack can be filled with hot water and also comes with a sweater like material. This magic pack is wonderful during the cold winter season, too.  The hot pack is 5,000 KRW and comes in various colors. 
Experts say aromatherapy relieves anxiety and depression. Daiso's candle, White Lily, is the perfect scent to soothe your mind and create a stress-free environment. I personally always stock up on these. Pick up a couple of the mason jar candles at 3,000 KRW a pop and treat yourself to some aromatherapy.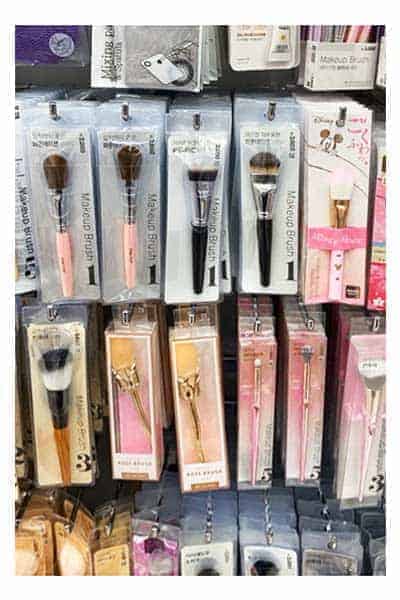 Makeup
There are some great Korean makeup trends out there: berry-stained lips, sparkle liner on the lower eyelid, and a barely-there blush. But these products can be a bit pricey at makeup counters and cosmetic stores-it can add up quickly. Daiso in Korea carries a vast array of pretty lip stains, blushes, and light powders and foundations. They are the perfect price point to experiment with and the collections are always rotating. The red lip stain, 3,000 KRW, is the perfect touch of color and won't set you back that much.
The brushes at Daiso don't get enough credit. There is a big selection of makeup brushes for all sorts of applications. The brushes run between 1,000-4,000 KRW and are great for experimenting with different makeup applications and techniques.
Also worth a mention, are the makeup cleaners and storage units- because clean, organized makeup case is a happy makeup case. 
Skincare 
Daiso carries great skincare staples including basic hand and face moisturizers (for men and women), toners, and face washes. These are great basics to pick up if you're out of a product, need a quick replacement, or want to try something new. 
Nose Strips are also an essential part of a skincare routine and should be used about once a week, depending on your skin type. Daiso carries several types of cute nose strips and is a great way to remove any blockage from your pores. 
Did you know Daiso has face masks, foot masks, and hair masks? These come in handy and can be used for an impromptu spa night.
Another cult product from Daiso is the small face razors. I personally cannot live without these little miracle workers. They create a smooth texture on the face, can get rid of unruly eyebrow hair, and can make peach fuzz disappear. The razors start at 500 KRW, such a great deal!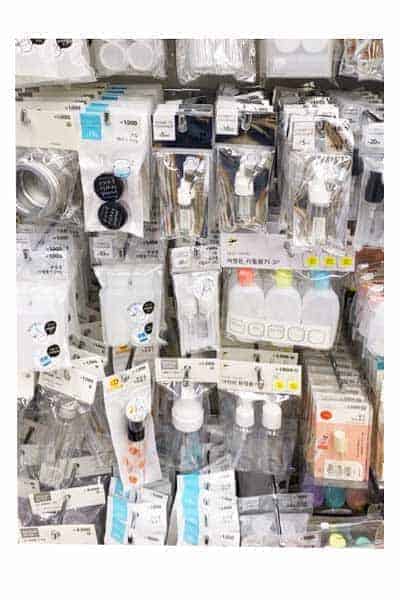 Bonus: Travel Accessories
Travel Accessories at Daiso deserve an honorable mention. When traveling, it's important to have the proper containers and avoid tossing anything out at the airport. There are containers for every type of product- spray bottles, cute pillboxes, droppers for serums, and bottles for shampoos and rinses. All of these products are inexpensive and durable- my favorite combo.
So do yourself a favor and make a beeline to Daiso in Korea for some must-have beauty products. Trust me, it will soon become your go-to place for affordable beauty products.
You may also like