With increasing stress and tensions in the daily environment and our individual lives, people are looking up to more and more ways to rejuvenate the skin. They are always on the lookout for an excellent regimen so that they can keep the skin clean, smooth, and nourished still. One such astonishing thing is the best Korean face mask for dry skin, which has helped us with our glowing skin.
In line with these, face masks are the new thing that people are popularly accepting and applying. The face masks that made skin health accessible are the Korean face masks. These are the pioneers in the field and very good at what they do. Korean face mask leaves the face feeling smooth, fresh, and fabulous, which is what everyone signed up for, to begin with. Moreover, self-care involves being gentle to yourself and your skin. Not only Korean masks are soft, natural, and very refreshing but they also are a popular choice because they yield the results.
Best Korean Face Mask for Dry Skin
Before purchasing, don't forget to check skincare ingredients on labels and where to look for information, EWG Skin Deep ratings could help you as a reference point. For details, head EWG (Environment Working Group) official website.

Get Latest News & Coupons for K-beauty Products
Abib Gummy Sheet Mask Heartleaf Sticker Face Mask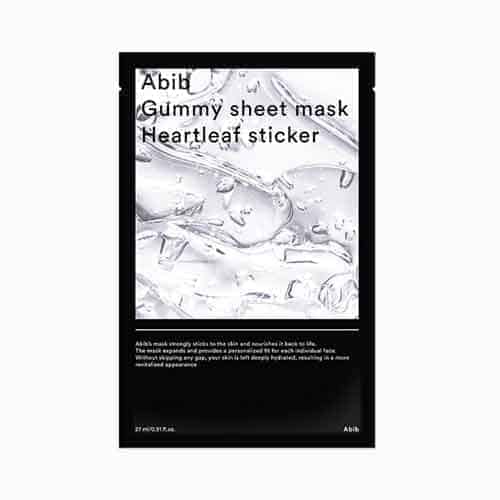 This is the top-ranked product on the part of the face mask by Korean customers. Abib Gummy Sheet Mask Heartleaf Sticker is a mask with a face-hugging fit and perfect for dry skin with allantoin and sodium hyaluronate. Furthermore, this face mask is ideal for all types of sensitive skin without any harmful ingredients for skin like paraben, fragrance, etc. It is a great treatment when your skin is irritated and you are on the edge of a breakout.
Calming ingredients such as Centella Asiatica extract (as known as Cica), Houttuynia Cordata extract and witch hazel help cool skin, prevent excessive sebum production, and calm inflammation. Also, chamomile extract and squalane help moisturize and hydrate skin. Rounded mushroom extract supercharges and brings the skin back to life.
Dear Klairs Rich Moist Soothing Tencel Sheet Mask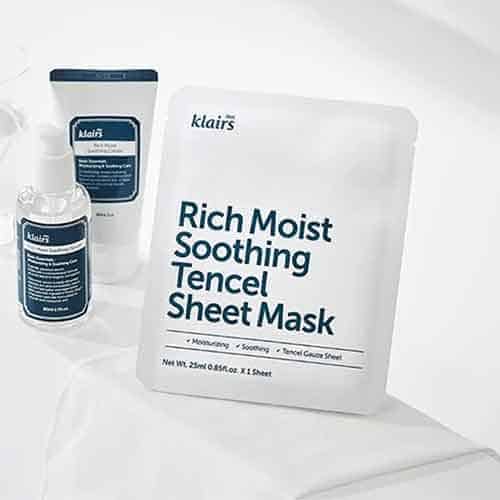 This face mask features 5 types of ceramides to strengthen the weakened skin barrier and protect it against external aggressors. Dear Klairs rich moist soothing mask is formulated with Aloe Vera, Panthenol, Hyaluronic Acid, and high concentration of various moisturizing ingredients to add energy and moisture to dry and sensitive skin.
The Key ingredients are Ceramide, Aloe Barbadensis Leaf Juice, Panthenol, Allantoin, Centella Asiatica Extract.
Papa Recipe Bombee Honey Mask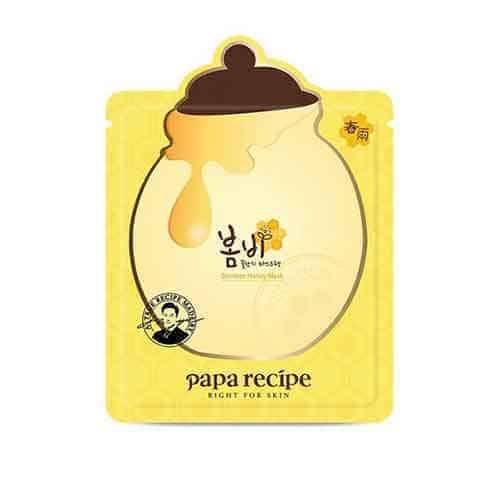 Ideal for dry, normal skin
Ingredient Safety by EWG:
4 ingredients are moderate hazard scores and fragrance at the end of the list
An Incredible moisturizing and nourishing mask and formulated with all-natural ingredients that are full of nutrients to replenish, rejuvenate, and hydrate your skin to protect and prevent irritants. Papa Recipe Bombee Honey Mask is safe for all skin types. It is made with organic extracts made only with organic ingredients directly from nature, without the use of artificial preservatives, making it safe to use for everyone. You won't need to rinse your face afterward. Just work what excess product remains on your skin with the tips of your fingers.
The organic pulp mask sheet is excellent for delivering the essence, hydration, and nutrients directly to the skin while increasing the absorption. Allantoin and sodium hyaluronate work well in calming and honey extract and propolis extract help to nourish and soothe.
However, before purchase, note that a fragrance at the end of the ingredients list in the label means it's a tiny amount.
BePlain Bamboo Healing Mask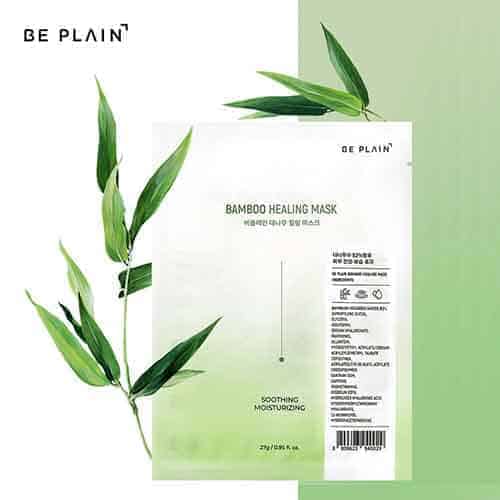 Bamboo is the latest in K-beauty skincare ingredients that not only lock in moisture but also keep those pesky acne spots away. Using this facial mask will brighten your skin tone and give long-lasting moisture. Besides, BePlain Bamboo Healing Mask Sheet is said to help minimize pores, soothe irritation, and reduce puffiness. Bamboo extract is known as a natural antioxidant that protects the skin from oxidative stress and damages UV rays that will not only prematurely age skin but also irritates acne-prone skin. Here, you can check more ingredients to avoid if you have acne-prone skin.
Nature republic real comforting sheet mask (hyaluronic acid)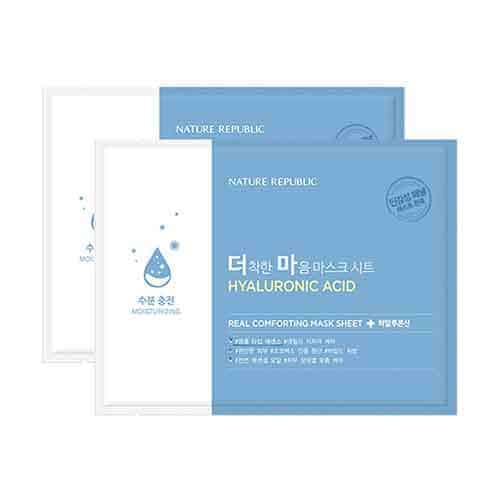 Nature Republic Real Comforting Hyaluronic Acid mask is the best Korean face mask for dry skin by providing a concentrated dose of daily moisture to fill the skin without all that stickiness. It has undergone and successfully passed the Sensitive Skin Irritation Test making this suitable for use on sensitive skin.
It contains three types of hyaluronic acid, which not only moisturizes but also helps to form the skin's moisture barrier. This ampoule absorbs well and moisturizes the skin without leaving any residue. The dropper lid allows for hygienic use. It feels slightly slippery at first when applied, but it goes away after it's fully applied, leaving your skin feeling nice and moist. This is easy to use and also works very well when used with the toner from the same line as they have visible synergy between them. I can recommend it for people with sensitive and dry skin.
The Face Shop real nature face masks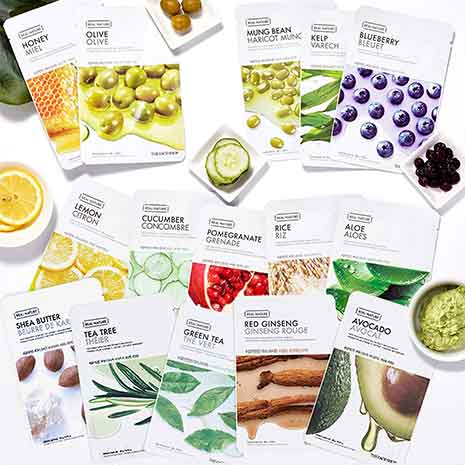 Some of the best Korean masks for dry skin will work wonders in keeping your skin hydrated and moisturized. Check the best-selling masks among 20 types in The Face Shop real nature face mask and find which is the best fit for your skin.
The aloe extract has soothing properties and offers softness and hydration to the skin.
Olive oil again is good for moisturizing dry and rough skin.
Lotus flower extract is known for its hydrating properties by providing smooth, radiant skin.
Bamboo rejuvenates skin and evens out the complexion.
Kelp is good for eliminating impurities and pollutants. It tones and hydrates the skin.
Dermal Korea Collagen Essence sheet mask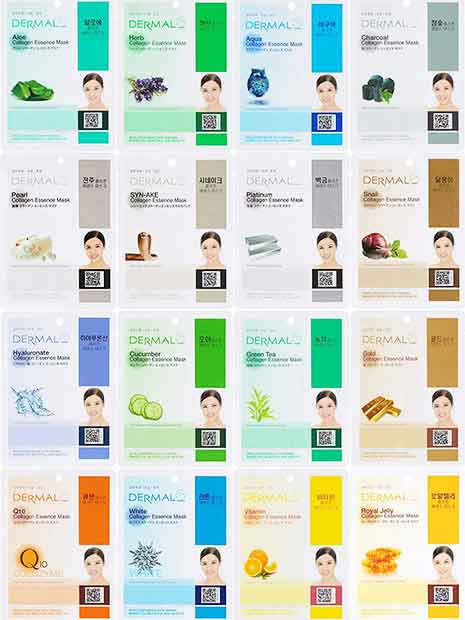 Each Dermal Korea Collagen Essence sheet mask is infused with a different ingredient designed to give your skin a variety of benefits. The scent of the Dermal Korea Collagen Essence masks vary – each different but all light and quick to dissipate. The Bamboo, Strawberry, and Honey Grapefruit variants are cult favorites in terms of scent. However, in terms of effectiveness, most users have found the Aqua, Olive, and Acai Berry Sheet Masks to work the best for them. They proved to be the most moisturizing for my skin. Though, as always, "your mileage may vary" and other variants may prove to be your favorites!
Moreover, the effectiveness of the Dermal Korea Collagen Essence sheet mask for the price cannot be beaten. After wearing one of these sheet masks, you will be left with moisturized, radiant, and glowing skin.
Mizon Snail Wrinkle Care Sleeping Mask
This snail extract-based sleeping pack targets your fine lines and wrinkles while you sleep, which is when your skin is actively repairing and healing. Formulated with skin-improving 50% snail extract, 4 different types of peptides, and a medley of botanical and herbal extracts to help firm, increase elasticity, and hydrate. The gentle formula is great for all skin types. And there are no parabens, artificial dyes, artificial fragrances, talc, benzophenone-3, benzyl alcohol, and triethanolamine.
Here, you can check more best Korean face mask for hydrating and anti-aging. Go check and happy shopping for your beautiful glowing skin.
You may also like
Disclosure: This post contains affiliate links. Clicking those links before you shop means that best k-beauty receives a small commission. Please see my full disclaimer for more information.