If you enjoy K-beauty, you undoubtedly heard of Sulwhasoo. This is a line of high-end skincare products with roots in Korean herbal medicine and a long history of Eastern holistic philosophy. But how much do you know about the brand? Do you want to know what their best sellers are? If yes, let's find out in this article.
About the brand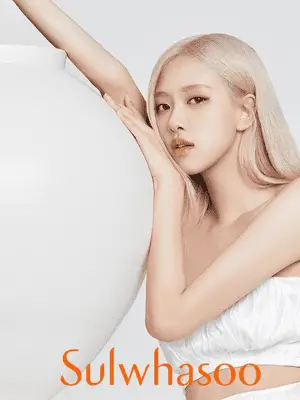 Sulwhasoo, which translates to "blooming brilliantly like a snow flower," was founded by Suh Sung Whan in 1966. This is Korea's top luxury cosmetics company that uses herbal medical components. Kaesong, where the founder was raised, is renowned for its outstanding ginseng, Korea's national herb. Since his mother made her camellia oil, another component frequently used in Sulwhasoo products, Suh learned the value of using high-quality ingredients. With a thorough knowledge of ginseng and how to apply it, he launched ABC Ginseng Cream in 1966, beginning Sulwhasoo's heritage. So far, Sulwhasoo has developed into an incredibly well-liked brand with Asian and European clients after more than 50 years of growth.
Sulwhasoo Key Ingredient
Sulwhasoo's signature ingredient is ginseng, which is used in many of its products and is believed to have anti-aging properties. Sulwhasoo has a strong focus on traditional Korean herbal medicine and uses a combination of ancient wisdom and modern technology in its products. The brand is known for its high-quality, luxurious skincare products, and has a reputation for being one of the best skincare brands in South Korea.
Top 6 Sulwhasoo's bestseller products
Sulwhasoo First Care Activating Serum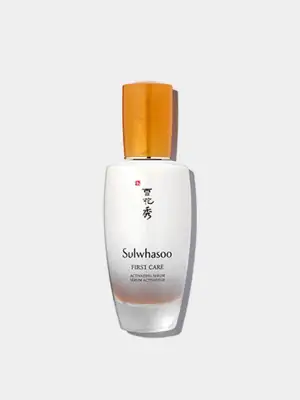 This list starts with Sulwhasoo First Care Activating Serum as the first item. Using well-known natural components like rhubarb, ginseng, and red pine, this product aids in moisturizing the skin and is very powerful in reducing inflammation and against bacteria. Additionally, it possesses anti-aging properties that reduce wrinkles and aid in skin smoothness and brightening. All skin types can use this serum. However, those with dry skin will benefit most from it due to its excellent hydrating properties. You will be amazed after using this one.
Amazon
$80.80
$89.00
in stock
as of March 18, 2023 1:13 am
Last updated on March 18, 2023 1:13 am
Review
The Sulwhasoo First Care Activating Serum has a gel-like consistency with a quite liquid texture. It was easily absorbed by the skin, leaving behind a cooling and non-greasy sensation. The absence of colorants gives the essence a clear brown tint that is true to the hue of the herb. It has a charming and calming aroma of herbs and a bit of ginger.
Sulwhasoo First Care Activating Serum comes in ceramic packaging, which feels incredibly sturdy in the palm and is also aesthetically pleasing. There is also a plastic spray nozzle that is simple to operate.
Sulwhasoo Gentle Cleansing Foam
Are you looking for a mild cleaner that also cleanses well? Go for this one. As its name implies, this cleanser is incredibly mild and helps to eliminate impurities from your skin without irritating it.
Regarding components, Dioscorea japonica Extract and Korean Chestnut Shell Extract are two standouts. These substances assist the skin in retaining moisture without drying out after washing by supplying moisture to the skin while it is being washed. Additionally, it has a wrinkle-reducing and skin-firming effect.
Amazon
$38.00
in stock
as of March 18, 2023 1:13 am
Last updated on March 18, 2023 1:13 am
Review
The product has a smooth texture, a liquid gel form, and the ability to produce a lot of foam. The foam is so creamy and silky, just like the cloud. It smells light and pleasantly like oriental herbs. However, because the pH of this product is neutral, around 6.5, it will be ideal for oily and mixed skin.
Sulwhasoo Concentrated Ginseng Renewing Cream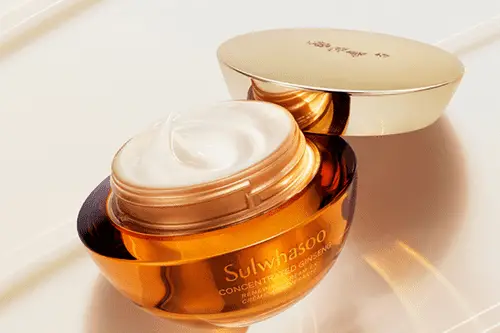 The Sulwhasoo Concentrated Ginseng Renewing Cream is the company's top-selling item and one of Korea's most well-known anti-aging creams. 
The unique characteristic of this ginseng cream that distinguishes it from other products is that ginseng extract is listed as the first ingredient. As a result, we can assume that the ginseng content in this product is exceptionally high; this is unquestionably a quality guarantee for repairing and nourishing aging skin. Additionally, it contains several potent anti-aging compounds, including Squalane, Glycyrrhiza uralensis (Licorice) Root Extract, Vitamin E, and, most notably, Retinol. This vitamin A derivative effectively reduces wrinkles by stimulating collagen synthesis.
Amazon
$52.00
in stock
as of March 18, 2023 1:13 am
Last updated on March 18, 2023 1:13 am
Review
This cream has two varieties: Cream EX for combination or oily skin and Cream Classic for dry skin. Although this cream has a somewhat thick texture, it absorbs quite effectively. It also has a slight ginseng fragrance, which is quite pleasant. 
Note: Sensitive skin should think twice before using this product because it contains oil-based chemicals and silicone, which can irritate.
Sulwhasoo Korean Mask Collection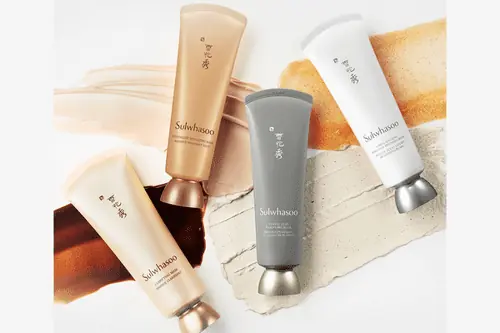 The face mask is the way to go if you're dealing with skin problems and want a quick solution. Sulwhasoo offers a variety of masks to address different skin issues, including Clarifying Mask, Herbal Clay Purifying Mask, White Ginseng Radiance Refining Mask, and Overnight Vitalizing Mask.
Clarifying Mask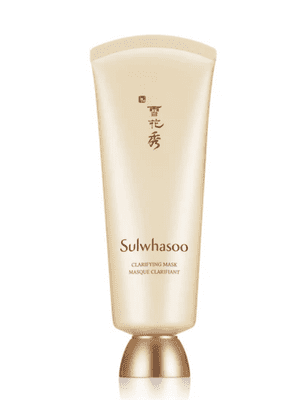 This is a peel-off mask with an elastic and cohesive structure that dries to a tight fit on the skin, helping to remove dead skin cells and other impurities. The major component of this mask is honey, a potent skin antioxidant. Honey has many important vitamins and minerals and naturally brightens skin tone.
Amazon
$45.00
in stock
as of March 18, 2023 1:13 am
Last updated on March 18, 2023 1:13 am
The collagen network under the skin is also strengthened at the same time. It will therefore aid in boosting skin elasticity. Furthermore, the product contains vitamins A, B1, B2, C, E, and so on. These chemicals nourish the skin while also successfully preventing aging.
Herbal Clay Purifying Mask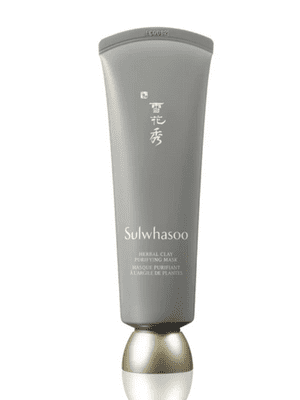 A clay mask is a must-have if you have oily, acne-prone skin and wish to decrease pores. The Herbal Clay Purifying Mask is a wash-off clay mask that features the famous Korean Traditional Herb Complex for relaxing skin treatment. The clay gently removes impurities and debris from your skin while absorbing excess oil and decreasing shine. Furthermore, the product contains PHA, which aims to gently eliminate dead cells without irritating the skin.
Amazon
$50.00
in stock
as of March 18, 2023 1:13 am
Last updated on March 18, 2023 1:13 am
The texture has a very delicate, creamy feel with tiny pieces of clay and herb powder. When applied to the skin, it is neither rough nor itchy. Even those with sensitive skin can use this because it has no aroma.
White Ginseng Radiance Refining Mask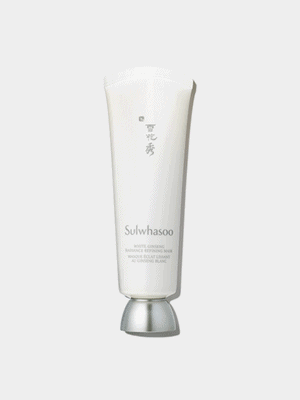 It is a wash-off mask that you apply, sit for five minutes, and then cleanse your face afterward. This product's white ginseng root is an anti-wrinkle, anti-aging, anti-inflammatory, and brightening component and can help with collagen formation. Furthermore, it contains calming and healing herbs that are excellent for pimples and other skin disorders and relieves skin irritation. What's more, honey prevents your skin from drying out and has moisturizing, antimicrobial, and humectant properties.
Amazon
$68.00
in stock
as of March 18, 2023 1:13 am
Last updated on March 18, 2023 1:13 am
The texture is golden, with powder pieces suspended in the thick jelly. And the smell! It's a Hanbang's joy, with rich ginseng and herbal accents. The jelly is smooth on the skin and does not irritate. After rinsing, the skin is soft, and silky and does not cause stripped or dryness.
Overnight Vitalizing Mask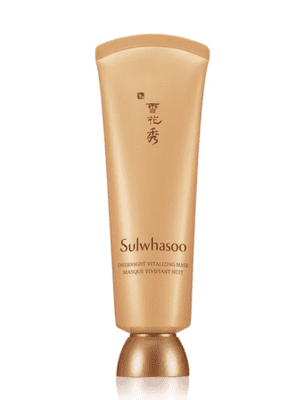 If you have dry spots or dullness on your skin or if your skin could use some extra hydration, this mask is for you. This sleeping mask pack should be used as the final step in your skincare routine at night. With ginseng, pomegranate, and walnut shell extracts, this product is anti-oxidant, anti-inflammatory, and exfoliating. Additionally, the cream will aid in moisturizing, prevent the emergence of wrinkles, and leave skin naturally brighter, younger-looking, and more vibrant.
Amazon
$54.00
in stock
as of March 18, 2023 1:13 am
Last updated on March 18, 2023 1:13 am
The texture of this mask is a creamy, slightly dense white color. Despite initial concerns that the dense texture might irritate the skin, this mask will soak into the skin after 1-2 minutes of application, leaving a thin, light hydrating coating.
Sulwhasoo Gentle Cleansing Oil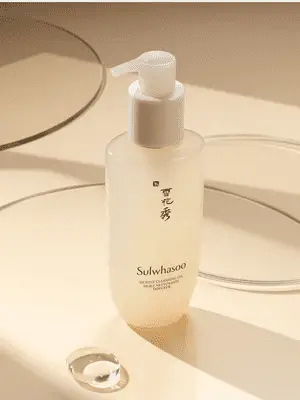 This oil-based product with coconut oil and a blend of emollients removes excess oil, makeup, and other pollutants while keeping skin balanced. This cleansing oil has a relatively liquid texture, making it simple to massage onto the face and rinse off thoroughly. It is beneficial for removing makeup from the eye area because it doesn't irritate the eyes, which is quite practical.
Amazon
$13.00
in stock
as of March 18, 2023 1:13 am
Last updated on March 18, 2023 1:13 am
This product has a herbal aroma. However, it is a little stronger than the scent of the company's other goods. Therefore, you should think carefully before using this product if you have sensitive skin.
Sulwhasoo Perfecting Cushion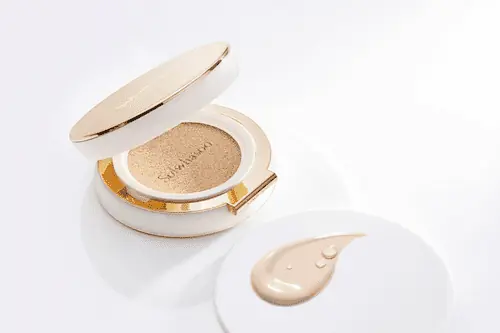 Because the Sulwhasoo brand is so well-known for its skin care products, some people may be unaware that its cosmetics are equally excellent. Sulwhasoo Perfecting Cushion is a popular and well-liked makeup item.
In general, Korea's cushions are unsuitable for usage in places with extreme heat in hot since the base is prone to melting and turning into a greasy mess. However, this cushion provides a soft semi-matte finish instead of a glowing one, which is similar to the skin but superior. While still allowing the natural skin to show through, this is sufficient to cover small imperfections and redness.
ShareASale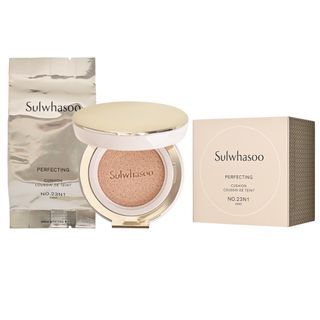 With a reasonably high coverage yet thin formula, you could apply multiple layers to achieve the desired coverage without worrying about the skin seeming overly thick and cakey. Besides, this product's color fastness is also excellent, lasting 8 to 10 hours. Sunscreen SPF50+ PA+++ protects your skin from the sun and keeps you comfortable outside.
Sulwhasoo Flagship Store in Seoul
For everyone who enjoys KBeauty, a trip to the Sulwhasoo Flagship Store is a must. The beautiful and one-of-a-kind space here will take your breath away. There are currently two flagship stores in Seoul: Sulwhasoo Dosan and Sulwhasoo Bukchon. Dosan is Korea's largest single-brand flagship store. With a modern design that is uniquely inspired by lanterns. Meanwhile, the Bukchon store is a traditional Korean home that offers a beautiful blend of tradition and contemporary.
Sulwhasoo Dosan Flagship Store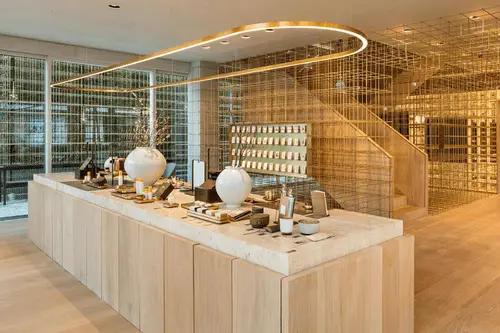 The highly esteemed Neri & Hu architectural team created the impressive six-story building. With a lantern-inspired shape and a golden leading color tone, this store is like a gigantic lamp that illuminates the entire neighborhood. It offers Sulwhasoo goods, spa services, and flagship exclusives and showcases the brand's history.
Each floor of the flagship shop is built with a different concept in mind, yet they all work together to take you on a journey through the past, present, and future, arousing the sophistication of all five senses.
Heritage Room
The Heritage Room is located on the store's first floor and features many square compartments designed to resemble a traditional medicine cabinet containing priceless and exotic herbs. Sulwhasoo's Boutique & Gift Service is located on the second level and provides elegant and trendy beauty advising and gift-wrapping services to its valued customers.
Culture Lounge
Continue to the next floor, and you'll find yourself in Sulwhasoo's special cultural space: Culture Lounge, where cultural activities and beauty lessons will be held regularly. The Sulwhasoo Balance Spa on the 4th level is a place to help balance your inner and outward mental state, with traditional herbal components bringing you to calm gradually spreading throughout the body.
Rooftop & Cafe
In particular, all paying customers are welcome at the fifth-floor Sulwhasoo Rooftop Cafe. Customers who buy Sulwhasoo's items are given coupons to the Rooftop Tea Cafe, where you may take advantage of free iced mochi and a variety of teas from the Sulwhasoo's Tea Collection in its lovely outdoor lounge with a bird's-eye view of Dosan Park.
You can look here for exclusive goods available only at this shop. You can also engage in free and paid programs and services here. Some excellent initiatives include free packaging service, guided tours, and ginseng and jade touch. Some programs have a restricted number of participants. Therefore, you must register in advance on the Sulwhasoo website (here).
Sulwhasoo Bukchon Flagship Store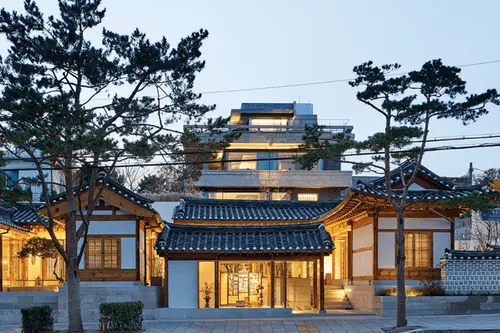 Bukchon shares a basic similarity with Sulwhasoo's ideology in its lovely and harmonious fusion of traditional and modern aesthetics. That is the motivation of the brand to continue its recent cultural campaign, "Beauty From Culture." Soon after carefully ascending the main road through Gahoe-dong and passing the royal palaces of Gyeongbukgung and Changdeokgung, you will come across a Hanok building that harmoniously integrates into the neighborhood.
Sulwhasoo Bukchon is a combination of a 1930s Hanok home with a 1960s western-style building (Yangok). Sulwhasoo Bukchon represents the Sulwhasoo brand as a modern woman who enjoys exploring classic aesthetic principles. The interior space is organized and furnished in the same manner as this woman's real home. The consumer was a visitor to a friend's home named Sulwhasoo, where they encountered content highlighting Sulwhasoo's worldview and beauty preferences.
Hanok, with the theme "Sulwhasoo's Beauty," delivers a one-of-a-kind beauty experience. You can notice the classic aesthetics that Sulwhasoo has elevated with works of craft and art. The Yangok Building's "Sulwhasoo Studio" contains a retail store and a relaxing area. You can try out the company's products, as well as some exclusive items, here. This building's second story also offers a salon and a garden where you may unwind. In addition, the Jihambo service is a unique experience that you should attempt. This paperless packing technique is wrapped in the same fabric as traditional Korean scarves.
FAQs
Is Sulwhasoo good skincare?
All of the ingredients in Sulwhasoo cosmetics are herbal and natural, making them safe and ideal for all skin types. The company's entire line of products is rigorously filtered and complies with Korean safety regulations.
Is Sulwhasoo a luxury?
Sulwhasoo is a high-end makeup brand. Sulwhasoo's products contain well-known and valuable Korean components such as rhubarb, ginseng, and red pine. Each product incorporates cutting-edge, one-of-a-kind technologies.
Is Sulwhasoo anti-aging?
Yes, because the dominant ingredient in Sulwhasoo's products is ginseng. Most often, ginseng is found in cosmetics intended to fight age. By boosting collagen and the antioxidant defense of cells, it temporarily helps slow the aging process.
In a nutshell, I sincerely hope that this information helped you learn more about Sulwhasoo and make the right purchasing decision. If you have already used Sulwhasoo products, share with us your experience.