How Do Koreans Look So Young & Best Korean Eye Cream
Even though I suggest reading the complete Korean anti-aging secret to find the best fit for your skin type, if you prefer to check the best products first, click the image below to see the reviews directly.
Do anti-aging creams work?
First, consider how skin ages. As we age, the amount of collagen and elastin that maintains the elasticity of the skin changes, causing aging. That is, the amount of collagen decreases, and the amount of denatured elastin excessively increases. This results in the skin becoming thin, losing elasticity, wrinkles, and sagging. In addition, as the number of melanocytes increases, brown spots are created making you look older. You start to look older when the collagen fibers are reduced, melanin cells are changed, elastic fibers are denatured, and the hyaluronic acid decreases. Therefore, by using anti-aging skincare products containing powerful active ingredients, you can expect collagen synthesis boost, cell turn-over cycle activation, and skin protection. This will help us regain elasticity, have lively skin, and help reduce wrinkles.
What is the best treatment for wrinkles, skin elasticity?
Collagen – Restores damaged skin barriers, protects skin problems caused by photo-aging, and helps increase elasticity.
Elastine – Provides moisture and elasticity to aging skin to restore damaged skin.
Vitamin E (Tocopherol)– A fat-soluble vitamin with excellent skin absorption, excellent antioxidant, anti-aging, and regeneration.
Retinol, Retinyl Palmitate – Retinol is a fat-soluble vitamin and retinyl palmitate is a vitamin A derivative that stabilizes the oxygen-prone active ingredient. It improves fine wrinkles, normalizes the keratosis process, and regenerates.
Superoxide Dismutase – An enzyme that inhibits activation and has excellent anti-aging effects.
Propolis – Soothes the skin, heals wounds, and has anti-inflammatory effects. It also improves immunity and contains various vitamins and amino acids that are good for metabolism.
Placenta – A placenta extract that has excellent skin metabolism and regeneration.
Allantoin _–Moisturizes, heals wounds, regenerates, and has a fine exfoliating effect.
Ginseng Extract – Contains vitamins and hormones to nourish the skin. Good for regeneration, edema, and healing of wounds.
Adenosine –Helps improve skin elasticity and wrinkles by improving cell regeneration in the dermis layer
Vitamin C – A water-soluble powerful antioxidant that promotes collagen synthesis and relieves wrinkles.
Coenzyme Q 10 – Activates the immune system and prevents antioxidants and aging.
Squalene – Increases collagen synthesis and reduces skin wrinkles.
Green Tea Leaf Extract – Among the Catechins components of green tea extracts, Epigallocatechin Gallate is a powerful antioxidant that improves wrinkles.
AHA (Alpha-Hydroxy Acid) – Consists of five fruit acids and has excellent exfoliation and skin regeneration effects 
Best 3 Korean Anti-aging Skincare Products Review
Applying a lot of anti-aging products can be a burden because of its price. Luckily, recently, in the Korean cosmetic market, a diverse range of prices for high-quality ingredients have been applied. Here are the best Korean anti-aging products that have become popular by word of mouth.
PURITO Centella Unscented Serum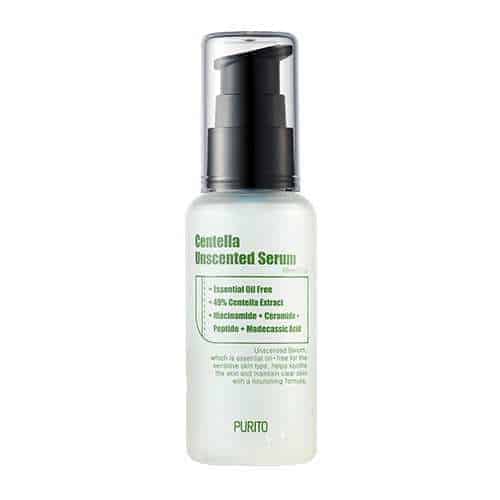 60ml
$15 ~ $16
Skin Type: All Skin Types
Ingredients
Effective for fine lines and wrinkle care as it contains adenosine and helps skin elasticity with 4 different peptide ingredients. Whitening effect with Niacinamide and Licorice Root Extract blurs brown spots such as freckles. In addition, it is an all-in-one serum. It hydrates the skin with Arginine, Sodium Hyaluronate, and soothes with calming ingredients such as Cica and Green Tea Leaf Extract.
KEY INGREDIENTS
Anti-aging: Adenosine, 4 types Peptides
Brightening: Niacinamide, Licorice Root Extract
Hydrating: Arginine, Sodium Hyaluronate, Ceramide NP
Soothing:  Panthenol, Centella Asiatica Extract, Green Tea Extract
Uses
I was looking for a moisturizing serum without irritation because I have dry and sensitive skin. Luckily, I came across a clean beauty brand called Purito. It does not flow like a toner, and it is a gel-type serum that has almost no scent. After using it for more than a week, the tightness of the skin has disappeared a lot. Especially the area around the mouth was very dry, but it has improved. It was good not only to supply moisture but also to manage concerns about elasticity and whitening at once. Also, my skin looks more lively after applying it.
Results
I am in my early 30s, so it is not clear whether this product is effective for wrinkle improvement. I do not have noticeable wrinkles yet. But it seems to be helpful for skin elasticity with excellent anti-aging ingredients such as peptide complex and adenosine. My skin became sensitive due to external harmful environments such as UV rays and makeup. Pleasantly, I could see the skin was calm due to Centella Asiatica Extract. The mild ingredients used do not irritate the skin. Plus, they fill the skin with moisture and nutrition to make the skin healthy and shiny.
Price
Anti-aging products are relatively expensive skincare products. But Purito Centella Serum is very good because it maintains a high dose in the $10 range. One of the must-buy products that I highly recommend.
Clean Beauty
Purito makes skincare products based on natural ingredients and EWG green level materials with maximum stability. The aim of this brand is to exclude bad ingredients that are not good for the body like chemical preservatives and allergens. They want to strengthen the skin's natural self-renewal power with more core extracts than purified water. With mild, hypoallergenic natural ingredients, adults with sensitive skin including children can safely use it. Purito is a representative Korean vegan-friendly, cruelty-free brand.
#alcohol-free #fragrance-free #essential Oil-free #paraben-free #sulfate-free #cruelty-free #vegan-friendly
CHECK PRICE
CosRX Advanced Snail Peptide Eye Cream
25ml
$22 ~ $26
Skin Type: All Skin Types
Ingredients
An anti-aging cream whose main ingredient is Snail Secretion Filtrate, which is well known for skin nutrition and wrinkle improvement. In addition, there are 5 different peptides and niacinamides that help improve skin elasticity and whitening. Various skin barrier strengthening ingredients such as Betaine and Allantoin smooth the skin and prevent aging.
KEY INGREDIENTS
Anti-aging: Adenosine, 5 types of Peptides
Brightening: Snail Secretion Filtrate, Niacinamide
Soothing: Allantoin, Panthenol, Arginine
Uses
Since I have dry skin, wrinkles are more likely to form so I use eye cream on a daily basis. As with many snail mucin products, I thought there would be a little stickiness. But after application, it was quickly absorbed and there was no discomfort. It has a slightly watery moisturizing cream-like texture and the moisture lasts for a long time. Also, the dark circles around my eyes seem to brighten up with continuous use. Most eye creams are heavy in balm type, but Cosrx eye cream is moist like a moisturizing serum. It is not heavy even if applied in the morning before makeup. It is good to use in the morning and evening. Whitening, elasticity, and fine wrinkles all seem to be effective, so I am very satisfied with using them.
Results
A total eye care cream that contains snail mucus filtrate and 5 peptides. Providing nutrition and elasticity to the skin around the eyes to brighten the dull eye area. Rich moisturizing ingredients revitalize rough and tired skin, care for wrinkles around the eyes, and moisturize. It contains adenosine, a wrinkle-improving functional ingredient, to help maintain elastic and vital skin. Also, I liked the hygienical pumping container for the sensitive eye area. A small amount is enough to moisturize the skin around the eyes.
Price
Anti-aging product in the $20 range. It is a pity that it has a small capacity of 25ml. It's a lighter type than a normal eye cream, so it feels like it's used faster.
Clean Beauty
Cosrx is a Korean skincare brand that is loved by overseas users. They use skin-friendly ingredients that help to relieve irritated skin. The brand slogan is hypoallergenic skincare for sensitive skin. They make a lot of products that are good for oily and acne-prone skin.
#alcohol-free #fragrance-free #essential Oil-free #paraben-free #sulfate-free #cruelty-free
CHECK PRICE
Benton Fermentation Eye Cream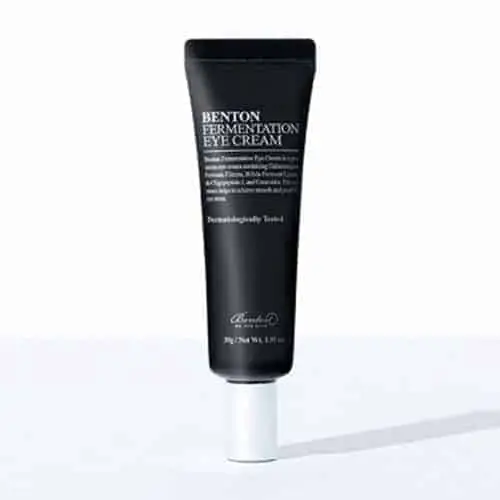 30g
$18 ~$27
Skin Type: All Skin Types
Ingredients
An eye cream that focuses on improving elasticity and whitening. Bifida Ferment Lysate and Glacatomyces ferment filtrate are used, the same as those used in Estee Lauder's best-selling ampoule. In addition, it is a product filled with moisture with Beta-Glucan and Sodium Hyaluronate. Also, ingredients such as Allantoin and Panthenol are added to strengthen the skin barrier. However, fermented ingredients can sometimes cause irritation on sensitive skin, so it is best to test in advance.
KEY INGREDIENTS
Anti-aging: Adenosine, Oligo peptide-1,
Brightening: Bifida Ferment Lysate, Glacatomyces ferment filtrate
Soothing: Aloe Barbadensis Leaf Extract, Allantoin, Panthenol, Beta-Glucan
Hydrating: Sodium Hyaluronate, Arginine
Uses
Although it is an eye cream, it is lightly absorbed and I can apply it all over my face. It does not leave any residue on the skin. It can be used every day for daily use and I like that it does not slip when applying makeup. Since there are no harmful ingredients, it is easy to apply and I have been using it without any problems. Because it is a fermented filtrate, the natural exfoliating effect makes the skin texture smoother and brighter. A product that is being used consistently as a preventive measure rather than a dramatic wrinkle improvement. I can see that my skin definitely improved.
Results
Galactomyces, which are rich in vitamins and minerals, changes dull skin tone to clear skin. Bifida helps to keep the skin supple and clear by providing moisture and nutrition to vulnerable skin. It also increases skin immunity by supplying vitamins, minerals, and oxygen to the skin. Ceramide NP, a skin-friendly ingredient, protects the skin from external harmful environments. Also, it helps the skin retain moisture better by creating a healthy and strong skin environment. It contains excellent ingredients for moisturizing, elasticity, and oil-water balance, providing nutrition, moisture, and elasticity while arranging the skin texture.
Moreover, it contains adenosine, a wrinkle-improving functional ingredient, to help smooth and elastic wrinkle management. In this way, fermented ingredients and ceramide NP are absorbed into the skin. It provides a bright and radiant skin that fills up from the inside out. In addition to the eye area, elastic care is possible by using it on areas that need wrinkle improvements such as the nasolabial fold and neckline.
Price
Affordable yet effective eye cream that can be purchased for as low as $10 depending on online shopping stores.
Clean Beauty
Benton, a clean beauty brand, contains the heart to restore the natural health of the skin. They use natural ingredients rather than the temporary effects caused by chemical ingredients. A brand with a slogan of healthy skin care that restores the skin's natural power without worrying about sensitive skin. With the principle of excluding harmful and controversial ingredients from all products to make healthy skin.
#alcohol-free #essential oil-free #paraben-free #sulfate-free #fragrance-free #clean-beauty
CHECK PRICE
How can I stop my face from aging?
Aging is a natural phenomenon, but it is everyone's wish to slow it down as much as possible. UV rays, pollution, smoking, alcohol, stress, etc. accelerate the aging of skin cells. In addition, active oxygen from chemicals and extreme exercise attacks and destroys cells, causing cell aging. In particular, photo-aging is a skin aging phenomenon observed in parts of the face, neck, back of hands, and arms. It is better to apply a blocker with this. Carrying a parasol, wide-brimmed hat, or long-sleeved clothes also helps to reduce UV exposure.
Also, it is better to avoid smoking. It causes wrinkles due to nicotine-induced problems and decreases the oxygen supply to the skin. When the skin temperature increases due to heaters and saunas, the skin cells are affected and the collagen synthesis in the skin is reduced, which causes aging. It can be a way to slow the progression of aging while maintaining health. In addition, proper exercise, adequate water intake, intake of antioxidant foods (fresh vegetables, fruits, etc.), and adequate stress control can also prevent aging.
When should you start using anti-aging cream?
Before asking this question, you should think about whether your skin is 'Aging' right now. In the past, it was said that we should use an eye cream from our mid-20s, but unfortunately, our environment got worse. The pollution has increased, the intensity of ultraviolet rays has increased, and the reality is that it is filled with powerful electromagnetic waves that cannot be detected. If you want to look younger than your age, you have to diligently take care of yourself. However, many people say that using high-performance anti-aging cosmetics from the age of 20 is bad because the skin becomes resistant, but experts say it is better to use anti-aging products early. What am I supposed to do?
The earlier the anti-aging management, the better
Using anti-aging products with naturally derived ingredients rather than chemical ingredients that cause tolerance may be the answer. If you manage it according to your age and skin type, you can get a better effect. If you are active outdoors, use a product with a sunscreen function, or if you are still in your early 20s, it is effective to prevent skin aging with a product with an antioxidant effect. The reason that makeup starts to look unnatural as the skin becomes dull and rough is that the skin turnover cycle becomes longer as you get older. Use products containing fruit-derived natural ingredients. The skin regeneration cycle is accelerated to remove dead skin cells and soften the skin to give vitality to dull skin.
Get Latest News & Coupons for K-beauty Products
You may also like:
Disclosure: This post contains affiliate links. Clicking those links before you shop means that best k-beauty receives a small commission. Please see my full disclaimer for more information.