In this day and age, It's amazing how much Skincare technology has developed and continues to evolve. Sadly with an endless supply of products, many brands are guilty of profiting off the wide-spread ignorance in the Skincare community. They charge exponential amounts of money on products that are just 'simple' and overload them with potentially sensitizing ingredients such as fragrance or essential oils. As much as I love Simple skincare for days when my skin needs a refresh, Introducing a few extra actives into your routine could really help boost your desired outcome. Now, let me guide you best active ingredients for skin care!
Best Active ingredients for skin care
WHAT ARE ACTIVES?
Each Skincare product contains a different amount of ingredients, each with a different purpose. For instance, products can include Preservatives, Hydrators, Occlusive ingredients, Fragrance etc. Among them, actives are the ingredients that signal our cells to do something specific. Whether it be brightening the complexion, reducing wrinkles, or controlling sebum, Actives are what help us get closer to those desired results. 
Get Latest News & Coupons for K-beauty Products
POPULAR ACTIVES
Here are some of the most common active ingredients you'll find in your products:
AHA
Firstly, AHA's are a water-soluble chemical exfoliant derived from fruit or milk. They help loosen the dead skin cells from our top layer of skin, aiding our skins turnover process. During the turnover process it helps reduce the appearance of pores, fine lines, and hyperpigmentation. Also, It stops the excess build-up of oil and dead skin which could cause acne. 
Common AHAs:
Glycolic Acid, Mandelic Acid, Lactic Acid, Tartaric Acid, Citric Acid.
Benefits:
Skin Resurfacing  
!TIP Certain AHA's are known to penetrate deeper than others. For Sensitive skin I recommend using Lactic or Mandelic acid.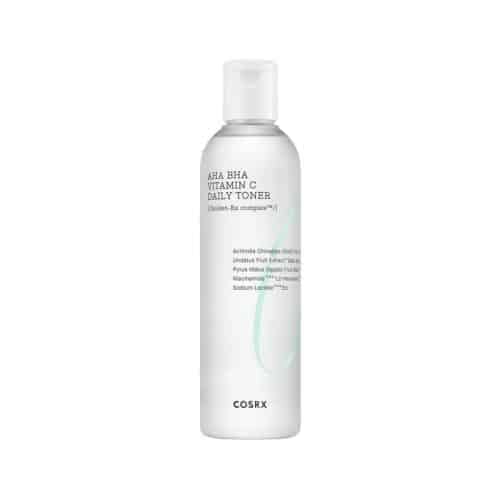 COSRX Refresh ABC Daily Toner (AHA BHA Vitamin C)
Ideal for oily skin
Ingredient Safety by EWG:
3 ingredients are moderate hazard scores
BHA
Secondly, BHA's are also a Chemical exfoliant but unlike AHA's they are oil soluble. Not only this allows them to penetrate deeper into the pores but it also eliminates any excess sebum/bacteria that cause breakouts, blackheads, and whiteheads. 
Common BHAs:
Salicylic Acid, Willow bark extract (Salycylic Acids natural derivative) 
Benefits:
Anti-Bacterial, Pore cleaning, Anti-inflammatory 
COSRX BHA Blackhead Power Liquid
Ideal for oily skin
Ingredient Safety by EWG:
2 ingredients are moderate hazard scores
VITAMIN C
Thirdly, Vitamin C is an extremely popular ingredient, and for good reason. It promotes brightening as well as building collagen in the dermis layer of our skin. This results in a more youthful look. As much as its benefits are amazing, creating a stable product with the pure form of Vitamin C (L-Ascorbic acid) is hard to get right. I have often tried products that have burned and left my skin red. For sensitive skin, opt for a lower concentration or products formulated with derivatives such as Tetrahexyldecyl Ascorbate, Ascorbyl glucoside, Magnesium ascorbyl phosphate.
Benefits:
Anti-oxidant, Brightening, Builds Collagen
!TIP Vitamin C products can be sensitive to light and expire quickly. If your product has turned dark brown then It's no longer effective.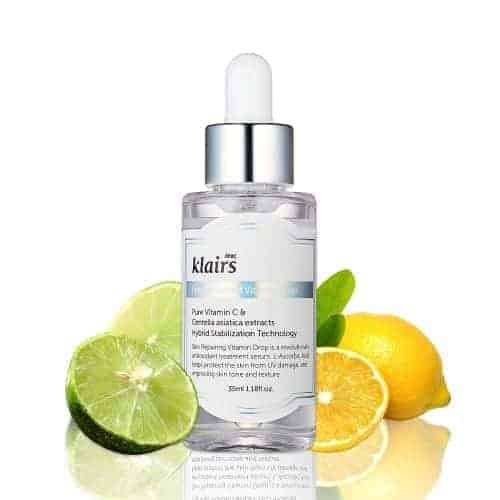 KLAIRS Freshly Juiced Vitamin Drop
Ideal for dry, normal skin
Ingredient Safety by EWG:
3 ingredients are moderate hazard scores
NIACINAMIDE
Further, Niacinamide is an ingredient highly praised in the skin care community. It's a nutrient found in our body that has multiple benefits such as Brightening, Tightening the pores, and Repairing our skin barrier. Unlike Vitamin C however, It is much more stable and tolerated by sensitive skin. 
Benefits:
Brightening, Repairing the Skin barrier, Hydrating, and Balance Sebum production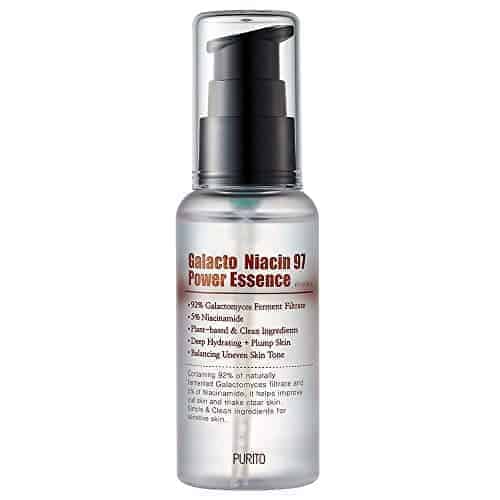 PURITO Galacto Niacin 97 Power Essence
Ideal for dry, normal skin
Ingredient Safety by EWG:
All ingredients are low hazard scores
RETINOL
What's more, Retinol is an extremely potent and strong ingredient that solves a plethora of concerns. It's derived from Vitamin A antioxidants and is excellent at increasing our skin's cellular turnover rate. However, Retinol can be extremely irritating and drying. It is why you won't find retinol products in the Korean Skincare industry unless it is prescribed or used in treatment. In extremely low percentages, Retinol is best for more mature or acne-prone skin but I would first recommend consulting a dermatologist or aesthetician. 
As I mentioned before, due to its irritating nature you won't find retinol products on shelf in Korea. Alternatively, you'll find a huge selection of products containing ingredients such as snail secretion filtrate. Snail secretion is known to have similar effects to retinol without the irritating components. In addition, Another popular retinol substitution is tamanu oil (Found in the second recommendation). This is an amazing skin-regenerative ingredient great for removing hyperpigmentation. But, if you have sensitive skin reacting natural oils, please do a patch test before using it.
Benefits:
Skin Rejuvenating, Anti-Aging, Anti-Bacterial
PRODUCT RECOMMENDATION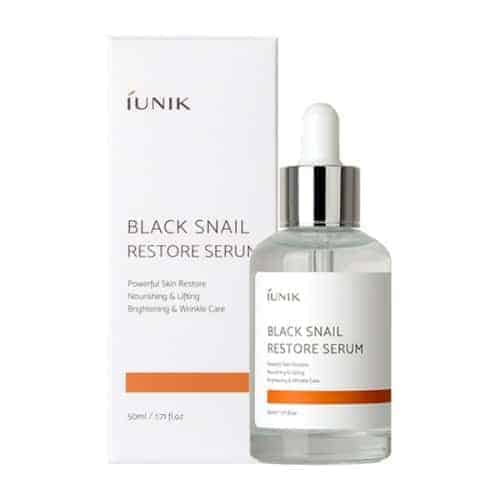 IUNIK Black Snail Restore Serum
Ideal for dry, normal, oily skin
Ingredient Safety by EWG:
Most ingredients are low hazard scores except Licorice Root Extract is a moderate hazard (data limited)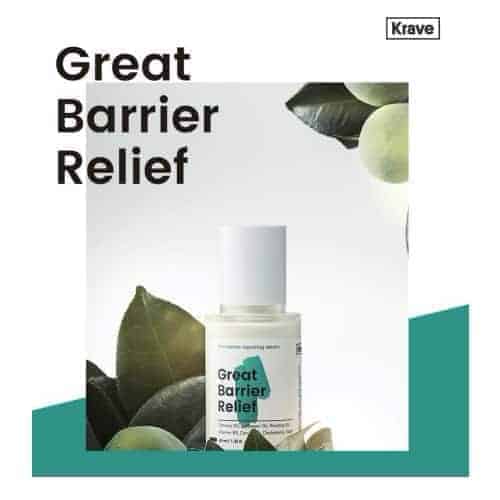 HYALURONIC ACID
Lastly, Hyaluronic acid is another popular ingredient, tolerated by most skin types. It draws in moisture from the air into the skin, making the skin hydrated and plump. However, Hyaluronic acid isn't the best ingredient for people who live in dryer climates. Due to the lack of moisture in the air, there's a risk of drawing moisture from your skin, drying it out. 
Benefits:
Hydrating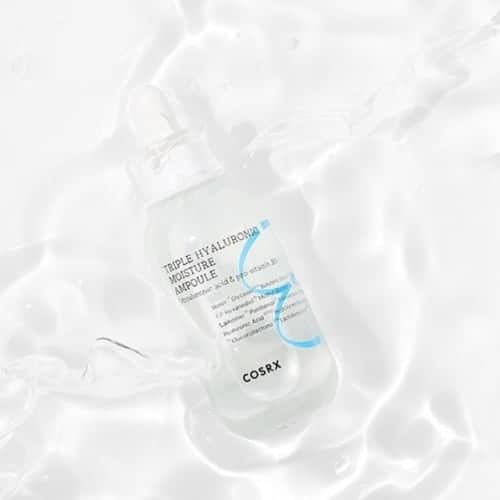 COSRX Triple Hyaluronic Moisture Ampoule
Ideal for dry, normal, sensitive skin
Ingredient Safety by EWG:
All ingredients are low hazard scores
CAN I LAYER ACTIVES?
After reading all about the amazing benefits the best active ingredients for skin care can bring, you may be tempted to go out and try everything. Before you do, It's good to note that mixing too many actives can increase the skin's sensitivity, lead to irritation or damage the skin barrier. Especially for those with sensitive skin. Therefore, I would strongly recommend sticking to one active at a time. If you must mix then opt for using one in the day and the other at night.
Another alternative is to use products that are formulated with multiple actives inside. This way, the product has been tested for stability and the concentrations of each active are well balanced. 
ACTIVES THAT WORK WELL TOGETHER
Actives such as Niacinamide and hyaluronic acid are well tolerated by the skin and can, therefore, be paired with other actives. Niacinamide in particular, is known to help reduce irritation and can, therefore, be useful when paired with other potentially irritating actives. 
HOW TO INTRODUCE ACTIVES INTO YOUR ROUTINE?
Finding actives that work for your skin isn't always easy. Depending on the concentration of the active or even how they work with our skin's natural pH, Active ingredients can be irritating especially for sensitive skin. So before slathering a high concentrated serum all over your face, Let me show you a few precautionary steps to decrease the risk of irritation: 
1. PATCH TEST
One way to check how your skin will react with a product is by patch testing. To patch test, simply apply a small amount of product onto your wrist or behind the ear, and leave on overnight. If you see any signs of irritation in the morning then either you applied too much or, this product just isn't for you. 
! TIP Otherwise, you can apply a bandaid or hydrocolloid patch over the test area to make sure there are no external factors affecting the results. 
2. SLOWLY BUILD UP TOLERANCE
A lot of products containing potentially irritating ingredients recommend building up the skin tolerance. This means you should start using a product once or twice a week before slowly building up to more. (Make sure to check the directions of use.)  Moreover, this allows the skin to get used to an ingredient and decreases the risk of irritation. 
3. FIND INGREDIENTS THAT WORK WITH THE ACTIVE
Products containing active ingredients for skin care are often formulated with other ingredients that reduce irritation. For example, Vitamin A (Retinol) is known to be drying and can, therefore, be paired with hydrators such as hyaluronic acid or ceramides to counteract the drying side effect. Look for calming ingredients such as Cica or Green tea that help soothe the skin. 
4. LESS CONCENTRATION
If your skin is on the sensitive side, then It may be better to opt for active ingredients with a lower concentration. Actives inside a toner or essence tend to be weaker than those in serum. This also allows you to layer product without it being overly heavy for the skin. 
5. DON'T TEST MULTIPLE PRODUCTS AT THE SAME TIME
As much as I love buying new products, testing multiple products at the same time has often left my skin irritated, without knowing the cause. Consequently, It's hard to tell if one product is the problem or If two products just don't match well together.  
6. WEAR MOISTURISER AND SPF
A lot of active ingredients for skin care can increase the skin's sensitivity to the sun. That's why it's important to wear moisturizer and SPF throughout the day. 
YOU MAY ALSO LIKE
Disclosure: This post contains affiliate links. Clicking those links before you shop means that best k-beauty receives a small commission. Please see my full disclaimer for more information.