It's skincare review time with one of the hot items of MISSHA – Time Revolution Artemisia Treatment Essence. It has a powerful healing ingredient called Artemisia or Mugwort.
MISSHA has evolved into a global K-beauty brand centered on the voices of its customers. They supply the most remarkable components that focus on essence and function. It gives excellent outcomes until the very end, with effects-focused substances containing only the necessary substances.
Now, let's dive into the Missha Time Revolution Artemisia Treatment Essence Review.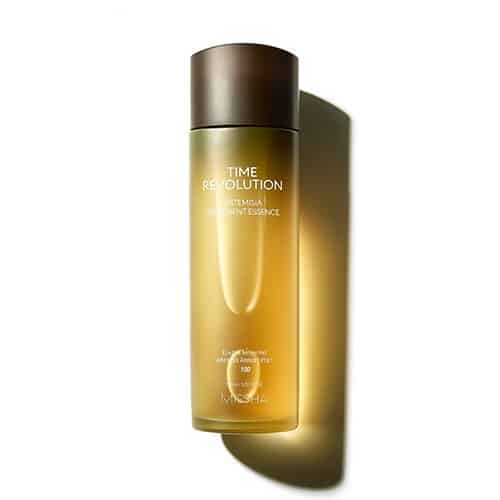 Missha Artemisia Calming Essence Review
About My Skin
For your assistance, while you read this product review, let me give you a little history of my skin.
My skin condition: prone to blackheads and whiteheads, especially on my nose and chin; few wrinkles on my forehead, random breakouts, and dull face moments, especially when I don't get enough sleep or it's that time of the month, a.k.a, menstruation days. 
To call it fancy, I have shiny skin; in reality, I have a combination of oily and dry skin. After several hours, I tend to have a shiny face, especially in the T-zone area. 
I'm hesitant to use several skin products since it's frustrating to have acne breakouts. I frequently wish that acne won't be a problem for anyone forever.
When I want to add a new product to my skincare, I research and read genuine reviews, for instance, the Missha Time Revolution Artemisia Treatment Essence. I was eager to try it due to the tons of 5 stars reviews I saw, and I am thrilled I did.
Highlight Ingredient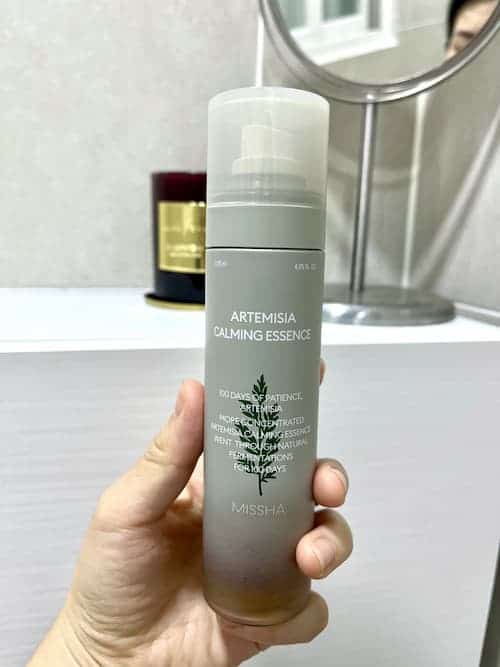 It may be doubting, but Missha's Time Revolution Artemisia Treatment Essence is a mainly one-ingredient (100%) product made from twice fermented Artemisia Annua Extract from Ganghwa Island 강화도, a West Sea island off Korea's west coast.
Is it not intriguing how a one-ingredient product can do so much for your skin? I bet you want to know.
Two rounds of natural fermentation, once at a warm temperature and twice at a cool temperature, strengthen the Artemisia extract.
It rises on Korea's Ganghwa Island in the fresh sea breeze, mineral-rich soil, and brilliant sunlight. This substance aids in the restoration and healing of irritated and sensitive skin. The anti-bacterial and anti-fungal qualities can help treat skin blemishes, irritations, and inflammatory diseases.
Uses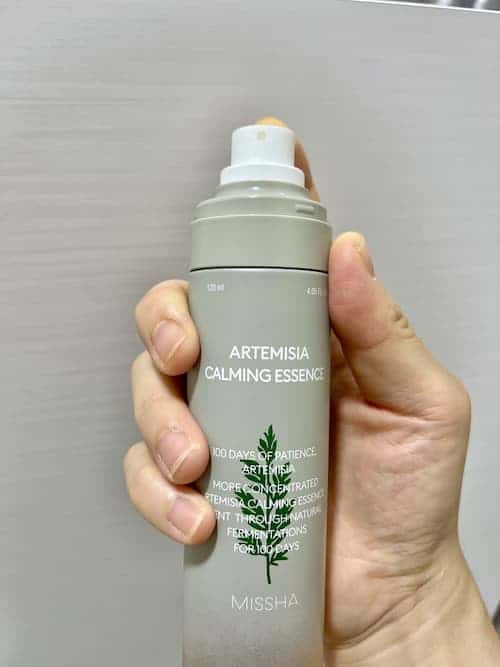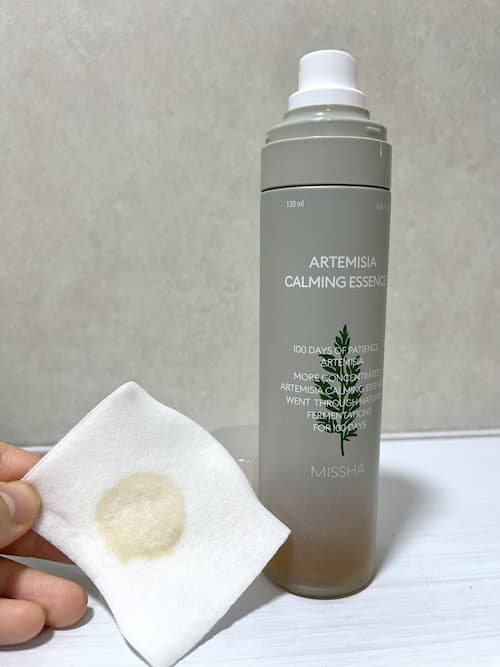 My first impression of this essence was that it has a slightly greenish formula and water-like texture close to toner type rather than essence or ampoule. So It absorbs very quickly and is very easy to double layer which makes my skin hydrated without stickiness.
Also, the scent is so pleasing natural and mild, and intoxicating and not due to added fragrance. It's faint which is great because I am sensitive to strong smells.
The best thing about using this essence was that I didn't get any breakouts, redness, or irritation. When you have sensitive and irritated skin, it is beneficial to use a product like this with a relatively short formula. It helps you to restrict interactions with potentially irritating chemicals. A simple ingredient list is the best for whom has a sensitivity to the skin.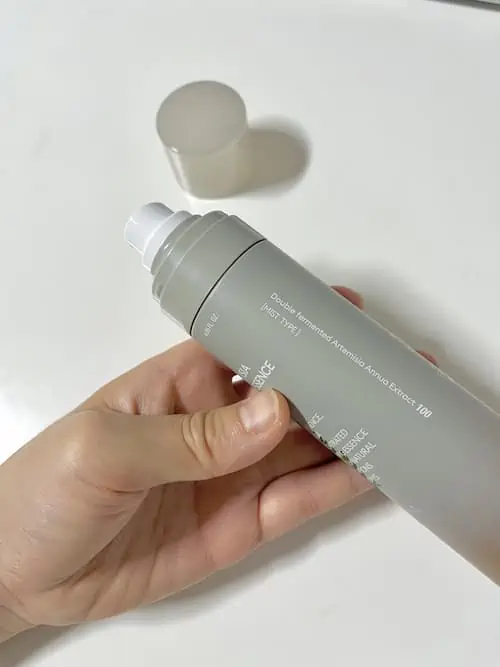 It is safe to use in the morning and night, depending on your preference. I use it after my cleanser to serve its purpose as an essence. It helps in balancing and bringing back moisture after cleansing.
Lastly, the packaging is gorgeous as well so it will look impressive on your shelf! haha
How to Apply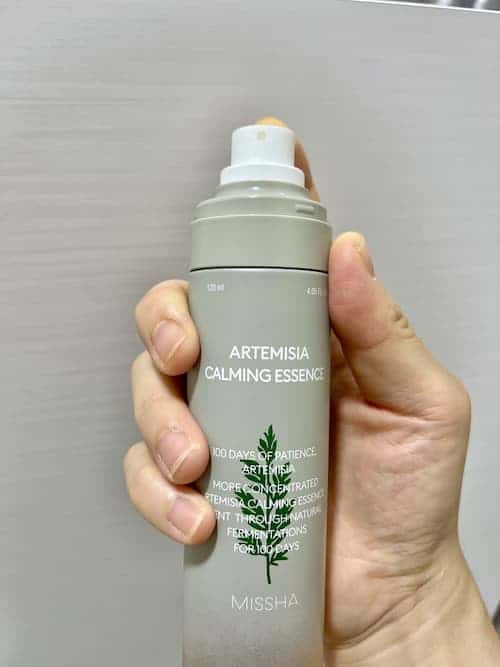 As I bought the new version mist type of Missha artemisia calming essence, I spray it on my face and then lightly tap tap tap it. It helps in absorbing. Be careful not to overly tap your face if you do this too! (I preferer saying tap sometimes with a matching tone than pat) 🙂 .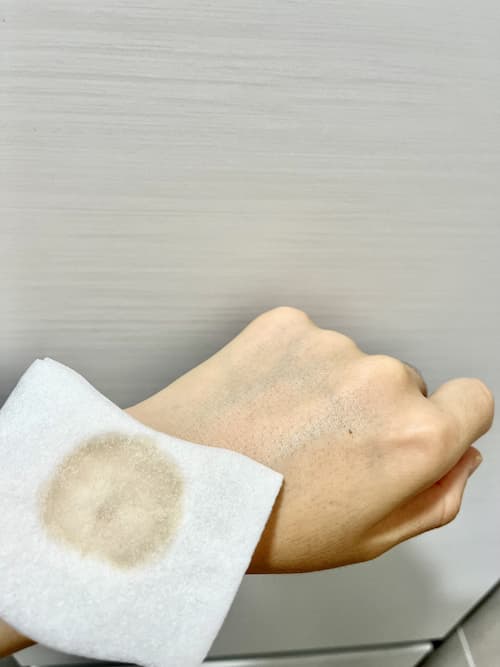 Contrastingly, when your skin is sensitive, dab a couple of cotton pads with essence, then wipe the cotton pad lightly along the texture of your skin.
I only use it at night since I prefer not to put several products on my face during the mornings.
Tip: If you have multiple skincare steps, make sure to pause in between to let your skin absorb every product you put in.
The Result
Due to its highly liquid nature, it is a refreshing product that my skin consumes. It has a delicate herbal aroma that is neither overpowering nor unpleasant. It may not be for you if you don't like herbal scents.
My top three results upon using it: it is hydrating, provides soothing benefits, and helps to keep the moisture in my skin. I can feel the moisture when I wake up and when I look in the mirror, I can see the shine.
The fermentation process boosts the mending action of Artemisia Annua, which already has a naturally relaxing and calming effect!
Definitely worth the price. If you're like me with occasional irritation/breakouts/redness, this is a must-have!
Price
Time Revolution Artemisia Treatment Essence costs slightly more than the brand's other essences, but I can say that it lasts for several months.
It is primarily sold online. Depending on the shop and special sales, the 150ml price ranges between US$30 to US$40.
Amazon
$25.00
in stock
as of January 18, 2023 10:13 pm
Last updated on January 18, 2023 10:13 pm
ShareASale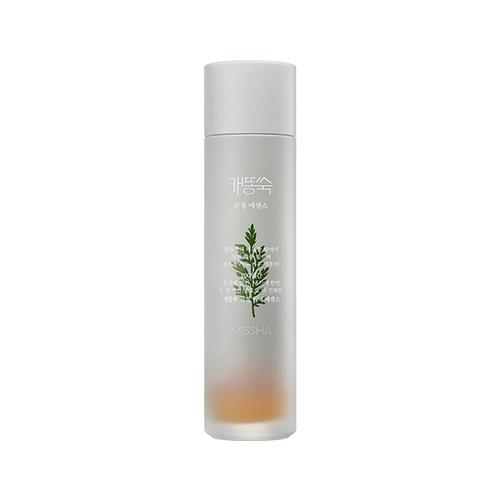 ShareASale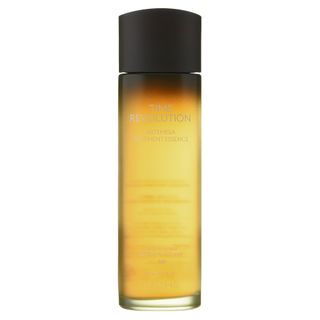 Final Verdict
Missha Time Revolution Artemisia Treatment Essence is a great product to add to your skincare routine. It can be a little longer to absorb in the skin, but there is no sticky feeling. It has a pleasant herbal scent of artemisia extract used in the product.
One of my favorite parts of this essence is it has anti-bacterial, anti-inflammatory, anti-fungal, and antioxidants that aid oily and dry combination skin with acne-prone skin like mine.
Time Revolution Artemisia Treatment's lightweight and concentrated essence effectively delivers moisturizing, calming, and brightening characteristics to aid skin restoration and healing. Skin that is sensitive, inflamed, or acne-prone can safely use this product.
But of course, it is better to know your skin type or consult your dermatologist when adding new skincare to your list.
About the Brand
MISSHA develops formulas and solutions based on current trends in the rapidly expanding Korean beauty product market, emphasizing delivering impacts and outcomes.
Their beauty solutions achieve the ideal effects you seek until the last drop by curating and sourcing high-quality ingredients.
Using its unique absorption technology, they thoroughly tested the effects and safety of their carefully selected components and products.
More or less than 10 million customers worldwide adore MISSHA because it creates effective products based on their wants and needs, delivering appropriate solutions that reflect their ideas and worries.
According to its website, the Time Revolution product line was picked by over 10 million clients.
Reminder: My experience with Missha Time Revolution Artemisia Treatment Essence may not be the case for you. Always research and consult a dermatologist if possible and if you have an extra budget.
Thus, it's not wrong to try something new in your skincare. You'll never know; it can be the best skin decision ever made!
You may also like: