My favorite product in my skincare routine HAS to be toner. It's refreshing, simple, and easy to use with some splash and dab on the face. Whether morning or night, toner is a mandatory step in my routine, as it helps 'wet' and prepares my skin after cleansing for the next products. I'm excited about today's skincare review, which is about the ISNTREE Green Tea Fresh Toner!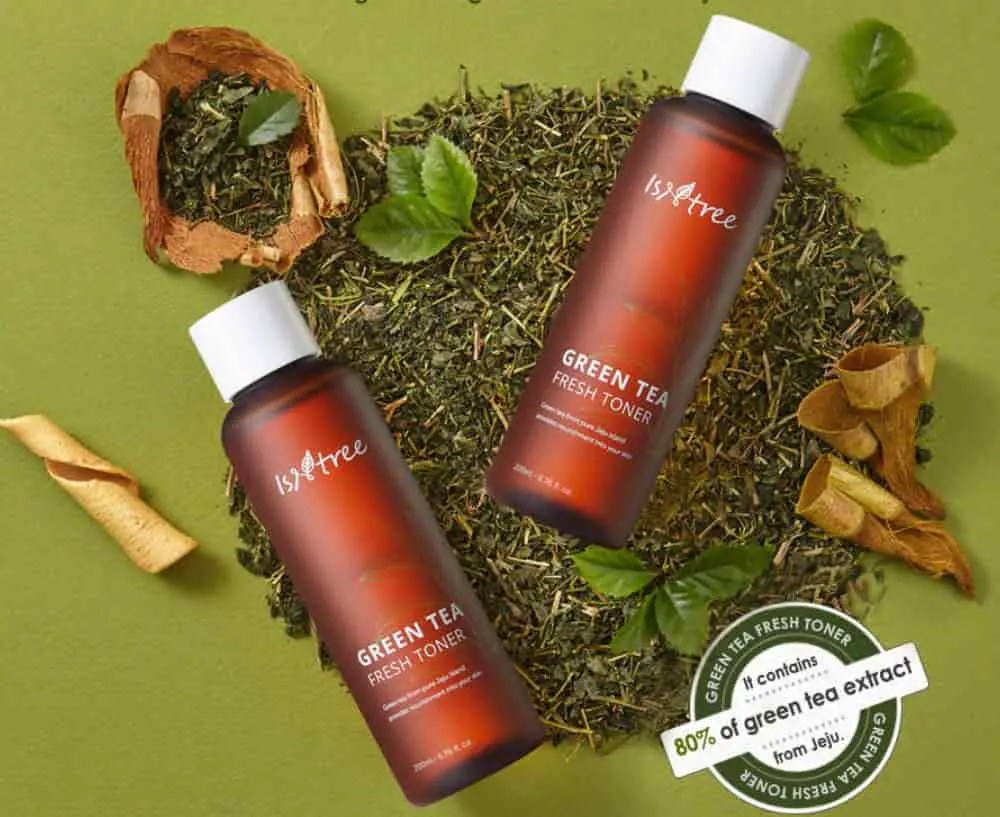 As a green tea lover, this toner caught my interest as it claims to contain 80% of Jeju green tea extract, which helps with skin texture and hydration. Plus, the texture is lightweight to maximize absorption and is specially formulated for oily skin. 
"It relieves stress of the skin with fresh green tea leaves harvested in Jeju. Green tea leaves contain amino acids, minerais, polyphenol and protein in abundance and give life and vitality to the skin, keeping your skin healthy." – ISNTREE Official Website
Without further ado, let's check out my in-depth review of this product!
About My Skin
A bit of disclaimer before we start, all of us have different skin types, so do take this review with a grain of salt and adjust it to your skincare needs. I have an oily-sensitive skin type, which can be super oily when sweating and dry around my nose and lips if I forget to hydrate my skin well. Also, as someone who wears daily makeup, my pores tend to get clogged after a full foundation makeup. During cold times, or if I holed myself in my room for too long, the skin around my nose and lips creases and becomes flaky and irritated. I also can't help but scratch them (I know I shouldn't, but, well…), making them more red and itchy. 
Chemical products like AHA and BHA also don't work too well on my sensitive skin. Sometimes when I'm trying out a new product, especially those with a harsh exfoliator, it's a guarantee that I'll get a breakout days after. Because of my oily-dry-combination sensitive skin, I mostly gravitate to natural and gentle products to minimize side effects. 
As for toner, I usually choose a lightweight toner that absorbs well and quickly, so it doesn't make my skin greasier. One major reason I love this ISNTREE toner is its airy formula and anti-sebum properties that hydrate the skin but don't leave it oily. 
Highlight Ingredients
As the name implies, the main ingredient in this toner is green tea extract from Jeju Island. It's said that the green tea harvested in Jeju grows on basaltic soils with natural bedrock water. This results in higher-quality green tea. The extract contains Vitamin C six times that of green grapes for a brightening effect. Moreover, tannin is great as it removes toxins and sebum.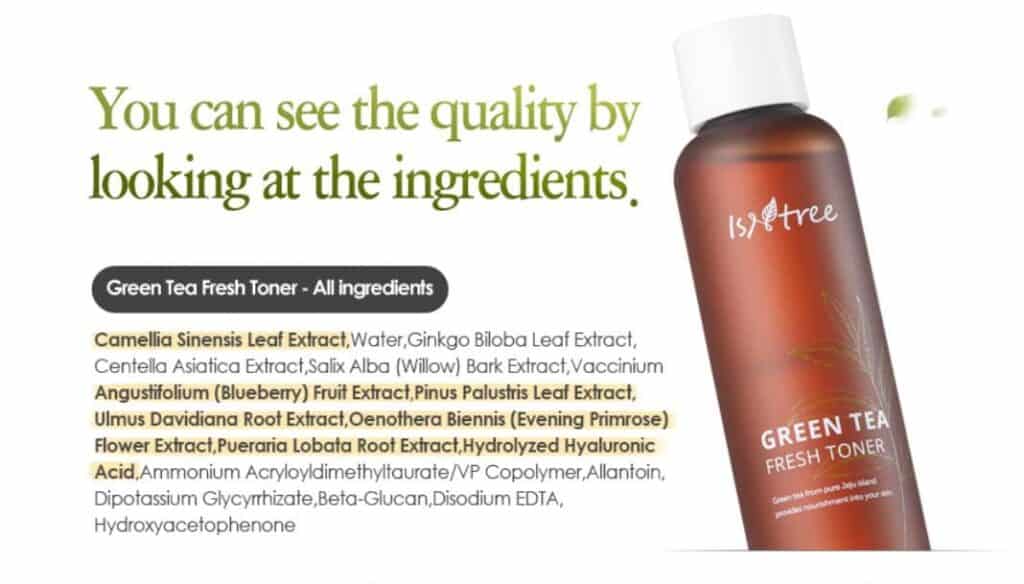 As stated on their official website, the camellia sinensis leaf extract(green tea) helps relieve stress with their main ingredients:
Centella Asiatica (reinforces skin barrier),
Hydrolyzed-hyaluronic acid (supplies moisture),
Blueberry Fruit Extract (treats skin stress from external pollutants),
Allantoin (soothes sensitive skin),
Beta-glucan (natural moisturizing ingredient),
and various other plant extracts such as Pinus Palustris Leaf Extract, Ulmus Davidiana Root Extract, Oenothera Biennis (Evening Primrose) Flower Extract, Pueraria Lobata Root Extract, Anti-Sebum P(HD), which can help reduce excess sebum on the skin.
The toner is also ranked extra safe (1-2 rating) by the EWG organization for its clean and organic formula. This product is free of parabens, pigment, artificial fragrances, animal ingredients, surfactants, mineral oil, alcohol, silicone, and fragrance.
Full ingredient list:
Camellia Sinensis Leaf Extract, Water, Ginkgo Biloba Leaf Extract, Centella Asiatica Extract, Salix Alba (Willow) Bark Extract, Vaccinium Angustifolium (Blueberry) Fruit Extract, Pinus Palustris Leaf Extract, Ulmus Davidiana Root Extract, Oenothera Biennis (Evening Primrose) Flower Extract, Pueraria Lobata Root Extract, Hydrolyzed Hyaluronic Acid, Ammonium Acryloyldimethyltaurate/VP Copolymer, Allantoin, Dipotassium, Glycyrrhizate, Beta-Glucan, Disodium EDTA, Hydroxyacetophenone
Uses
The ISNTREE Green Tea Fresh Toner is specially formulated for oily and blemished skin types. It reduces excess sebum and relieves irritated skin from external pollutants. The 80% green tea extract and other organic ingredients are safe for sensitive skin. Depending on your routine, it can be applied in the morning or night. The watery consistency is easy to handle and gives a refreshing light feeling instead of a heavy gel-like consistency. 
Package:
Like other ISNTREE products, the brand retains a minimalistic design with its packaging. There is no pump, so you can just pour the content out from the tip.
Texture & Scent:
As for the formula itself, it's just as it claims to be, very lightweight with a watery texture. The liquid is transparent brown from the green tea extract. It looks and smells exactly like tea which is very cool to me as I enjoy tea. But it can bother you if you don't like a strong scent. A heads up before you buy!
The checkpoint is that the color of Green Tea Fresh Toner may look dark due to the tannin contained in green tea. This is a natural phenomenon of green tea with high purity, and there is no problem with the product. Since green tea produced may differ every year, the color of Green Tea Fresh Toner may change.
How To Use
ISNTREE also provides the correct step-by-step instruction for this toner so you can maximize all the benefits. Check it out:
After washing your face, take a moderate amount of the product on a cotton ball.
Wipe the skin with the cotton ball along the skin texture.
Tap the skin slightly to let the product absorb.
Tips:
Soak a cotton ball with Green Tea Fresh Toner and place it on the skin area requiring a soothing effect. It is great to use as a soothing pack.
The Results
I don't really recommend it if you're looking for a strong moisturizing toner, as it can absorb pretty fast. The toner is watery and is aimed at oily skin. If you want to give this a chance, I suggest putting it in a spray bottle like a mist type. It will be great to reapply it throughout the day. It's also more convenient and travel-friendly like that. Furthermore, I don't use cotton when applying because I feel it will waste the product. I just pour some on my palm and dab it on my face. 
I use this as a mask by soaking some cotton pads and placing them like a sheet mask. And let me tell you, the sensation is heavenly! My face feels plump, refreshed, and calm. Worth to try if you want extra hydration. You can also use it on inflamed areas around the nose and cheeks to soothe the itching. 
Since green tea also has anti-bacterial properties, it helps with little pimples around my forehead. But if you have a bigger pimple or a breakout, you can try the cotton pad technique above. It will help with the redness as it gives a cooling sensation.
Price
The price depends on where you buy and the range is from USD 11 to USD18. The bottle is pretty huge for a toner with a 200ml volume. Very affordable clean toner! It lasts me for about 3 months with daily usage. 🙂 Check the prices below!
Final Verdict
If you have a similar skin condition as me and don't like a heavy and sticky toner, then you should definitely try this ISNTREE Green Tea Fresh Toner. It's good and safe for oily, combination, and acne-prone skin. However, if you have super dry skin and need a boost of hydration, don't use this toner alone. Apply another layer of moisturizer like a cream or gel. The ingredients are all organic and free of harsh chemicals, so don't be worried about your sensitive skin! But a tip from me, do test the product on your wrist first to avoid any allergies or side effects.
Overall, worth the hype and worth trying!
About the Brand, Isntree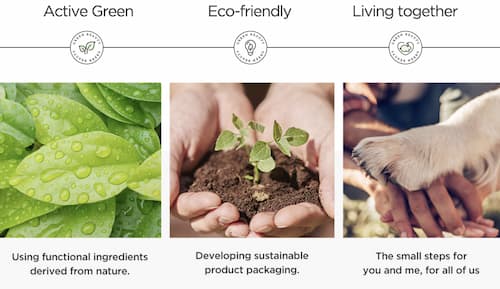 Official website: https://en.isntree.com/
ISNTREE is a clean Korean green-beauty brand that focuses on safe ingredients for the skin. They contain true effects by researching the optimal combination of natural and functional ingredients. Also, they use local green ingredients and exclude over 2,000 incompatible ingredients to deliver the best nature-derive essential formula. Moreover, they renewed their packages using recycled paper certified by the FSC and printed with soy ink.
Isntree Bestsellers:
Amazon
Last updated on January 30, 2023 1:09 pm
You may also like: