We're back for another skincare review! Today's highlight is none other than the chic and popular brand Etude House. The warm and friendly concept is very welcoming to us amateur beauty enthusiasts. Their skincare and makeup products are simple, suitable for all beauty lovers, and not to mention, affordable!
I remember buying my very first Etude eyebrow pencil and lip tint almost six years ago when I was learning makeup. And during my visit to South Korea, I also remember seeing Etude stores everywhere!
All About Etude House Soon Jung pH 6.5 Whip Cleanser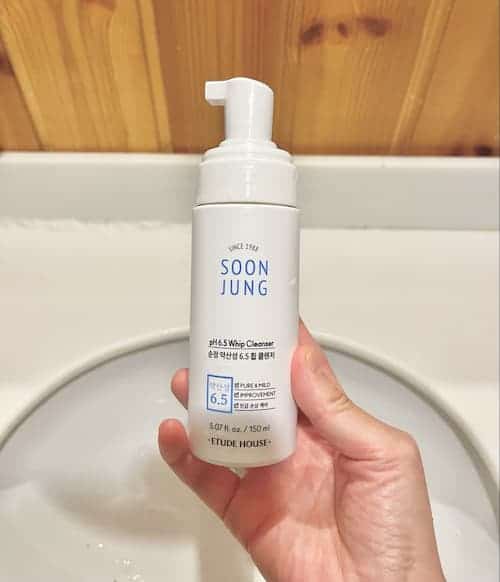 Something exciting is coming, are you ready? The SOTD, or Skincare Of The Day, is…. (drum roll)… The Brand New 2021 Version Soonjung pH 6.5 Whip Cleanser. Let's jump right in!
About My Skin
Before I share my personal experience, I want to discuss first my skin condition. All of us have different skin types, so do take this review with a grain of salt and adjust it to your skin needs. At first, I thought my skin was the oily-combination type. I get a lot of clogged pores and blackheads on my T-zone area, and my makeup tends to smudge even before a full-day use. But then, during the cold season or if I spend too much time indoors, my skin turns dry and irritated. I have dry flakes and peeling around my lips and nose area. That's when I realized, oh, my skin type is actually the sensitive type! 
Sometimes I have redness from inflammation and hyperpigmentation if I try out a new product or makeup. Harsh exfoliating chemical ingredients like AHA and BHA can also start a breakout. My skin is also very hormonal, which means I get a lot of pimples during my menstruation period. Because of my oily-dry-combination sensitive skin, I mostly use natural and gentle products in my routine.
This Etude House Soon Jung pH 6.5 Whip Cleanser caught my attention because of its low pH level (6.5) and its foamy whip texture, which is soft on my skin. 
Highlight Ingredients
As stated on their website, 2021 revamped Etude House Soon Jung pH 6.5 Whip Cleanser claims to have a low pH of 6.5 and is hypoallergenic and non-comedogenic. The skin-soothing ingredients Panthenol and Madecassoside are specially formulated to soothe irritated skin. Panthenol, which contains Vitamin B5, can strengthen the skin barrier and improve hydration. While the Madecassoside derived from Centella Asiatica extract can protect the skin from external damage and stimulation. The bouncy foam texture is pumped to create a richer lather and minimize skin contact and residue. This cleanser also claims to be free of 10 harmful additives, including perfume and paraben.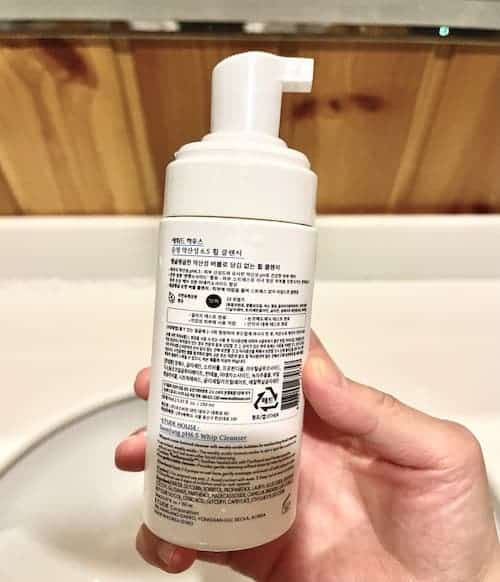 Full list of ingredients: Water, Glycerin, Sorbitol (Moisturizer/Humectant), Propanediol (Solvent + Moisturizer/Humectant), Lauryl Glucoside (Surfactant/Cleansing), Disodium Cocoyl Glutamate (Surfactant/Cleansing), Panthenol, Madecassoside, Camellia Sinensis Leaf Extract, Butylene Glycol (Moisturizer/Humectant + Solvent + Viscosity Controlling), Citric Acid (Buffering), Glyceryl Caprylate (Emollient + Emulsifying), Ethylhexylglycerin (Preservative + Deodorant)
Uses
The Soonjung Whip Cleanser is recommended for people who have irritated, sensitive, or weak skin. You can use this as a morning cleanser as it's very easy and simple to use. And as a night cleanser, I recommend using it as a second cleanser after oil cleanser to remove a full day of wearing makeup and being exposed to pollution and other free radicals. Don't forget to follow the rest of your skincare routine!
How to Use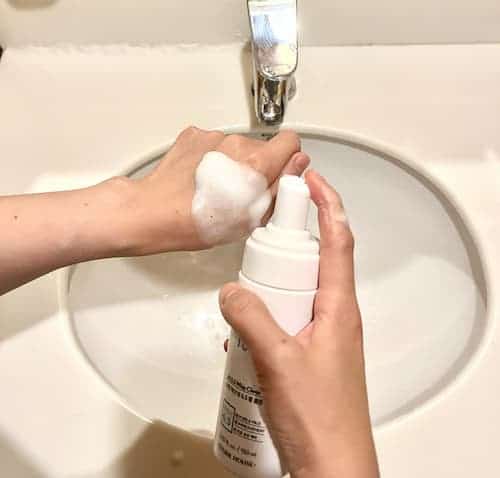 Etude House also shows you the correct step-by-step use for this cleanser to maximize all the benefits. Check it out!
Wet or splash your skin with lukewarm water. Make sure you don't spray your face directly with a hose.
Pump the bottle 2-3 times (or depending on use).
Apply the foam with your hands on your damp skin.
Massage your face gently with your fingers for about 30 seconds. 
Rinse off with lukewarm water.
Apply the rest of your skincare products.
The Results
Amazon
ETUDE SoonJung pH 6.5 Whip Cleanser 5.1 fl. oz. (150ml) 21AD| Non Comedogenic & Hypoallergenic Soft Bubble Hydrating Facial Cleanser for Sensitive Skin | Fragrance-Free Low-pH Korean Face Wash | K-Beauty
2 new from $15.50
Free shipping
as of January 31, 2023 3:08 am
Packaging
Let's start my in-depth review. First of all, let's start with the packaging.The 150 ml one comes in a white minimalistic plastic bottle with a pump dispenser. The pump works well and distributes the content evenly. There is a full list of the description and ingredients on the back. And also the product number, animal-free cruelty sticker, and the Korean vegan product sticker. It's also pretty long-lasting. With twice daily usage morning and night, this cleanser can last for about 5 to 6 months.
Texture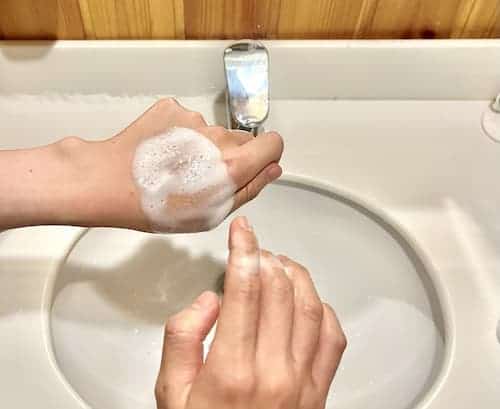 As the name suggests, the foam texture is fluffy and bouncy like whipped cream. It lathers well even with just our hand, and I can massage my face with it without the product dripping down quickly. For me, one pump is enough for my face and neck, but you can also use two or three pumps. 
Fragrance
It doesn't have any fragrance as it claims to be perfume-free. It smells very mild like it's nothing, but you can still definitely smell something from their ingredients' natural scent. 
Cleansing Power
This cleanser can't wash off makeup completely, especially heavy waterproof makeup, so you still need to use an oil cleanser as double cleansing beforehand. But for morning use, just this cleanser is already good enough to clean your oily just-woken-up face and refresh your skin. However, I feel a little bit of the skin pulling tightness right after I toweled my face dry. It doesn't make your face feel squeaky clean, but it does have that deep cleaning sensation.
My advice is that you need to apply a hydrating toner or a moisturizer right away to replenish your skin's moisture. If you have sensitive skin as I do, you can try a patch test before using this cleanser on your face. You can try applying it on the inside of your wrist and wait to see if it causes irritation. Also, if you are currently suffering an acne breakout, it's best to wait until your skin condition improves before trying a new product.  
Price
It's very affordable as a daily item. The Soonjung Whip Cleanser is available in three sizes, 150 ml, 250ml, and 350ml. The price varies by size, the smallest 150ml to 350ml products range from $15 to $25. Check and compare the price below!
Final Verdict
Personally, I like this cleanser because they state the ingredients clearly and doesn't contain any harsh chemicals. The foam texture is also fun to use and lathers well so I can massage my face with it. It's also easy to use with just one pump. But it does leave my skin a tiny bit dry after use, but I think every cleanser must give that sort of feeling, so I don't really worry about that. So far, the Soonjung cleanser works well for me as it doesn't irritate my skin which is my number one concern. Definitely repurchase!
About The Brand
Etude House (Korean: 에뛰드하우스) is a South Korean cosmetics brand owned by Amore Pacific. The brand name 'Étude' means 'study' in French. Etude sells a wide range of makeup products and skincare lines targeted toward teenage girls and young women starting their beauty journey.
Official Website: https://www.etude.com
You may also like: