One Thing Skincare
In Korean beauty, customized skincare is getting popular. There are many products that can be used for moisturizing, calming, and anti-aging according to your skin condition and concerns. Among them, ONE THING is the one of the most popular brands. ONE THING uses only carefully selected materials and does not use harmful chemical ingredients. So, when ONE THING was first released, it was widely used by consumers with sensitive skin because they propose only one ingredient needed for skin, but now it is loved by many Korean women enough to be entered into beauty stores such as Olive Young that is like Shepora in Korea.
Is ONE THING skincare cruelty free?
Not only ONE THING is vegan & cruelty free skincare brand but also all products by them have a green level by EWG. Moreover, ONE THING eliminates unnecessary costs and offers an affordable yet effective product.
How to Use One Thing Skincare
Unlike existing cosmetics, ONE THING products consist of only one ingredient. So they can be mixed with the products currently in use. For instance, you can put Centella Asiatica Extract to the toner in a 10:1 ratio. In addition, other extracts like Houttuynia Cordata Extract or Artemisia Extract can be used by adding 10% more for an extra calming effect on your skin.
ONE THING Centella Asiatica Extract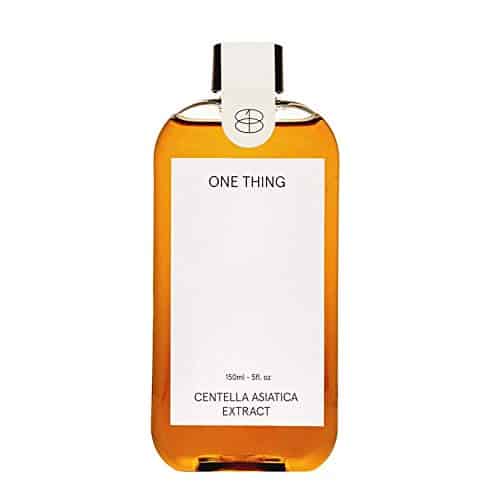 ONE THING's bestseller is this Centella Asiatica Extract. This is a 100% domestic Centella Asiatica extract, and ingredients such as Asiaticoside and Madecassic Acid help to soothe and hydrate the skin. It is dark brown color and has a woody scent. It's not strong and artificial at all.
How to Use ONE THING Centella Asiatica Extract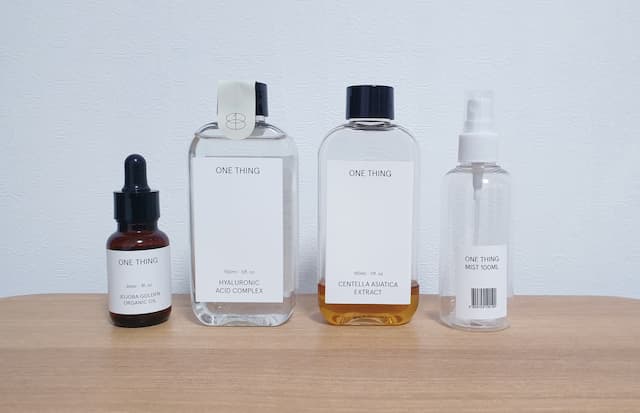 I use it as an essence at the first step of the skincare routine by mixing 10% with ONE THING Hyaluronic Complex (it can be mixed with your toner). They also sell empty bottles for DIY customized skincare. Plus, I dropped a few Jojoba oils like 1~2% to prevent moisture loss from the skin. When I work outdoors for a long time or when I have skin troubles, make cotton pads soaked into Centella Asiatica Extract + toner and apply it like a toner mask for 10 minutes on areas that need intensive care (forehead, cheeks, chin, etc.). This not only helps to calm and restore the skin barrier, but also makes the skin feel brighter.
For more benefits of Cica, Centella Asiatica Extract (Gotu Kola), check this post.
CHECK PRICES
ONE THING Artemisia Capillaris Extract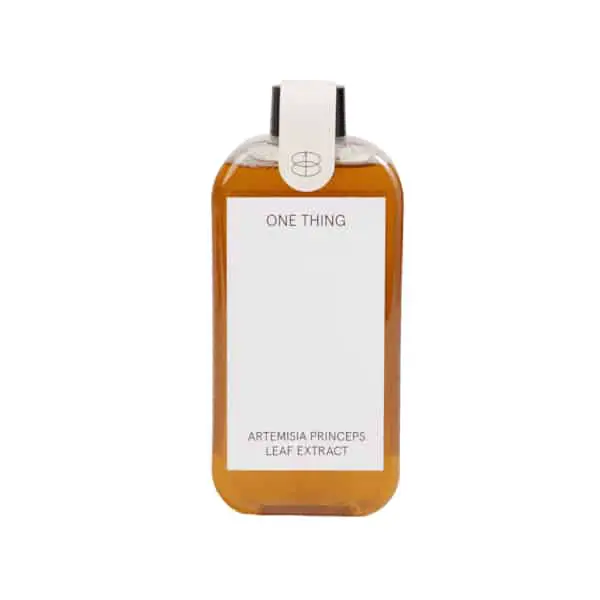 Artemisia Capillaris is a plant belonging to the Asteraceae family and has a cold nature. Thus, it has an excellent effect in lowering the heat of the skin irritated by UV exposure or rapid skin temperature change. Not only it does soothe the skin without irritation, but it is also rich in vitamins A, C, Niacin, and Mineral to help brighten skin tone. ONE THING Artemisia Capillaris Extract is made from 100% Korean plant and is very effective in keeping skin clear. Because it has a mild mugwort scent, there may be some likes or dislikes, but it's not a problem for me at all. Especially in the summer season, it is good to use when UV exposure is strong.
How to use ONE THING Artemisia Extract
If you are struggling with inflamed troubles, I recommend you to use by mixing a small amount of Artemisia extract with a toner, essence, or cream. It is effective in calming and improving skin tone while lowering the skin temperature.
CHECK PRICES
ONE THING Houttuynia Cordata Extract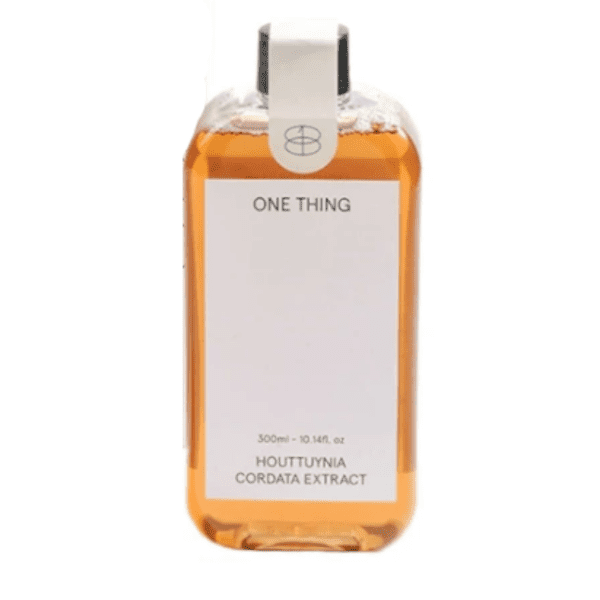 If you are familiar with Korean cosmetics, you must know Eoseongcho, Houttuynia Cordata. This is a natural cosmetic ingredient that is as familiar to Korean women as Cica, can often be found in Abib Sheet Masks, Goodal Essence and more. Houttuynia Cordata Extract is rich in Quercitrin, which removes wastes from the skin. In addition, it contains a large amount of Polyphenols and Amino Acids, that means it soothes irritated skin and has an excellent effect on troubled skin.
How to use ONE THING Houttuynia Cordata Extract
Add 5~10% of Houttuynia Cordata Extract to toner or moisturizer, and apply. You can also mix and use Artemisia or Centella Asiatica extract together. Also, it is well known as a good ingredient for scalp care, so it is used as a key ingredient for functional shampoos and scalp care mists. Why don't you make DIY treatment for your sleek hair :)?
CHECK PRICES
ONE THING Hyaluronic Acid Complex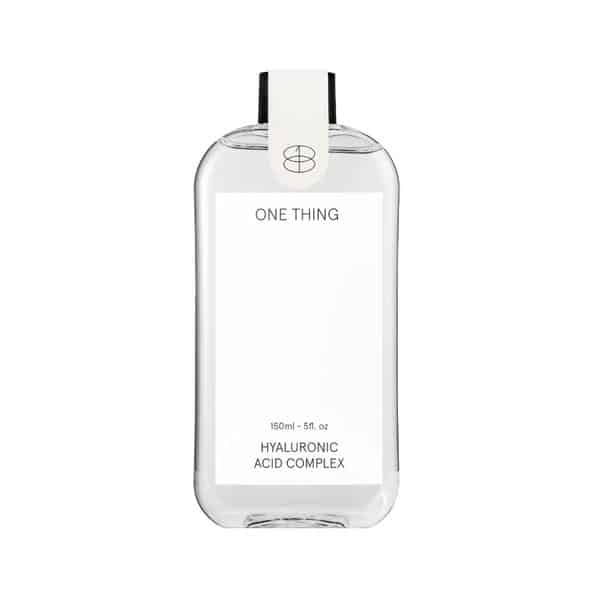 This is my favorite ONE THING skincare item that I have been using every day for over a year. When I have troubles with new cosmetics, stop using all other products and apply this product by layering it several times to provide sufficient moisture. It has been a long time since Hyaluronic Acid became a hot trend in Korean beauty, and now it is a disappointing ingredient if it is not included in product. According to the size of Hyaluronic Acid, it is divided into high molecular weight, medium molecular weight, and low molecular weight. With rich moisturizing effect, ONE THING Hyaluronic Acid Complex penetrates moisture deep into the dermis layer of the skin, helping to improve skin elasticity and fine lines & wrinkles.
How to use ONE THING Hyaluronic Acid Complex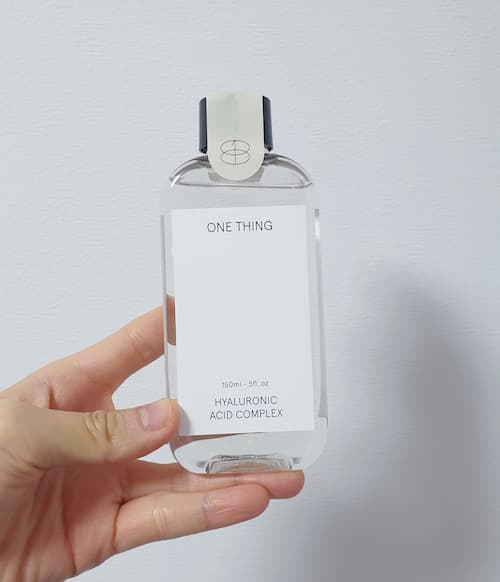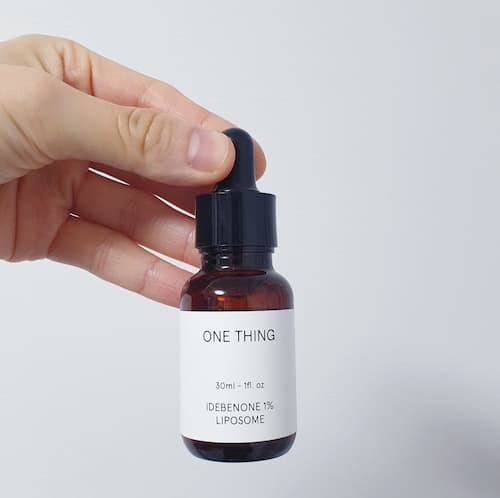 You can use it at the first step in skincare routine without a toner. This HA essence can be used by mixing other ONE THING extract like Centella Asiatica or Artemisia. For more hydrating, I use a mixed HA complex with Jojoba Oil and Idebenone for anti-aging. Because I have super dry skin, I always use essence and cream both. This product is quickly absorbed and not sticky at all. I highly recommend it to people with dry, sensitive skin as it has no irritation and moisturizes skin for a long time!
CHECK PRICES
ONE THING Niacinamide 10%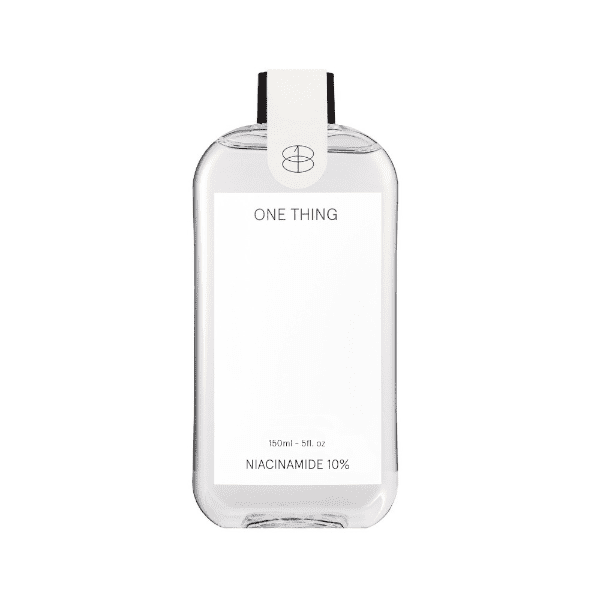 Niacinamide is a super star of skincare products with various benefits. First, It brightens dull skin in a clear and clean tone by reducing the movement of melanin. Second, it reduces skin troubles by balancing sebum activity. Third, Niacinamide is a great anti-aging, wrinkle smoothing ingredient used at 4-5% concentration. Fourth, it helps to fade brown spots or acne scars alone or in combination with amino sugar, acetyl glucosamine. Lastly, it increases ceramide synthesis that results in a stronger, healthier skin barrier and better skin hydration. I've started using this ONE THING Niacinamide for skin whitening. My skin tone seems to be getting better little by little, and more importantly, it seems to improve my skin complexion. Therefore, I won't remove this item from my skincare table.
How to use ONE THING Niacinamide 10%
10% Niacinamide could be irritating on some sensitive skin types, I recommend mixing it up with an ampoule or moisturizer. For example, moisturizer (100ml) + Niacinamide 10% (5~10ml).
CHECK PRICES
ONE THING Calendula Officinalis Flower Extract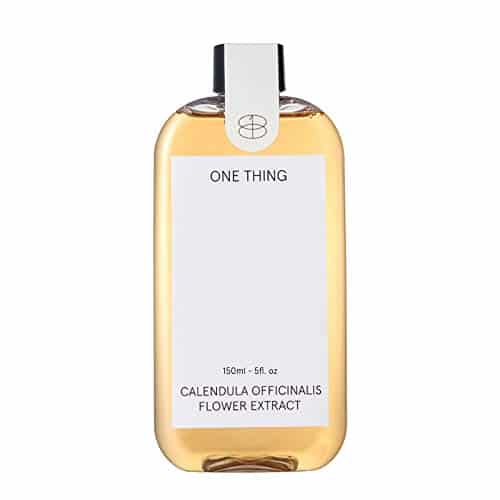 Calendula, which is often found in cosmetics, is well known for soothing. Flavonoids, a major component of Calendula flower extract, have strong antioxidant and calming properties to help irritated skin. What's more, It contains Carotenoids, Saponins, and Beta-Carotene, which are effective in reducing skin inflammation. Therefore, I recommend it for oily acne-prone skin.
How to use ONE THING Calendula Flower Extract
It is also important to try different ingredients and find the one that works for your skin. Choose a product according to your skin condition and concerns! In my case, when the dry season comes, troubles occur around my chin area. At this time, I often use a toner mask by mixing this calendula extract with toner. For men, it can also be used for aftershave.
CHECK PRICES
ONE THING Organic Oil Lip essence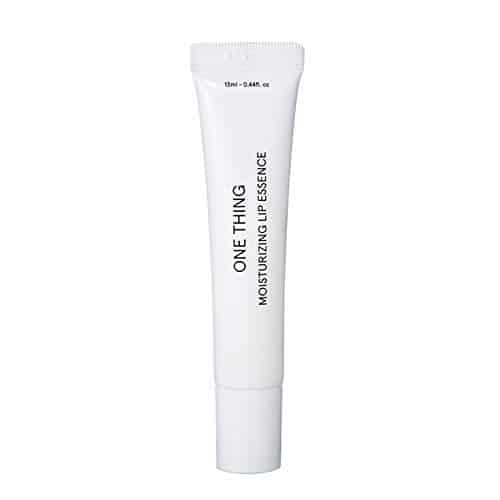 This Organic Oil Lip Essence contains organic jojoba oil, organic natural argan oil, and organic olive oil. Jojoba oil protects abundant moisture and argan oil strengthens the function of the natural skin barrier. With olive oil, you can expect the effect of protecting your lips from UV rays with Vitamin E.
As my lips are super dry I use lip balm all four seasons. ONE THING Organic Oil Lip essence is very soft and keeps my lips smooth and moisturized well but not sticky at all. Plus, the container is good to use because it is a tube type. What I like the most is that this product is an organic vegan lip essence and contains only 6 ingredients. So it is simple and safe to use.
CHECK PRICES
ONE THING Jojoba Golden Organic Oil 100%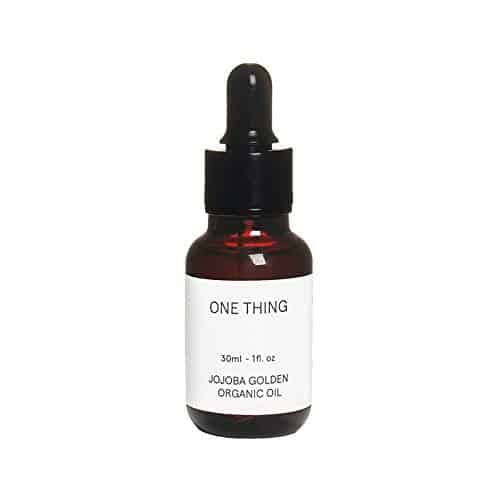 A must-have product for my dry skin especially in winter! With a similar molecule structure to the skin, Jojoba oil restores the damaged skin barrier and also has excellent moisturizing power. It contains a large amount of ingredients such as minerals, vitamin ADE, and collagen, which help to maintain the oil-water balance as well as provide nutrition.
ONE THING Jojoba Golden Organic Oil 100% has received British Soil Association Organic Certification and it is 100% natural oil without chemical additives. So, pregnant women, babies, and people with sensitive skin (like me) can use it with confidence.
What stands out is that most skincare products with a lot of natural oil are expensive at over $40, but ONE THING Jojoba Golden Organic Oil 100% can be purchased for under $10. The price is very affordable and it is very good to use sufficiently.
How to Use ONE THING Jojoba Golden Organic Oil 100%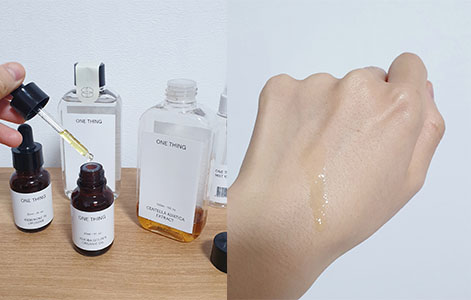 For much better moisturizing, mix a few drops with essence or ampoule and apply after shaking it, or mix it with a moisturizer. Alternatively, it is good to apply it as if coating the face at the last step of the skincare routine. I love how my skin glowy after using this Jojoba oil. 😉
For pore-care, cleansing with jojoba oil instead of cleansing oil helps to remove blackheads and whiteheads.
CHECK PRICES
ONE THING Idebenonesome 1% Ampoule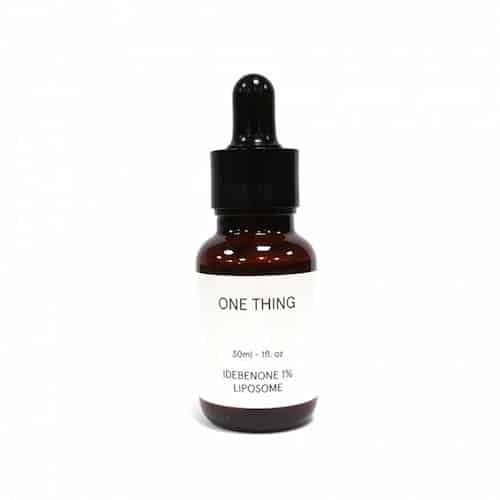 Idebenone is a powerful antioxidant that is 10 times of coenzyme Q10 and 4 times of vitamin C. It is effective in improving fine lines & wrinkles around the eyes and lips and helps skin elasticity. Not only it protects the skin from air pollution but it also helps to improve skin damage.
How to Use ONE THING Idebenonesome 1% Ampoule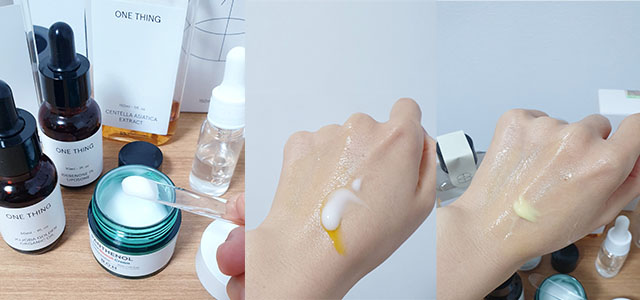 If you have sensitive skin, it can cause trouble when used alone, so it is recommended to add 5-10% to eye cream or moisturizer. When looking for idebenone on the ingredient list of the product, you just need to check if it contains Hydroxydecyl Ubiquinone. Frequent temperature changes can affect the contents, so store it in a cool place, avoiding direct sunlight.
CHECK PRICES
Before purchasing, don't forget to check skincare ingredients on labels and where to look for information, EWG Skin Deep ratings could help you as a reference point. For details, head EWG (Environment Working Group) official website.
You may also like
Disclosure: This post contains affiliate links. Clicking those links before you shop means that best k-beauty receives a small commission. Please see my full disclaimer for more information.