Everyone wants the coveted Korean beauty look: flawless glass skin, bursting with moisture, and just the right amount of dewiness. This is the goal for most people obsessed with Korean beauty products, myself included. But before you slather on ten beauty products and expect them to work a miracle- let's look at some effective Korean skin care devices that can take your skincare routine to the next level.
Best Korean Skin Care Device
The Korean beauty industry is massive and first spread to international markets in 2012. Since then, it has skyrocketed and branched out to thousands of brands and products. The main draws to K beauty products are the affordable price ranges, products for all skin types, quality ingredients, and innovation. South Korean companies have utilized the advances in technology and applied them to some great beauty products you can use at home.
Get Latest News & Coupons for K-beauty Products
Infrared Light Therapy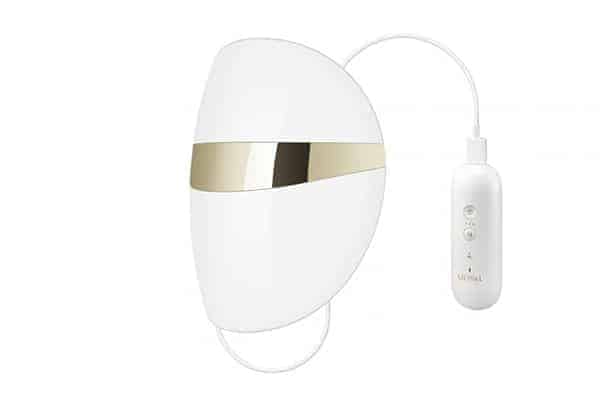 If you're a pro in the skincare game, you know there is a device out there to address every facial concern. One of the trendier products as of late is the LED Face Mask by LG. The Derma Pra. L mask sends infrared light to improve brightness and skin elasticity. With only 9-minute sessions, you can trust LG to deliver beautiful skin in a short amount of time. The device will set you back around $780 USD.
 If you want to level up, you can also try the CellReturn Platinum Mask, which delivers three different settings of red light and infrared light to help with collagen production and brightness. Collagen helps keep the skin youthful, bouncy, and flawless. Furthermore, the mask reduces blemishes, controls sebum, and prevents wrinkles, according to the company. The ultra-chic Korean beauty device is endorsed by Lee Min-ho and was seen during his newest drama The King: Eternal Monarch. Other celebrities who use the luxury mask include Park Seo-Joon, Kang So-Ra, and Jung Eung-Chae. The CellReturn Mask is the crème de la crème of masks, as it does a bit more than the LG mask. 
Similar Products on Amazon
Pulsing Machine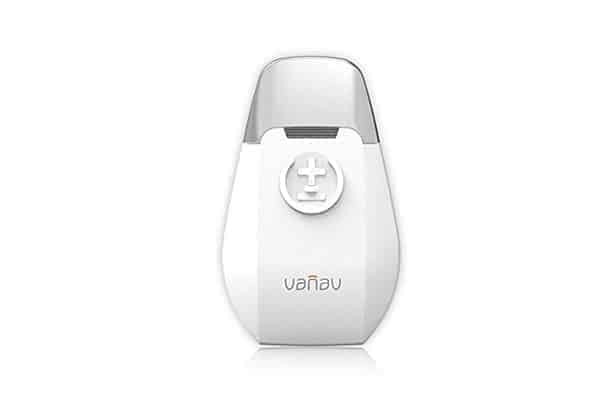 While red-light and infrared masks are currently trending, pulsing and skin-tightening machines are also popular among skincare fanatics. These small, sleek machines, send microcurrents throughout the skin to stimulate muscles and lift them. It also promotes circulation, muscle relaxation, and can help with skin dryness when used with a serum. There are several of these skincare devices out on the market including Vanav Galvanic Microcurrent Face Lift Machine, which users have raved about, claiming to see results in as little as 3 days! The makers of this device, advise to use it in the morning and in the evening for toned, tight skin. Once again, applying a serum can also upgrade the experience and can achieve quicker results.
Similar Products on Amazon
Sonic Facial Peeler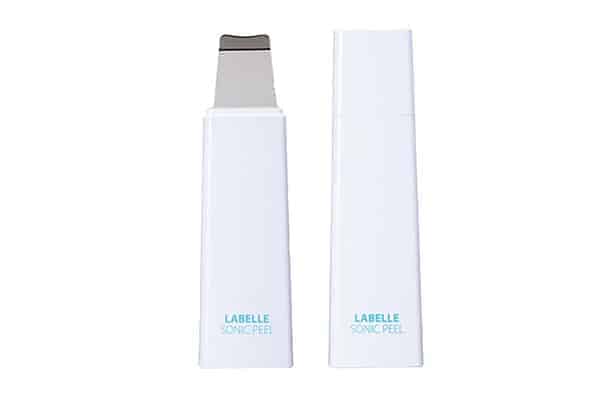 Also from the makers of the facial steamer, is the Labelle Sonic Peel. It's been dubbed the "skin spatula" by many users because of its rectangular metal shape used to scrape off debris from the face. The device is easy to use as seen here. It glides across the face for maximum exfoliation removing dead skin cells and other impurities from the skin's surface using ultrasonic waves. First, cleanse the skin, then apply toner with a cotton pad (or a mineral water spray), and glide the peeler across your face. A helpful tip to remember is not to press it into the skin or push too hard, otherwise, the device will not pick anything up. A light hand should be used versus pushing it straight into the skin. The tool is meant for the surface only, and not for anything deep and embedded into the skin. The sonic peeler is a great way to exfoliate without using harsh scrubs on the skin. As an added bonus, if you flip the beauty device over, it can be used with a serum to really massage in the product.
Similar Products on Amazon
Pore Suction Device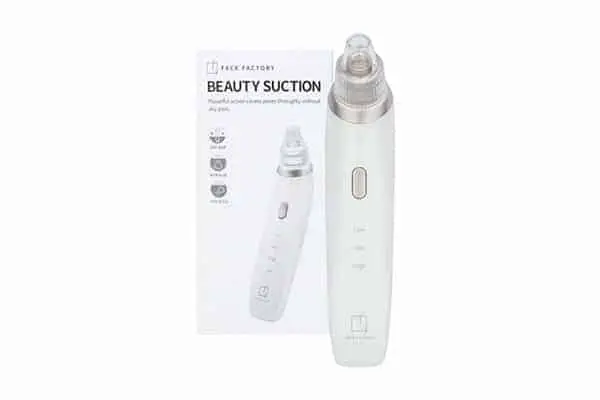 If you ask people what skin issue they have, the majority will answer something pore-related. Blemishes, oily t-zone, large pores, etc. If you're a newbie and want to try a Korean beauty device, Face Factory's Beauty Suction Device is easy to use and is inexpensive at around $27 USD. It can be found at Olive Young or on Amazon. The beauty suction device comes with the suction tool, four different caps for the skin, and is the BEST step before applying any skincare. The device sucks out excess sebum (oil, dirt, dead skin cells) from pores thus minimizing the appearance of large pores. Whether you have dry, oily, or combination skin types- all can benefit from using this skincare device. It's a good place to start if you've never used a skincare machine. Say goodbye to those ineffective and painful nose strips and give the pore suction device a go.
Similar Products on Amazon
Steam Machine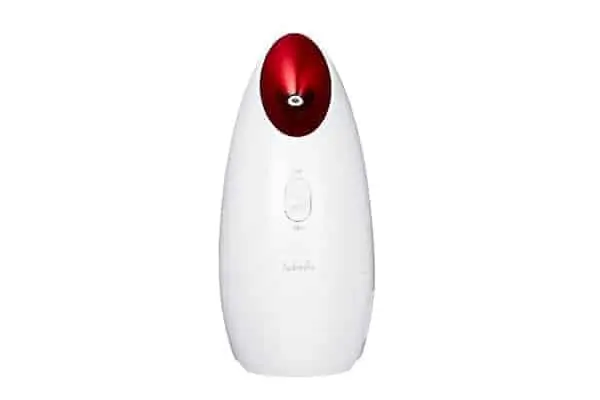 A great Korean beauty device that is a total game-changer and very underrated is the face steamer. Introducing the Ionic Facial Steamer from Labelle. The steamer opens up pores and feels like a mini facial. Steaming your face promotes circulation and should be done about once a week, or twice a week if your pores are really clogged. It can also be used in the winter if you have dry skin. Along with opening the pores, the steam can also give additional hydration. This Korean skin care device is also great if you are feeling under the weather. Good steam always makes me feel a little better if I have a cold. Aside from great skincare benefits, the steam can also help during allergy season by helping clear your sinuses. As an added bonus, add essential oils like lavender, tea tree, or chamomile for elevated steam. If the steam is too strong or hot, simply move your face a little farther away from the machine. Follow up the steam with the pore cleaning device and a refreshing toner, to close the pores back up. 
Similar Products on Amazon
FACE FACTORY – Rose Quartz Face Roller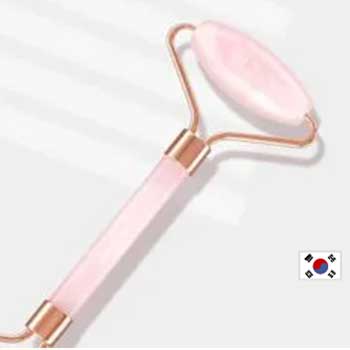 Face roller is a revolutionary device for skin rejuvenation, relieving fatigue, and normalizing blood circulation. It is recommended to use the face roller every day for 5-10 minutes. For better moving, you can use it with serum, oil, or just on a clean face. Mainly, it removes signs of fatigue, swelling, irritation and improves blood circulation for healthy skin.
It is recommended for people of all ages due to its useful effects such as removing signs of fatigue, swelling, irritation, and improving blood circulation!
Similar Products on Amazon
Daymellow – Massage Healer (Face Cooler)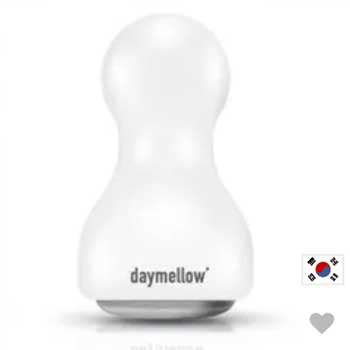 If you want to improve the appearance of your skin, then Korean Facial Cooler is what you are looking for! This device relieves skin swelling, tights and minimizes pores, and relaxes muscles. It is better used for people, who are struggling with UV-sensitive skin and have swollen faces every morning. Ten minutes of usage every day will provide you with the healing effect that will be seen after the first week.
Similar Products on Amazon
ETUDE HOUSE My Beauty Tool Jellyfish Silicon Brush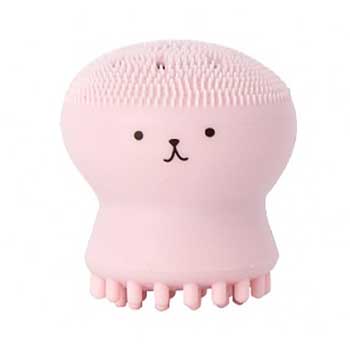 This Jellyfish Silicon brush is simple in usage and can be used by women of all ages. There are 3 main benefits of using this brush: it cleanses the skin, exfoliates, and massages. To use it, you just need to immerse it under the water, add the cleanser to the brush, squeeze it, and the foam cloud is ready! Try doing it every day and results won't be waiting!
The At-Home Facial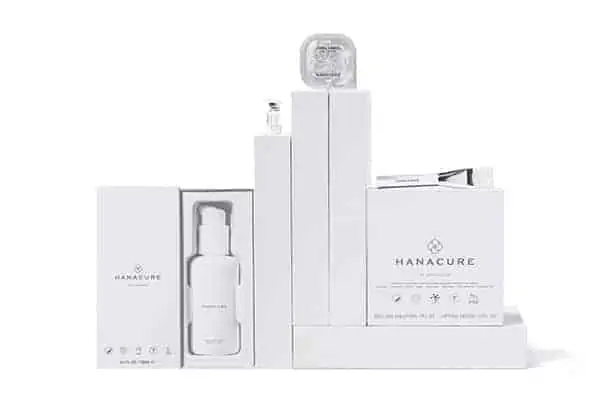 Everyone has heard of Korean facial masks by now and probably use them religiously. The masks are a cult beauty product and a pillar in Korean skin care. There are masks out there for every possible skin concern. However, if you want tight, flawless skin, but do not have the budget for an LG mask, look no further than the HanaCure Facial. The Hana Cure mask is unlike any other mask and actually delivers what it promises- bright, taut skin. Many celebrities raved about it on social media when it first launched in 2017 and was received well internationally, too. The mask creates a tight feeling and garnered attention for its eerie look once it dries. But fear not, the mask actually works!
The All-in-One facial kit includes a serum ampoule, two mixing solutions, and a fancy brush. Mixing the solutions creates a gel-like mask that tightens the face and leaves you feeling like you've had a professional facial. The single-use kit is $29, while the better deal is to purchase the 4 pack for $110. Preorder quick, as the HanaCure product always sells out. 
Just as with all skincare, the more consistent you are with the beauty devices, the better results you will see. These Korean skin care devices are an investment and will pay for themselves in the long run. What device would you like to try? Do you own any of the above products? 
You may also like
Disclosure: This post contains affiliate links. Clicking those links before you shop means that best k-beauty receives a small commission. Please see my full disclaimer for more information.