Best Korean Brightening Serum
We all want to have clear and clean skin. So, darkened skin due to pigmentations caused by UV rays, acne scars, and melasma is a concern. But no worries! We have a chance to get it back with a brightening serum. Of course, it cannot be restored 100%, but skincare products with active ingredients are still effective in lightening the skin tone.
Even though I suggest reading all recommendations to find the best fit for your skin type, if you prefer to check the top-rated products first, click the image below to see the reviews directly.
What does a brightening serum do?
Brightening serum helps to prevent melanin pigmentation in the skin or thin the already deposited melanin pigment. When melanin is produced in large amounts from melanocytes, skin becomes dark, and when less melanin is produced, skin becomes white. Therefore, serum with active ingredients helps to prevent melanin pigment from being produced anymore and has the effect of improving dull skin tone to become more transparent and bright.
Which serum is best for brightening?
Here are the best Korean brightening serums for skin troubled with a dull complexion due to freckles and pigmentation! I have selected the best 3 of the popular Korean skincare products that can improve clear and transparent skin by inhibiting the synthesis of melanin. Also, these brightening serums can take care of the already generated melanin to solve pigmentation problems.
Manyo Factory Galac Niacin 2.0 Essence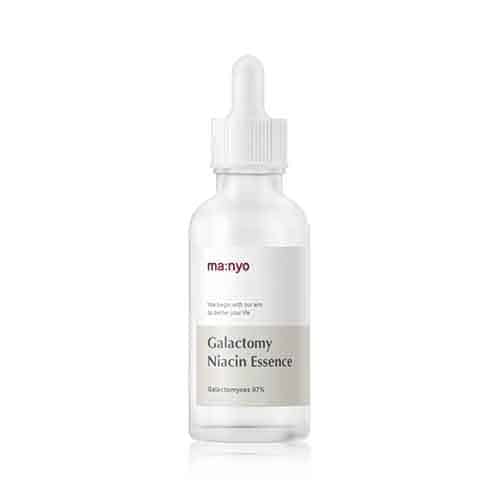 50ml
$19 ~ $24
Skin Type: All Skin Types
Ingredients
93.96% of Galactomyces Ferment Filtrate is rich in various active ingredients such as vitamins, minerals, and amino acids, so it helps to care for the skin's natural tone and texture and to make the skin clear and transparent. In addition, it contains Niacinamide (4%), which can have a whitening effect, and the moisturizing ingredients of Sodium Hyaluronate and Butylene Glycol to keep your skin hydrated all day long. Moreover, it also contains Witch Hazel Water and Panthenol, which have astringent, soothing, and pore-improving effects.
KEY INGREDIENTS
Brightening: Niacinamide (4%), Galactomyces Ferment Filtrate (93.69%)
Soothing: Panthenol, Witch Hazel Water
Hydrating: Sodium Hyaluronate
Uses
I tend to use a whitening essence that contains moisturizing ingredients because I have combination skin that tends to dry quickly. Since this product uses a dropper, it was easy to control the amount. The formula was thin enough to spread on the face, so it was okay and absorbed quickly. I have been using it consistently since I felt my skin drying out to some extent. Although the skin does not appear noticeable or dramatically bright, my skin tone has slightly become brighter and smoother. I enjoy using this product.
Results
The active ingredients of Galactomycesa Ferment Filtrate quickly absorb into the skin, helping to balance oil and water. It makes my skin clear and transparent with the effect of tightening the pores. Also, it was good that the hyaluronic acid, which draws in the surrounding moisture, holds the skin moisture tightly to maintain a moist feeling. On a hot summer day, using this essence alone without a moisturizer seems to be sufficient for moisturizing care.
Price
Essences and serums are often relatively expensive compared to other skincare products. The reason is because of the effective active ingredients. This product is very good because it can be bought in the $10 range despite the high content of active ingredients!
Clean Beauty
Manyo Factory is making skincare products for healthy skin by adhering to the principle of no addition of harmful ingredients to its products. It is a Clean Beauty Cosmetic Korean Brand that consumers can trust and use by using natural ingredients such as Houttuynia cordata, mugwort, and birch as the main ingredients.
#alcohol-free #fragrance-free #essential Oil-free #paraben-free #sulfate-free #cruelty-free #clean beauty
CHECK PRICE
SKIN&LAB Vitamin C Brightening Serum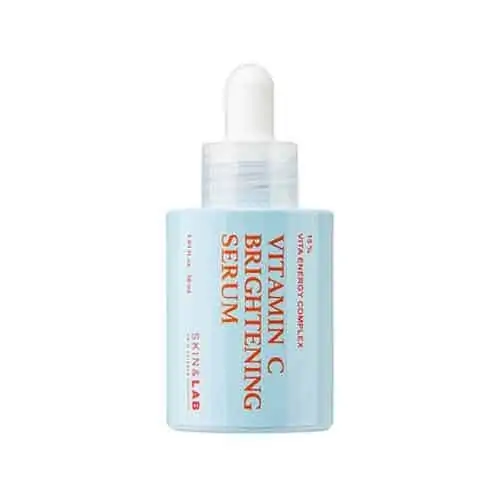 30ml
$19 ~ $34
Skin Type: normal, dry, combination, oily
Ingredients
Ethyl Ascorbic Acid (15000ppm), Ascorbic Acid (106.05ppb), and Niacinamide are a serum that has a strong focus on skin whitening. Bifida Ferment Lysate's fermented ingredients suppress melanin production, whitening the skin and strengthening the skin's strength, providing soothing and moisturizing effects. In addition to this, Adenosine, Palmitoyl Tripeptide-1, Palmitoyl Tetrapeptide-7, Retinol, etc. improve skin regeneration and wrinkles and contain anti-aging functions. This product is best for those who want to take care of whitening and wrinkles at once! However, since it contains a high content of Vitamin C, we recommend testing it before use if you have sensitive skin.
KEY INGREDIENTS
Brightening: Niacinamide, Ascorbic Acid
Anti-aging: Adenosine, Peptide, Retinol
Hydrating: Hydrolyzed Hyaluronic Acid, Betaine
Soothing: Panthenol, Turmeric Root Extract
Uses
Since I have sensitive skin, my face immediately turns upside down when irritated, but there was no problem with this serum because it has relatively mild ingredients. If you apply it right away without a toner, or if you soak a cotton pad with it and place it in the area that looks a little dull, it has the effect of brightening the skin tone. However, the amount is a bit small, so I wish there was a large-size product.
Results
It is a whitening functional vitamin serum that brightens dull and dark skin. The skin is revitalized. Moreover, thanks to skin moisturizing ingredients such as Sodium Hyaluronate, Betaine, and Hydrolyzed Hyaluronic Acid, moisture loss is prevented by the formation of a thin moisturizing film on the skin. Capsules containing high content of vitamins are quickly absorbed to smooth the skin texture, and the Panthenol ingredient makes the sensitive skin barrier healthy.
Price
It is not a cheap price for 30ml, but I want to give it a plus point in that it can solve both brightening and anti-aging effects at once.
Clean Beauty
As a global derma-specialized brand for all sensitive skin around the world, SKIN&LAB is a Korean brand that can be used with confidence as it minimizes skin irritation and puts skin health first, and contains proven hypoallergenic natural ingredients.
#alcohol-free #fragrance-free #essential Oil-free #paraben-free #sulfate-free #cruelty-free #vegan-friendly
CHECK PRICE
By Wishtrend Pure Vitamin C 21.5% Advanced Serum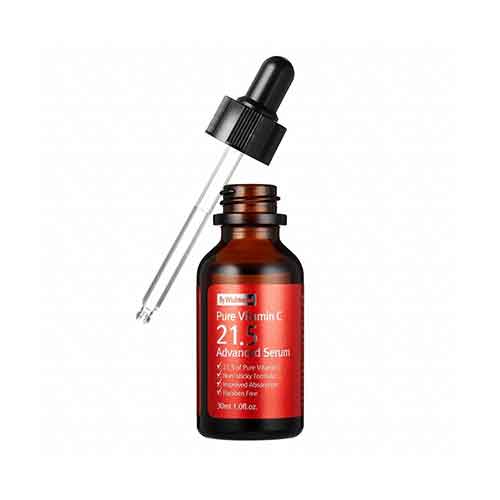 30ml
$25 ~ $30
Skin Type: combination, oily, acne-prone skin
Ingredients
Hippophae Rhamnoides Water 70% comfortably soothes problematic skin and helps maintain healthy skin. Ascorbic Acid, which is pure vitamin C, removes dead skin cells and improves skin regeneration, elasticity, and brightening of the skin. In addition, Allantoin and Panthenol ingredients help soothe and protect, and Sodium Hyaluronate and Sodium Lactate provide strong moisture.
KEY INGREDIENTS
Brightening: Hippophae Rhamnoides Water, Ascorbic Acid
Soothing: Panthenol, Allantoin
Hydrating: Sodium Hyaluronate, Sodium Lactate
Uses
I was worried about buying it because it has highly concentrated vitamin C. I thought it would irritate my skin a lot, but my skin was too dull, so I tried it. There was a slight tingling sensation when I first applied it, but it went away quickly. The serum is light, absorbs quickly like water, and has little stickiness, so oily skin can also use it. It removes old dead skin cells and intensively cares for dull and uneven skin tone to uniform and brighten skin. Moreover, it is an intensive high content vitamin care product, which is excellent for promoting collagen production, the key to anti-aging. Not to mention, it has the effect of improving the complexion of the skin.
Results
The skin feels soft and tight with continuous application, and the blemishes and blemishes under the eyes have faded a lot. I think the biggest advantage is that you can see the effect in a short time. The skin tone has also improved a lot, and I am very satisfied with that.
Price
It is relatively expensive, but since it is a highly concentrated vitamin serum, the whitening effect is also certain.
Clean Beauty
By Wishtrend is a clean beauty brand created by collecting opinions from global consumers to offer skincare products for all skin types especially for those with sensitive skin. It is a cruelty-free, vegan-friendly skincare brand that can be used without irritation even for sensitive skin.
#alcohol-free #fragrance-free #essential Oil-free #paraben-free #sulfate-free #cruelty-free #vegan-friendly
CHECK PRICE
How to make skin lighter at home
Let's get brighter skin by whitening care that can be easily done at home by yourself.
Exfoliating
By effectively removing unnecessary dead skin cells, you can maintain clear skin. Exfoliation not only pushes away dirt from the skin's surface but also stimulates the regeneration of new cells in the basal layer, helping to keep the skin healthy and beautiful for a long time. In addition, no matter how good a whitening product is applied in a state where dead skin cells are accumulated, the absorption is slow, so it is difficult to obtain the effect. For this reason, it is effective to use a scrub or peeling product like a clay mask or exfoliating pad that helps to exfoliate the skin.
Essence or Sheet Mask
After exfoliating, it is helpful to use a serum or whitening mask with whitening functional ingredients such as niacinamide and vitamin C. Since whitening is not a result obtained in a short period of time, it requires constant and diligent care in various ways. First of all, it is important to prevent spots and freckles from forming, and if they do, you should take care of them through whitening mask packs or essences immediately. There are times when you leave it alone and then borrow the power of a dermatologist, but there is no better way than prevention and immediate action.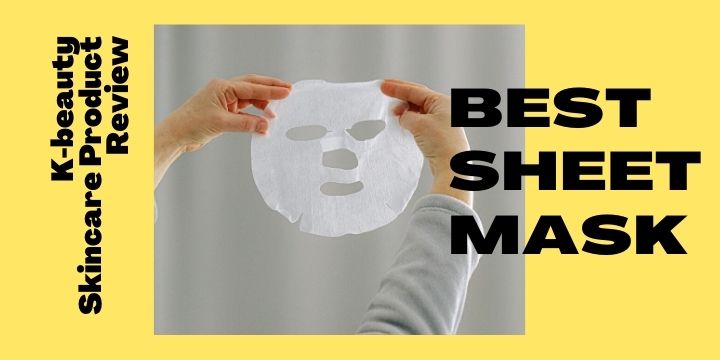 Hydrating
If you supply enough moisture, you can definitely see the whitening effect. When using whitening products, synergy increases when used with moisturizing products. Finish with intensive moisturizing cosmetics such as moisturizing cream and moisture pack.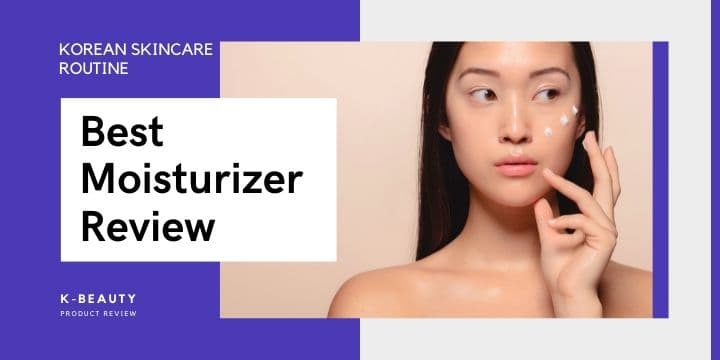 Sunscreen
Ultraviolet rays stimulate the melanin pigment to make more melanin, resulting in tanned skin. Melasma, freckles, brown spots, etc. appear depending on the form of over-pigmentation. The biggest cause of such pigmentation is the penetration of UV rays into the skin. Therefore, sunscreen is essential for skin whitening.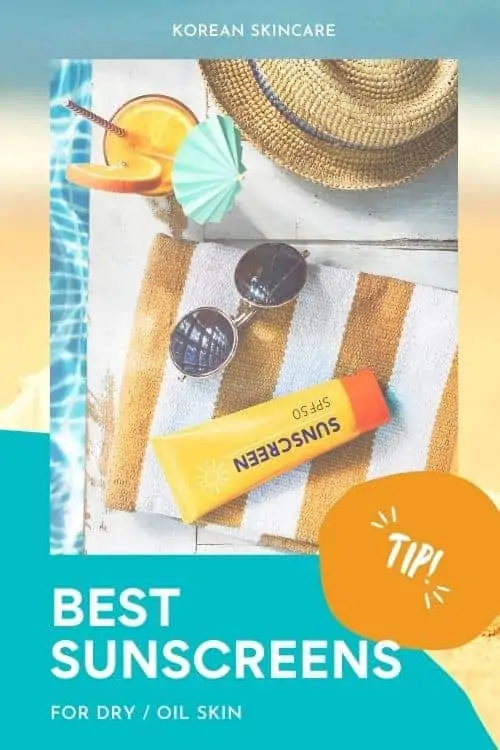 For a clear complexion, good blood circulation is required and the discharge of toxins and waste products must be smooth. Irregular sleep, excessive drinking, and smoking habits are best to avoid for a clean and clear skin tone.
Good ingredients to brighten skin
Ascorbyl Glucoside
Ascorbyl Glucoside, a highly stable vitamin C derivative that is not altered by ultraviolet rays, heat, and air, helps to keep the skin clear and bright, and has a strong effect on skin oxidation prevention and whitening through antioxidant action. Tocopherol, Carthamus Tinctorius (Safflower) Seed Oil, and (-)-alpha-bisabolol ingredients enhance the synergy of skin whitening and help to moisturize and soothe the skin. Centella Asiatica Extract, Camellia Sinensis Leaf Extract, and Licorice Extract also enhance the skin whitening effect and help moisturize and soothe the skin.
Arbutin
Usually, the most important point of whitening products is to use products that inhibit the oxidase called Tyrosinase. This is because melanin is oxidized by this enzyme and the skin becomes dull. In other words, when the oxidation reaction does not occur, the skin appears bright. Arbutin blocks the production of melanin by inhibiting the activity of tyrosinase during the synthesis of melanin. It is a safe and stable whitening ingredient with little skin irritation, and it has the advantage that the skin does not become sensitive even after long-term use.
Niacinamide
Broussonetia Extract (2%) and Niacinamide (2-5%), which are whitening ingredients announced by the Ministry of Food and Drug Safety, also help whiten skin. Niacinamide has the function of inhibiting the transfer of melanin from melanocytes to keratinocytes, so it can be safely used and used for preventive purposes. Taking vitamin C and glutathione also help.
Ascorbic Acid
Vitamin C, which is known as a representative antioxidant, is a whitening functional ingredient that is often used in cosmetics. Representative vitamin C components include derivatives such as Ascorbic Acid, Ascorbic Acid Palmitate, and Magnesium Ascorbyl Phosphate. In particular, ascorbic acid is a component of whitening functional cosmetics and is the most used ingredient because it has an excellent ability to inhibit melanin production.
Green Tea
In addition, Camellia Sinensis Leaf Extract also plays an important antioxidant role in the skin, such as the polyphenols contained in green tea, preventing cell damage in the skin exposed to UV rays and reducing the occurrence of sunburn and red spots.
You may also like:
Disclosure: This post contains affiliate links. Clicking those links before you shop means that best k-beauty receives a small commission. Please see my full disclaimer for more information.