To the skin care buffs, mugwort has been buzzing in the Korean skincare community as early as 2018. In 2020, MISSHA Time Revolution Artemisia Treatment Essence won not only in multiple Korean beauty apps but also in the Soko Glam Best of K-Beauty, the US-based. One of the judges is the OG internet beauty guru Michelle Phan. But what is precisely concocted in that award-winning product that made it one of the "best-of-the-best," as they call it? Yes, pure and true extract of mugwort aka Artemisia vulgaris named after the Greek goddess Artemis herself, the young, beautiful, and strong Olympian huntress in Mythology. Mugwort's benefits always had an origin of beauty, not just in medicine and food science.
Mugwort's benefits are not only in the kitchen. Ssuk 쑥, the word for it in Korean, has been thriving and keeping skin glowing. It is not surprising that a plant, commonly known as a tea infusion and, in addition to steamy, earthy soups, has been making its way to many skin care shelves on the market.
The use of natural ingredients in Korean cosmetics is nothing short of new. There is the use of aloe vera, honey, cucumber, ginseng, and mugwort's closest herb counterpart, Centella Asiatica, to name a few. These succulent raw materials have been proven for years to give various skin types the nourishing it needs to get that glassy feel and dewy charm.
What are mugwort benefits?
1. antioxidants
For centuries, artemisia was solely in healing gynecological and gastrointestinal problems. But the good news for the skin: in recent years, researchers have found that mugwort is an antioxidant, the stuff that protects our cells from being blemished by free radicals, known for aging us by a lot.
2. non-irritating
Skin care requires extra care for someone with dry and sensitive skin. At this point, mugwort already has a friendly reputation for that sensitivity. They gently alleviate dry and patchy skin conditions, specifically atopic dermatitis or common irritation in hypersensitive skin.
3. fight acne
If anyone needs reminding, these skin issues are normal because, of course, we're humans. We age. We receive stress from everyday responsibilities. There are societal demands we attune to ourselves. Many teenagers and young professionals struggle with acne, and not everyone can afford expensive facial technology appointments to treat such conditions. That is why many of us turn to accessible beauty products that truly work.
Plus, the science behind skincare can be riveting. A 2021 study published by the ASEAN Journal of Science and Engineering found that a specific concentration of mugwort leaf can prevent the growth of acne-causing bacteria. It is undoubtedly effective.
But how do you apply mugwort to the skin? We are leaving the experts to process these lovely green species carefully. Mugwort is now meticulously incorporated into different forms of cosmetics. It is in cleansers, essences, toners, masks, serums, creams, and sunscreens. It is also all over the internet.
4. anti-inflammatory
Dermatologists have proven the fact that mugwort has anti-inflammatory properties that protect the skin from irritants. Mugwort helps prevent skin damage caused by harmful ultraviolet rays and also helps reduce fine lines. It's a multi-purposeful ingredient!
Mugwort is for dry, oily, or combination skin types
Whether dry skin, oily, or combo, it is for you and me. Unlike the naturally derived ingredients of the citrus family such as lemon, lime, and orange, Mugwort can be used without worrying by all skin types, including sensitive skin. Since the ingredients are non-irritating and have an excellent soothing effect, you can immediately see the effect when used on itchy skin.
Mugwort is more than a fad
From what's been going around the fences of K-Beauty, artemisia Vulgaris is a one-size-fits-all, if you will. In a nutshell, mugwort's benefits are definitely worth its years of hype. If that lasts a little bit longer, it might just be more than a trend and stay in our beauty routine for more years.
Recommended Products with Mugwort
Many Korean skincare products have Mugwort as their highlight ingredients. Here are the best products with Mugwort.
MISSHA Artemisia Treatment Essence
Amazon
[MISSHA] Time Revolution Artemisia Treatment Essence 150ml/5.91fl.oz.
2 new from $25.00
Free shipping
as of January 31, 2023 1:09 am
The MISSHA Time Revolution Artemisia Treatment Essence has a pure and active concentration of mugwort that is specifically harvested during September, a period when mugwort is at its best state on the west coast of South Korea. This essence keeps moisture locked in all day without feeling too heavy.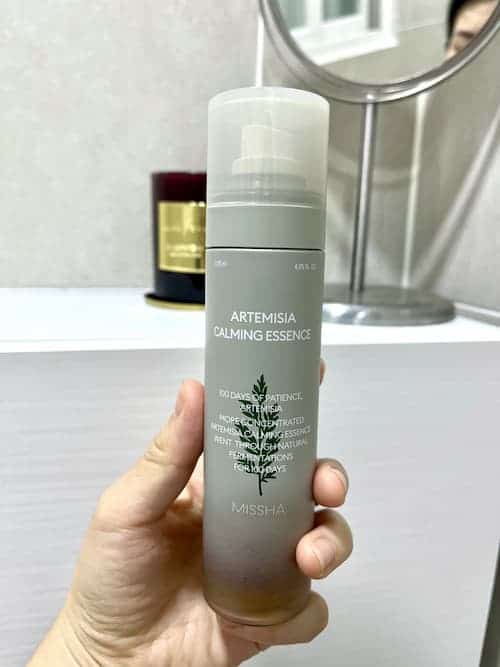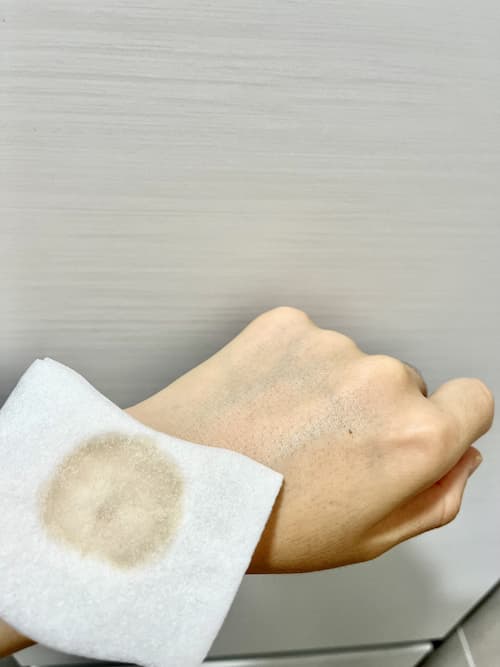 I use this new version of Missha artemisia calming essence, the mist type. It has a slight herbal scent from the mugwort but it is not overbearing, very pleasant for me. The essence is water-like and absorbs quickly into my skin. My skin felt great when I woke up in the morning. For a more detailed review, check this post.
I'm From Mugwort Essence
ShareASale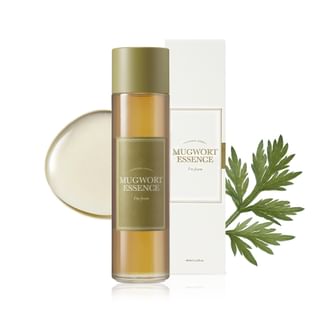 Im from - Mugwort Essence 160ml
as of September 16, 2022 10:39 am
One product that promises mugwort's benefits and is quite popular with beauty influencers is from the brand I'm From. I'm From is a great Korean clean beauty brand that has ingredients made from Korea.
The mugwort essence has a mild scent and is absorbed well into my skin. I really liked how it was light in texture and soothing. It was not strong and something I would wear daily once a day. I also recommend using a cotton pad to get every drop. Read my review of this I'm from mugwort essence here.
I'm From Mugwort Sheet Mask
ShareASale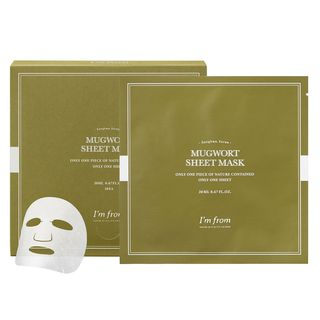 Im from - Mugwort Sheet Mask Set 20ml x 10pcs
as of September 16, 2022 10:39 am
The I'm From mugwort sheet mask is concentrated in a thick liquid form. Put the mask on after cleansing and you will feel moisture locked in for hours. The mask is great to put on when your skin feels dry and the herbal aroma is a little bit stronger than the essence but not too much. It has a cooling and brightening effect and the redness on some parts of my skin became less visible.
Isntree Real Clay Mugwort Mask
Amazon
ISNTREE Spot Saver Mugwort Cream 1.69 fl.oz. for Dry Sensitive Skin | Moisturizing Sebum, Oil Control with Mugwort Extracts | Protects Skin From Dirt, Dryness
as of January 31, 2023 1:09 am
If you have oily skin and are particularly looking for a soothing product that can minimize the appearance of pores, Isntree real clay real mugwort clay mask is a wise choice. It is easier to rinse than the thicker clay masks out there. The mugwort scent is subtle and made my skin feel calm. It is non-drying and didn't make my face feel stiff. The clay mask was easy to put on and I felt my pores being cleansed while also being infused with great mugwort benefits. I would recommend doing this clay mask once a week in the summer. To read my review of this non-irritating blackhead remover, head here.
Through this article, we hope that you became a mugwort expert! Let us know which mugwort product you used below. 🙂
You may also like: