Korean skincare for pores
Too much make-up is old news. With all the mask-wearing we have started to focus more on our skin health. Nowadays we want a natural look. The base of the perfect natural look is clear, even, and poreless skin. Celebrities and influencers have shown off their naturally flawless skin on Instagram and Tiktok. Now I have shared the best way how to make pores smaller and the newest trendy Korean skincare to help you get that effortless natural look.
Even though I suggest reading all recommendations to find the best fit for your skin type, if you prefer to check the top-rated products first, click the image below to see the reviews directly.
What are pores? 
Pores are a natural part of the skin's biology. They are tiny openings in the skin that release sweat and oils. It's absolutely normal and everybody has them. Your pores are the most visible on your face. People with oily and acne-prone skin will have a higher chance of enlarged pores. This means that their pores will be more visible, especially around the T-zone. How do you recognize them? They are tiny little holes on and surrounding the nose and forehead. 
How to make pores smaller
Korea is famous for its many high-quality skincare products and brands that are guaranteed to give you that famous, flawless, and effortless porcelain skin. There are many options for different types of products and treatments against large pores. These are toners, masks, exfoliators, and peelings. Because there are so much we have selected the best products to make pores smaller. The products are listed in order of the 10- step Korean skincare routine.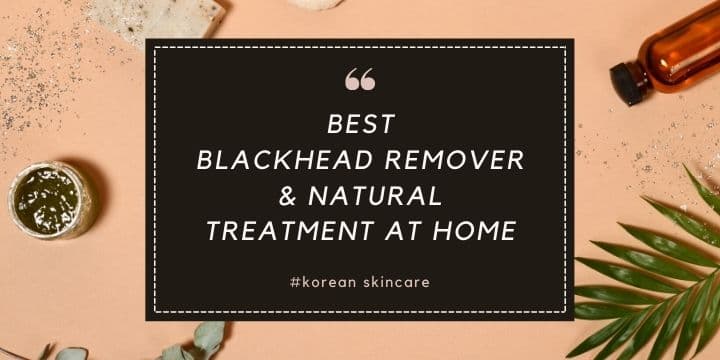 Get rid of enlarged pores using Korean skincare 
Banila Co Clean It Zero Cleansing Balm
Start your skincare routine with double cleansing. The first step, a clarifying cleansing balm. The Clean it zero cleansing balm will effectively melt away old makeup without drying out your skin. The cleansing balm contains Tri-Peel Acid which is a blend of AHA, BHA, and LHA. This gently exfoliates the skin, removes dead skin cells and excess sebum. This product is well on every skin type but is especially suited for oily skin.
Usage:
apply a little bit of the balm on dry skin and massage until it turns into an oil. Rinse with water to remove the oil, makeup, and dirt from the face.
CHECK PRICES
By Wishtrend Acid-duo 2% Mild Gel Cleanser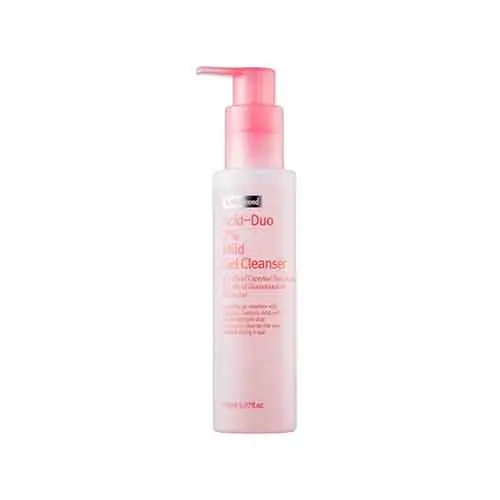 The second step in double cleansing is a foam or gel cleanser. I recommend the By Wishtrend Acid-duo 2% Mild Gel Cleanser which has a mild but effective formula contains 1% LHA and PHA. These are low-irritation exfoliants that effectively treat acne-prone skin, enlarged pores, and excessive sebum. For a more detailed review and result, check this post.
Usage:
apply on a wet face and gently massage the skin. Follow up by rinsing your face with lukewarm water.
CHECK PRICES
Etude House Wonder Pore Freshener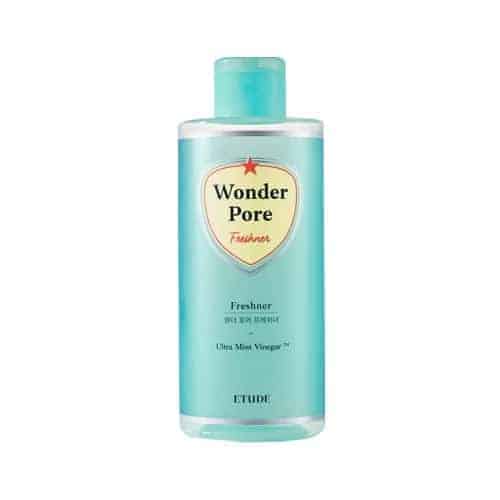 A toner can be used in the AM or PM to rebalance the skin after cleansing. Etude House wonder pore freshener is the Kbeauty product that helps clear out pores and make them look smaller. The formula contains Peppermint and Ginko Leaf Extract which protects the skin from fine dust. Plus, Mentha Arvensis Leaf Extract balances the sebum production.
Usage:
after gel or foam cleanser, apply on clean hands and directly onto the face.
CHECK PRICES
 Cosrx Two in One Poreless Power Liquid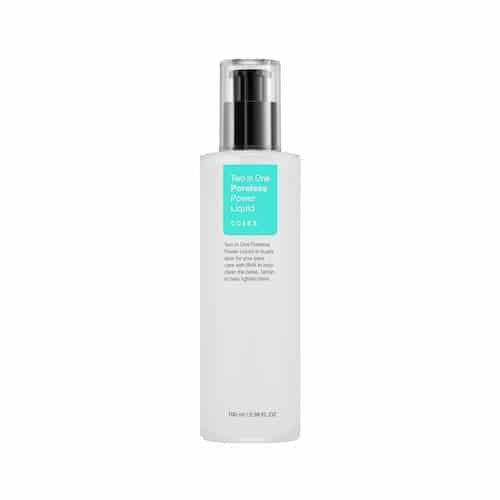 This is an essence-toner, a two-for-one product that can be used as a toner or a mask pack to calm down the skin. Cosrx Two in One Poreless Power Liquid contains natural BHA derived from White Willow Bark. BHA is a chemical exfoliator that helps reduce the size of pores and slows down sebum production. It gives a nice and cooling sensation, especially during hot summer days.
Usage:
In the morning after cleansing just as a toner. Or soak cotton pads in the liquid and leave the pads on the T-zone for 5-10 minutes as a mask pack.
CHECK PRICES
Klairs Youthful Glow Sugar Mask
Another great two-for-one product. Klairs Youthful Glow Sugar Mask is a gentle physical exfoliator and wash-off mask in one. This formula contains calamine which is anti-inflammatory and soothe your skin, kaolin and grapefruit extract to soften your skin texture and refine your pores. And raspberry oil, jojoba oil and rich shea butter to leave long-lasting skin moisture after washing off the mask.
Usage:
– As an exfoliator: apply a small amount on your wet face and gently massage into the skin, rinse with warm water.
– As a wash-off mask: apply a thin layer on wet skin and leave on for 10 minutes, rinse with warm water after.
CHECK PRICES
Innisfree Super Volcanic Pore Clay Mask 2X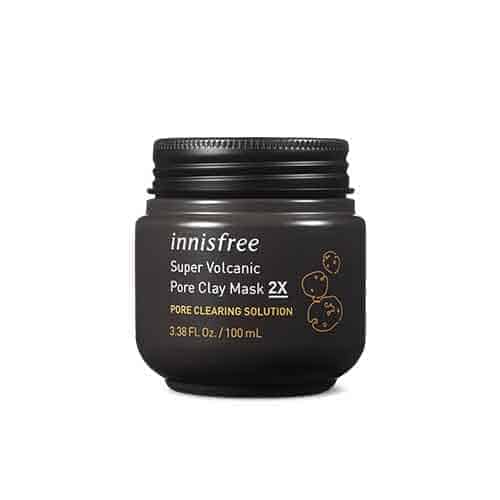 This is a clay mask that deeply cleanses the pores for a smoother skin texture. Innisfree Super Volcanic Pore Clay Mask is formulated with volcanic ash from Jeju Island, Korea. It helps to reduce the excess sebum from the skin, making pores clean and appear smaller. Salicylic acid is a well-known skincare ingredient to exfoliate the skin for even skin. This improved formula has twice the oil-absorbing ability of the original one.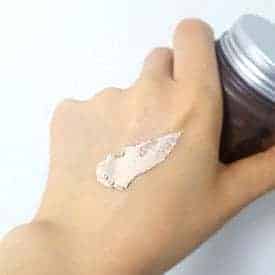 Usage:
after cleansing apply a thin layer, avoiding the lips and eyes. Let is sit for 10-15 minutes and rinse with lukewarm water.
CHECK PRICE
 Isntree Calendula Poreless Face Fit Mask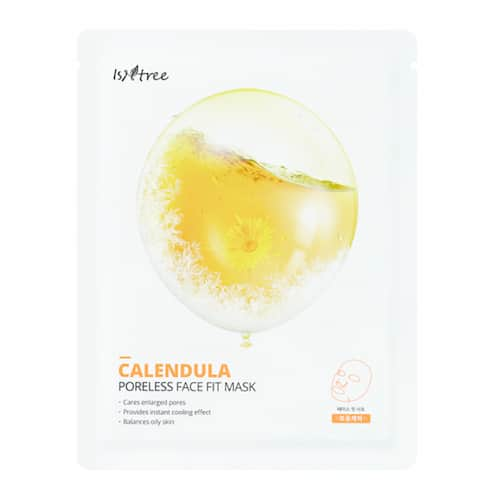 This is a single-use sheet mask with a potent serum that moisturizes and rebalances the skin. With Calendula Officinalis Flower Extract, Isntree Calendula Poreless Face Fit Mask has anti-inflammatory and antibacterial properties. Witch Hazel Extract also relieves inflammation while tightening your pores. Not only this mask restores the water and oil balance of the skin, but it also controls excess sebum and soothes the skin. I recommend you putting it on the fridge for 10-15minutes before apply, the cooling effect makes it extra tighten pores.
Usage:
prep the skin by cleansing and toning, carefully apply the mask on your face. Let it sit for 10-20 minutes. Remove the sheet and pad in the extra serum.
CHECK PRICE
 Dr Jart+ Shake & Shot Rubber Pore Minimizing Mask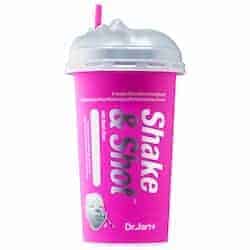 This is a pore minimizing mask that deeply cleanses your pores to reduce their size and create a smoother completion. This Dr. Jart's innovative modeling mask is made of a rubbery substance that penetrates skin texture more deeply than a sheet mask. It has Black bean and Acai berries to effectively tighten pores and reduce sebum production.
Usage:
combine STEP 01 Super Booster and STEP 02 Liquid Ampoule in the cup. Close the lid and mix well. Use the spatula to apply the mask on cleansed skin and leave on 15 to 20 minutes. When dried up, carefully peel off. Remove residue with lukewarm water.
Laneige BB Cushion Pore Control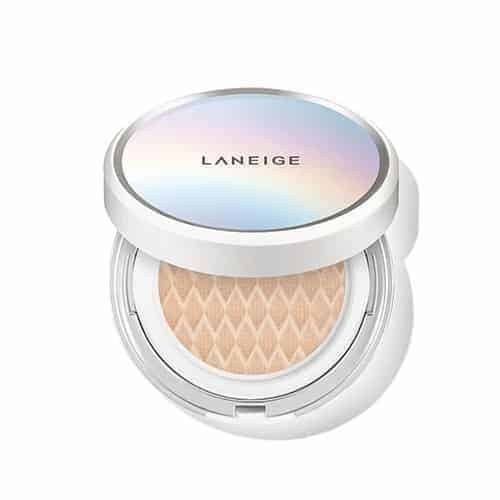 Skincare is a good solution for enlarged pores. But using the right makeup is just as important. Starting the day with a foundation that's too heavy will clog pores and make your skin produce more sebum. So, looking greasy by the end of the day that is so bad. The solution, a lightweight, long-lasting, and mattifying cushion foundation. Laneige BB Cushion Pore Control foundation covers pores and uneven skin texture, keeps the skin matte without drying out the skin. Plus, it moisturizes the skin by selectively controlling only oil.
CHECK PRICE
3CE Makeup Fixer Mist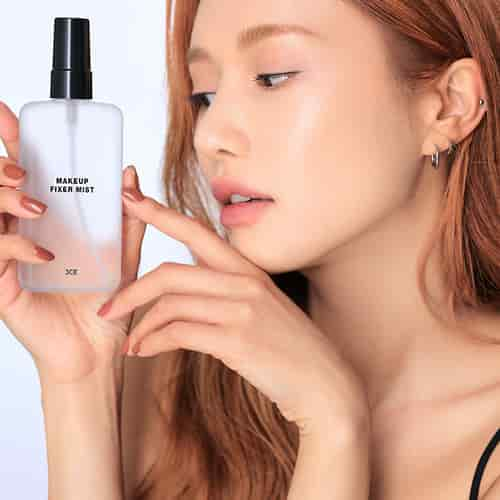 The finishing touch of a proper makeup routine is a good fixing spray. Not using a fixing spay may cause the makeup smudge, excess oil production, and clogged pores. To prevent enlarged pores after applying makeup, I recommend using the 3CE makeup fixer mist. It's a lightweight spray that moisturizes the skin while keeping your makeup fresh all day long.
Usage:
spray on your makeup sponge before foundation and spray after you finished makeup.
Why do we want them gone? 
Within Korean and Western beauty there has always been a desire to have healthy, glowy, and flawless skin. Visibly enlarged pores give the skin more texture. It makes the skin look more dull, uneven, and tired. In Europe, it's popular to get a professional peeling done at a spa or clinic. Korean beauty trends have also favored a healthy, pore-less, glowy, and youthful look. Poreless skin gives a porcelain, almost doll-like appearance. Korean women use a variety of products and treatments to achieve the best skin possible. Seen in the Glass skin and Cream skin trends. 
Why you shouldn't want to get rid of them (stay positive bestie)
Pores are an essential part of the human skin. Men, women, babies, teenagers, elderly, literally everybody has them. Depending on your age, skin type, and skin condition the look of them may be different. Teenagers and people in their early twenties have the highest chance of visibly enlarged pores. The skin produces more sebum which causes the pores to be more visible and appear larger. People with combination skin or oily skin have the most chance of enlarged pores.
You can't make your pores go a away!
Since skincare has become so popular we have been bombarded with advice and holy grail products that will get rid of your pores. Even some professionals claim to have the perfect treatments to melt away your pores. This is not possible. But there are ways to reduce the appearance of your pores. Before you go buy a bunch of new products I recommend you to find out your skin type and skin condition. You can find this out by taking quizzes here or going to a skincare professional. When you know this, you can buy the proper skin care to reduce your pore size while caring for your specific skin concerns. 
Another thing that can make your pores look bigger is caked on makeup and not cleansing your face well enough. Build-up makeup will clog your pores, cause more sebum production and make them appear larger in size. Starting with an effective double cleansing routine can be a good first step. 
You may also like
Disclosure: This post contains affiliate links. Clicking those links before you shop means that best k-beauty receives a small commission. Please see my full disclaimer for more information.