How to get rid of Dark Spots
Dark spots on the skin are also known as hyperpigmentation, age spots, sun freckles, or liver spots, depending on the cause. They can appear at any age, although the most common onset is in the middle years of life. The most prevalent cause is recent sun exposure or exposure to artificial UV radiation in a tanning bed. The spots are linked to a variety of skin diseases and can also be a side effect of some treatments. Dark spots are usually innocuous, although they can be malignant in some cases. If desired, they can be lightened or deleted. Check the dark spots treatment below and pick one for your skin type!
Even though I suggest reading all recommendations to find the best fit for your skin type, if you prefer to check the best Korean skincare first, click the image below to see the reviews directly.
What are dark spots?
Hyperpigmentation, or dark spots on the skin, occurs when the skin produces more melanin than usual as a result of sun exposure, acne scarring, or inflammation. Melanin is the pigment that gives eyes, skin, and hair their color. Wear sunscreen and use skin brightening substances like AHAs, ascorbic acid (vitamin C), kojic acid, or licorice extract to remove dark spots.
What causes dark spots on face?
Your skin contains a pigment called melanin, which is present whether you are dark or light-skinned. Melanin is a type of skin protection produced by cells called melanocytes. Hyperpigmentation, on the other hand, occurs when your skin generates too much melanin, which forms deposits, resulting in spots and patches that are darker in color than the surrounding skin. 
Although hyperpigmentation affects people of all skin tones, it is more common in people with darker skin. Here are three reasons why you can get dark spots on your skin:
Sun damage
The most common cause of dark spots is sun exposure. Melanocytes react to harmful UV rays by releasing melanin, which acts as a natural sunscreen. Melanin is beneficial because it absorbs and redistributes UV light energy. The sun, on the other hand, can cause an excess of melanin to be produced, resulting in dark spots of skin.
Acne scars
When a dark area forms in the place of a pimple that has vanished, it is known as hyperpigmentation acne. Hyperpigmentation scars are more common in those with darker skin tones. When the skin cells create too much melanin, dark spots emerge.
Inflammation
Dark spots can appear after skin inflammation or injury, particularly in those who have acne, eczema, allergic responses, or other skin diseases. This sort of darkening is known as post-inflammatory hyperpigmentation and is the skin's normal response to inflammation. The skin becomes inflamed after a wound, and as it heals, the skin creates excess melanin, which darkens the skin.
Inflammation causes hyperpigmentation, which is most frequent following outbreaks. Dark spots, ranging in color from pink to red, purple, brown, or black, is left behind as the inflamed skin heals from acne. The larger and darker the mark becomes as the inflammation worsens. There's a reason why dermatologists advise against picking your pimples: doing so increases your chances of acquiring a dark spot.
4 ways of reducing dark spots at home
Hyperpigmentation can be treated in a variety of methods at home. While several of the cures we've listed are based on anecdotal evidence, some study suggests their main ingredients work on skin pigmentation.
1. Use Vitamin C regularly
Vitamin C is an important ingredient to have in your anti-hyperpigmentation arsenal. Vitamin C derivatives have been demonstrated to "decrease melanin synthesis," a key mechanism for reducing the appearance of hyperpigmentation, according to this study. This antioxidant, which is widely used in Korean skin care, is excellent not only for dark spots but also for a wide range of other issues, including collagen formation and wrinkle prevention.
2. Azelaic acid as an effective solution
Azelaic acid, another natural component, is also effective at erasing black spots. It is a naturally occurring acid present in barley, wheat, and rye grains. It has antibacterial and anti-inflammatory effects, making it useful for treating skin diseases such as acne and rosacea. The tyrosinase enzyme and melanocytes are both inhibited by this acid. This chemical prevents hyperpigmentation before it begins by reducing pigment production at the start of the process.
3. Add Aloe vera to your skincare routine
According to a 2012 study, aloe vera contains aloin, a natural depigmenting ingredient that has been demonstrated to lighten skin and serve as a nontoxic hyperpigmentation therapy. Before going to bed, apply pure aloe vera gel on pigmented areas. The next morning, rinse with warm water. Repeat regularly until the hue of your skin improves.
4. Potatoes
Few people are aware that potatoes might help to brighten dark stains. Slicing a potato and laying it directly on top of the dark patches is one technique to use potatoes. Allow it to sit on your face for a few minutes before washing it off with warm water.
Types of medical dark spots treatment
Retinoids
Acne is commonly treated with these drugs. They're usually available in topical form, which means they're applied to the skin. Retinoids, like benzoyl peroxide, can bleach towels and bedding, but they won't lighten your skin. To ensure that a product does not irritate, start with one with a concentration of 0.025 percent. Tretinoin is usually prescribed in 0.025 percent and 0.05 percent concentrations by doctors.
Laser treatment
This system makes use of excessive laser radiation to burn away dark spots at the pores and skin layer via way of means of a layer. Bruising, swelling, redness, tightness, scarring, infection, and adjustments in pores and skin texture are all feasible aspect effects.
Chemical peels
A chemical peel is a treatment that uses acid to remove the top layers of the skin, and it can be effective in improving uneven skin tone. So, you can use special acids, such as lactic and salicylic acids ad a dark spots treatment.
Microdermabrasion
A stream of abrasive substance is directed at the skin's surface during microdermabrasion, blasting away dead skin cells. Dark spots will seem lighter as the top layers of the skin are removed. Other advantages include enhanced collagen production and faster cell regeneration, all of which contribute to the appearance of healthy, even skin.
5 best Korean skin care products: dark spots treatment
Here we made a list of the best Korean skincare products that can help you prevent and get rid of dark spots.
MISSHA First Treatment Essence Rx Pro Ferment
This cult favorite (and personal fave) is made from fermented yeast and is regarded as a holy grail for its ability to level out skin tone and cure damage. Missha Time Revolution is a water-like essence. The First Treatment Essence provides a plump, clear, and refined skin texture while also reducing skin pigmentation after just a few weeks of constant application.
COSRX AHA 7 Whitehead Power Liquid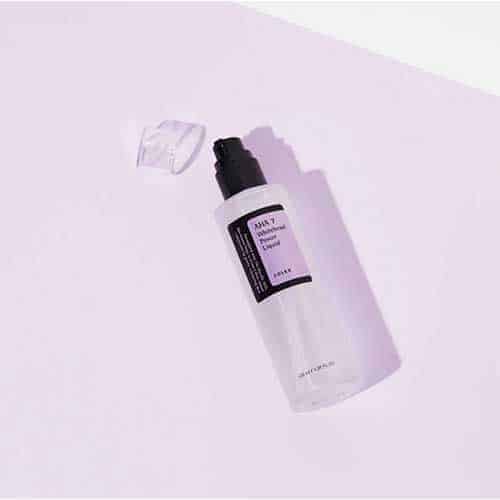 COSRX AHA 7 Whitehead Power Liquid gently exfoliates the skin to lighten your skin tone with a high concentration of AHA to clear off dead skin cells and promote a faster cell turnover. This serum lowers the appearance of whiteheads while also preventing subsequent breakouts and renewing the appearance of your skin.
Klairs Freshly Juiced Vitamin Drop Serum
Vitamins can give your skin a fresh lease on life. Vitamins protect your skin from the damaging effects of the sun's rays, preventing dark spots from forming in the first place. Your skin will look younger if you take vitamins C and E. Klairs Serum includes only 5% Vitamin C, so there's no need to be concerned about irritation.
Skinfood Rice Wash Off Mask
Rice has been a secret element in skin lightening therapies for generations. Women used to wash their faces with rice water to even out their skin tone decades ago. Skinfood is a modern take on a traditional technique. Simply massage it into your skin for two minutes before allowing it to rest for fifteen minutes. This Skinfood's exfoliating wash mask helps eliminate any buildup of old or dead skin. Aside from sloughing, the antioxidants in the rice water formulation will diminish dark spots and reverse free radical damage.
Manyo Galactomy Niacin Essence
Don't let the name deceive you. The term "whitening" in the K-beauty sector refers to lightening the skin, eradicating black spots, and giving it a dewy touch. As a result, there are no skin-whitening chemicals in the lotion. Manyo Galactomy Niacin Essence, on the other hand, is a moisturizing essence. To put it another way, the essence is a hybrid of a toner and a serum. It has a high concentration of chemicals and is quickly absorbed by the skin. The product is made up of 97% galactomyces, a fermented yeast extract. It's thought to boost skin cell formation, brightening the complexion. After cleansing and hydrating your skin, apply this and you will notice a change.
You may also like
Disclosure: This post contains affiliate links. Clicking those links before you shop means that best k-beauty receives a small commission. Please see my full disclaimer for more information.