Best Korean Snail Cream
If you are into the K-Beauty trend, you must have bumped into snail slime like a thousand times. Korean cosmetic brands love the ingredient due to various benefits of snail mucin for skin such as its miraculous repair, brightening, and hydration properties. Even though I suggest reading all recommendations to find the best fit for your skin type, if you prefer to check the top-rated Korean snail cream first, click the image below to see the reviews directly.
What is snail mucin for skin?
Snail mucin was discovered to offer skin advantages after Chilean snail farmers noted that after handling snails all day, their hands were soft and smooth. What is the efficacy of snail mucin, and why do individuals believe it may help their skin? Snail mucin cream, according to certain manufacturers, can help smooth wrinkles, repair damaged skin faster, and minimize acne scars. However, additional study is needed to determine whether the stated advantages are real.
5 Best Korean snail mucin skincare products
Korean snail mucin cream and serum's popularity has risen steadily since the K-beauty boom due to its high fuctional effectiveness. Please check my recommendations below and find the best product that is right for your skin type.
COSRX Advanced Snail 96 Mucin Power Essence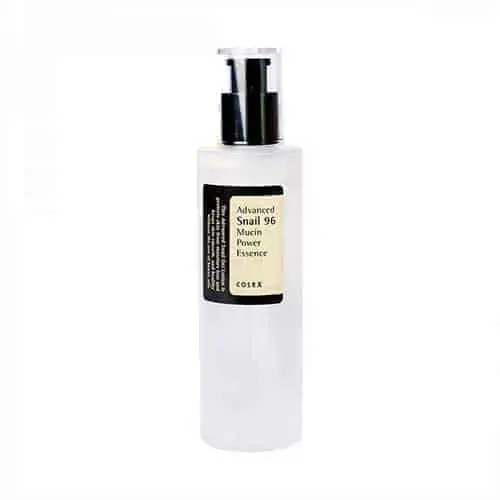 100ml
$16 ~ $17
Skin type: all skin types
To combat symptoms of aging and replenish intense hydration and nutrients to the skin without oiliness, it's fortified with 92 percent snail mucin and marine collagen. A healing skincare product that restores uneven skin tone, refines skin texture and gives skin a healthy shine for a younger-looking complexion. This multi-purpose COSRX essence is effective against dark spots and hyperpigmentation. All skin types are suitable.
Key Ingredients:
Brightening: Snail Secretion Filtrate Sodium
Hydrating: Hyaluronate, Arginine
Soothing: Panthenol, Allantoin
How to apply:
Apply a little quantity to your whole face after washing and toning, rubbing into problem areas. To enhance absorption, gently pat with fingertips, and then apply serums and moisturizers as needed.
Mizon Snail Repair Intensive Ampoule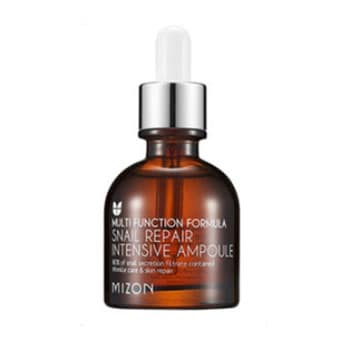 30ml

$17 ~ $18
Skin type: all skin types
To moisturize, heal, and soothe your skin, use Mizon Snail Repair Intensive Ampoule, which contains 80% Snail Secretion Filtrate. This ampoule is a lightweight clear gel composition rather than a conventional watery essence. It also contains a variety of anti-aging ingredients like Adenosine and Peptides, as well as healing panthenol. This ampoule leaves a light film on the face that aids in the balance of oil and moisture in the skin's outer layers without being sticky. It's a great way to be ready for a snail mucin cream.
Key Ingredients:
Anti-aging: Peptide, Adenosine
Brightening: Snail Secretion Filtrate
Soothing: Panthenol
How to use:
Put a sufficient quantity to the skin directly after cleaning and gently pat onto your skin. Continue with the rest of your skincare regimen once it has been absorbed.
Benton Snail Bee Ultimate Serum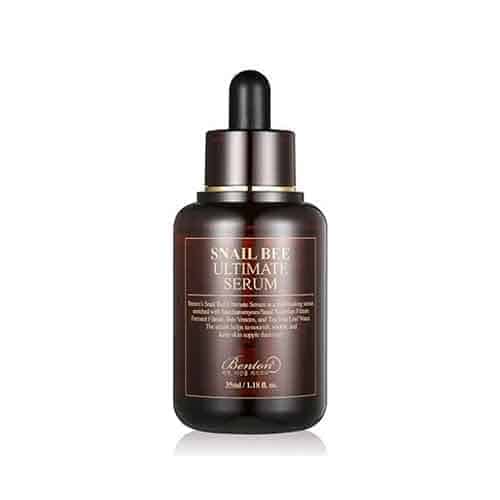 35ml

$20 ~ $21
Skin type: normal, combination, oily, acne-prone skin
The BENTON Snail Bee Ultimate Serum is a multipurpose serum that is suitable especially for oily acne skin. It hydrates, soothes, brightens, and strengthens skin while also restoring elasticity. To assist with acne scars and redness, there's also soothing tea tree leaf water and antibacterial bee venom, whilst Willowbark extract is astringent and can assist with acne and outbreaks. This serum helps to restore the skin for a healthy, young appearance by having an optimal pH of 5.5. Benton develops natural skincare products that are inspired by nature's most delicate components, such as healing snail mucin and hydrating honey.
Key Ingredients:
Brightening: Niacinamide, Snail Secretion Ferment Filtrate
Hydrating: Sodium Hyaluronate
Soothing: Allantoin, Panthenol, Aloe Leaf Extract, Beta-glucan
Anti-aging: Adenosine
Anti-acne: Tea Tree Leaf Water, Willow Bark Extract
How to use:
After cleansing and toning, apply 2-3 drops of serum to your face and neck and massage evenly. Then gently pat to improve absorption.
Missha Super Aqua Cell Renew Snail Cream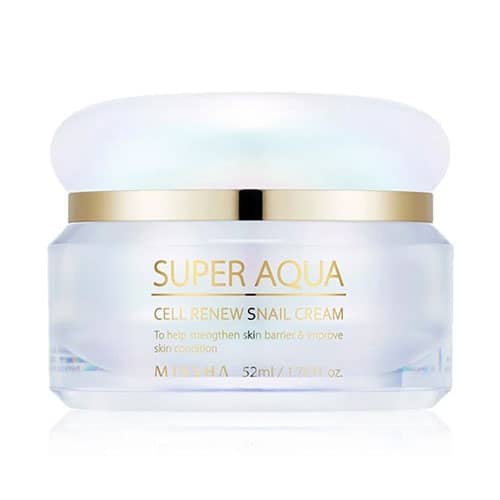 52ml

$25 ~ $34
Skin type: normal, combination, oily, acne-prone skin
This Missha moisturizer has 70% of snail slime and botanical stem cell extract. So it makes your skin feeling moisturized, regenerated, and re-energized without leaving it oily. Also, Missha Super Aqua Cell Renew Snail Cream includes baobab tree extract and deep saltwater, which help to boost the skin's natural defenses and enhance firmness by hydrating it all day. Not only Centella Asiatica is a well-known calming ingredient with its antioxidant property, but it also contain Arbutin which is one of the trendiest whitening ingredients in K-beauty.
Key Ingredients:
Brightening: Snail Secretion Filtrate, Arbutin
Anti-aging: Tocopherol, Adenosine
Soothing: Centella Asiatica
How to use:
As the final step in the skincare process, apply a large quantity of moisturizer on your face. Follow the texture of your skin and gently tap to absorb the substance.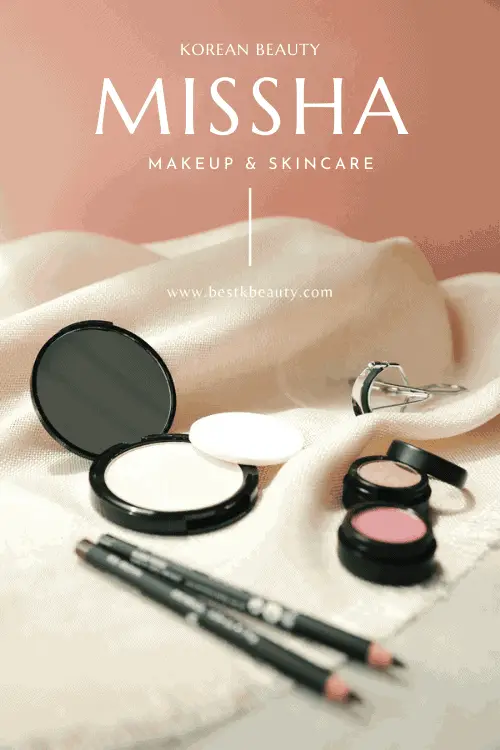 BENTON Snail Bee High content Steam Cream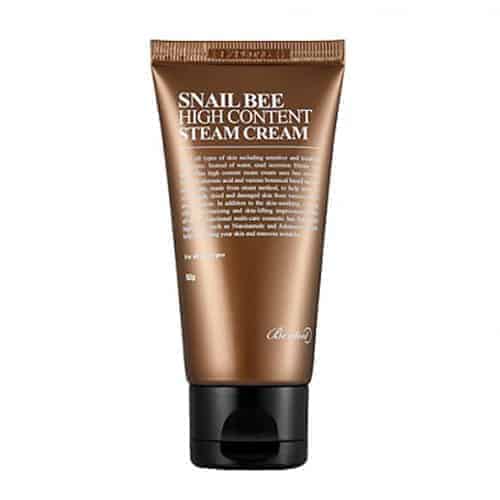 5

0g
$15 ~ $20
Skin type: dry, normal, combination, oily, acne-prone skin
With each application, a combination of snail mucin, bee venom, and hyaluronic acid helps to soothe, balance, and moisturize the skin. When the components were put together, they were blended using steam to ensure that their efficacy was maintained. Furthermore, Benton Snail Bee High Content Steam Cream is light enough to wear both day and night. Absolutely, it's a multi-fucntional moisturizer to lighten skin tone, fight acne, reduce fine lines and wrinkles and exfoliate gently with nature-derived BHA.
Key Ingredients:
Brightening: Niacinamide, Snail Secretion Filtrate
Anti-aging: Adenosine
Anti-acne: Willow Bark Extract, Lauric Acid
Hydrating: Sodium Hyaluronate, Urea
How to use:
After cleansing, apply toner, serum, and lotion (optional for dry skin types), then a generous amount of the cream. To aid in complete absorption, gently massage the area.
What does snail mucin do for skin?
Snail mucin, according to some experts, has the potential to hydrate skin, reduce fine lines, and speed wound and scrape healing. Others argue that additional study is required. That means the verdict is yet out on whether or not skincare products containing snail slime can provide advantages. Here's all you need to know about it.
Snail mucin benefits
Let's speak about what snail mucin does now that we know what it is. While there hasn't been much research or study done on the impacts of snail mucin, there are a few inferences that can be taken merely based on the mucin's composition. Proteoglycans, glycosaminoglycans, antimicrobial peptides, hyaluronic acid, glycolic acid, glycoprotein enzymes, zinc, iron, and copper peptides are all claimed to be present in snail mucin.
Keep your skin well-hydrated
The mucin contains hyaluronic acid, which provides hydrating qualities that maintain the skin barrier and aid in moisture retention. Hyaluronic acid, commonly known as hyaluronan, is a transparent, sticky material generated by your body naturally. It's found in eyes, skin, and connective tissue in the highest concentrations.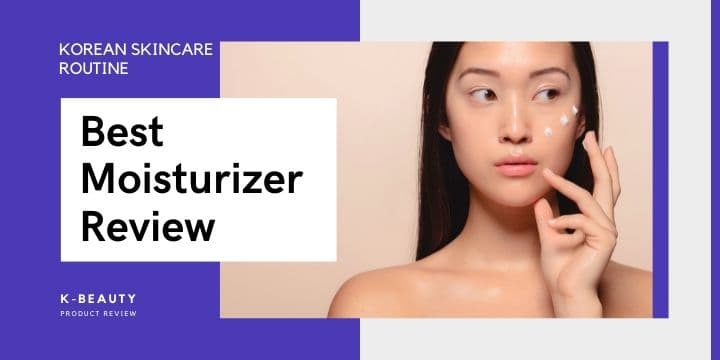 Boost collagen production that diminishes fine lines and wrinkles
The glycolic acid stimulates collagen synthesis, which not only helps to reduce fine lines and wrinkles but also gives your skin a bright, young glowing effect.
Help decrease the irritation and redness of your acne
It also includes anti-inflammatory zinc and irritation-relieving allantoin. Snail mucus contains acids that are excellent acne fighters! They remove excess oil from the skin without removing it. It also contains anti-inflammatory qualities, which help to reduce the size and redness of pimples. Overall, using Korean snail mucin cream on a regular basis will leave your skin smoother, more hydrated, and radiant.
Can I use snail mucin everyday?
This is highly dependent on why you're using it (because it has several advantages) and what kind of product it's in. In general, you can take snail mucin once or twice a day. If you want to apply snail mucin as a multi-purpose anti-aging component, search for it as a serum, which will have a larger concentration of the ingredient. Apply it in the morning and evening, after washing, and before applying any other products.
If you're considering utilizing one of these products, see your dermatologist first, especially if you have allergies or sensitive skin. They may advise you to test a little quantity of the product on your arm first to see if any symptoms appear. If you experience an allergic response, you should stop taking it.
Is snail mucin cruel?
Snail production and slime extraction may now be done in a variety of cruelty-free ways. Fortunately, the technologies for obtaining snail Mucin have evolved significantly. Snails were effectively immersed in pots of water with salt, vinegar, or other chemicals to induce them to emit Mucin in traditional ways of collecting snail Mucin. The quality of the Mucin hinges on breeders maintaining optimal environmental conditions for their snails, according to a study. As a consequence, breeders have complete control over the snails' diet, housing, and slime extraction. This also aids in establishing the cruelty-free status of snail Mucin products.
The gigantic African snail (Achatina fulica) is another edible species used by Cosrx's company. They're bigger, with shells up to four inches across, and its mucin has been shown safe for topical application. Because they are more sanitary than those found in the wild, these snails are raised in captivity.
You may also like
Disclosure: This post contains affiliate links. Clicking those links before you shop means that best k-beauty receives a small commission. Please see my full disclaimer for more information.