"Noncomedogenic" has become one of the most used terms in the skincare industry. By definition, non-comedogenic ingredients will not clog the pores. Sometimes, they are also interchangeable with "oil-free." While everyone will benefit from non-comedogenic ingredients, those with oilier or acne-prone skin tend to look for them the most. Indeed, acne, in general, is always caused by a pore or hair follicle being filled with oil, dead cells, and remnants of makeup and other products. This article will look into a non-comedogenic Korean skincare routine, ingredients, the K-beauty leading brands in that category, and some of their best-selling products.
What is non-comedogenic skincare?
Non-comedogenic products are said not to contain any ingredient that could worsen the situation and cause breakouts. They help clean and nourish the skin while keeping the pores clear. Non-comedogenic products are crucial when it comes to avoiding acne-causing clogging.
Non-comedogenic Ingredients
Before we get into the ingredients to look for, we should stress that "non-comedogenic," used heavily in the skincare world, is not necessarily a standardized term. Indeed, there are currently no standards or tests that products are subjected to before claiming to be non-comedogenic.
Therefore, the ingredients we will list should be seen as "potentially non-comedogenic" as they will be more likely than others to prevent pores from clogging. People with oily and acne-prone skin can benefit from this characteristic as it will at least help reduce the severity of their condition.
Non-comedogenic ingredients include :
Jojoba oil
Almond oil
Aloe Vera
Witch Hazel
Vitamins C and E
Niacinamide
Glycerin
Salicylic acid
and Sodium Hyaluronate.
5 Non-Comedogenic Korean Skincare Brands You Can Trust
While K-beauty brands are popular in fighting acne and catering to oily skin, certain brands emerge as fan favorites due to their large offering of non-comedogenic products. Let's discover some best-sellers!
Some By Mi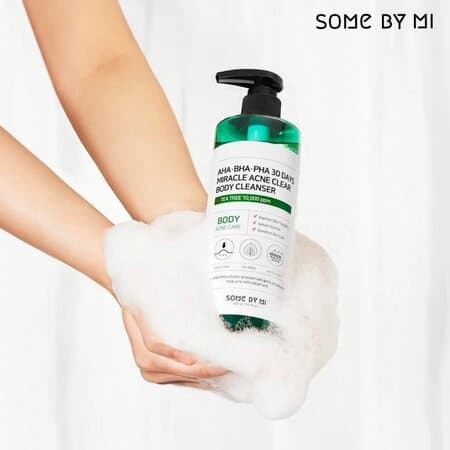 Many Korean cosmetic brands lead by using natural ingredients and innovative products, so it isn't easy to honestly know which one is legit. However, Some By Mi deserves to be on top of this list: this brand has an entire collection dedicated to pore care! The collection contains 14 products packed with non-comedogenic ingredients. Here are the best-selling items.
Some By Mi "BYE BYE Blackhead" 30 Days Miracle Green Tea Tox Bubble Cleanser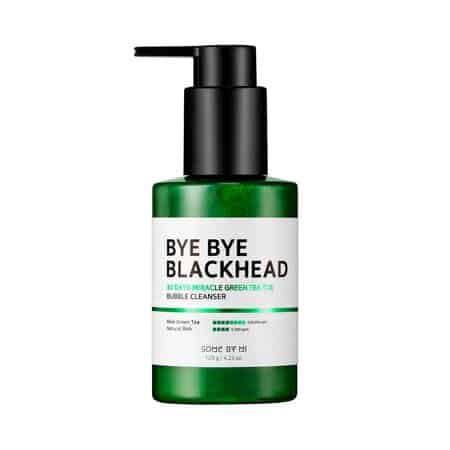 About
This foam cleanser contains 16 types of tea ingredients and BHA to cleanse the skin deeply. It is mildly acidic and helps remove impurities from the pores while keeping your pH balanced. It is the top-selling item from Some By Mi, thanks to its ability to reduce whiteheads and blackheads after one month of use.
Other Key Ingredients
Glycerin and Jasmine Flower Water, to moisturize
Coco-Betaine, to help loosen impurities
Willow Bark Extract, to gently exfoliate
Price
Some By Mi Super Matcha Pore Clean Clay Mask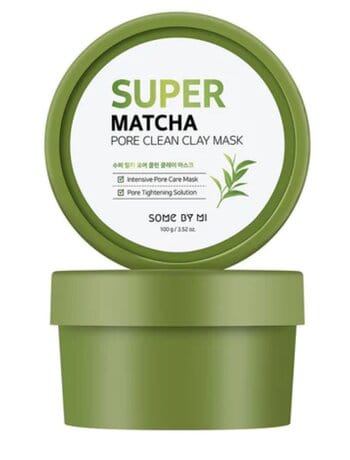 About
This clay mask is fantastic for pore care, with the power of Matcha and BHA. You can eliminate dead skin cells without inflammation and control your oil production with the clay within the mask. Clay masks are usually refreshing, but the Super Matcha Pore Clean mask also contains Tea Tree Leaf water for an increased cooling effect! 
Other Key Ingredients
Centella Asiatica, to calm the skin
Glacial, to purify the pores
Price
COSRX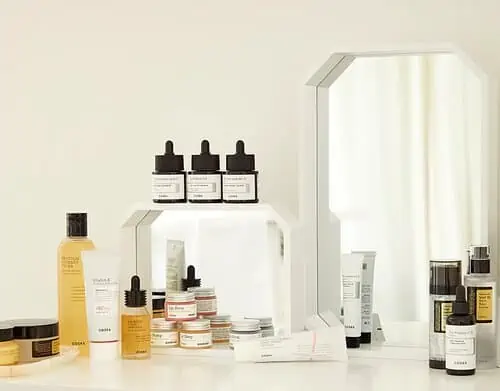 One of the most popular brands in Korean cosmetics, COSRX is known for having a wide range of products for different skin concerns. In their Acne and "Clogged pores" categories, we can find many product formulas made with Snail mucin, Niacinamide, Propolis, AHAs, and BHAs. Those ingredients are known to be low-comedogenic, making the brand famous for Acne care and exfoliation.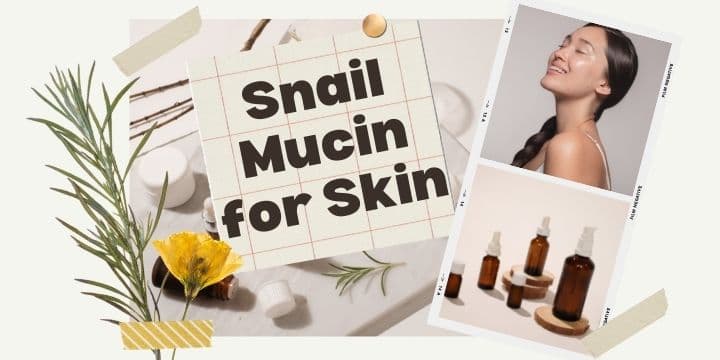 As you most likely know about their favorite cleansers, we've decided to focus on two other best-selling products that are just as worth the detour.
AHA/BHA Clarifying Treatment Toner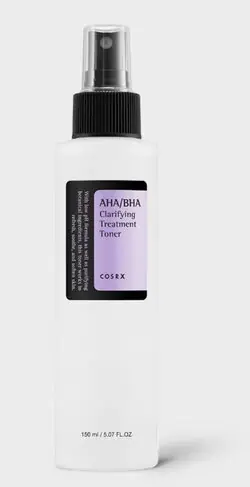 About
This toner is a fan favorite due to its AHA+BHA formula (alpha-hydroxy acid + beta-hydroxy acid). It helps improve skin texture through gentle exfoliation and oil control, helping the pores stay clear. It also hydrates and softens the skin while eliminating impurities. The Clarifying Treatment toner is especially recommended to those who are just starting to experiment with chemical exfoliation as they can use it daily.
Other Key Ingredients
Willow Bark Water and Apple Fruit Water to gently exfoliate and reduce breakouts
Glycolic Acid, to loosen dead skin cells
Betaine Salicylate to unclog pores & balance sebum production
Price
COSRX Blemish Spot Clearing Serum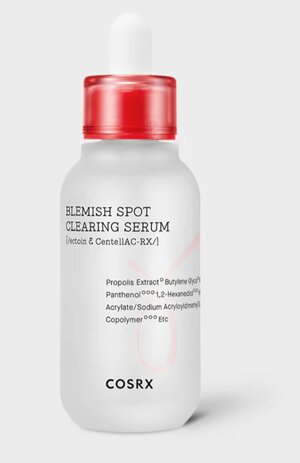 About
This hypoallergenic serum aims to fade acne scars and dark marks, reduce irritation, and calm the skin while protecting its barrier. The CentellAC-RX complex and propolis extract help treat acne and soothe the skin, while Ceramides help revitalize tired skin.
Other Key Ingredients
Niacinamide, to brighten
Propolis extract to moisturize
Asiatic acid, to soothe
Ceramides, to nourish the skin barrier
Price
Seoul Ceauticals
Seoul Ceuticals is known for using the ingredients that have launched K-beauty to its current status. Using high concentrations of key ingredients such as snail mucin and green tea in many of their formulas, the brand aims at offering pure products and guaranteed results. This brand can also be added to the list due to its best-selling products.
Seoul Ceuticals Day Glow Serum – Vitamin C Serum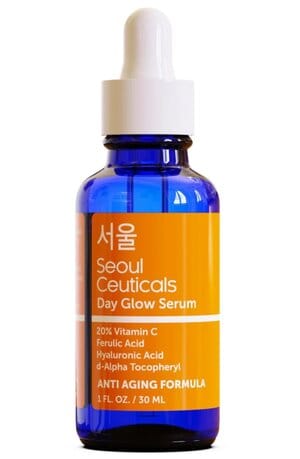 About
Vitamin C is effective for fading scars and spots and results in a brighter complexion. It also helps clear pores and prevents new acne from forming. This serum has a 20% Vitamin C concentration, making it one of Seoul Ceuticals' fan favorites.
Other Key Ingredients
Ferulic acid, to reduce signs of inflammation
Vitamin E, to protect the natural skin barrier
Hyaluronic acid, to moisturize
Price
Seoul Ceuticals Multi-Function All-In-One Anti-Aging Snail Repair Cream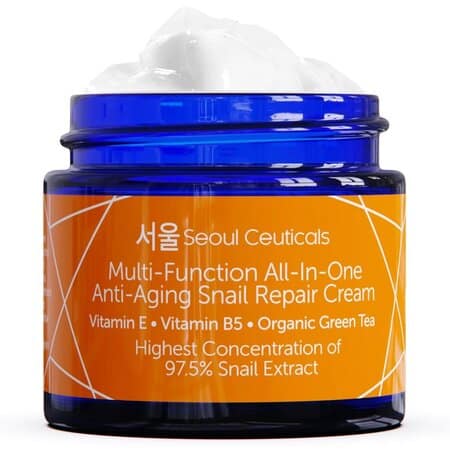 About
This anti-aging cream is popular for its non-comedogenic ingredients. Its formula is 97% naturally derived and contains Aloe Vera, jojoba oil, and Vitamin E. This cream is popular, resulting in a better complexion and visibly healthier skin.
Other Key Ingredients
Snail Mucin, Panthenol, and Glycerin, to moisturize
Retinol, to unclog pores
Green Tea, to soothe
Price
Laneige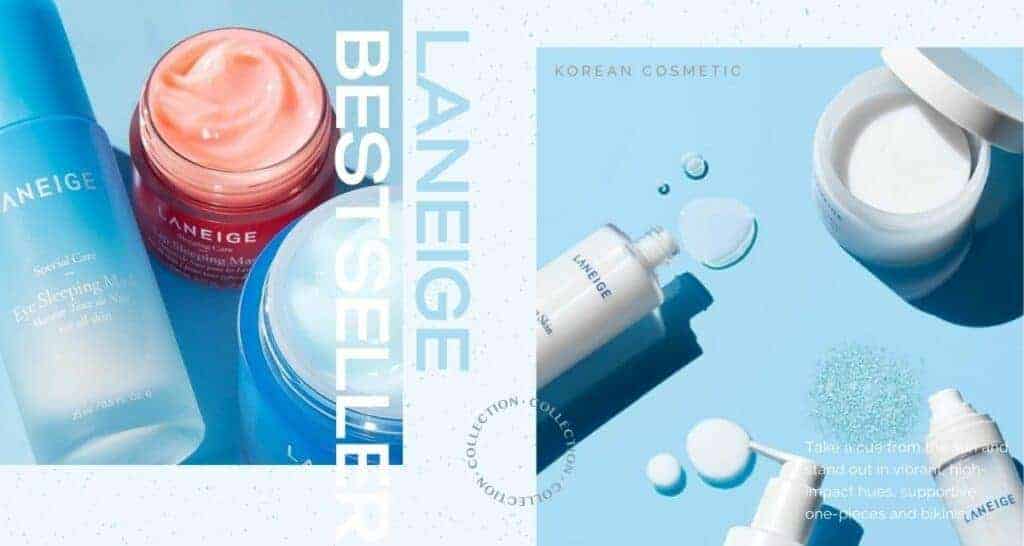 It is pretty impossible to talk about skincare products without mentioning Laneige. With their 25 years of experience, Laneige has been dedicated to creating skincare solutions for all skin types, focusing on deep hydration.
Let's discover their top products for pore care.
Water Bank Blue Hyaluronic Cleansing Foam
About
This foam cleanser gently cleanses the skin while hydrating it with micro-sized Blue Hyaluronic Acid. Ideal for oily and combination skin, the rich lather makes for a relaxing moment in your routine.
Other Key Ingredients
Glycerin, to moisturize
Cellulose capsules and papain enzymes to smooth the overall skin texture
Price
Water Bank Blue Hyaluronic Cream Moisturizer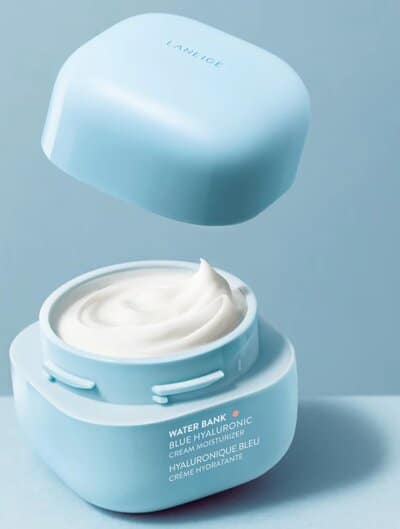 About
Towards the end of your skincare routine, the Water Bank Blue Hyaluronic Cream Moisturizer is the step that locks in moisture in your skin and strengthens the skin's barrier. With a light texture, it does not leave an oily film on the skin and leaves the skin radiant and ready for sunscreen!
Other Key Ingredients
Squalane, to soothe, prevent irritation, and help unclog pores
Ceramide, to prevent moisture loss
Price
Benton
This Korean cosmetic brand, Benton is one of the brands spearheading the "Clean Beauty" and "Green Beauty" movements. The brand focuses heavily on cruelty-free, vegan-friendly, and using natural ingredients. They are known for their gentle products with effective results. Let's check out their best-sellers.
Benton Aloe BHA Skin Toner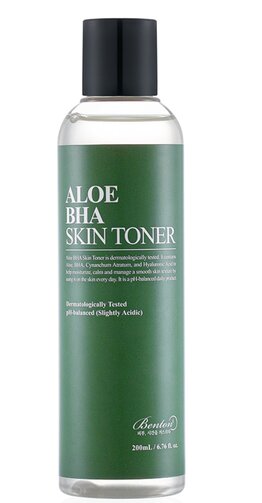 About
This fast-absorbing toner brings hydration to the skin and soothes it with its cooling effect. It provides moisture and nourishment and has a soothing and cooling effect. It is excellent for oily skin as it helps balance sebum production and reduces signs of sensitivity. Aloe Vera and Salicylic Acid keep the skin moisturized and free of dead skin cells.
Other Key Ingredients
Glycerin and Sodium Hyaluronate to moisturize
Portulaca Extract, to soothe inflammation and protect from UV rays
Price
Benton Skin Fit Mineral Sun Cream SPF50+/PA++++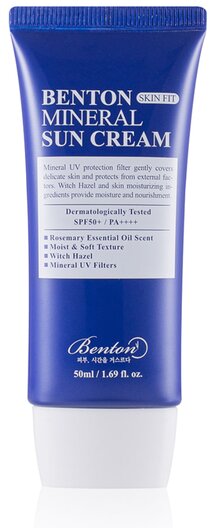 About
Benton's triple functional sun cream protects from UV rays, brightens, and reduces the look of fine lines. This mineral sunscreen has a minimal cast and makes the skin look brighter. Having tested it personally, I can also add that the texture feels like that of a hydrating cream without an oily film after application. Finally, there is a subtle rosemary scent that is not overwhelming. This sun cream contains Witch Hazel Extract, which is known to help keep the pores unclogged.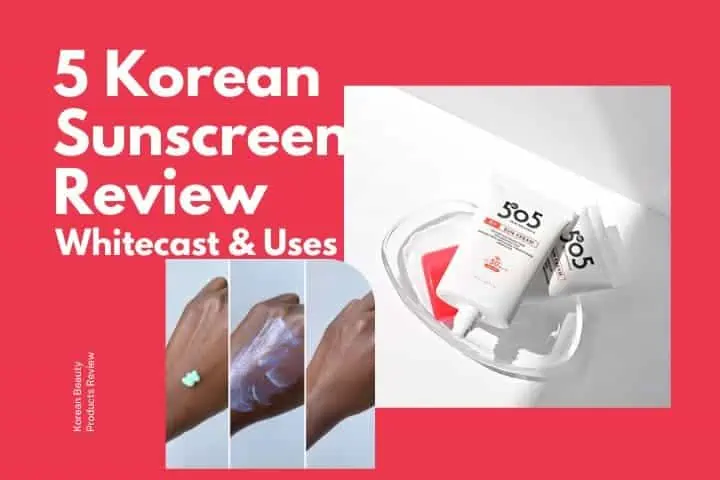 Other Key Ingredients
Centella Asiatica and Calamine, to soothe
Niacinamide, to regulate oil production
Zinc Oxide, to protect the skin from sun rays
Price
The Perfect Non-comedogenic Skincare Routine
For someone who is starting in skincare and wants a basic routine to prevent excess oil and acne, there are simple steps to follow in the morning and at night:
Night Skincare Routine
If you use sunscreen, makeup, or thick skincare products, I recommend a gentle oil cleanser, followed by a foam cleanser with BHA to remove debris and excess oil.
A serum with active ingredients such as Vitamin C or Retinol (not together) to treat blemishes
A moisturizer with lightweight hydrating ingredients such as snail mucin
Morning Skincare Routine
Since you double-cleansed the night before, I recommend only using a gentle foam cleanser to remove the sebum buildup and warm water for rinsing.
A toner containing BHA will help gently exfoliate your skin from remaining debris.
A lightweight gel-like cream to lock in moisture from the toner, preferably with soothing ingredients such as Centella Asiatica.
A mineral sunscreen to protect your skin from UV rays.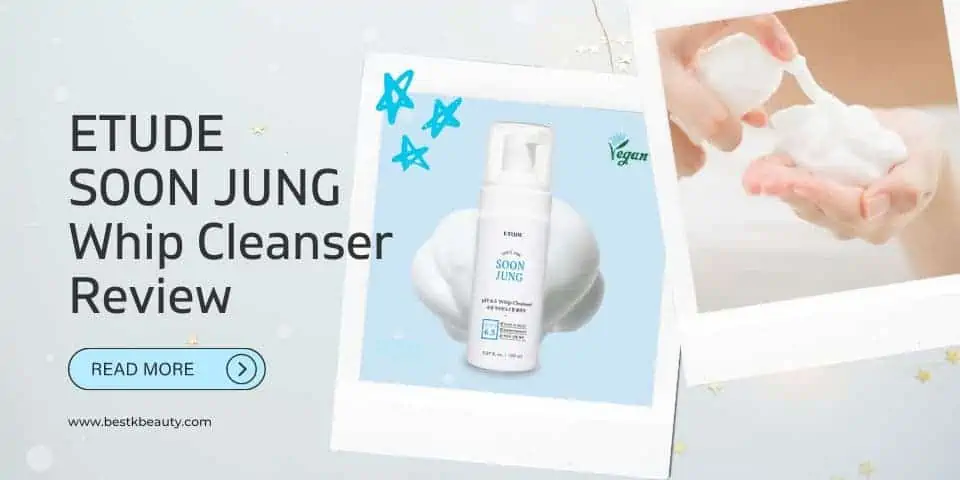 You may also like: